Tomoo Gokita Waiting Game, 2007
Tomoo Gokita is an anomaly in the Japanese contemporary art world saturated with loud, neon colors and manga imagery. Working almost exclusively in monotone, his works ensnare their viewers into the underground subculture realms of abstraction, surrealism and film noir — subtle and magnetic.
Having shown at a few galleries in Tokyo, Gokita's career breakthrough came in 2005 when New York-based artist Taylor McKimens discovered a book of his work Lingerie Wrestling (2000) in the New Museum bookshop and invited him to take part in Stranger Town, a group show at Dinter Fine Art in New York. The exhibition presented eight American and Japanese artists whose work traversed painting, comics, illustration and music. Following the success of the exhibition, many galleries approached him, and Gokita started exhibiting solo shows in New York's ATM Gallery, Tokyo's Taka Ishii Gallery and Los Angeles' Honor Fraser Gallery. Portrait of an Insomniac Junior-High Student was included in the first European solo show for the artist at Aliceday gallery in Brussels in 2010. Titled Funland, the exhibition consisted of hundreds of drawings and a dozen of paintings—the present work one of the only two close-up portraits that were exhibited.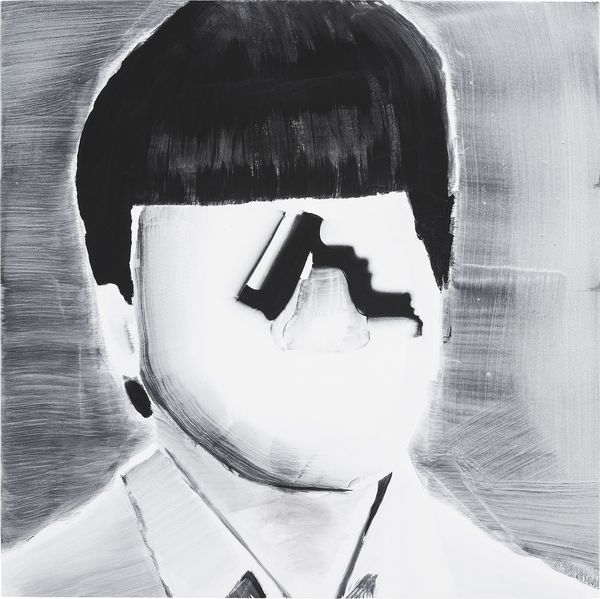 Tomoo Gokita Portrait of an Insomniac Junior-High Student, 2010
In Portrait of an Insomniac Junior-High Student, Gokita tackles one of the most representative and iconic subjects of contemporary Japanese society: the student. Presented in the format of a school ID or yearbook photo, a Japanese boy is outlined by a sliver of white negative space. Gokita removes the typifying features of a face and replaces them with terse, painterly gestures. Subtle shifts in tonality form the murky shadow of a nose, and two downward curving black strokes emerge in place of eyes and eyebrows. The viewer is given the framework of a familiar subject but denied the assurance of knowing his identity. There is an undeniable sense of illumination, but shadows and highlights do not appear from any logically perceivable source of light, resulting in a colorless fluorescence perhaps describable as neo-chiaroscuro. In the creation of the portrait, with clean crisp lines of the collar of his school uniform juxtaposed by a bold, black, bowl-cut hairstyle, Gokita takes an iconographic archetype, wipes out his face and abstracts it—a unique characteristic that separates his earlier body of works up until 2015 to more recent ones when he progressed to painting facial features.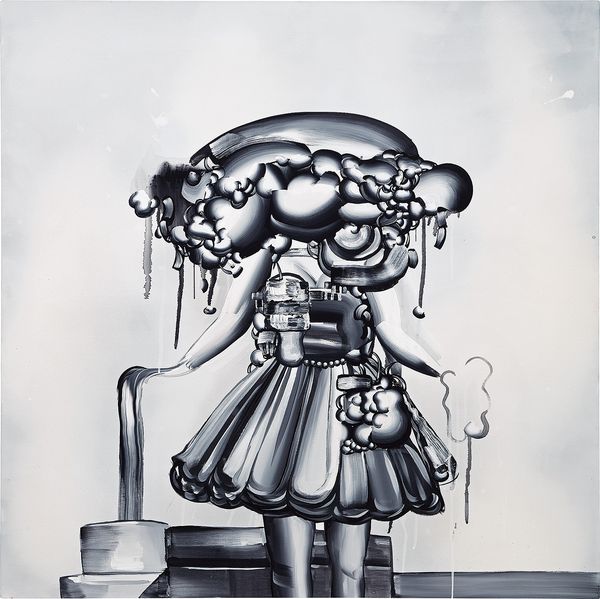 Tomoo Gokita Cheap Sensation, 2007
In Cheap Sensation, Gokita renders a female figure in a multi-layered A-line dress, a grey 'V' indicative of her cleavage. With structured layers and a string of pearls lining her waist, the figure is heavily inspired by the vintage film noir pin-up girl. This recognizable archetype acts as a visual anchor to the work, while the viewer attempts to process the billowing amorphous shapes that engulf her head, torso and parts of her dress. Though she has no face, no hands and no feet, the subject is still and poised, her outstretched arms recognizable up to the point where her hands morph into mere brushstrokes and shapes. The artist's use of high contrast chiaroscuro conveys a substantial sense of heft to these organic forms; as a result, these bulbous shapes seem to sit on the figure as if they were meant to be part of her. Gokita's background in illustration comes through in his placement of the subject into a flat negative space, further emphasizing the depth of tones in his composition. Using varying shades of gray and deliberate use of solid blacks and whites, the artist's skilled manipulation of shade and light is key in lending the work its sensuous, glowing atmosphere. Beautiful, whimsical yet somewhat simultaneously grotesque, the product of Gokita's creative process seems to be all about this psychologically disquieting push-pull experience between his paintings and the viewer.

The silent, dramatic quality of the work is highly seductive—the directness and structure in using a monochromatic palette a feast for the eyes. And yet it also draws a sense of unease through the viewers' inability to logically process the subject as a beautiful woman. Viewers end up getting caught in this ride of both pleasure and distaste, unable to move away. As the title suggests, perhaps this is what the artist dubs as a "Cheap Sensation."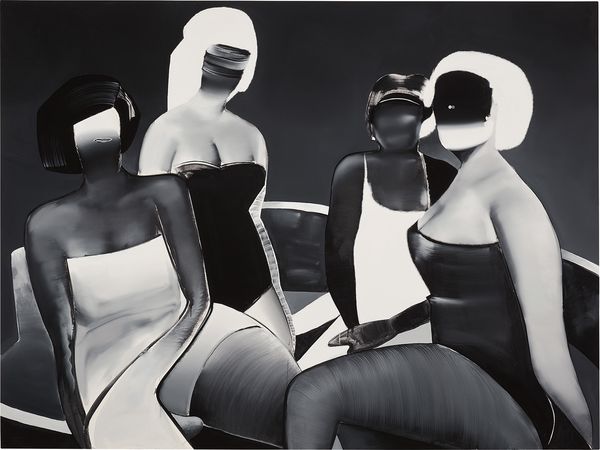 Earlier this month, Tomoo Gokita's Club Mature set a new record for the artist at auction, selling at Phillips New York for $807,000.
Some critics have labeled his work post-conceptual, due to its lack of readily visible concept or idea. Yet quite precisely, the fantastical dreamscape energy of Gokita's works is thanks to his focus on formal techniques, fluidly merging neo-expressionist gestures, surrealist aesthetics and pop graphics to create direct-yet-emotionally-complex portraits.