Nicolas Party Portrait with a Mustache, 2013
There's a big traffic jam of images in my head, they're calling out, 'Hey, look at me,' 'I'm good; what about me?'
— Nicolas Party
Nicolas Party's dazzling paintings and works on paper pop with vibrant coloration and simplistic, surrealist forms. A fusion of Magritte meets de Chirico, Swiss-born Nicolas Party has described his childhood as "fantastic," growing up amidst small Swiss villages and stunning panoramic mountain ranges.
Party's inspiration does not come from the view out of his window, the bowl of fruit on his table or a real-life fleshy model; instead, the artist explained in a 2016 interview with Artspace's Loney Abrans, his "inspiration comes mainly from images of what I want to represent. For instance, my portraits are inspired by other portraits and the history of representing the face. It's the same for trees. Looking at nature is not part of my creative process—instead I'm inspired by drawings of trees, which could be illustration, art, photography…anything, actually."
In the present lot from online sale Summer School, a portrait of sorts depicts a man with a curly cue mustache, part Salvador Dalí, part cartoon villain. The man's face is smooth and round, calling upon classical sculpture. In the same year this work was created, 2013, Party was "totally stunned" upon viewing Picasso's portrait Tête de Femme in an exhibition at the Foundation Beyeler, exclaiming, "Oh, my God! I want exactly that." Upon purchasing the postcard reproduction, he explains that that image has been "the source of all the faces I've made since"—as he was quoted in Dodie Kazanjian's "Party Time," Vogue, June 2018.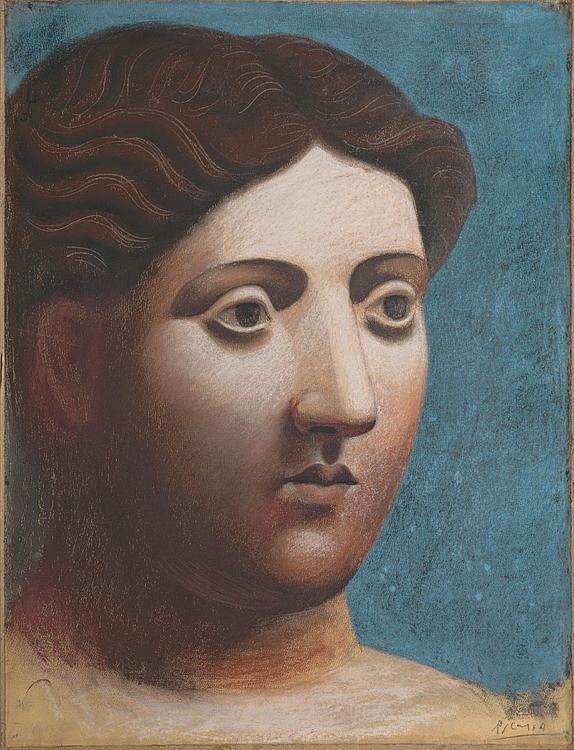 Pablo Picasso Tête de femme, 1921 © Fondation Beyeler, Riehen/Basel, Sammlung Beyeler
Party, represented by gallery Xavier Hufkens in Brussels, has had an impressive past few years which include solo exhibitions like Magritte Parti at the Magritte Museum in Brussels in 2018, Nicolas Party: Speakers at Modern Art in Oxford in 2017 and Sunrise, Sunset at the Hirshhorn Museum and Sculpture Garden in Washington, D.C.