On the left, Quipus 31TL-1, 1966-1971, by Jorge Eielson highlights our exhibition of works from the 20th Century & Contemporary Art Day Sale in New York
While still underrepresented in institutions and private collections worldwide, the appreciation of Latin American Art has begun to crescendo in recent years. In 2017 alone, Pacific Standard Time: LA/LA brought some 70 exhibitions to Southern California, the Met Breuer staged the first major retrospective of Lygia Pape in the United States and Carmen Herrera's work was showcased in an exhibition at the Whitney Museum, thereby duly concretizing her contributions to American Art.
Latin American Art is not only being celebrated in museums. We are also seeing unprecedented numbers of artists from Latin America exhibited at both blue-chip and emerging galleries worldwide. Here at Phillips, we have long-acknowledged the importance of contextualizing artists from Latin America alongside their international peers. In addition to museum tours and panel discussions, we have sold record-breaking works by Carmen Herrera, Mira Schendel and Helio Oiticica alongside artists such as Pablo Picasso, Ellsworth Kelly, Donald Judd and Jeff Koons in our Evening & Day Sales in New York, London and Hong Kong.
Here, enjoy a selection of modern and contemporary Latin highlights—spanning seven decades—from this week's sales in New York.
Fernando Botero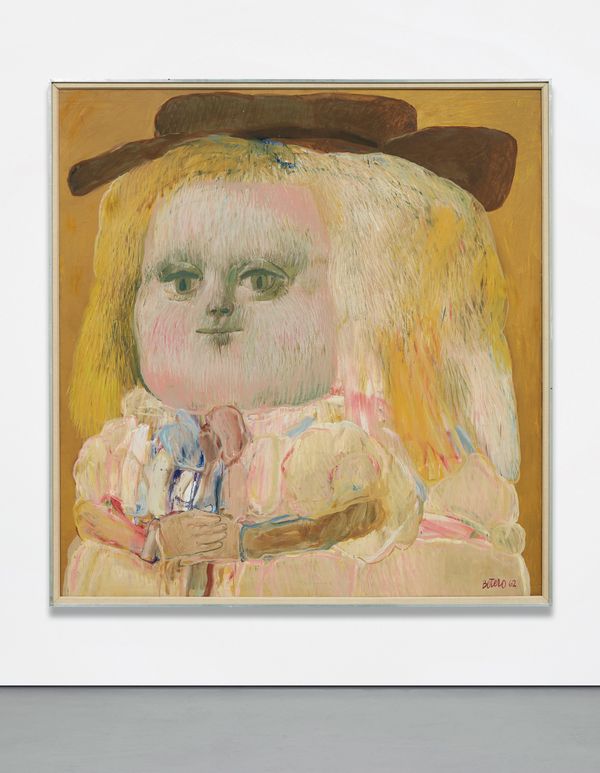 Fernando Botero Yellow Niña, 1962
From the Collection of Mr. and Mrs. Julian J. Aberbach, Fernando Botero's Yellow Niña presents a monumental homage to the Spanish Baroque painter Diego Velázquez. Executed in 1962, Yellow Niña is among the earliest portraits Botero painted. In this striking work, all the key hallmarks that would go on to define Botero's signature figurative style are present. Reinterpreting the sitter from such masterpieces as Velázquez' 1656 paintings Las Meninas and La Infanta Margarita, Botero puts forward a tightly-cropped portrait of a young girl — exaggerating the volume of her figure in such a way that she appears to push the very physical confines of the monumental canvas while rendering the sculptural voluminosity of the figure with short, almost impressionistic, brushstrokes of luminous color. Uniquely situated at one of the most pivotal crossroads in Botero's practice, Yellow Niña represents the culmination of the artist's early phase of experimentation at the same time as it anticipates the mature style that would catapult him to international fame in the mid-1960s through multiple solo exhibitions in Germany and the United States.
Yellow Niña articulates the approach of "post-abstract portraiture" that Botero began to develop in his early career, which, as he explains, "means that sometimes the space is used subjectively, over and above any respect for proportions. The monumentality of the figures and elements that compose my paintings does not follow the rules of perspectives, but simply helps me to create a general harmony…I am entirely unfettered in my use of form and color. In this sense, my vision is an abstract one." By the time Botero created Yellow Niña in 1962, at age 30, this distinct style of figurative painting had gained him critical attention: he had been included in the Venice Biennial and the Guggenheim International Award exhibition and gained institutional recognition through the Museum of Modern Art's acquisition of Mona Lisa, Age Twelve, 1959, in 1961.
Firmly positioned within the artist's great pantheon of paintings, Yellow Niña will be offered in our 20th Century & Contemporary Art Evening Sale on 17 May in New York.
Joaquín Torres-García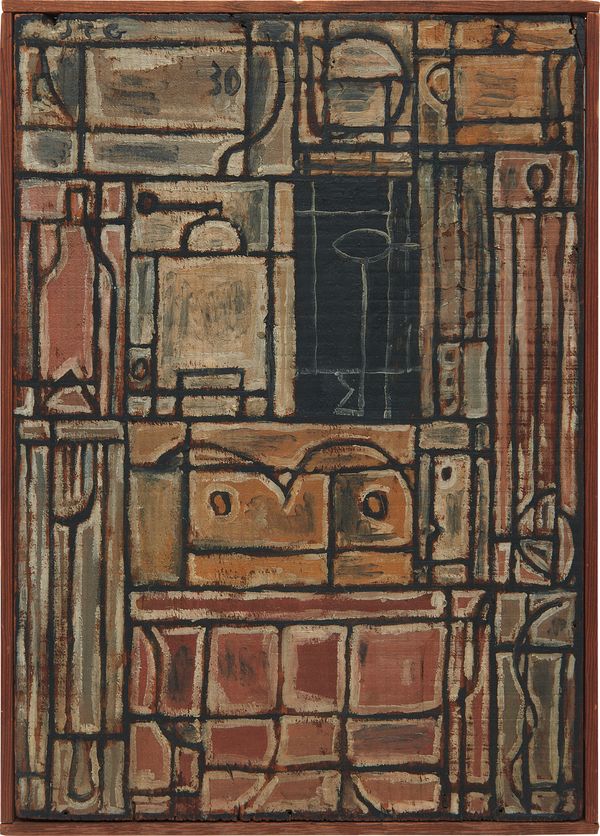 Joaquín Torres-García Untitled, 1930
Joaquín Torres-García, considered the father of Latin American Constructivism, lived in Europe and the United States for almost 40 years before returning permanently to Uruguay. These travels exposed him to different modernist movements including Constructivism, Cubism and Neo-Plasticism, while he was living in Paris and New York. The period between 1926 and 1933 in Paris was Torres-García's most mature, punctuated by his co-founding (with Michel Seuphor) of the renowned Cercle et Carré (Circle and Square) movement, which presented the international art scene with an alternative to the Parisian Surrealists. This resulted in the seminal 1930 exhibition of Constructivist artists, including Torres-García, at the legendary Galerie 23 in Paris.

Untitled, 1930, introduces the structures of thick, black orthogonal lines creating a Neo-Plastic grid that organizes Torres-García's compositions into geometric compartments, reminiscent of Piet Mondrian. Inside these windowed façades, Torres-García includes quotidian symbols—bottles, a pot, an abstract figure and a key—to depict a schematic urban scene from his own imagination. At the same time, the perfectly balanced geometrical plane and earth-toned palette are inspired by Pre-Columbian art, which he considered to be "the perfect synthesis of structure and figuration." The artist's Constructive Universalism vision was recently reflected in his 2015 retrospective at the Museum of Modern Art in New York, Joaquín Torres-García: The Arcadian Modern.
Lygia Pape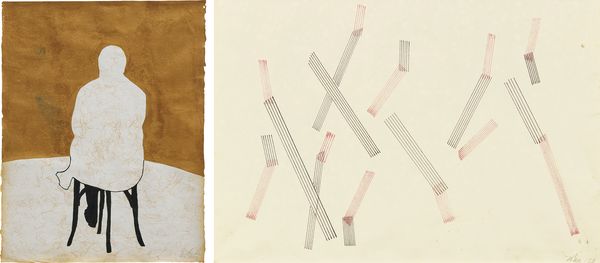 Lygia Pape Olhando Miró, 2000 (left) and Untitled, circa 1964 (right)
Lygia Pape's contributions to Brazilian modern art cannot be underestimated. Most famously recognized for her achievements in the realm of Neoconcretism, a movement that fused geometric abstraction with everyday life, Pape was also an accomplished filmmaker, graphic designer, ballet choreographer and printmaker. In a 1997 interview, Pape stated, "Everything I observe can nourish me and even serve to subsidize some manifestation or invention I'm going to make, but not in the idealistic sense of considering art as something vague and simply beautiful. I think it's more incisive. It's a language. It's my way of knowing the world."
Born in the state of Rio de Janeiro in 1927, Lygia Pape had no classical academic training in fine art. However, in the early 1950s, she became acquainted with the artistic circles in Rio surrounding the master Ivan Serpa, who by this time had begun giving classes at the Museu de Arte Moderna (MAM-RJ). During this period after World War II, Brazil was booming with industrialization, which materialized in the transformation of major cities, including the development of Brasilia, the nation's new capital. This modernization carried over into the art world with the opening of three major museums from 1947 to 1948 and the inauguration of the Bienal de São Paulo in 1951. These venues provided Brazilian artists like Pape with major exhibition opportunities as well as unfettered access to international modern artists like Kazimir Malevich, Theo can Doesburg and Max Bill, leading to the birth of Concrete Art in Brazil in the form of Grupo Ruptura in São Paulo 1952 and Grupo Frente in Rio in 1954.
As a member of Grupo Frente, along with artists like Lygia Clark and Hélio Oiticica, Pape employs in her early work a universal language consisting of simplified forms in primary colors. These works eliminate the artist's hand, appearing machine-made and featuring small squares that radically burst beyond the two-dimensional picture plane, thereby becoming part of the viewer's space. Yet, it was with the invention of her Tecelares, black and white woodcuts on rice paper, that Pape brought Brazil back into her art practice. Nodding to the country's extensive tradition of woodcut prints, typically associated with craft, Pape transformed the medium into something entirely modern by using it to produce simple geometric shapes that dissolved the boundaries between foreground and background. These works epitomize the birth of Neoconcretism in which popular culture and life experience become crucial components of art. Untitled, 1961 demonstrates a strong relationship with Pape's earlier Tecelares while foreshadowing her later Ttéias, in which she filled entire rooms with glimmering golden columns made of delicate threads through which participants traversed—begging viewers to immerse themselves wholly in an unadulterated experience of light and physical sensation.
Olga de Amaral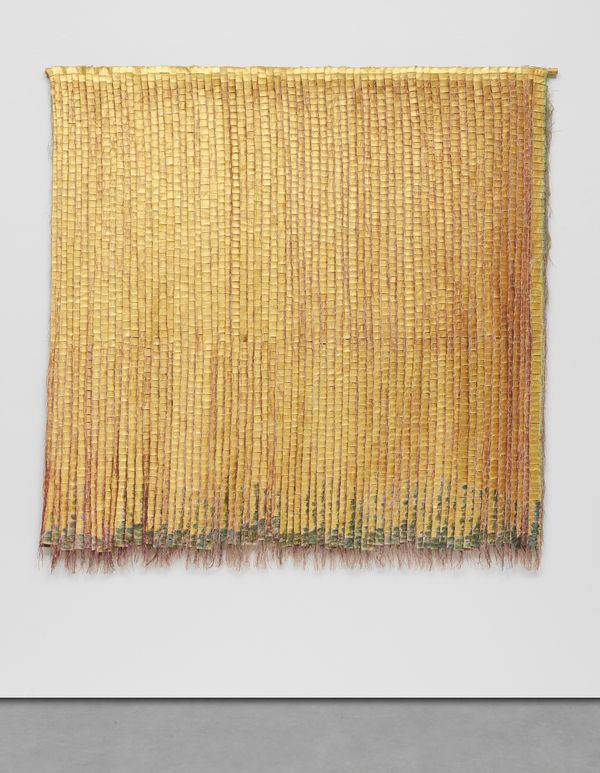 Olga de Amaral Alquímia 80, 1989
Born in Bogotá, Colombia, Olga de Amaral studied fabric design at the prestigious Cranbrook Academy in Michigan. Her in-depth knowledge of textiles and weaving techniques from around the world provided a foundation for her complex artistic practice that transcends fixed genres and artistic discipline. In this ravishing work, Alquímia 80, 1989, not only is de Amaral's manual dexterity with conventional weaving techniques apparent, but the work is also a powerful example of her mastery of fine art principles like formalism and abstraction.

De Amaral's distinctive sculptural textiles, like the one in the present lot, feature a meticulous layering of textured linen, coated with paint and gold leaf, resulting in intricate geometric compositions. While the arduous nature of her process is evident throughout, her chosen method of display—hanging these panels with separation from the wall—imparts movement and emphasizes the impact of light, instilling the works with an otherworldly quality.
Discover more Latin American works in our 20th Century & Contemporary Day Sale Morning Session and Afternoon Session.