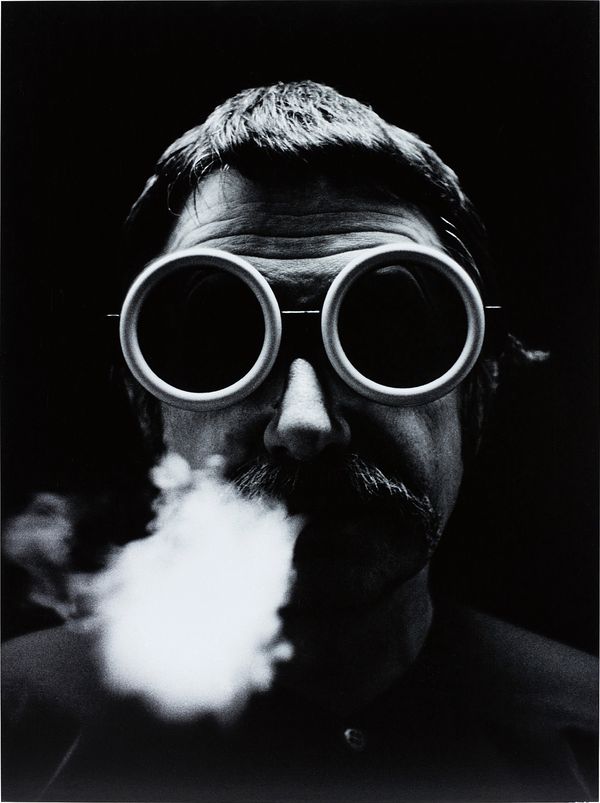 Bruno Gecchelin Ettore Sottsass. Negative date 1974, printed 2017. Chromogenic print. Estimate £1,500 - 2,500.
The 'Nefertiti' writing desk is among the first furniture pieces to be executed with decorative plastic laminate in the history of design. It is the result of the collaboration between Ettore Sottsass and the Italian manufacturer Abet Laminati, the first to introduce new techniques for screen-printing of plastic laminates following Sottsass' vision.

Designed in 1967, stylistically, the design follows from the series of 'Superbox' wardrobes, which Sottsass also conceived for Poltronova. Importantly, with these designs, Sottsass sought to demonstrate to Abet Laminati the economic potential of this innovative process. The large series of enigmatic column-shaped units, which, freed from clear function and endowed with a strong figurative value, impose a new way of domestic living and interacting. Largely remaining a conceptual project for Sottsass, and with only a few prototypes ever produced, the project initiated a laminate screen-printing workshop at Abet Laminati.
...among the first furniture pieces to be executed with decorative plastic laminate in the history of design.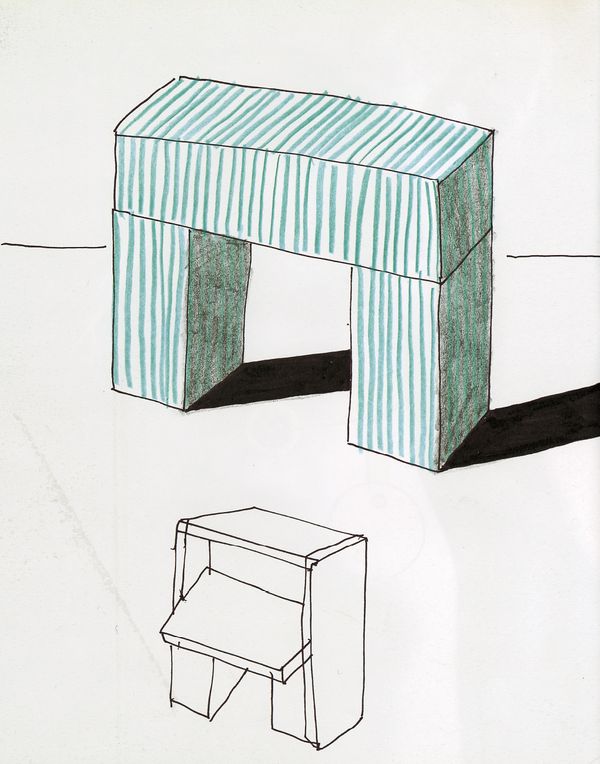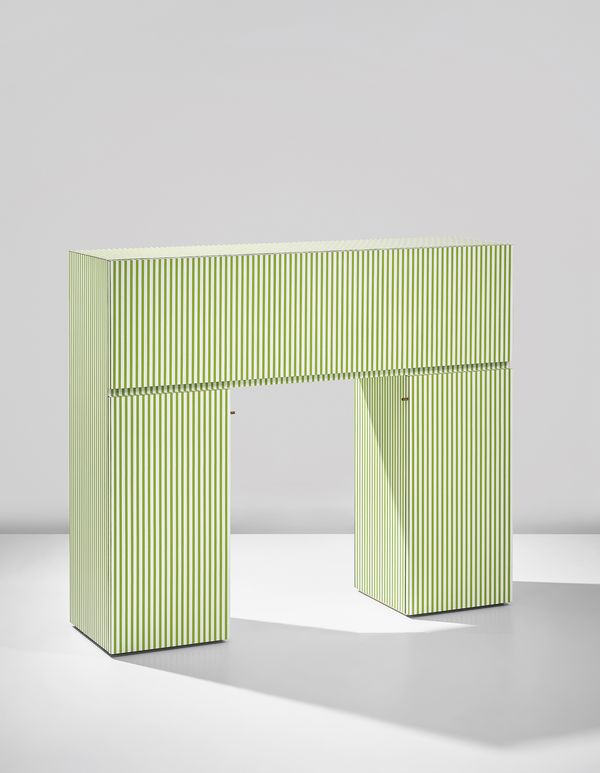 Ettore Sottsass 'Nefertiti' writing desk, 1968-1969
Equally colorful and enigmatic, the 'Nefertiti' writing desk was introduced to the Poltronova catalogue shortly thereafter, where it was offered until the mid-1970s. Exclusively by order, only a few examples of the desk were ever executed. The original design was conceived by Sottsass in white and green vertical laminate stripes on the exterior, with a white interior, such as the present lot from our April London sale of Important Design. Color variations included pink and white stripes, with white interior; green and white stripes applied only on the front and back elevation, with all other sides in white; or entirely white monochrome. It is probable that other variations also exist.

The green and white striped writing desk was included in the principal exhibitions on Ettore Sottsass' work of this period, notably the 'Miljo for en ny Planet' exhibition at the National Museum of Stockholm in 1969, and 'Italy: The New Domestic Landscape' at MoMA, New York in 1972, the latter acquiring the writing desk for their permanent collection in the same year. —Architetto Milco Carboni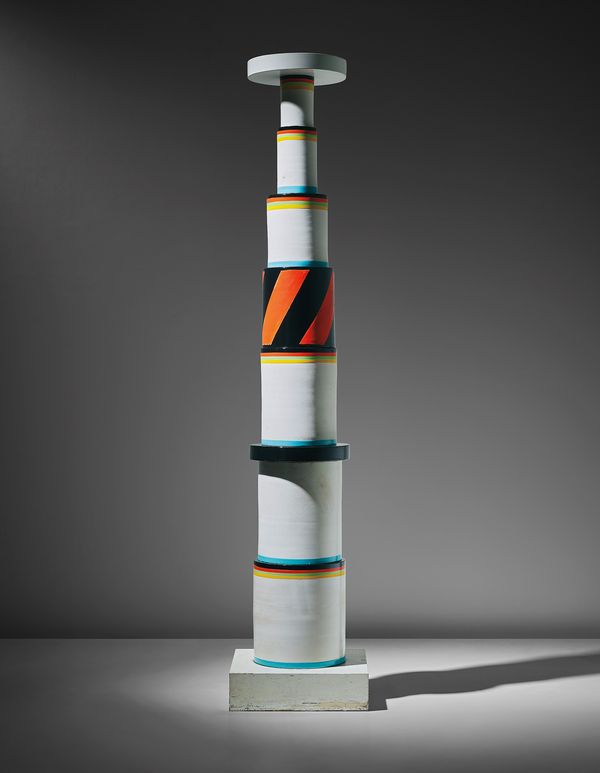 Ettore Sottsass Totem, no. 18, 1966
The 'Torri', designed by Sottsass between 1964-1965, constituted an anomaly within the history of the architect's ceramic oeuvre: their large scale, their polychrome appearance and their placement on a white plinth were each unprecedented elements within his work.

Sottsass explained that he designed the totems to be a monumental translation of the series of pills he was administered daily during his stay at an American hospital, where he was admitted in 1962 with a near-fatal Nephritis. The devastating illness, however, brought forth some wonderful atonement. From his hospital bed, Sottsass dreamt up some of the most important projects of his career: the 'Ceramiche delle Tenebre', the 'Ceramiche di Shiva' and the exhibition 'Menhir, Ziggurat, Stupas, Hydrants & Gas Pumps', as well as the creation of the magazine 'Room East 128. Chronicle', introduced the same year.

In the first issue of 'Room East 128', Sottsass referred to himself as 'King of a Cortisone', publishing sketches in which he vertically stacked the brightly colored pills that he had to swallow each day—Cortisone, Phenobarbital, Librium, Potassium Chloride, etc.—suspending them over a glass and titling the drawing 'TOTEM, detto PALO ALTO'. Upon his return to Milan, healed and grateful, he translated the drawing of those pills to large stackable cylinders, turned on the wheel, white or hand-painted with bright colors reminiscent of road signs.

Later on, he would write: 'I have made mountains of clay, impossible to realize, impossible to move, to assemble, to use and pay for'. Is this not a wonderful definition of the artist's work? —Fulvio Ferrari
...his friends enjoyed spending time in a room full of ceramics, which resembled an odd garden full of giant flowers.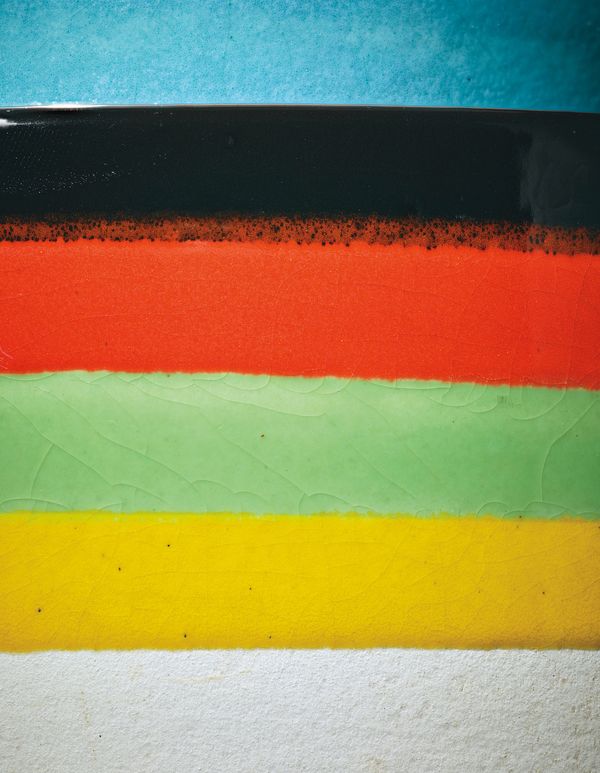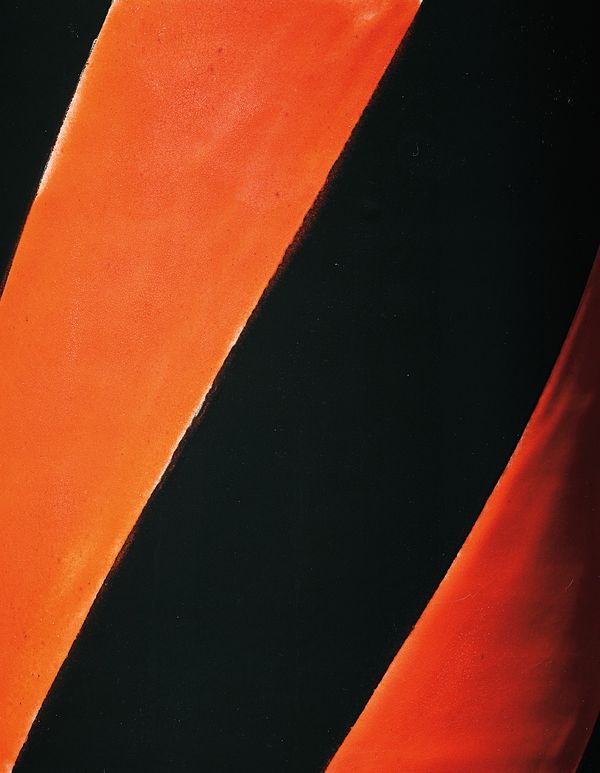 The present totem features a painted wooden base with seven cylinders and two discs in earthenware, thrown and turned with colored glazes against a white background. The work consists of four stackable parts, as some of the elements have been fused together during the manufacturing process: a mechanism known as 'incastro a battente' united the juxtaposed cylinders following their glazing and second firing. The structure was subsequently further strengthened by an internal metal pole.

This totem belongs to the series of 'big colored columns, more than two meters tall', which Sottsass conceived between 1964 and 1966. The work was manufactured by Bitossi & Sons under the expert supervision of the company's artistic director Aldo Londi. Sottass' designs were delivered to Londi by his young apprentice Clinio Trini Castelli, who, after the process of throwing, turning and biscuit firing, personally took part in the glazing and definition of its graphic patterns.
The study of the ever-changing meaning and the dimensions of an object was a focal point for Sottsass; a few examples that come to mind are 'things in the gardens and totem' designed in 1965 and the stratified ceramics produced from 1961-1962. Sottsass' large ceramics works, which he considered to be 'deliberately and irremediably wrong' and not meant to be sold and used, were displayed in the exhibition 'Menhir, Ziggurat, Stupas, Hydrants & Gas Pumps' at Galleria Sperone, Milan in April 1967. The works were exhibited later that year in June at La Bertesca Gallery, Genoa, and then in September at Poltronova's showroom in Adigliana with the title 'Wrong Ceramics'. The columns were displayed in groups of two to four in the room, 'creating strange architeture', said Sottsass, and proving that the ceramics could occupy the surrounding space and determine its meaning. The objects therefore became the link between the spatial and sensorial experience of the viewer with their primary function acting as an energy catalyst.

These sculptures gained particular success among his friends who 'enjoyed spending time in a room full of ceramics, which resembled an odd garden full of giant flowers' (from a letter written by Sottsass to Aldo Londi, 31 May 1967). —Marina Vignozzi Paszkowski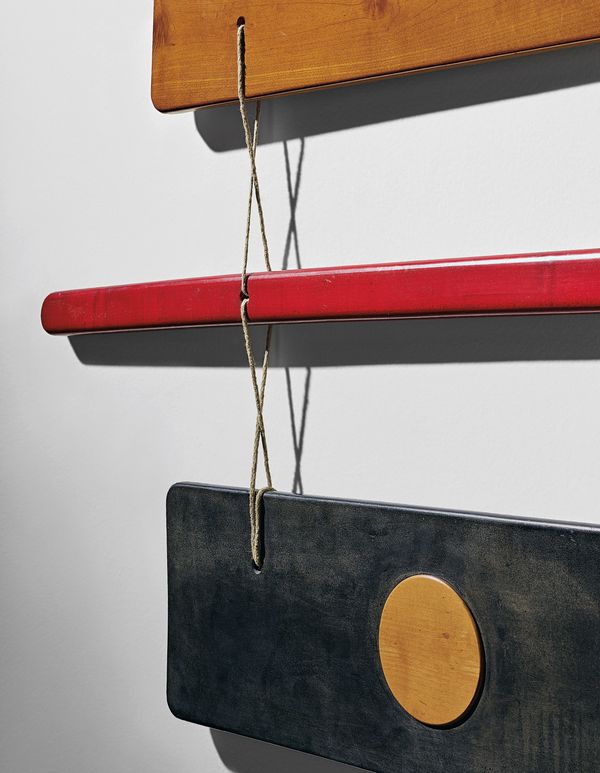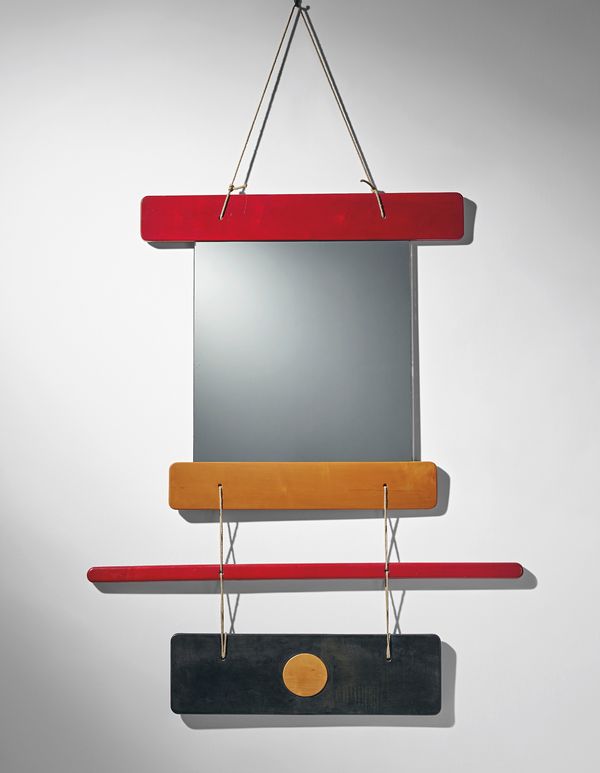 Ettore Sottsass Composizione di elementi di legno colorato e specchio, il tutto unito da funi di canapa, designed for Galleria Arform, Milan, 1959
Between 1958 and 1968, Ettore Sottsass was actively involved in projects at the Milanese gallery Il Sestante. Not only did he invite artists and designers to create pieces for the gallery, but during this period he also designed some of the finest and most interesting works of his career: ceramics, enamels and some lesser known wooden objects. Among his technical drawings dating to 1960 are projects for large mirrors, as illustrated, which apparently were never realized for the Sestante gallery. It is now understood that these drawings were informed by the design for the present lot, considered to be unique, which Sottsass presented the prior year, in 1959, at the Arforn gallery in Milan.

The work is described as a 'Composition of colored wooden elements and mirror; all joined by hemp ropes'. By virtue of Sottsass' close relationship with the founder of Sestante gallery, the present mirror later became part of the collection of the gallerist Lina Matteucci. This work is of particular importance as it shares similarities with the abstract language of the architect's metal sculpture of the 1950s, while also informing the compositional works Sottsass executed nearly 50 years later, including the illustrated drawing for a vase, dated 2004. This unique piece also illustrates the architect's interest in oriental culture, which he would continue to explore in later works such as 'Ceramiche Tantriche' and 'Homage to Shiva'.

The wooden elements are stained in different colors, their spatial relationship to each other and to the mirror creating a calligraphic composition that defines this extraordinary and important work within Sottsass' oeuvre. Furthermore, the architecture of this work, featuring abstract geometric shapes delineated by ropes, recalls ethnic jewelry, which was a great passion for both Sottsass and his then-wife Fernanda Pivano. —Fulvio Ferrari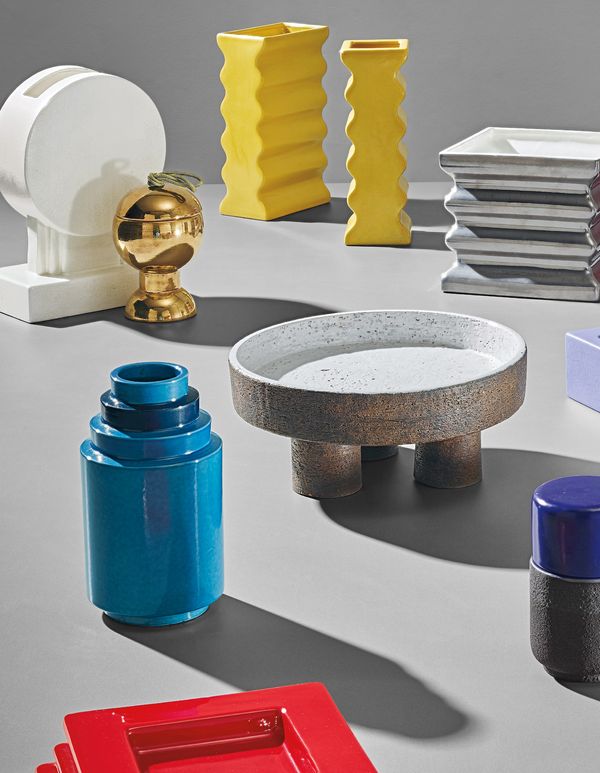 Browse more designs by Ettore Sottsass, ranging from furniture and lighting to ceramics and totems, coming to auction on 26 April at Phillips Berkeley Square, London.