Collector Claudio Proietti
Phillips is pleased to announce our support for 'Watchmakers: The Masters of Art Horology', a special exhibition by Maxima Gallery which will present exceptional pieces of horology made by some of the world's most important independent watchmakers. The show opens at The MAXXI in Rome on April 6, 2018.
Like so many collectors who enjoy the work of independent watchmakers, Claudio Proietti believes the pieces they create are works of art. And he knows what he's talking about. In charge of the Maxima Gallery since 2007, Claudio manages some of the largest private collections of modern and contemporary art in Europe. When he discovered the watches of Daniel Roth, of Kari Voutilainen and of F.P. Journe, he was immediately struck by their work. These watchmakers were no different to the artists displayed in his gallery.
Because their watches spoke to him, he began collecting them, meeting with their creators and learning about their processes. This eventually led to a conversation with Kari Voutilainen, during which Claudio intimated the idea of a traveling exhibition that would showcase thirteen independent watchmakers around the world, in places where art is traditionally displayed. The result is Watchmakers: The Masters of Art Horology. Debuting in Rome, at the MAXXI, and later presented in New York, Hong Kong and London, the exhibition will showcase some of the world's most talented watchmakers in activity, as well as a special piece from the late George Daniels. We sat down with Claudio ahead of the exhibition's vernissage to explore his passion through a few pieces in his collection.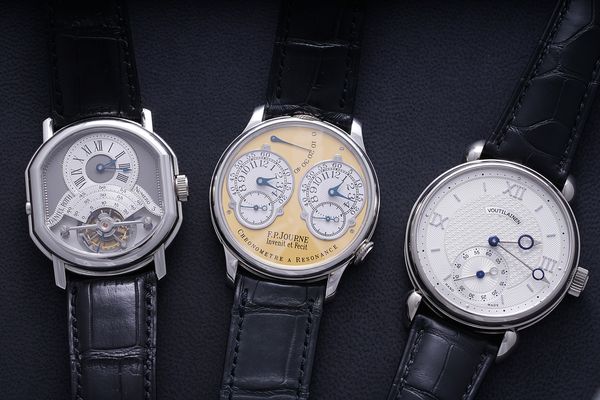 Claudio Proietti's collection includes watches by Daniel Roth, F.P. Journe and Kari Voutilainen
Phillips: Tell us a little bit about how you first became interested in watches.
Claudio Proietti: My passion for watches is actually quite recent. Just seven or eight years ago I could not tell a mechanical watch from a quartz one. One day, while leafing through a magazine, I noticed a particular watch. I didn't even know the maker at the time but I would learn it was a Lange 1 made by Lange & Sohne. I remember I almost jumped out of my chair when I discovered its price. How could a watch cost so much? I then got carried away and started reading everything on the subject.
P: At which point did you start focusing on independent watchmakers?
CP: Before I knew anything about independent makers, they were the ones I was drawn to. The first timepiece I bought was a Breguet Reference 3130, which I chose for the style and craftsmanship of its creator, Daniel Roth. Soon after, I began searching everywhere for watches designed by Roth, manufactured under his own name, and this quest opened my eyes to the world of independent watchmakers. Maybe, as Ian Skellern from Quill & Pad once wrote, "a watch in itself is not enough for me, I need to know the story behind the watch."
I appreciate their quest for perfection, regardless of the time it takes to achieve it...
P: Do you think it is easier to relate to watches when you have a personal connection to its maker?
CP: It was great being able to engage with the creator of my watch, having the chance to understand each step of the process and the feeling that he was making something exclusively for me. Also, being able to recognize the maker's personality in his work, just like you recognize the artist's hand in a painting. And yet, my answer would be no, it is not easier because it requires greater participation, study, commitment and patience compared to, say, just walking into a shop and leaving 10 minutes later with the most beautiful watch they have. It is not easier but it is infinitely more satisfying.
P: What was it about their philosophy and methodology that you appreciate the most?
CP: I appreciate their quest for perfection, regardless of the time it takes to achieve it and of all other commercial considerations. Also, I appreciate their respect and deep knowledge of a century-old tradition. I love how independent watchmakers often create their timepieces starting from a handcrafted movement. I appreciate the artistry that goes into all the decorative details, I think it shows real respect for the buyer. It is incredible how independent makers are now the ones who produce the greatest innovation and, at the same time, are in charge of preserving an ancient craft, the art of horology.
P: So what did you end up buying first?
CP: A watch that is still among my favorites and which I struggled to find in excellent condition: a Daniel Roth Tourbillon from 1991.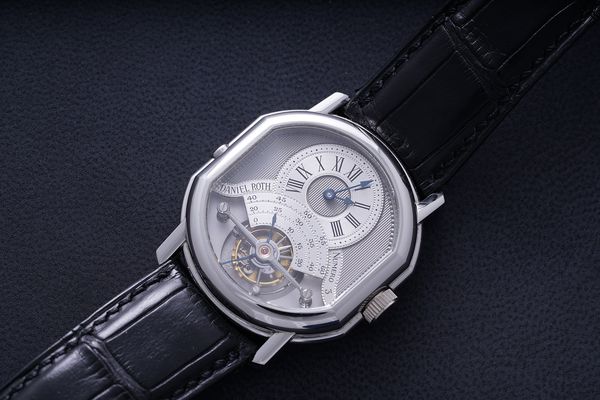 Claudio's first watch from an independent watchmaker: the Daniel Roth Tourbillon
P: How does it feel to wear a watch that only a few other men in the world own?
CP: I'll admit to liking the feeling very much, maybe because in my line of work the search for uniqueness in art is the starting point and also our guiding principle.
P: How would you characterize your style?
CP: I love the classics: Breguet, George Daniels, Roger W. Smith, Philippe Dufour. But I am also partial to avant-garde watchmakers such as De Bethune or Urwerk. For me, a watch has to be designed to be worn, not to be seen or admired. Many watches are extraordinary to hold in your hand, but if their size and shape make them uncomfortable to wear around your wrist, I lose all interest.
P: Take us through a few pieces in your collection…
CP: As I said, the first watch I bought was Daniel Roth's Tourbillon. I am very fond of it because I consider its creator to be one of the best watchmakers in history and, without a doubt, the best designer of dials.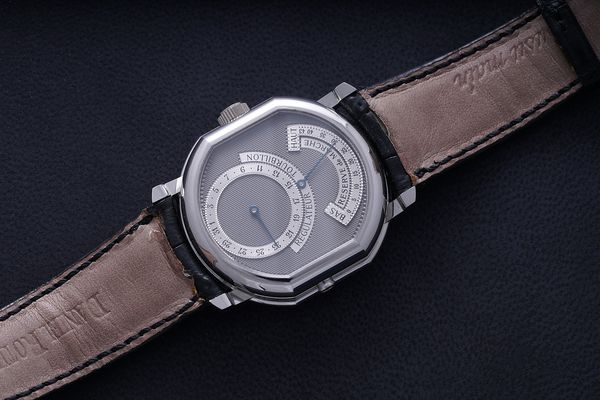 The movement side of the Daniel Roth Tourbillon
Then there is the Resonance by François-Paul Journe. In terms of design and aesthetics, I consider it one of his greatest masterpieces. The resonating mechanism is fascinating and the movement architecture is aesthetically very striking. It is the latest addition to my collection. I really wanted one with the dial in this particular color, the one used by the French watchmaker in his first years of activity. This one, in my opinion, is the second most beautiful F.P. Journe after the T10.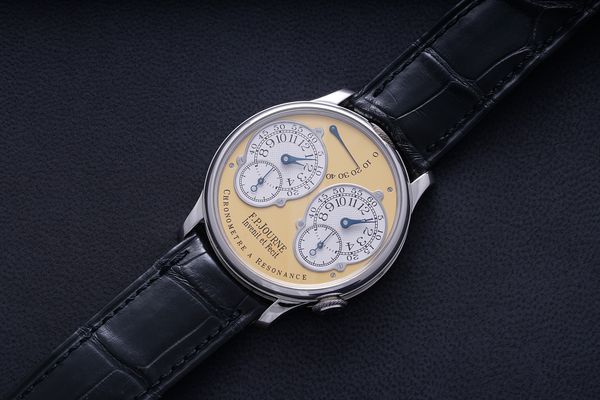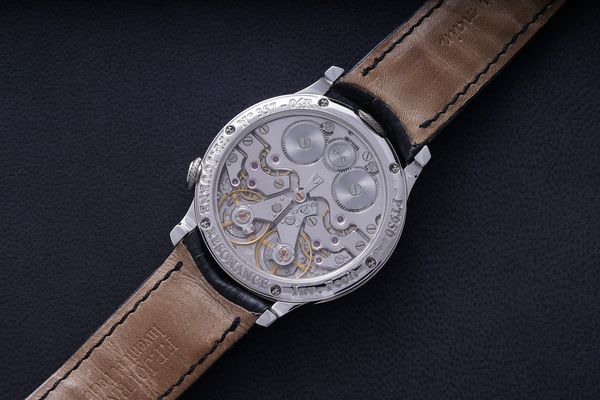 Claudio Proieitti's F.P. Journe Chronomètre à Resonance
The Voutilainen Vingt-8 is a dream watch, the perfect synthesis of classic and contemporary horology. It is modern but respectful of the past. In my opinion, Kari Voutilainen is the real heir to Breguet. His watches are sophisticated, inventive and the attention to detail is qualitatively incredible. And then, you turn them to examine the back and you get the real 'WOW' factor. The architecture of the movement and the decoration are sublime. It was wonderful to imagine the watch and watch Kari produce it.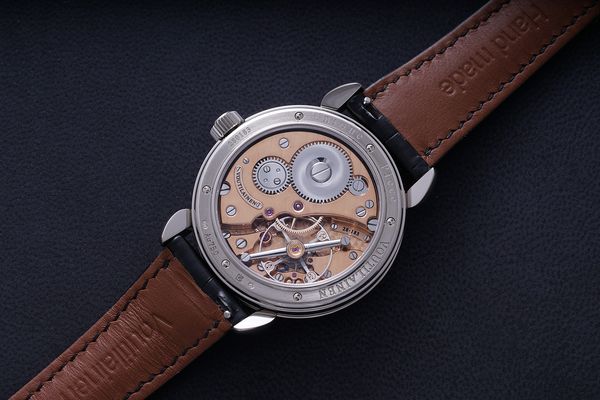 The Vingt-8's 'wow' factor, according to Claudio Proietti
P: Any similarities with the pieces of art and artists your gallery supports?
CP: There are obviously many similarities, and I would also say the best watchmakers have more in common with artists than they do with industrial watchmakers. In the coming years, this will be increasingly obvious.
P: Tell us about Maxima Gallery and its mission to support disruptive, contemporary artists.
CP: Our main activity is to assist in the buying and selling of art on behalf of important collections. This has led us to find, promote and represent a number of artists who are already established and, in the future, could become even more important both in artistic and commercial terms. I like to see character in an artist, someone who doesn't think strategically about market appeal but is willing to take risks and put forward a strong idea or message. This is what I like about Aron Demetz, for example, and what I liked about H.R. Giger, or the magnificent Jenny Saville who I urged all my collectors to buy before her work became so deservedly well-known. It is the same for a number of extraordinary watchmakers. If they wanted they could produce more commercial pieces, but they don't.
P: When did this idea to support independent watchmakers through the gallery begin to take shape? Was it a spontaneous project or something which took time to mature in your mind?
The Voutilainen Vingt-8, from Kari Voutilainen
CP: It happened quite suddenly during a visit of Voutilainen's atelier. I said to myself, "I can't believe all these artists are capable of such amazing craftsmanship and so few buyers and collectors in the art world know about it." So, on the very same day, I told him I had this idea to bring watchmakers together for a special exhibition. Having Kari on board was really useful in order to reach out to other watchmakers, and so was the gentlemanly cooperation of my friend Daniel Roth. I was thrilled by the enthusiasm shown by Vianney Halter and the kindness shown by Roger Smith, who believed in the project to the point of allowing me to include the great George Daniels.
P: Many of the watchmakers will be present during the exhibition. What is it about these watchmakers, who each have their own, often very pronounced identity that makes them such good friends in work and in life?
CP: We all speak the same language, which is a love of art, a love of watchmaking, or, to use the words of the great Philippe Dufour, a love of horology as a 'Métier D'art'.
P: Did you think the scale of the exhibition would as big as it is today?
CP: No, I did not, but that was the dream! It took us a year to realize this dream. But what spurred me on, aside from stubbornness, was the thought of hosting such an important event for contemporary horology, an event which brings watchmakers together in the most prestigious art venues and galleries. This wouldn't have happened without the support of all of those involved, including Phillips in Association with Bacs & Russo, with the magnificent spaces of their auction houses, their enthusiasm and professionalism.
P: What are you hoping to achieve through this exhibition?
CP: Most of all, to engage with the public in Rome, New York, Hong Kong and London. Art lovers will be able to discover a different but equally captivating way of making art. For me, it is like putting on a show bringing together Picasso as the greatest representative of twentieth-century art—George Daniels is, for me, his watchmaking equivalent—and artists such as Richter, Johns, Hockney, Cattelan, Koons, Stingel, Doig and Wool.

For more information about this exhibition, please visit Maxima Gallery here.