Detail of Rudy Autio Oracle of the Pale Horse, 1982
The collection of Betty and Stanley Sheinbaum spans a variety of genres and combines important examples of twentieth-century art, design and craft, demonstrating true connoisseurship and an exceptional vision. With sculptures by Henry Moore, spectacular early paintings by Robert Motherwell and Richard Diebenkorn, ceramics by Pablo Picasso and works by leading American ceramic artists such as Peter Voulkos and Viola Frey, the collection is unique for its commitment to both modern art and American craft. Largely assembled within a period of just four years between 1958 and 1962, the lots that comprise this collection were very much contemporaneous to the epoch—offering a fascinating snapshot of the vanguard of collecting at this crucial moment in time.
Heiress to one of the most successful motion picture and television dynasties in the world, Betty Sheinbaum was born to Harry Warner of Warner Bros. Pictures in New York City in 1920. At age 19, after relocating to Los Angeles, Betty married the up-and-coming screenwriter Milton Sperling, with whom she would have four children. Following the end of World War II, Harry Warner made Sperling a producer at Warner Bros. While immersed in the glamorous Hollywood scene, Betty forged her path with a distinctive sense of independence and purpose—living her life at the junction of art and politics. Betty dedicated herself to art throughout her entire life not just as a prolific artist, but notably also as a collector of contemporary art. After many years of ardently following and engaging with the groundbreaking developments in art happening around her, Betty assembled a superb collection with the focus and connoisseurship of a collector finally given the opportune moment.
[In the late 1960s], I felt that...a new vital spirit was in the crafts.
— Betty Sheinabum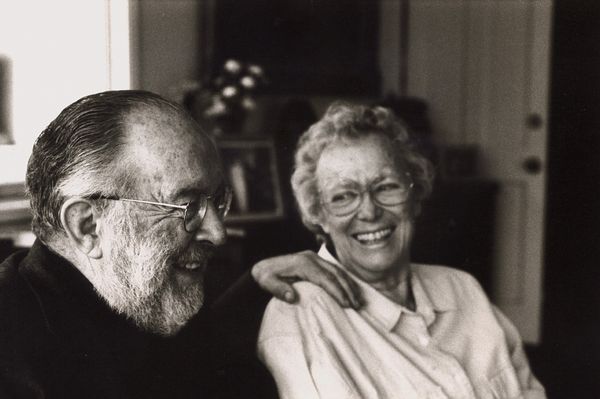 Betty and Stanley in their Los Angeles home circa 2000
In her voracious support and patronage of art in the 1960s, Betty was joined by her second husband, Stanley Sheinbaum, whom she married in 1964 after her divorce from Milton Sperling. Also born in New York in 1920, Stanley had initially pursued a career as a research economist after graduating from Stanford University, but quickly turned towards politics. When Betty and Stanley met, he was a senior fellow at the Center for the Study of Democratic Institutions, one of the first think tanks in the world. While Betty had previously already been active in politics, she found in Stanley a kindred spirit with whom she would embark upon a path of political activism. Together, the Sheinbaums dedicated themselves to human rights, social justice, education, politics and world affairs. With Betty by his side, Stanley held the position of Chairman of the American Civil Liberties Union Foundation of Southern California and, following the Rodney King beating, became President of the Los Angeles Board of Police Commissioners, amongst others—famously garnering the reputation as "the Statue of Liberty for liberal politics in America," as was quoted in Los Angeles Times, June 1987.
The selfless dedication that characterized Betty and Stanley Sheinbaum's political efforts was matched perhaps only in their support of the burgeoning craft movement. As Betty explained of this shift in collecting in the late 1960s, "I felt that painting and sculpture, particularly painting, had come to a dead end and that a new vital spirit was in the crafts." The Sheinbaums were witness to the dynamic movement of craft that was emerging in California in the 1960s and became acquainted with a number of artists working outside the traditional fine art establishment. Long before the art world took a concerted interest, the Sheinbaums acquired works by Peter Voulkos in particular. The emergence of collectors such as Betty and Stanley in the 1960s significantly advanced the field of American craft within the art community. The early inclusion of Voulkos' masterpiece Rondena from 1958—on offer in our Design Evening Sale—in a fine art collection of such prominence speaks to the importance of their patronage for the development of the craft movement, one which they also supported through generous loans and donations to museums.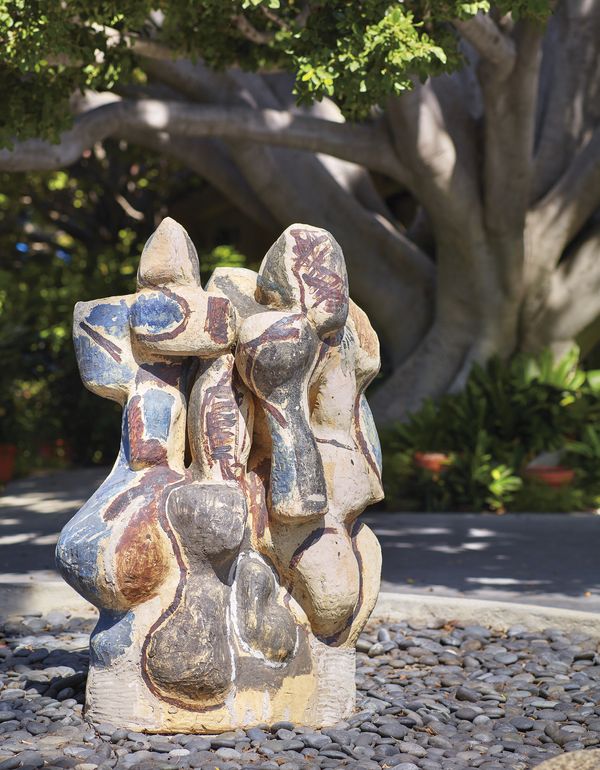 Peter Voulkos Rondena, 1958
Recognizing the lack of exhibition venues for craft, the Sheinbaums notably founded two highly influential galleries exclusively devoted to contemporary craft on the West and East Coasts. Operated by their nonprofit Fairtree Fine Crafts Institute, Galeria del Sol opened in Santa Barbara in 1968 and the Fairtree Gallery in New York in 1971. Exhibiting high quality and innovative works by Wendell Castle, John Cederquist, Albert Paley and many others—typically over 500 artists a year—both galleries were central forces in the field of contemporary craft. As Betty explained in an interview in 1976, she and Stanley actively got involved in craft because they "felt there were so many people who were doing creative things that were not being shown in galleries because they didn't fit into the conventions of easel painting or sculpture." Aside from the Museum of Contemporary Craft, the Fairtree Gallery was the only New York gallery to exhibit craft at the time. An inclusive space, it aimed to reach the widest possible audience and placed particular emphasis on educational programming.
After closing the Fairtree Gallery in 1976 and Galeria del Sol shortly thereafter, the Sheinbaums' legacy continued to live on in their extensive archive of over 3,000 slides of artworks, which they graciously donated to the Craft and Folk Art Museum in Los Angeles in 1978. Exemplifying a deeply personal, all-inclusive and democratic vision, the Sheinbaums stand as examples of true connoisseurs and patrons who immersed themselves in their own time and place, while still also understanding the trajectory of the art historical canon. As such, the Betty and Stanley Sheinbaum Collection is testament to the passion, unwavering dedication and incredible foresight of two of the most important collectors and patrons of contemporary art and American craft.
Below, browse ceramic forms from this collection, which feature prominently in our Design Day Sale on 12 December in New York, and get insights on these works from our Design specialists.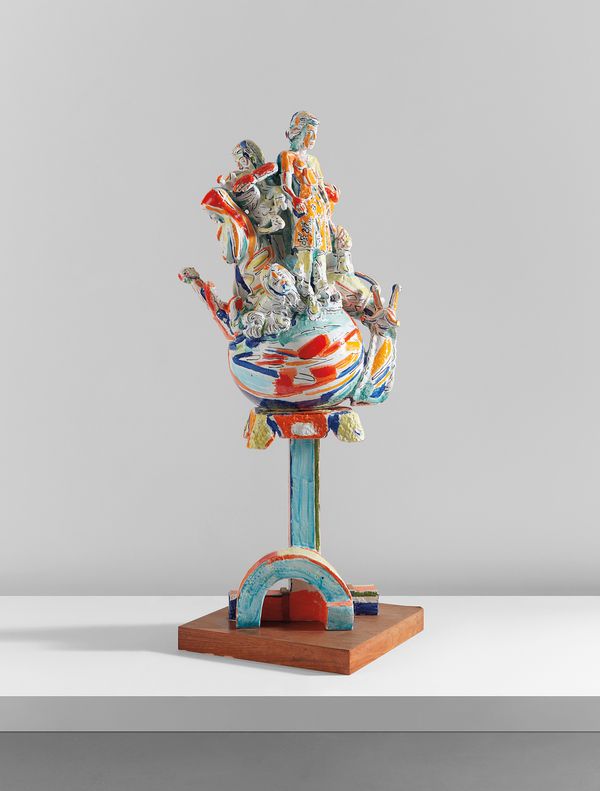 Viola Frey World Civilization #1, 1987
Viola Frey
In the 1970s, several exhibitions across the United States shifted the spotlight to the work of female studio ceramists, among them Viola Frey. Frey trained as a painter under Richard Diebenkorn and Mark Rothko while simultaneously studying ceramics, and settled on clay as her primary medium by the 1970s. She had amassed a collection of flea market ceramic figurines and her study of them led to a body of work focused on large-scale figural representations of working-class people, a nod to her upbringing on a California farm during the Second World War. The above lot is among several works Frey titled "World Civilization." The figures within these varying sculptures are painted with bold colorful brushstrokes on textured clay surfaces with frequently disproportionate features, often portraying grandmother-like women "holding the world" dressed in old-fashioned clothing, presenting a strong matriarchal image.

Long considered an influential figure on the forefront of twentieth-century American ceramics, the work of Viola Frey is held in over seventy institutions internationally including The Metropolitan Museum of Art, New York; Victoria and Albert Museum, London; Hirshhorn Museum and Sculpture Garden, Smithsonian Institution, Washington, DC; Los Angeles County Museum of Art; and the Shigaraki Ceramic Sculpture Park, Shiga, Japan.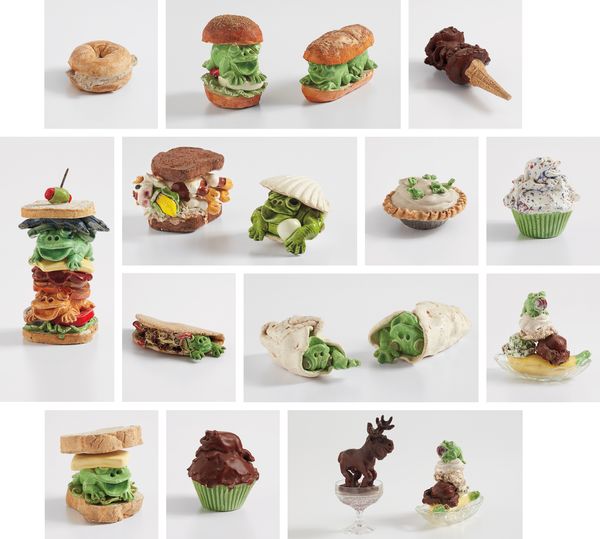 David Gilhooly Group of seventeen sculptures, 1975-1990
David Gilhooly
After American ceramists had embraced abstract expressionism in the mid-1960s, a new movement within the movement began to take shape. "Funk," a term coined by curator Peter Selz in a 1967 article in Art in America, gave rise to what he described as the "anti-form" and a group of artists drawing from Dadaism, Beat poetry and jazz music to create work with vibrant, provocative and sometimes vulgar imagery. Selz organized an exhibition the same year titled "Funk" at University of California, Berkeley, introducing twenty-six ceramists as proponents of the movement, including Robert Arneson, Peter Voulkos, Ken Price and David Gilhooly.

While Arneson was Funk's leader, David Gilhooly, his former studio assistant, became its star student. Gilhooly used ceramics as a means of political and social satire. He conceived of the character "Frog Fred," a protagonist used repeatedly throughout his work in various scenarios within a fantasy "Frog World." Often the frogs and their animal companions recreate historical events or mimic historic or contemporary figures. In many cases, the frogs are depicted as classic American diner food. Gilhooly's focus shifted to food in the 1970s while he was on a regimented diet, and, despite having gallery representation, Gilhooly would often sell these works at roadside stands as a commentary on consumer culture. The ceramic sculptures in the above lot are representative of this period of his work, which helped cement Gilhooly's iconic role within the Funk movement and American ceramic history.

David Gilhooly's ceramic sculptures are found in the permanent collections of the Philadelphia Museum of Art; Stedelijk Museum, Amsterdam; Whitney Museum of American Art, New York; Arizona State University Art Museum, Tempe; and the San Francisco Museum of Modern Art, among others.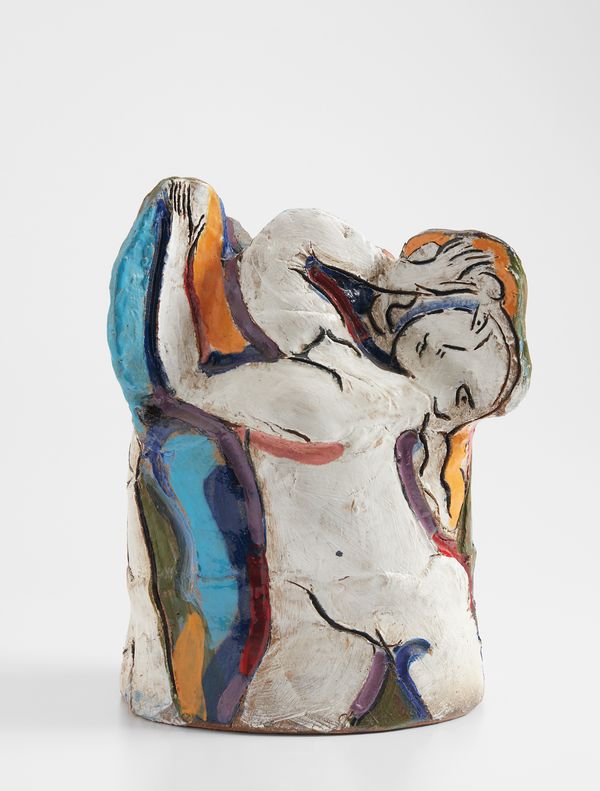 Rudy Autio Oracle of the Pale Horse, 1982
Rudy Autio
A Montana native and frequent collaborator of Peter Voulkos, Rudy Autio's trajectory in American craft history is often tied to his, as Voulkos notes: "From the beginning we had a lot in common; we had clay, music, guitars, art, Montana, immigrant parents, new families, no money, military service, the G.I. Bill, athlete's foot and a passion for making stuff." In the 1950s, Autio worked side-by-side with Voulkos in Montana at the Archie Bray Foundation and then, independently, as a ceramics instructor at the University of Montana. Like Voulkos, Autio left ceramics for a period of time to work in metal, along with glass and cast cement, before ultimately returning to ceramics by 1980. The above lot is an excellent example of Autio's work of this later period: a two-sided form with "ears," or extensions, which are the protruding limbs of the figures depicted on the surfaces, defined by heavy black outlines. Repetitively populated with depictions of female nudes and horses, Autio's subject matter has often-debated significance as Autio simply claimed he was the horse, leaving critical analyses to assign their own conclusions.

Examples of Autio's ceramic sculptures are held in the permanent collections of several institutions including the Brooklyn Museum, New York; The Metropolitan Museum of Art, New York; Renwick Gallery of the Smithsonian Institution, Washington, DC; and Museum of Fine Arts, Boston.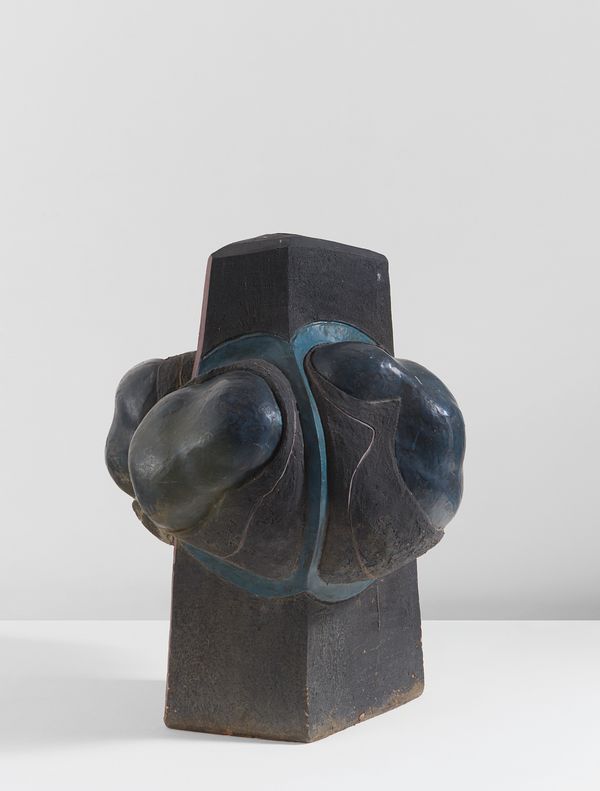 Jerry Rothman Sculpture, from the "Naked Lily" series, circa 1969
Jerry Rothman
Brooklyn-born Jerry Rothman studied ceramics in California under Peter Voulkos in the early 1950s and showed among the distinguished stable of artists at Ferus Gallery in Los Angeles that included Ken Price and Billy Al Bengston. In direct contrast to his sculptural forms that followed the abstract expressionism sweeping through ceramics in the 1950s and 1960s, Rothman simultaneously maintained contracts as an industrial designer with some of the leading ceramics manufacturing firms, including Rosenthal China and Gladding, McBean & Co., to whom he sold some of his firing and glazing techniques for use in their Franciscan dinnerware, as well as for use in architectural projects. Using his extensive design knowledge to inform his work in ceramics, Rothman was responsible for the development of new, non-shrinking clay bodies, as well as a technique for high-firing clay to a metal armature in order to create larger-scale sculptures, all the while maintaining a steady studio practice and exhibiting his work nationally.

Jerry Rothman's work is part of the permanent collections of the Los Angeles County Museum of Art; Smithsonian American Art Museum, Washington, DC; and the Everson Museum of Art, Syracuse.