Detail of Albert Oehlen Abyss, 1996
This week's Evening Sale in London features a selection of masterworks from twentieth and twenty-first century German artists, from abstract pioneer Gerhard Richter to contemporary photographic practitioner Wolfgang Tillmans. Despite substantial differences in style and technique, each artist experiments with the medium in which they work, collectively pushing the expected boundaries of painting, photography and sculpture.
Distorted forms and strange perspectives all conspire to make the work as compelling as it is repulsive.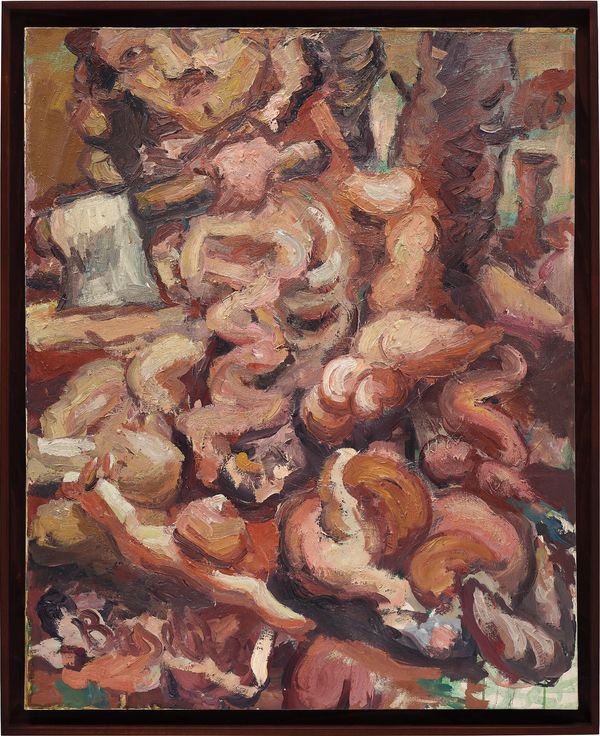 Georg Baselitz Ein Werktätiger, 1967
The earliest work in the group is Georg Baselitz' Ein Werktätiger, 1967. A painter, sculptor, printmaker and draughtsman, Baselitz is one of Germany's most celebrated living artists. Uninterested in the strongly narrative art of Socialist Realism, his practice began with a desire to situate itself outside of mainstream Modernism — and has subsequently evolved over a career spanning half a century.
Baselitz' work, as we can see in Ein Werktätiger, experiments with pictorial order and manipulates subject matter. This painting hails from the series 'Frakturbilder', or 'fracture paintings'. These works use various strategies of destruction to fragment and reimagine their subject matter, exploring how we look at objects and people. Distorted forms and strange perspectives all conspire to make the work as compelling as it is repulsive.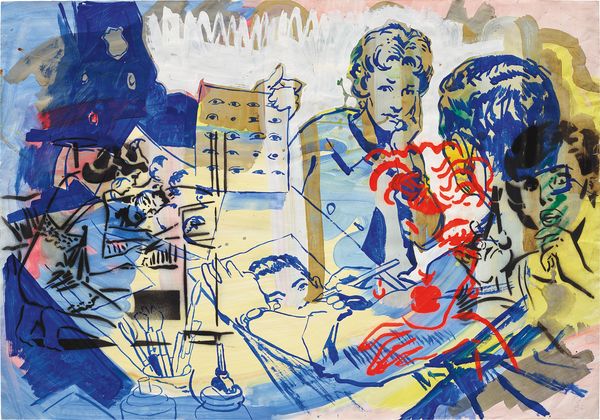 Sigmar Polke Ohne Titel (Porträtist), 1979
Sigmar Polke's Ohne Titel (Porträtist) was executed 12 years later in 1979. Although there are few parallels to be drawn between Polke's work and Baselitz's Ein Werktätiger in terms of visual language, they share one quality that runs through our grouping of German artists: a desire to challenge and reinvent the representation of objects and people and, in turn, the way we look at art.
In the case of Polke, we see the layering of images and narratives constructed from appropriated comic book imagery. Ohne Titel (Porträtist) is both jarring and seductive, and the scene feels unresolved, leading us to a common question that Polke posits through his work: "Can you always believe your eyes?"
They are complex visual events, suspended in interrogation.

— Gerhard Richter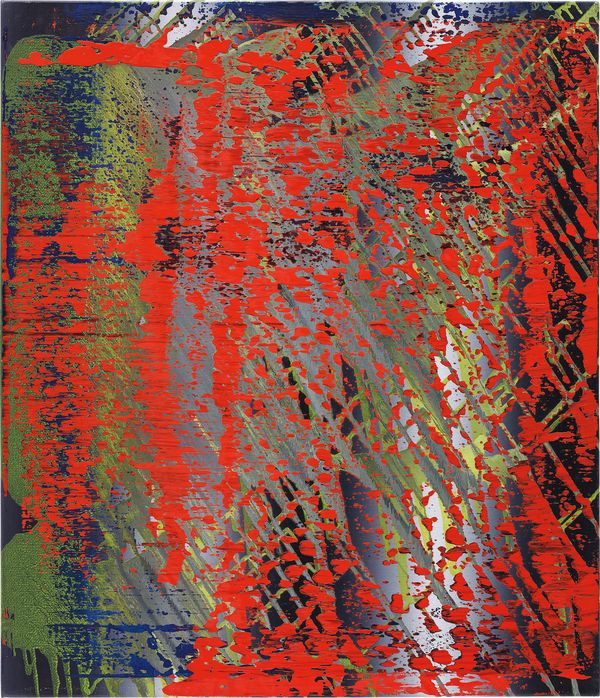 Gerhard Richter Abstraktes Bild (682-4), 1988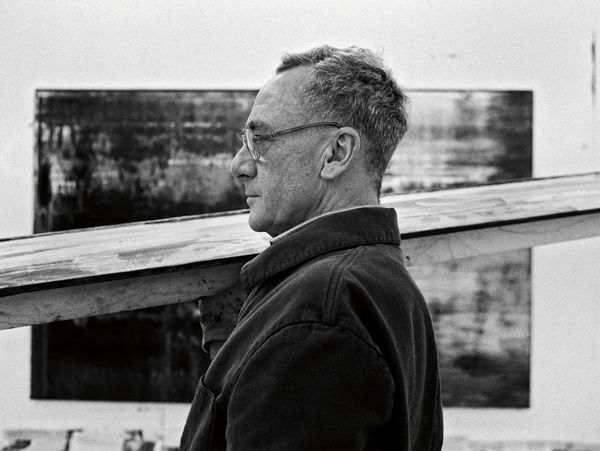 Gerhard Richter in his studio, Cologne, 1994 © Gerhard Richter/CG Bild-Kunst, Bonn 2017
Our top lot from the Evening Sale is Gerhard Richter's Abstraktes Bild (682-4), 1988. Though a friend and collaborator of Sigmar Polke, Richter maintains a distinctive and singular visual language; where the two artists connect is in their shared mission to invent new ways of representing and perceiving art.
Painted using his signature 'squeegee method' — where Richter attaches a squeegee to a long wooden ruler, using it to scrape thick masses of paint across the surface in a series of layers — the piece possesses an unpredictability and vibrancy that derives directly from the artist's means of experimentation.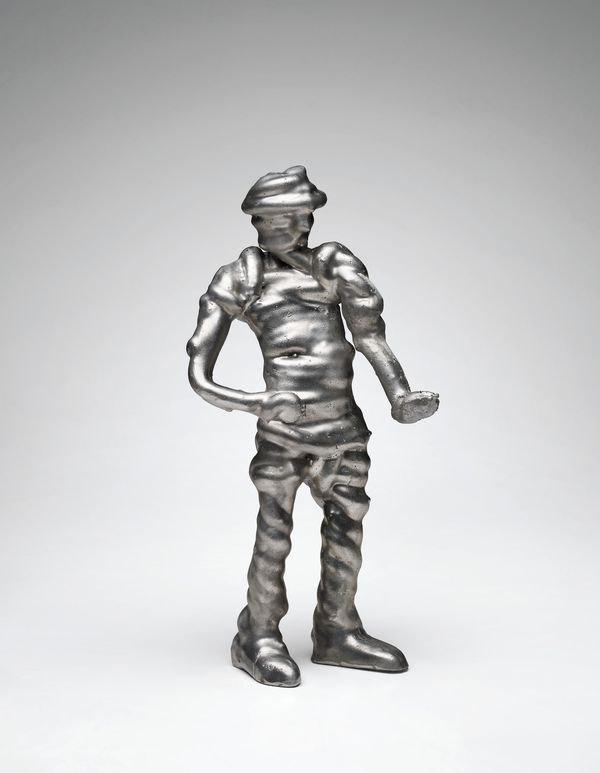 Thomas Schütte Kleiner Geist, 1995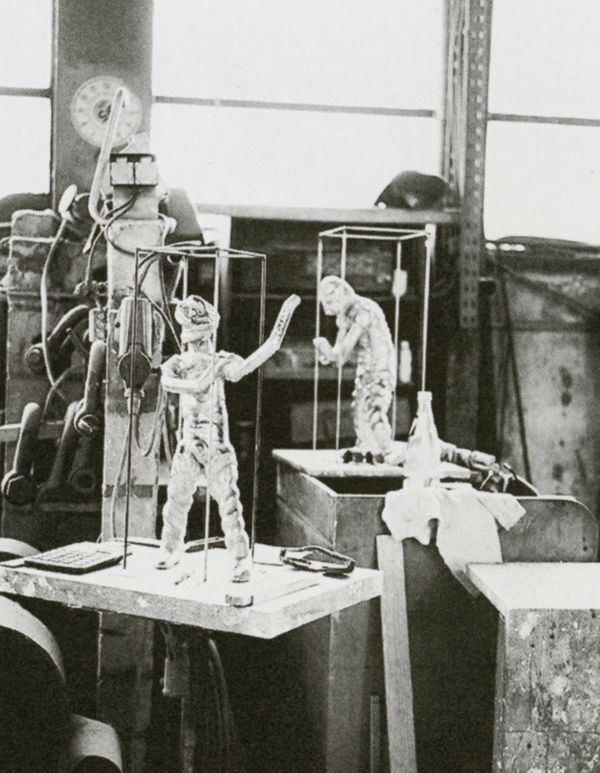 Studio image depicting the fabrication of Thomas Schütte's Kleine Geister, 1995 © DACS 2017. Photo A. Burger, Zurich
Looking ahead to 1995, the next German work of note is Thomas Schütte's Kleiner Geist. Schütte studied with Richter at the Düsseldorf Academy in the early 1970s, and it was here that the artist became fascinated with the legacies of minimalism, conceptualism and classical sculpture in Rome.
Richter, Baselitz and Polke can all be seen to question the customs and traditions of painting, and Schütte's work has a similarly inquisitive tone to it. He reevaluates the rendering of the human figure and the interaction between sculpture and space, reimagining what sculpture is in a contemporary context. Like with his peers, that experimentation is at times playful, at other times dark.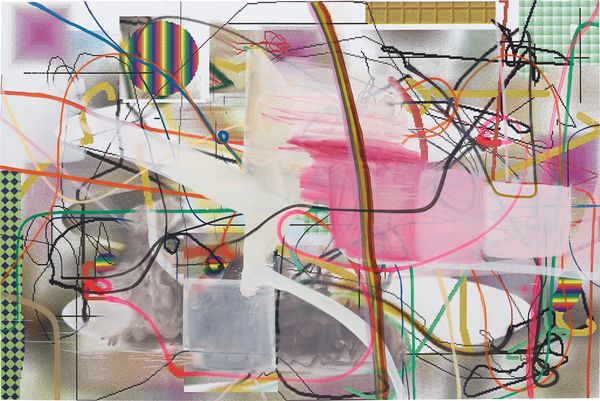 Albert Oehlen Abyss, 1996
With Albert Oehlen's Abyss, executed in 1996, we find another experiment with abstraction. Like Richter, Oehlen challenges the role of the artist, the process of creation and the very idea of figuration. This is perhaps no surprise: Oehlen studied under Sigmar Polke at the prestigious University of Fine Arts in Hamburg. Whereas Richter uses a squeegee and Polke uses collage, Oehlen employs basic computer software to reconstruct the concept of authorship and artistic technique.
With a standard mouse, Oehlen draws onscreen before enlargening and printing these "digital drawings" onto canvas. Like Polke, Oehlen's works have an irreverence to them; as with many of these German artists, Oehlen can be credited with pushing contemporaries and viewers alike to reconsider the traditional modes of creation and figuration.
Tillmans' celebrated 'Freischwimmer' series captures the element of chance embraced in the process of creation.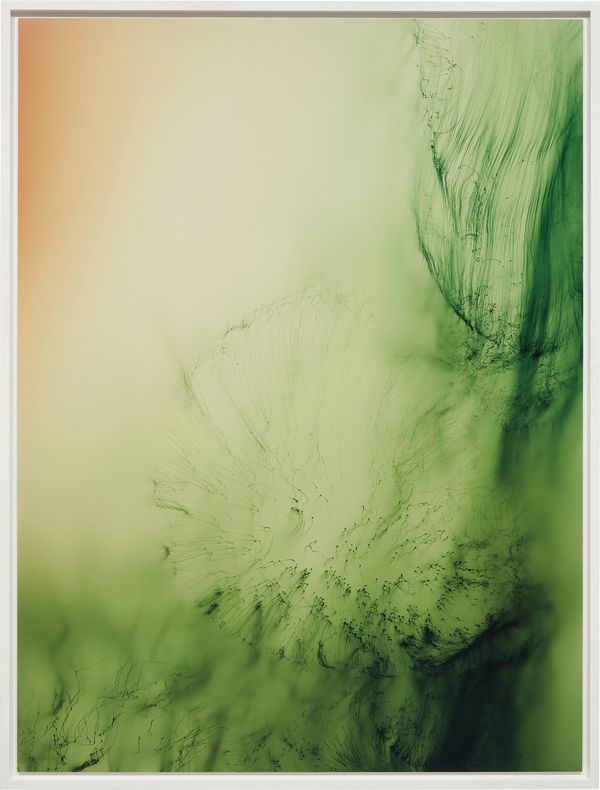 Wolfgang Tillmans Freischwimmer #84, 2004
Bringing us into the twenty-first century and demonstrating the evolution and ongoing legacy of experimentation in German fine art is Wolfgang Tillmans' Freischwimmer #84, 2004. In this instance, the artist's medium of choice is photography; however the work carries the same rethinking of observation, perception and abstraction apparent in the works that preceed it. The work is non-representational but contains some form of figurative reality: The viewer immediately projects imagery onto it — perhaps it's a landscape, or an underwater scene?
In reality, it is the product of Tillmans' unique photographic method. He exposes photographic paper and uses a light pen to sculpt and trace his subject, the paper recording his movement in time. As in Richter's squeegee abstracts and Polke's later work, Tillmans' celebrated Freischwimmer series captures the element of chance embraced in the process of creation, producing an outcome that is as hypnotic as it is unsettling.
Works similar to Freischwimmer #84 have featured prominently this year at the Tate Modern and Fondation Beyeler, projecting the legacy of experimentation within German artistic practice into the century ahead.