Wolfgang Tillmans Freischwimmer #84, 2004. This work is number 1 from an edition of 1 plus 1 artist's proof.
A sustained meditation of observation and perception, Wolfgang Tillmans' hypnotic Freischwimmer #84 belongs to an iconic and captivating series epitomizing the 2000 Turner Prize winner's pioneering and innovative style. Similar works were the subject of Tate Modern's recent Wolfgang Tillmans exhibition and are currently on show at the Fondation Beyeler — a highly-acclaimed highlight of the recent Art Basel week, with contemporary art and design fairs and exhibitions across Switzerland — celebrating his iconic and recognizable oeuvre on an international platform. This marks the Fondation Beyeler's first extensive engagement with photography.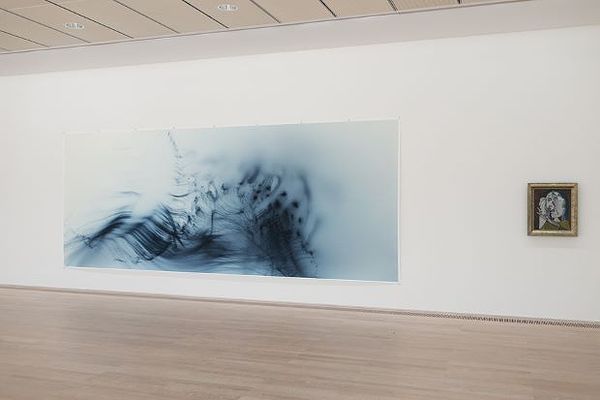 Wolfgang Tillmans' Freischwimmer picture hanging beside Pablo Picasso's Weeping Woman (1937) at the Fondation Beyeler, on view until October 1. Photograph by Wolfgang Tillmans. Source: Phaidon.
Detonating from the center of the composition, an immense explosion ignites in Freischwimmer #84, spreading Tillmans' majestic and ethereal economy of line. As though galvanised by osmosis, a density of erupting emerald dye morphs and diffuses into pastel lime. Simultaneously, thin reels of color float and curve, misting into opaque clouds of pigment before unravelling and dissolving across the surface of the image.
An enigma, this particular work is non-representational yet contains a quasi-figurative reality; the composition alludes to the natural elements — a landscape drawn into abstraction awash with gusts of wind and exquisite mist formations. Referring to German levels of swimming proficiency, the title immediately directs audiences toward the aquatic, through viscous liquid and its biochemical reactions. The majestic void of the composition and swirling illuminated rays question the relationship between light and perspective.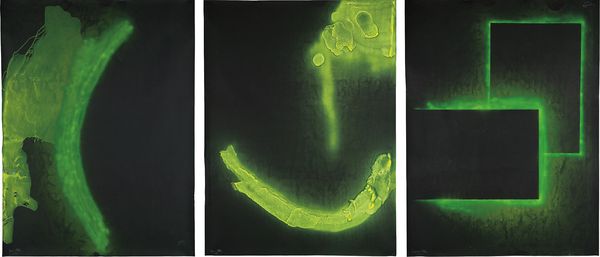 Sigmar Polke Carbon für E. Ch, 2001. Private Collection © The Estate of Sigmar Polke, Cologne, DACS, London 2017. Image: Bridgeman Images.
Similar to Sigmar Polke's later Dispersion pictures, the Tillmans work masterfully celebrates the delicate nature of perception and the power of the image as a communicative tool. Manipulating and reshaping art historical preconceptions of visual material, the artist utilizes chemistry to critique the puzzles and impossibilities of illusion in contemporary media. An alchemist, Tillmans transforms and employs the image to question the viewer's subjective means of comprehension.

Divorcing photography from its essential apparatus, Tillmans exposes photographic paper, manipulating light as though it were painterly pigment. Through the use of a light pen, the artist sculpts and traces his subject, the plane of the work recording movement in time. The irregularities of light leaving the composition are open to unintended yet harmonious optical effects. Chance, therefore, plays a crucial role in his mechanical technique. As Tillmans commented in conversation with Dominic Eicher for Frieze in October 2008, "what connects all my work is finding the right balance between intention and chance, doing as much as I can and knowing when to let go."
In 'Freischwimmer' there is the most depth in the pictorial space. All associations with liquidity that the image and the name might suggest is made with light and without any liquids or other chemicals...as in photographic reality, and an obvious painterly process frees them from being read only as a product of the artist's hand.

— Wolfgang Tillmans
The artist had previously stated, expanding on this idea in 2004 for Influence, "I like the idea of the photograph as something that joins me to the world, that connects me to others, that I can share. I can get in touch with somebody when they recognize a feeling…it's the sense that 'I'm not alone.' That's the driving force behind sharing these things—that I want to find connections in people. I believe that every thought and idea has to be somehow rendered through personal experience, and then generalized."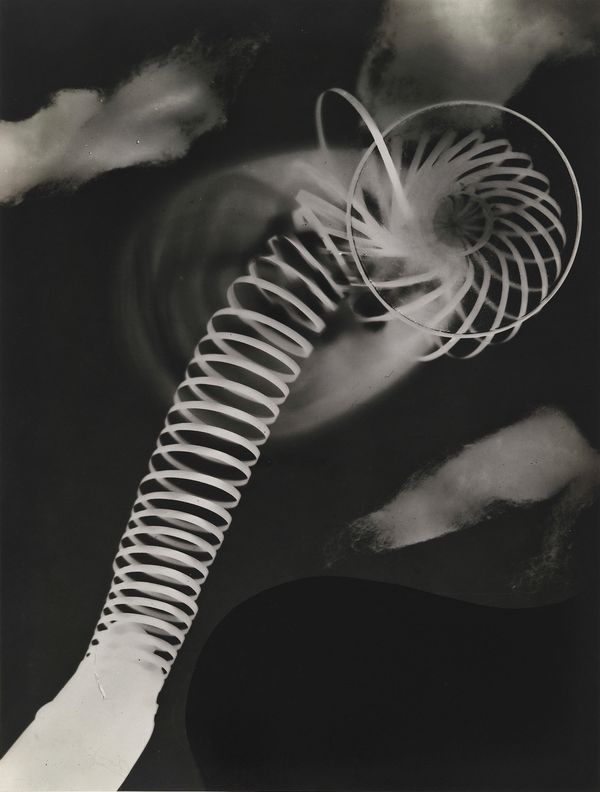 Man Ray Rayograph, 1922. Museum of Modern Art, New York © Man Ray Trust/ADAGP, Paris and DACS, London 2017. Image: Scala Images, Florence.
Interrogating the very nature of photography, Freischwimmer #84 echoes the avant-garde experiments of Man Ray and György Kepes while demonstrating an affinity to modernist Color Field painting. Like his predecessors who challenged the traditional superiority of painting over photography, Tillmans' composition from our 20th Century & Contemporary Art Evening Sale mediates these different mediums, the motivation and technique emphasizing the importance of the artwork itself.
Creating an illusionary plane, the artist maintains a surrealist stance while addressing contemporary issues of perception. Tillmans does not seek to depict reality, rather he interprets and recreates it, painting with light to achieve a unique visual lexicon free of hierarchy and ideology.