Our first live auctions of the fall 2023 season are here! The PHILLIPS Hong Kong Watch Auction: XVII, takes place on November 24 and 25, at our West Kowloon headquarters. The auction includes more than 200 of the world's finest watches – including a Rolex GMT-Master II ref. 116710LN gifted to guitarist Eric Clapton, arguably the most influential celebrity watch collector of all time.
---
Eric Clapton operates on a very different plane of existence for watch collectors compared to the average individual.
Where most people might know English guitarist and singer-songwriter for his team with the Yardbirds or Cream, watch collectors appreciate him for an entirely differet set of reasons. He's widely considered to be the most influential celebrity watch collector of all time.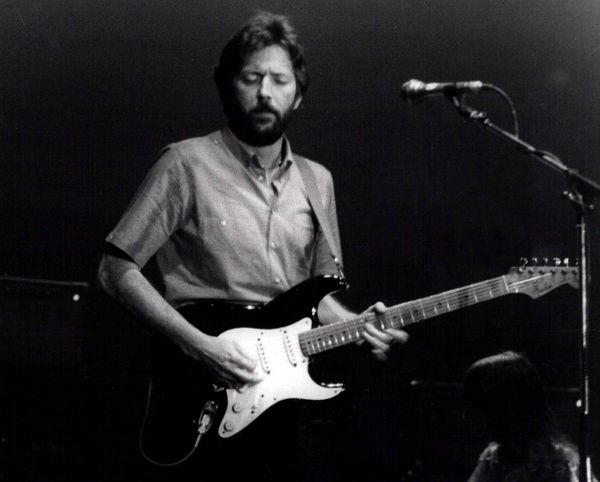 Clapton's horological taste is legendary. He helped popularize vintage Universal Genève, and his wide-ranging collection of vintage Patek Philippe could make even the most impressive of today's collectors jealous. Clapton slowly began to liquidate his collection in the early 2000s, selling a number of watches privately and through auction.
Many of these watches have surfaced at auction multiple times over the past 10 to 15 years. Phillips in Association with Bacs & Russo has been proud to sell 16 different watches once owned by Eric Clapton over the past nine years, including a very special Rolex GMT-Master that's included in our upcoming Hong Kong Watch Auction: XVII. The watch was gifted to Clapton by Paul Stewart, son of legendary race car driver Jackie Stewart, in 2009 – a fact commemorated via the engraving on the caseback, "TO ERIC SO MANY THANKS PAUL 2009."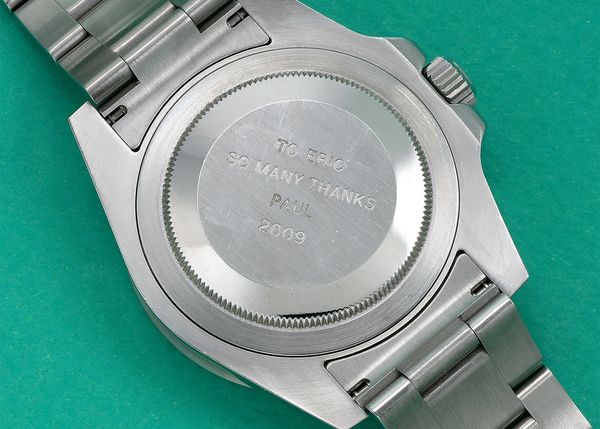 The rest of the story is extremely cool, and you'll have to check out the watch's full description in the catalog to find out all the details. While we wait another week or so before Clapton's GMT-Master II hits the rostrum in Hong Kong, we've compiled six of the most important and memorable Clapton-owned watches to ever appear at Phillips in this story.
Sold for CHF 1,724,000 during the Phillips Geneva Watch Auction: XV, in May 2022
There are some watches, so elusive and so mythical, that stun even the most seasoned and weary of collectors. Today, the term "important" is used often and sometimes loosely, bordering on hyperbole. Yet, there are instances in which a watch arrives and is so sublime, it is almost impossible to qualify and quantify its beauty. To hold the watch, and to view it with one's very own eyes is to truly understand its exquisite nature. This example is indisputably such a watch. Most probably unique and called "Crazy Doc" in Ultimate Rolex Daytona by Pucci Papaleo Editore, the present watch is the only known yellow gold reference 6239 with pulsations dial. Having originally been sold in Italy in the 1990s to Eric Clapton himself, the present watch was later offered at the Important Pocket Watches & Wristwatches Featuring Property from the Collection of Eric Clapton sale in New York, 2003.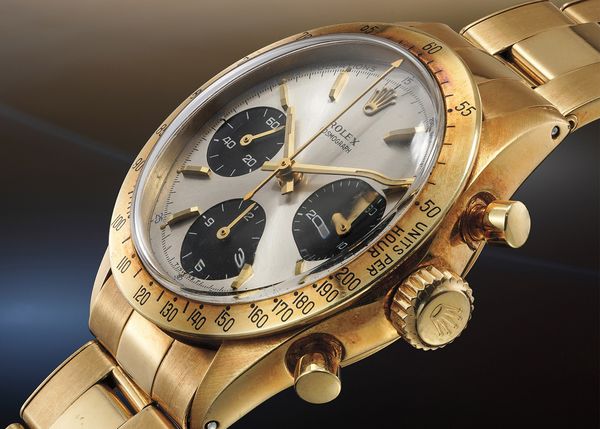 Watches with a pulsations dial were used for specialists in the medical field, as the pulsometer scale is meant to measure heart beats per minute and can be found on some of Rolex's earliest chronographs, dating from the 1930s and can even be found on rare examples of the reference 6238 "Pre-Daytona." To utilize the pulsometer scale, a doctor would start the chronograph function, and stop it based on the number of heart beats counted as indicated on the scale, in this particular example 15 (hence, base 15 pulsations). The stopped chronograph hand would indicate the exact number of heart beats per minute on the pulsometer scale, without taking the entire minute.

The most dazzling aspect of the present watch, is of course, the dial. Barely displaying any signs of aging, the pulsations scale is crisp, visible and vivid. Most notably, the "T Swiss T" text have been shifted up to allow space for the pulsations scale, showing how the present dial was a specially-designed configuration. The graphics of the subsidiary registers are white, which is a clear aesthetic departure from other yellow gold examples of the period. The luminous dots are furthermore even and consistent, having aged to a warm yellow tone.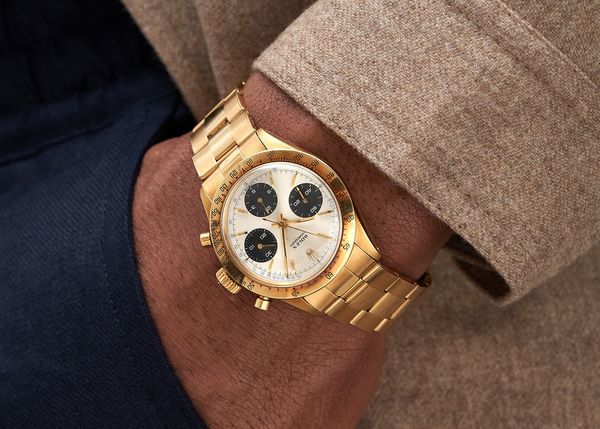 The case is also preserved in excellent condition, with sharp finishes to the top of the lugs and gold marks beneath the lugs. Furthermore, a light layer of oxidation has developed throughout the case, giving it warmth and character. The complexities, nuances and many idiosyncrasies of the Cosmograph Daytona render it one of the most complex, interesting and inspiring models to collect and research. As a result, few watches can elicit emotion and unadulterated joy like this model can. It is not everyday that a timepiece like this appears on the market, and there is no telling when another will ever surface again.
Sold for CHF 1,325,000 at the Phillips Geneva Watch Auction: ONE, in May 2015
Few vintage collectors watches are so famous that they have a name on their own: "the Duke Ellington 1563", " the Bao Dai 6062" , "the platinum J.B. Champion" and the "Oyster 6263 Albino" to name just a few of the best known. What these uber-watches have all in common is their extreme rarity, famous ownership and record- and history-making appearance at auction.

The present Rolex reference 6263 is one of only four known examples of white dialled Cosmographs where the subsidiary dials are not in black with white printing but in the same silver finish as the dial plate. The visual impact is striking and the more a specialist's eye is trained to see Rolex Daytonas the more he (or she) will believe that they are victims of an optical illusion. It comes as no surprise that the market and scholars have named the all-white Cosmographs "Albino".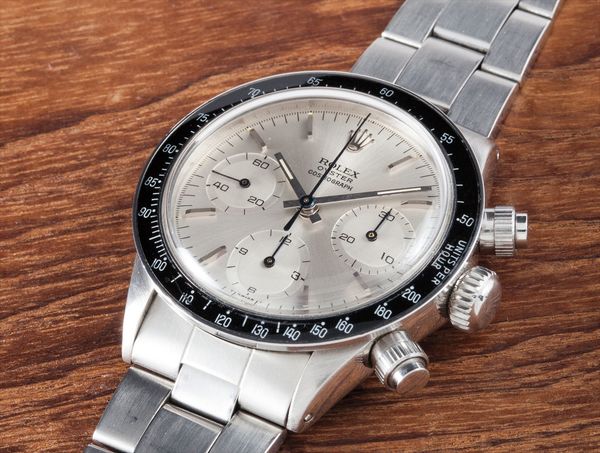 This highly unusual reference 6263 dates to 1971 and has its correct calibre 727 movement but also the correct MK1 pushers and bezel for the period. The earliest years of this watch are unknown, but it is understood that Eric Clapton purchased the watch in the late 1990s. It was then auctioned at Christie's New York on the 5th of June 2003, as property from the Collection of Eric Clapton. A few years later, at Sotheby's New York, it smashed the previous world record for any Rolex Cosmographs when selling for 505,000 USD, five times its presale auction estimate.

Without a doubt, there are very few Rolex Cosmographs so prestigious, desirable and valuable as the present "Albino". We are honoured to have been entrusted with the sale of this iconic wristwatch.
Sold for HKD $6,280,000 at the Phillips Hong Kong Watch Auction: TWO, in May 2016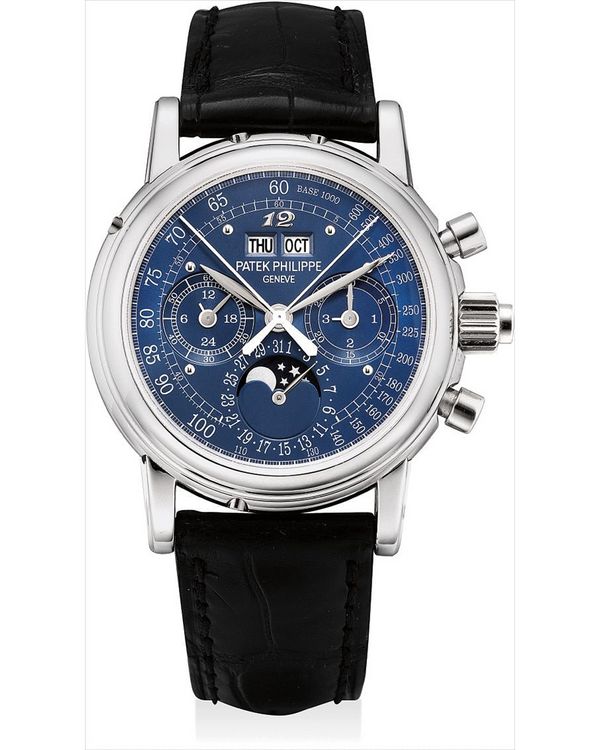 Consigned by a very important collector, the present reference 5004 wristwatch is one of the most charismatic example to have come to auction. The present watch is fitted with a one of a kind special dial displaying the perfect combination of mechanical complexity and dial design. shade of blue is perfectly matching its case metal and the Breguet numeral at 12 o'clock finishes it beautifully. The present watch is in extremely well preserved condition and has only been worn a handful of time. The manufacture of reference 5004 began in 1995 and is today discontinued. The 5004 embodies Patek Philippe's design legacy and the present watch is one of the most important 5004 to have appeared at auction in recent years.
Sold for HKD $3,560,000 at the Phillips Hong Kong Watch Auction: THREE, in November 2016
Consigned by an important and prominent collector, the following three lots are an exceptional set of Patek Philippe wristwatches. Each watch is blessed with an extraordinarily rare dial, displaying a perfect combination of mechanical complexity, dial design and exclusivity. In addition, each watch is unknown to the market and has been kept in close to brand new condition. Commissioned on special request, these tremendous watches are also complete with all original accessories. With striking and amazing good looks, each watch is fitted with a different color dial that perfectly matches their respective case metals. Each dial is also blessed with a tachymetre scale and a Breguet numeral at 12 o'clock. All of these extremely rare and unusual variations are confirmed by their Certificate of Origin and beautifully illustrated on their color portfolio photographs.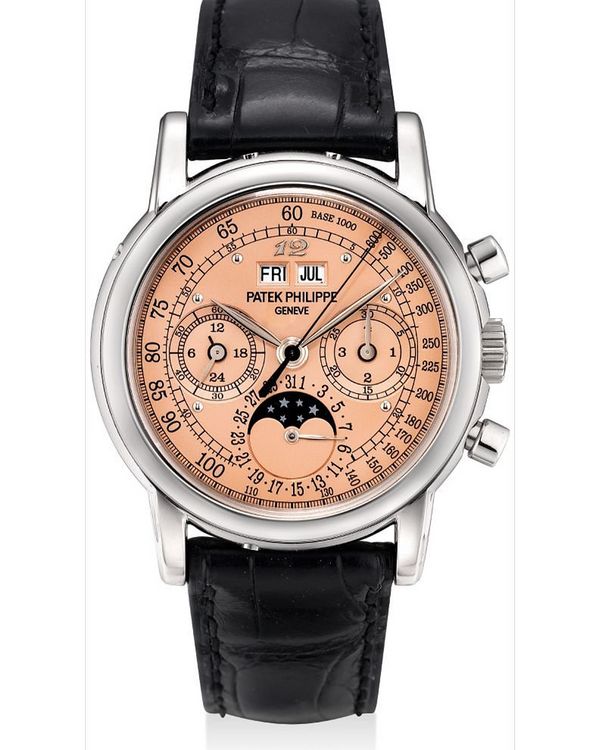 To many collectors, references 5004 and 3970 are some of the greatest watches to be manufactured by Patek Philippe. Phillips in association with Bacs and Russo is delighted to have been trusted with their safekeeping and to present them to you at auction.
There are many aspects that make this present white gold 3970 one of the most exclusive available on the market today. The white gold and salmon dial combination transforms the look entirely of this reference. The tachymetre dial with white gold Breguet numeral at 12 o'clock and provenance catapult to the very top of the 3970 tree. In like new condition, the watch is further highlighted by its original accessories.
Sold for HKD $3,140,000 at the Phillips Hong Kong Watch Auction: THREE, in November 2016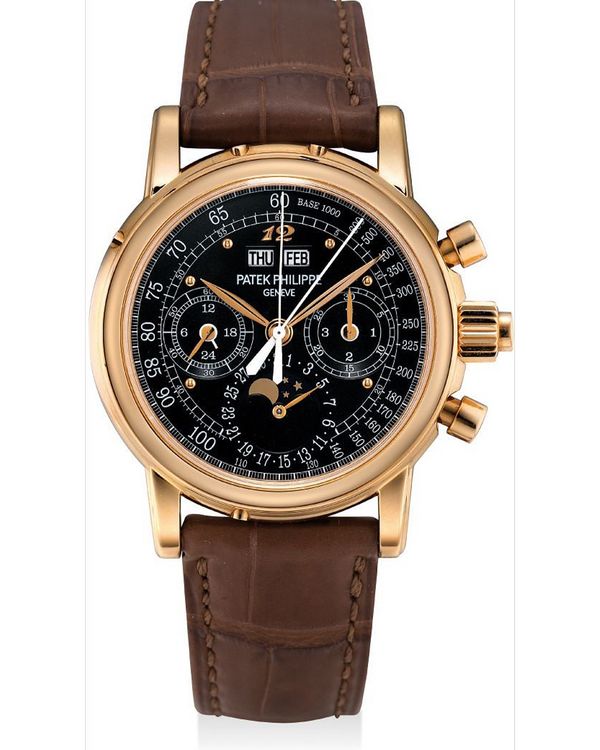 This reference 5004 is an incredible example fitted with the highly sought after and rare black tachymetre dial and applied pink gold Breguet numeral at 12 o'clock. Retained in outstanding condition, the watch is formerly in the collection of Eric Clapton, CBE. It was only six months ago, Phillips Hong Kong sold a platinum version with the exact same dial configuration for a staggering 6,280,000 Hong Kong Dollars. Fresh to the market, the watch is further highlighted by the presence of all accessories.
Sold for CHF 366,500 at the Phillips Geneva Watch Auction: SIX, in November 2017
The present watch is an exceedingly rare example of reference 3970. In lieu of an opaline-white dial, it has a silvered dial printed with a tachymeter scale, furthermore applied with a Breguet numeral at 12 o'clock. These elements give the classic reference 3970 an instant vintage appearance and touch of style. Such watches were always made upon special order for the firm's most distinguished clients.

Only Patek Philippe's most distinguished customers, such as Mr. Eric Clapton, had the privilege of being granted such watches. In fact, these "special order" 3970s were produced after the reference officially ceased production.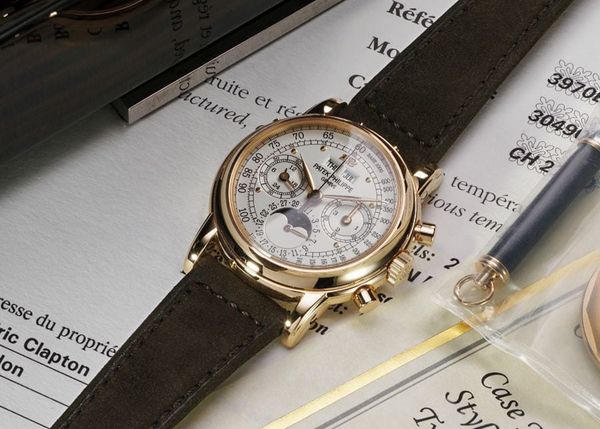 Launched in 1986 and in production until approximately 2004, reference 3970 replaced reference 2499. Both models shared certain features such as pump pushers and down turned stepped lugs. It replaced the Valjoux movement of its predecessors with a heavily modified Lemania 2310 ébauche dubbed CH 27-70Q. Furthermore, two new indications were added to reference 3970, a leap year indication and a 24 hour hand.

Reference 3970 underwent three significant transformations. While the first series featured a snap on caseback, the second series displayed baton markers, feuille hands and a screw back. It was produced concurrently with reference 3971 which had a snap on sapphire back. Finally the third series merged references 3970 and 3971 and offered both sapphire and solid screw-down case backs.
You can learn more, place a bid, and view the entire he Hong Kong Watch Auction: XVII right here.
---
About Phillips In Association With Bacs & Russo
The team of specialists at PHILLIPS Watches is dedicated to an uncompromised approach to quality, transparency, and client service. Phillips in Association with Bacs & Russo holds the world record for the most successful watch auction, with its Geneva Watch Auction: XIV having realized $74.5 million in 2021. Over the course of 2021 and 2022, the company sold 100% of the watches offered, a first in the industry, resulting in the highest annual total in history across all the auction houses at $227 million.
About Logan Baker
Logan has spent the past decade reporting on every aspect of the watch business. He joined Phillips in Association with Bacs & Russo at the start of 2023 as the department's Senior Editorial Manager. He splits his time between New York and Geneva.
---
Recommended Reading
An In-Depth Collectors' Guide To The Patek Philippe Chronograph Ref. 5070
Compact Dimensions And Complicated Watches: A Look At Patek Philippe Under Philippe Stern
Patek Philippe's TV-Shaped Ref. 5020 Is A Genuine '90s Deep-Cut