Steven Klein, Madonna, Los Angeles from X STaTIC PRO=CeSS, 30 July 2002. Photographs London.
The visionary artist Steven Klein has partnered with Phillips to offer 18 unique Polaroid works from his personal archive at the upcoming Photographs auction in London. Taken between 1989 and 2007, the works showcase the intimate relationships and mutual respect between Klein and some of the most important cultural figures of that era. From iconic models including Kate Moss, Naomi Campbell, and Claudia Schiffer, to performers such as Madonna, Prince, David Bowie, and Mick Jagger, in each image the sense of trust between artist and sitter is palpable. So, too, is Klein's relentless impulse for visual expression.
An innovative and provocative storyteller, Klein took most of these Polaroids on editorial assignments for publications including W, Vogue, British GQ, Harper's Bazaar, and more. To collectors, this offering from Klein's archive presents a rare opportunity to own culturally significant works that span this crucial artist's career. To the artist, however, letting go of them is touching. "They're like my jewels in the vault," Klein tells us with a smile. "One of a kind and close to my heart."
Below, we highlight key lots from the selection as Klein tells us about his process and subjects.
Kate Moss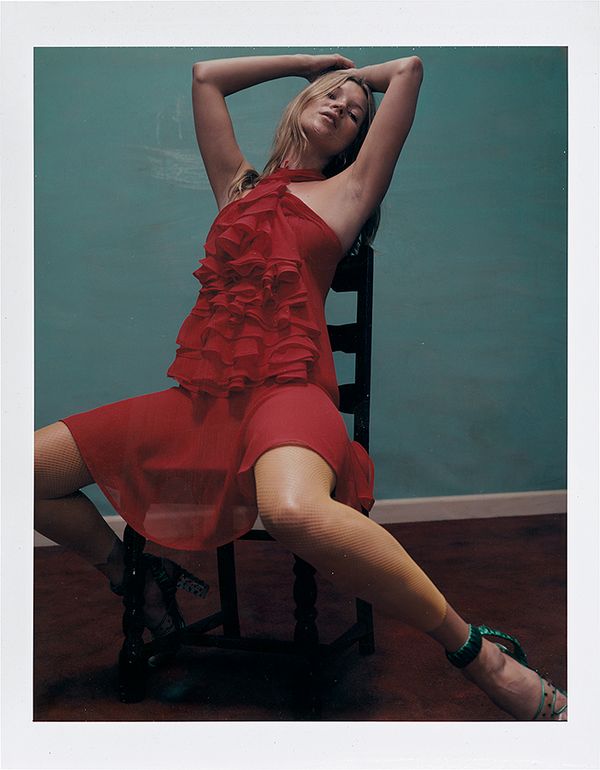 Steven Klein, Kate Moss, New York City, 8 May 2003. Photographs London.
When Steven Klein began working editorial assignments, he used Polaroid photography as a tool for pre-visualization. In many ways it was very practical. "It was a way to secure yourself," he says. "Because the thing is, if something was wrong, it would take a day or two to get the film back and then you'd have to reshoot."
Klein also invited his subjects into the process through Polaroid. It was a way for him to excite his sitters and share the story with them as they built it together. This process often sparked conversations that inspired Klein's masterful direction. He notes that in today's digital world, it's often difficult to build these relationships without something tactile: "You now have digital screens, but it doesn't work in the same way because sharing a Polaroid with somebody was more personal."
This personal connection is tangible in the above work. "So lovely. Kate Moss — the one and only," Klein says fondly as we view this work together. It's one of several Polaroids taken to help select the right dress for the W magazine spread titled "Superstar." Klein goes on to remark that Moss broke boundaries in the industry, sharing that "Kate provided the template in the 90s for the new breed of model but so unique was she that no one could match the contours of her modeling. She is always spot-on in every single frame you may snap."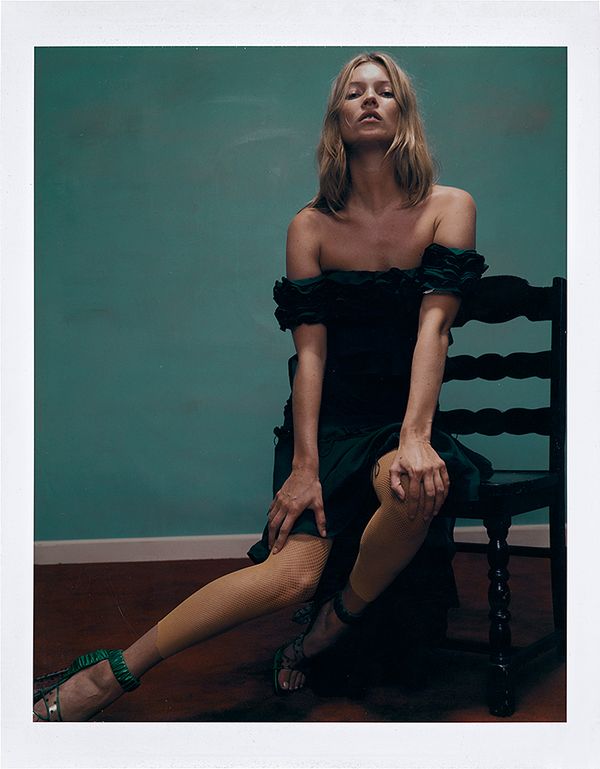 Steven Klein, Kate Moss, New York City, 8 May 2003. Photographs London.
Madonna and Brad Pitt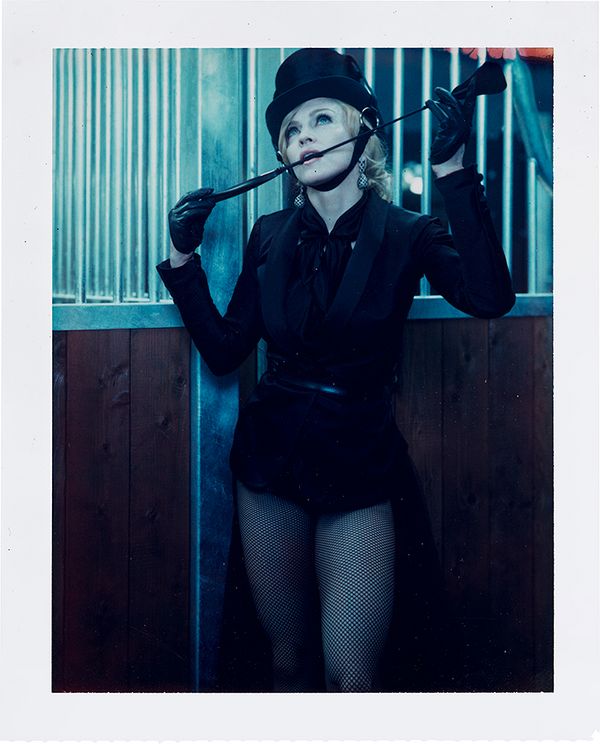 Steven Klein, Madonna, Hollywood, CA, 19 March 2006. Photographs London.
The photograph Madonna, Los Angeles from X StaTIC PRO=CeSS comes from the first shoot Klein did with Madonna, marking the start of a collaborative journey that has led to over 50 shoots. "From the very start there was an excitement of collaboration, the meeting of two souls with the same agenda, which is to bring art even to the most commercial endeavors," Klein says of working with her.
The later photograph of Madonna in the selection is the result of combining the shoots of the photo essay "Madonna Rides Again" for W magazine with the opening video for Madonna's show Confessions. "We both had a love for horses and decided to explore that," he tells us. He also notes that "Madonna is a master of persona. I like capturing the newness of every project and every moment is a challenging one for me. Working with her has taught me to stay on my toes."
Klein shares that there are often time constraints when shooting iconic subjects other than fashion models. "I've always approached it in a narrative, art-based way," he says. "In terms of Madonna and Brad, we explored new ways of self-expression with each project."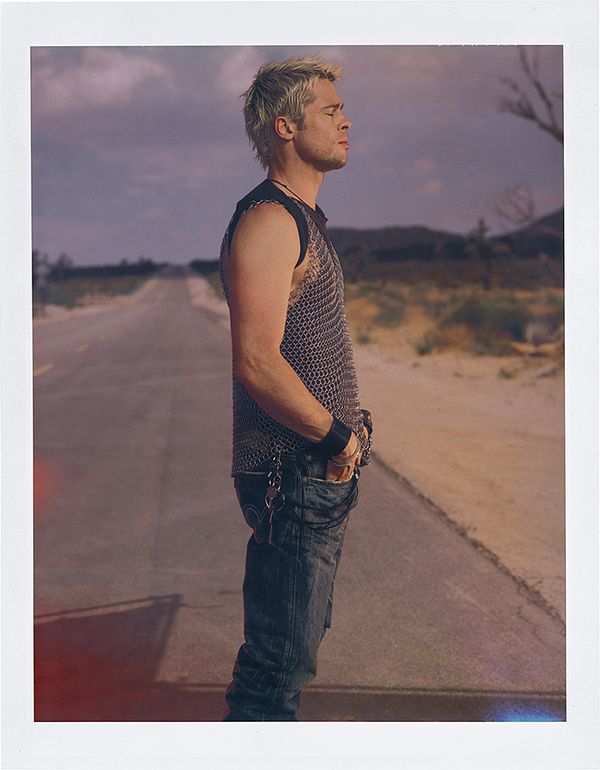 Steven Klein, Brad Pitt, Palmdale, CA, 26 July 2005. Photographs London.
Naomi Campbell and Claudia Schiffer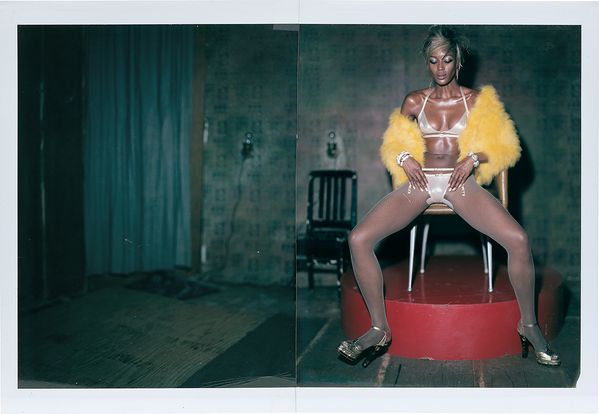 Steven Klein, Naomi Campbell, New York City, 24 February 2004. Photographs London.
The above photograph of Naomi Campbell highlights Klein's use of composites of several Polaroids, a process he developed to create a wider scope — "almost like my own vision," he says. This process also allowed him to remain close to his subjects. He explains, "I never like to be too far away unless it's intentional to be more voyeuristic."
This photograph also highlights Klein's appreciation for color in Polaroids, which he prefers to film. "For me, the Polaroid color was always better than the film color," going on to note that "the color rendition of Polaroids was so special — the reds, the blues, and the blacks." He mentions that this shoot was intended to portray Campbell as an actress playing a role, rather than simply a model — a testament to Klein's narrative approach.
Klein took a similar approach in the photograph Claudia Schiffer, Montclair, New Jersey taken for Harper's Bazaar. Around the time this photograph was taken, the artist had begun to incorporate cinema lighting in his shoots, with the aim of leaving the impression of a film still. "Claudia was like a movie star," he says, adding, "I decided to take an alternative route and put her in a suburban setting." This striking image of one of the world's most famous supermodels cast in a distinctly American domestic setting remains captivating today. "I tried to desexualize her image by putting her in normal situations with mundane clothes," Klein explains.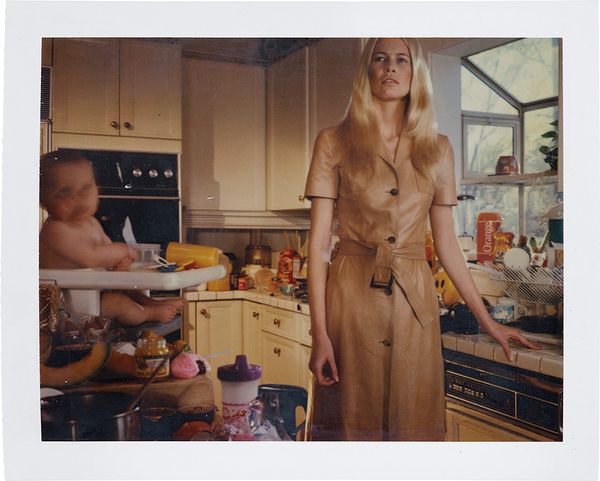 Steven Klein, Claudia Schiffer, Montclair, New Jersey, 10 December 1999. Photographs London.
From Prince to Gwyneth Paltrow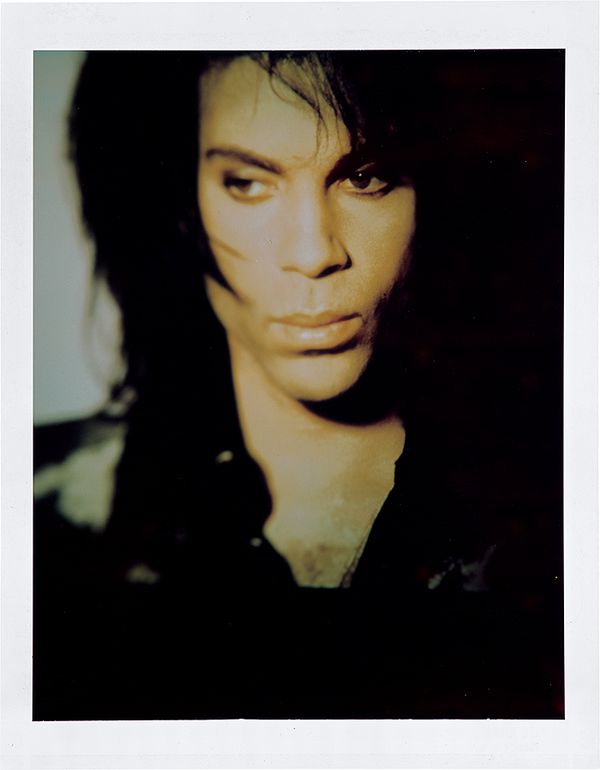 Steven Klein, Prince, Paisley Park, Minnesota, 9 September 1989. Photographs London.
The works in the selection span Klein's 1989 photograph of Prince to his 2007 photograph of Gwyneth Paltrow. In this timeframe we see the development of the artist's practice, both in their compositions and approaches to subjects. In turn, Klein notes that Polaroid was an important part of his growth as an artist, remarking, "As a photographer, one needs to explore old mediums and the Polaroid can teach you, like it taught me, about color and rendition of space."
The Polaroids in the selection, including further photographs of David Bowie, Mick Jagger, and Guinevere van Seenus, come together to showcase Klein's masterful handling of the medium, his deeply personal connections with his subjects, and the power of his narrative, cinematic voice. Remarkable works in their own right, they also offer a glimpse into the working process of an artist who pushed boundaries as he forged bonds with icons of pop culture.
On what his work means to him broadly, Klein tells us that "It's a way for me to communicate and tell a story based on the world that I'm living in. It allows me to reconfigure the world as a means of creating order for myself and inspiration for the viewers of my work."
This last point highlights one of the most poignant facts of the Polaroids in this selection — that they're personal. Each image is a unique document of a moment of exploration shared between two icons.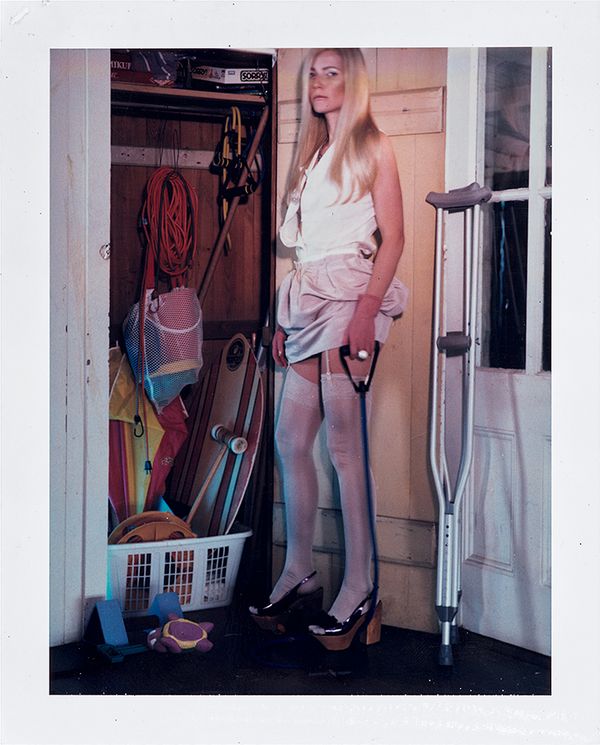 Steven Klein, Gwyneth Paltrow, Long Island, 13 July 2007. Photographs London.
Discover More from Photographs London >
---
Recommended Reading
ULTIMATE: Young Artists from Africa >