Prince Gyasi, Limitless (detail), 2023. Photographs London.
Prince Gyasi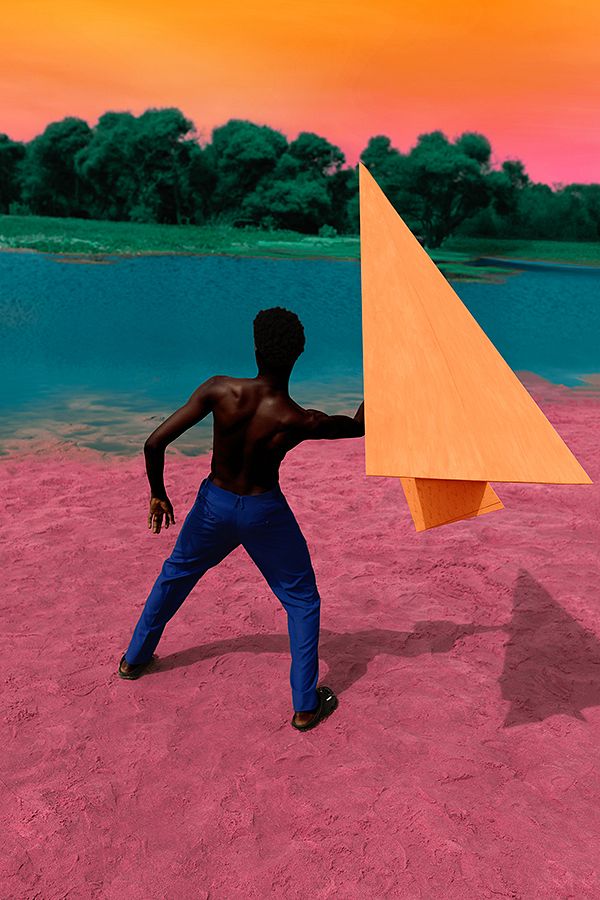 28-year-old Ghanian artist Prince Gyasi's creative practice focuses on empowerment. He notes that his process offers him "a vast space to talk about things happening in my community and the problems and solutions." The artist calls on his synesthetic sensibility to envision vibrantly colorful and optimistic images that show Ghanian life in a utopian light. In Limitless, glowing oranges and pinks envelop the foliage and water in a shoreline depiction of a once struggling fisherman in Jamestown. We see the moment just before the fisherman releases an enormous paper plane over the river and towards the setting sun. There's a sense of hope and joy that is as visually compelling as it is uplifting. This remarkable work on offer is AP2 from the sold-out edition of 5 + 2 APs. This image is sold out in all sizes and editions.
The self-taught young artist is rapidly gaining acclaim. His world auction record was set in 2022 at Phillips with The Arrival — a work depicting the same protagonist as Limitless. His gripping imagery has led to collaborations with several high-profile brands, notably including the series A Great Day in Accra, commissioned by Apple. The series showcases visual stories from the Ghanian hiplife music scene to the broader world. Additionally, he is the first Black photographer to shoot The Pirelli Calendar and was recently named one of the "Next Generation Leaders" by Time.
Mous Lamrabat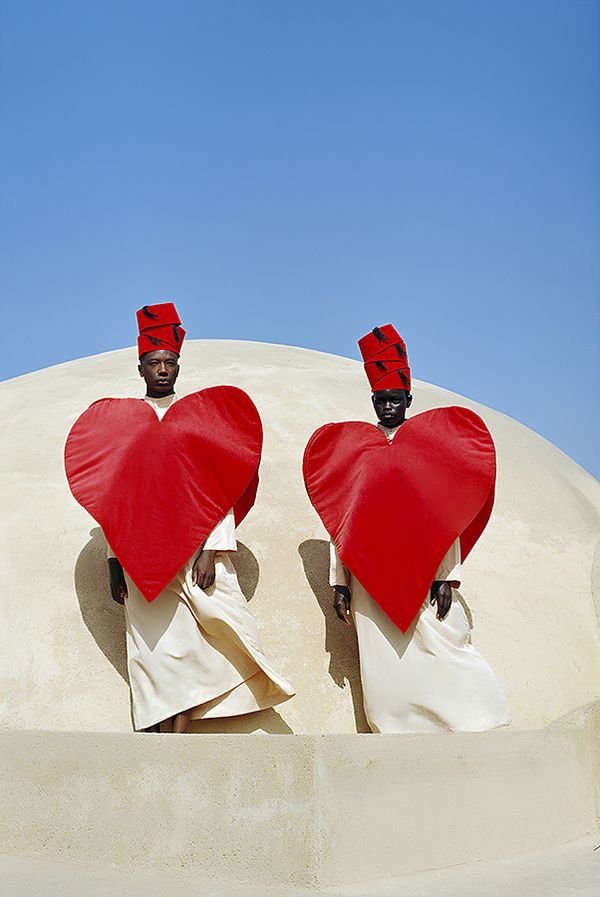 Mous Lamrabat, To the Moon and Back #1, 2021. Photographs London.
Mous Lamrabat explores the beauty of North African culture and landscape through a distinctive visual language. Born in Temsamen, Morocco, and raised in Belgium, he spent the school year in Flanders and returned each summer to his birth city. This upbringing cultivated the inquiry of identity and inclusion that deeply influences his work. Of his youth, he explained, "I felt like I was too Moroccan to fit in as a Belgian and too European to fit in as a Moroccan, and this is something that almost every immigrant has to deal with." He went to add that he has rejected his early attempts at acceptance within these cultures, "At some point, I didn't want to do that anymore. I started questioning (and still do till this day) the concept of 'normal.'"
Lamrabat's 2021 work To the Moon and Back #1 was photographed in Morocco and commissioned through a grant from the FOMU (Fotomuseum Antwerpen) to create work reacting to the COVID-19 pandemic. The figures' heart-shaped attire expresses the theme of universal love. The brightly colored headwear was an intuitive addition — the artist having spotted the fez hats on the wall of a Marrakech riad. The print on offer is AP2 from the sold-out edition of 4 + 2 APs and represents the artist's auction debut. This image has been featured in Vogue Arabia and will be highlighted in the artist's forthcoming debut monograph.
Carlos Idun-Tawiah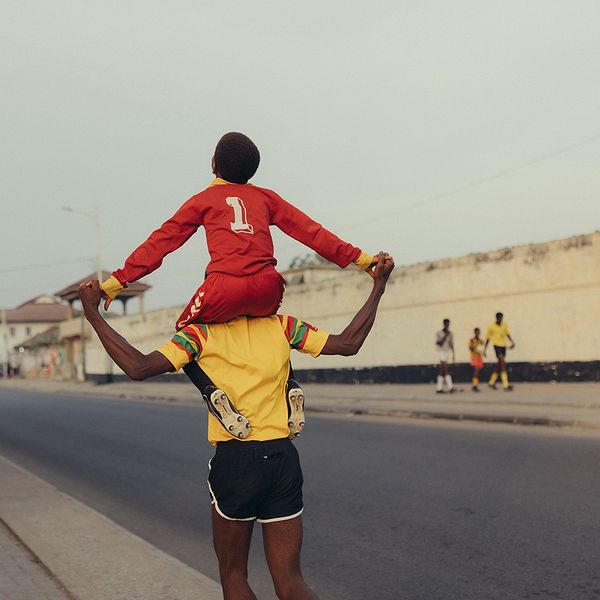 Carlos Idun-Tawiah, What Are Brothers For? from Boys Will Always be Boys, 2023. Photographs London.
In his ongoing Boys Will Always be Boys series, Carlos Idun-Tawiah captures poignant images that recreate memories of his hometown of Accra. What Are Brothers For? is a compelling and demonstrative work that depicts a family victorious at the conclusion of a football match. The artist has stated that this image "reminded me of how I felt leaving that pitch every day; like a champion regardless of the scoreline." Idun-Tawiah joyfully shows us a moment tied to his own memories, recalling that the sport was an escape for him during his childhood.
In monumental scale, this work is number 1 from the edition of 1 and is unique in this size. It captures the scene in the vibrant red, yellow, and green of Ghana's flag, which pops against the dusty street background. Speaking across cultures to people around the world, this series was awarded the Belfast Photo Festival's 2023 Spotlight Award. A young artist to watch, the 26-year-old's work been published in such magazines as Vogue, GQ, and Financial Times, and he has received the Contemporary African Photography Prize and the British Journal of Photography's OpenWalls Arles Prize, among other awards. This offering marks the artist's debut at auction.
More to Explore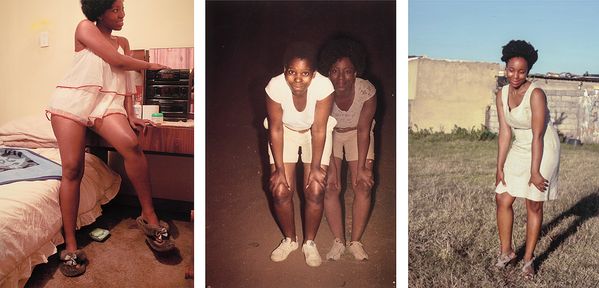 Lebohang Kganye, Three Selected Images from Ke Lefa Kalak, Her-story, 2013. Photographs London.
Elsewhere in the sale, further captivating works showcase the scope and breadth of photography by African artists. Lebohang Kganye's Selected Images from Ke Lefa Laka: Her Story are from a body of work the artist began after the passing of her mother. In this series, she explores themes of memory and oral tradition. Master photographer Seydou Keïta's Selected Portraits from 1952–1955 (lot 41, lot 42, and lot 43) explore Malian society in a period of transition towards its independence from France. Malick Sidibé's Vues de Dos and the fresh-to-auction Les Deux Amis avec Moto showcase distinctive examples of the Malian photographer's black-and-white depictions of cosmopolitan society in the capital city of Bamako. Further, the sale also includes a captivating work by Moroccan artist Lalla Essaydi and two works from the Somnyama Ngonyama series by Zanele Muholi.
Discover More from Photographs London >
---
Recommended Reading