Ed Clark, Gray Force, 1972. New Now New York.
—Written by Folasade Ologundudu
For both Ed Clark and Norman Lewis, New York City during the Abstract Expressionist movement, whose formal years were from 1943 to late 1965, was a place of discovery; an endless well of inspiration, albeit not without its challenges. Each artist, both Black, asserted this in their practice in vastly different ways, contending with white male-dominated structures of the art world through rigorous experimentation. Clark single-handedly changed the field of abstract art the moment he affixed a piece of paper to extend beyond the edges of a rectangular canvas supporting it with wood in Untitled (1957). The result: an abstract composition that pushed past the finite space of the canvas thus creating never before seen shape and depth to the traditional canvas. Additionally, Clark is credited as the first painter to work on a shaped canvas and his practice is renowned for his use of the broomstick where speed, movement, and thick swaths of bright colors dominated his canvases. Lewis is alternatively renowned for pushing the boundaries of the art world as an artist, activist, and organizer in support of Black artists. Through the subtle yet poignant language of abstraction, he expressed the pain, horror, and brutality of white America's treatment of Black citizens and the racial tensions he endured, at once vividly illustrated in American Totem (1960) in the collection of the Whitney Museum of American Art and Evening Rendezvous (1962) in the collection of the Smithsonian American Art Museum. He was the only African American member of the New York School of Abstract Expressionism and was critical to the creation of SPIRAL, an association of Black artists that began in 1963.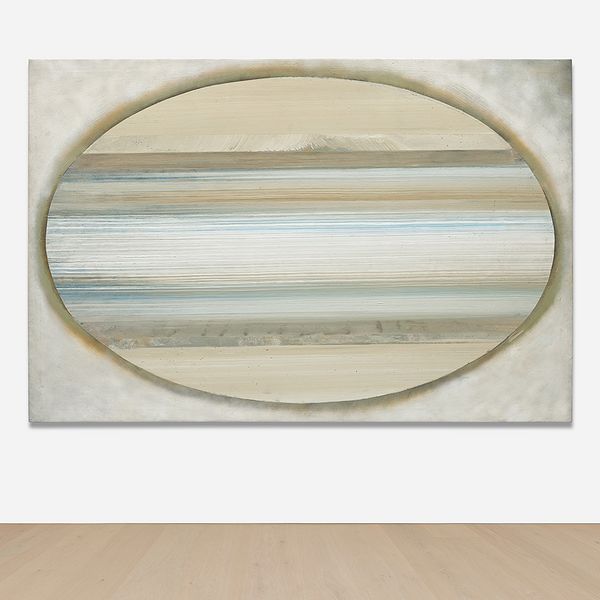 Born in 1926 in New Orleans, Louisiana, Ed Clark spent career-defining years in Paris with support from the GI Bill before returning to the United States, where he lived and worked as a painter until his passing in 2019, at the age of 93. Despite the systemic segregation of Black artists by white galleries and institutions, Clark persisted in making some of the most important work of his nearly seven-decade career in the proceeding years after his return to the United States. In an interview with Jack Whitten in 2014 for BOMB Magazine's Oral History Project, a short five years before his death, Clark stated, "I love painting. I can't think of nothing else." More recently Clark's works have gained widespread canonical recognition with solo exhibitions and retrospectives mounted by galleries such as Mnuchin Gallery in 2018 and Hauser & Wirth, who represents the artist's estate. In Gray Force (1972), from the private collection of a prestigious Washington DC-based collector, we see elements of Clark's use of the push broom, a style he first developed in Paris. The large broom allowed the artist to express his works with a speed and movement he was unable to access with a traditional paintbrush. Strokes of soft subtle sky blues sit peacefully next to slate gray and white saturating the canvas in Clark's signature oval composition. Innovative from the onset, Clark's practice is marked by a willingness to experiment, explore, and push past the limits of convention. His early figurative style developed into an elevated abstract language; one which appealed to both his creative imagination and his search for a space to contend with color and form. The economical push broom enabled Clark to imbue his canvases with large swatches of color where unprecedented speed and scale took center stage. Bold sweeps of color transformed his canvases into innovatively vivid compositions. Gray Force epitomizes the transcendent boundaries Clark pushed and the dimensions he added to the field of abstract art.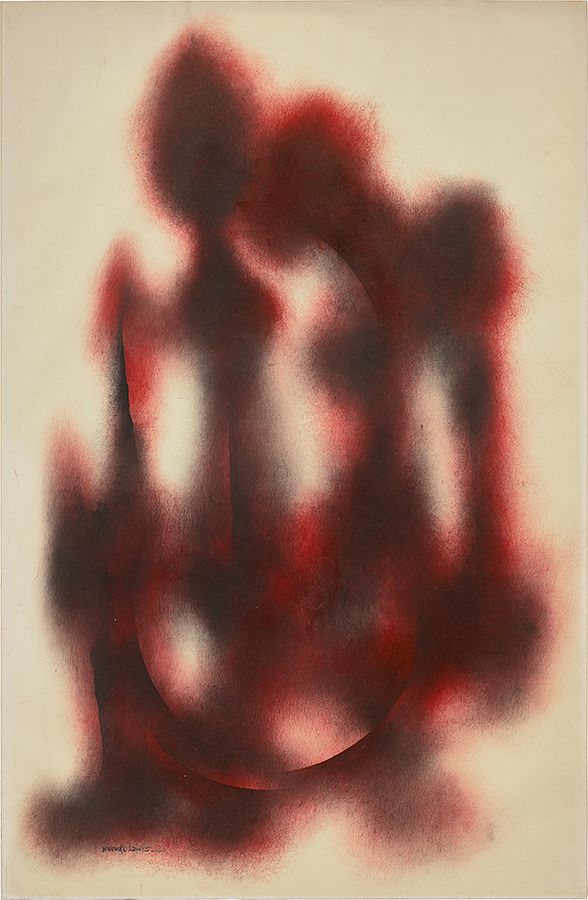 Norman Lewis, Untitled (Red Nude), 1962. New Now New York.
"The goal of the artist must be aesthetic development and in a universal sense, to make in his own way some contribution to culture." These are Norman Lewis' words, as told to Kellie Jones in Challenge of the Modern: African-American Artists 1925–1945, published by the Studio Museum in Harlem in 2003. Lewis' genre-expanding career is marked by his commitment to advancements not only in the field of abstraction, but also in his steadfast support of Black artists. Lewis, born in 1909 in Harlem, like Clark, left the US for a time, traveling the world as a seaman. When he returned to New York City in 1933, he, like his peers, confronted racial injustices and used art as a means to communicate his frustrations about the abhorrent realities Black Americans faced at the hands of white America. Over the course of a remarkable career, Lewis experimented with realism, abstraction, and minimalism. His ruminations on the space between abstraction and figuration, use of color, and the deeper context within his work provided meditations not only on his lived experiences but the times of the day. In Untitled (Red Nude) 1962, we see patches of color in red and black oil paint on paper. The colors themselves appear in blotches and sinuous lines lending shape to the composition, where patterns illustrate both figurative imaginings, abstract forms, and motifs we often observe in nature. This is a quality Lewis yielded with exceptional skill; developing a painting language that straddled the world of both the figure and the abstract in unique works of art. Realizing the depth and breadth of his practice, one concedes with the reality that Lewis confronted both aesthetic and social concerns by way of his continued engagement with abstraction. Similarly, in Lewis's Blue Cloud, 1964, another work on paper, we see the sophisticated use of color, subtle and soft brush strokes, that lend themselves to the natural world. A range of hues envelop the canvas in deep rich blues and soft turquoise, culminating in an electrifying cloud at the painting's center.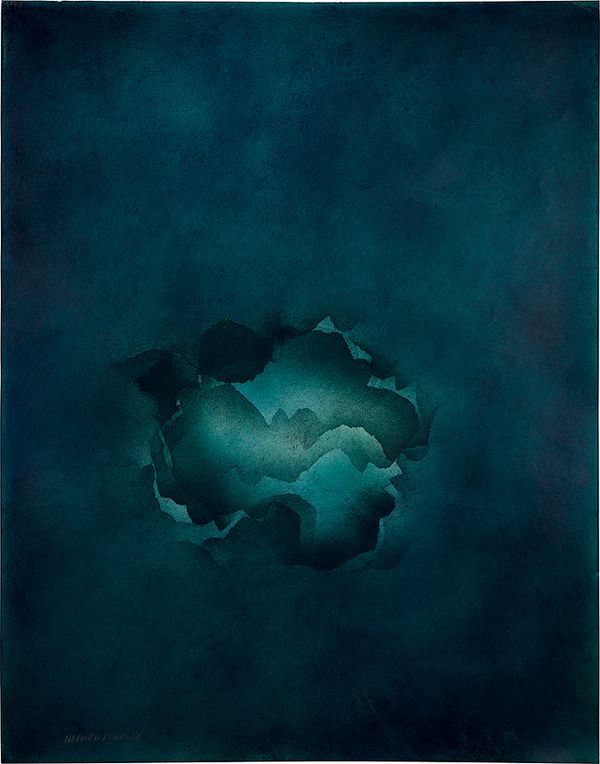 Norman Lewis, Blue Cloud, 1964. New Now New York.
To fully grasp the evolution of Clark and Lewis's illustrious practices over their decades-long careers, one must credit the richly dynamic city of New York and the pinnacle years of the abstract expressionist movement, as critical. Through forces outside of our control, we are bound by time and space; by the places we inhabit; by our immediate surroundings and the millions of things that affect us over the course of a lifetime. Both Clark and Lewis, each distinctive in their approach to painting, its use, and their application of the medium itself, utilized their lived experiences to birth new realities into the growing field of abstraction during the height of the movement. In a moment where artists marginalized by white institutions for decades are being recognized for their ingenuity and countless contributions to art in record numbers, we are uncovering the full depth and breadth of these artists' invaluable contributions to art as we know it. Subsequent generations bear the fruit of the labor that Clark and Lewis endured and their groundbreaking contributions to the field of abstract art over the course of their careers.
---
About the Writer:
Folasade Ologundudu is a Brooklyn-born curator, podcast creator, and writer seeking to uncover ideas related to the universal human condition. She has written art criticism, profiles, interviews, and essays for ArtForum, ARTnews, Cultured Magazine, Frieze, and Photograph Magazine, among other publications. Ologundudu is also the founder of Light Work, a creative media platform rooted at the intersection of art, education, and culture. Through her podcast, Everything Is Connected, she holds conversations with artists and entrepreneurs deeply rooted in visual arts, media, youth culture, and community building.
---
Recommended Reading