Samantha Joy Groff, Horse Play (detail), 2022. New Now New York.
Samantha Joy Groff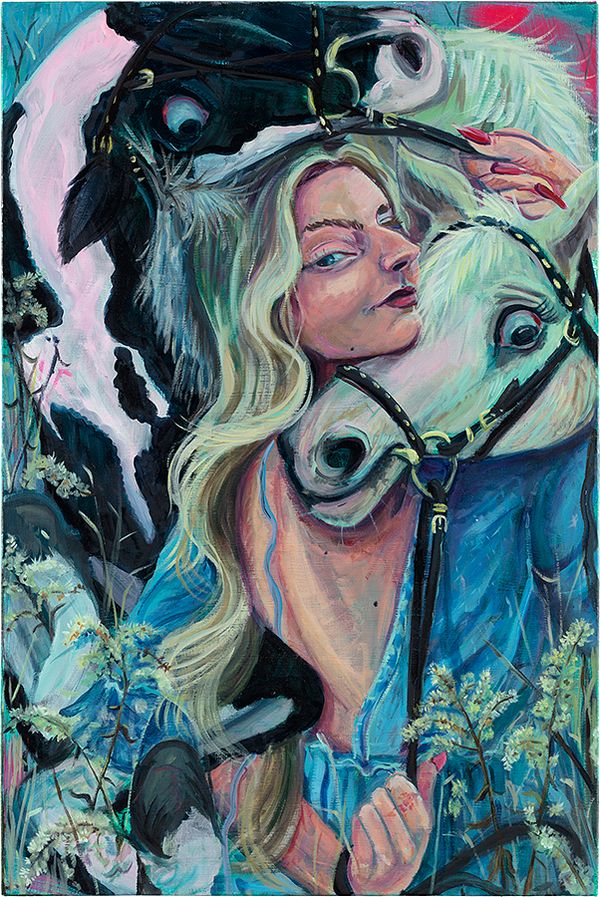 Samantha Joy Groff, Horse Play, 2022. New Now New York.
Hailing from a small Mennonite community in rural Pennsylvania, Samantha Joy Groff's works often depict women, farm animals, and plants intertwined in a braid of contradictions. The imagery sets the conservative values of her upbringing against implications of liberated sexuality and the leisure of wealth. Informed by animal studies and medieval Christian bestiary scenes, Groff's work offers a visual style that blends animal symbolism, naturalistic depiction, and the idiosyncratic taxidermy that pervades the shops and interiors of the American countryside. These themes are clearly seen in Horse Play, which shatters any boundaries between allegory and taboo to offer a passionate and voyeuristic view into the broken spirit of rural American life. The slightly distorted placement of the subjects' eyes confronts us directly, almost daring us to condemn them.
Groff, a 2022 Yale MFA graduate, makes her auction debut in this sale following a spate of success with recent exhibitions at Nicodim Gallery in Los Angeles, Martha's Contemporary in Austin, and Half Gallery in New York. The fast-rising artist's work has also been shown in public institutions, including at the Pond Society, Longlati Foundation, and the Xiao Museum in China.
Pam Evelyn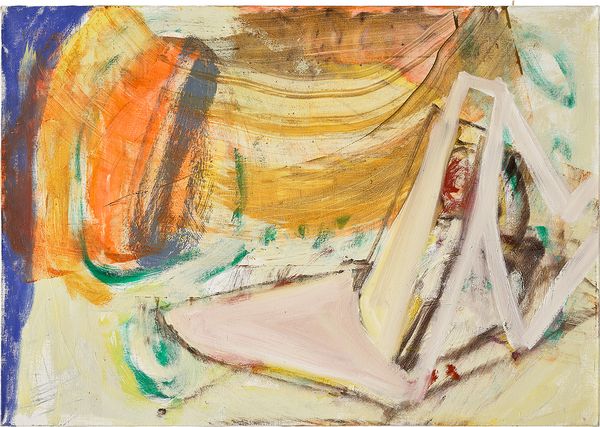 Pam Evelyn's distinctive approach to abstraction is quickly becoming celebrated. Her sweeping canvases are densely layered and richly textured reflections on nature, the body, and materiality. Her process is extraordinarily patient: the artist works intuitively to produce iterative layers over long stretches of time that focus our attention on the physicality of paint and communicate her lived experience of the natural world. This sense of intuition, so clearly on display in Anchor, is crucial to the artist. She's noted of her process that "being totally lost in the painting is a much more interesting and uncomfortable position than knowing my next move."
The 27-year-old artist is on something of a hot streak. She received her MA in painting from London's Royal College of Art in 2022. In December of that year her 2020 work Evening Rain smashed estimates at Phillips' London New Now Sale, marking the auction record for the artist. So far in 2023 her work has featured in group exhibitions in the UK and Canada, she was commissioned by Whitechapel Gallery for the exhibition Action, Gesture, Paint: Women Artists and Global Abstraction 1940-1970, and she was recently added to the roster of Pace Gallery, making her the youngest artist currently represented by the gallery. A Handful of Dust — her first solo exhibition with Pace London — opened this month.
Scout Zabinski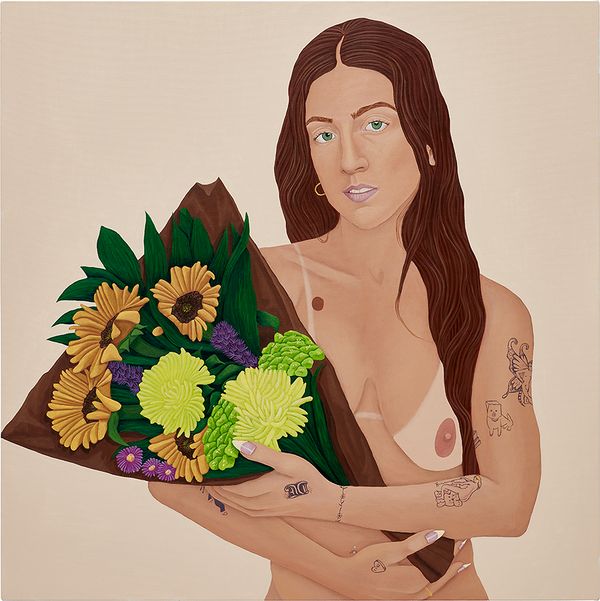 Scout Zabinski, Full Bloom, 2022. New Now New York.
Scout Zabinski explores her own mental states through psychological self-portraits that reflect her personal history with trauma, disordered eating, anxiety, and depression. The self-taught artist — who began making work as a teenager after developing eating disorders while attending boarding school — confronts her sense of self-image directly. Highly characteristic of her practice, Full Bloom spares no detail, vulnerably presenting the tattoos and tan lines of the artist's nude body to create a strikingly intimate image that functions as a mirror reflecting her mental state. The experience of this process is ultimately uplifting for the artist, as she once explained, "My studio is like a little laboratory where I dissect myself and come out feeling a little more whole."
The artist's atypical training is remarkable. She earned a self-directed BA in 2020 from NYU's Gallatin School with a concentration on Painting, Psychology, Post-Colonial Feminism, and Art History. Her work has since featured in numerous international group exhibitions and her first solo exhibition was presented in 2022 at Adhesivo Contemporary, CDMX in Mexico. She made her London debut this year at Carl Kostyal Gallery.
Elitsa Ristova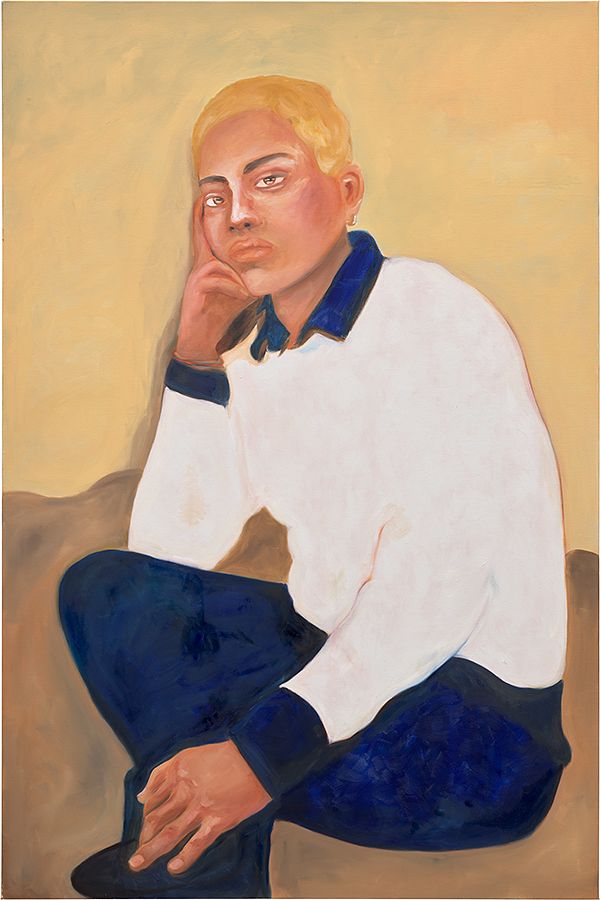 Elitsa Ristova, It's just a thought, 2020. New Now New York.
Over the last several years, Elitsa Ristova's enchanting portraiture has captured the hearts of tens of thousands of global followers. Her work now comes to auction for the first time with It's just a thought. Ristova explores emotional disengagement through her portraiture, and her subjects often appear lost in an emotional balance or imbalance. Stemming from a background in fashion design as well as painting, Ristova's enigmatic figures are frequently presented in carefully chosen garments, as evident in the crisp personal presentation of the contemplative figure in It's just a thought. Seemingly detached, the subject gazes at us directly with an almost insouciant expression that belies his smart attire. We're left to consider the nature of the subject's relationship to his own outward presentation and internal psyche.
The Macedonian-born artist studied painting privately from an early age and attended the Goce Delčev University of Štip before continuing her studies at the London College of Creative Arts (LCCA). She had her first solo exhibition, Equanimity of the Mind, at LCCA in 2021 while serving as artist-in-residence at the institution. She has also participated in several group exhibitions, including In a New Light with Art City Works, London. Ristova is represented by Waterhouse & Dodd.
Coady Brown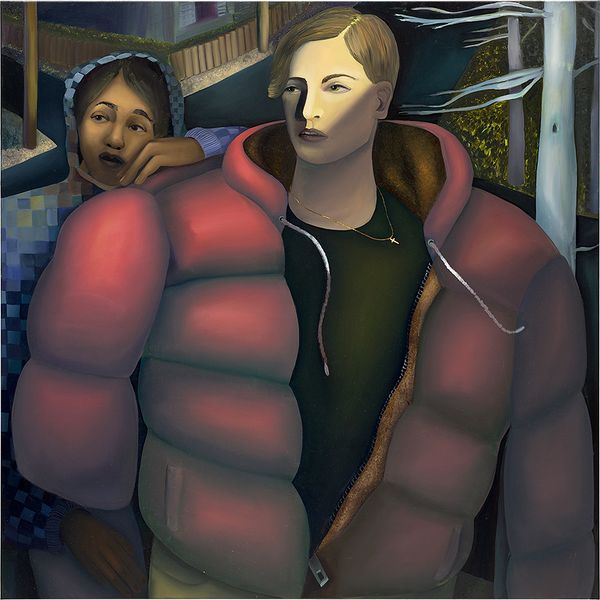 For Coady Brown, to make an image is to share the sensation of memory. Her intimate paintings often explore how people — alone, in groups, or as couples — navigate their own presentation in public and private settings. Her figures are frequently depicted in night scenes, with an expressive use of sensuous light adding to the narrative. "I think about my work as an exaggeration of the everyday," the artist notes. "It's based in reality, but with distortion. Things are never quite right, always a little inaccurate in the way that makes you look twice."
The painter — who received her MFA from Yale in 2016 — draws inspiration from varied sources, including canonical portraiture, film, everyday life, and fashion. It is fashion that heightens the psychologically charged depictions of her mostly androgynous figures, communicating both the strength and the vulnerability inherent in femininity. Her work has been exhibited at galleries globally in Los Angeles, Brussels, New York, and London and in public institutions such as the Institute of Contemporary Art in Miami, the Columbus Museum of Art in Ohio, and the X Museum in Beijing.
Diedrick Brackens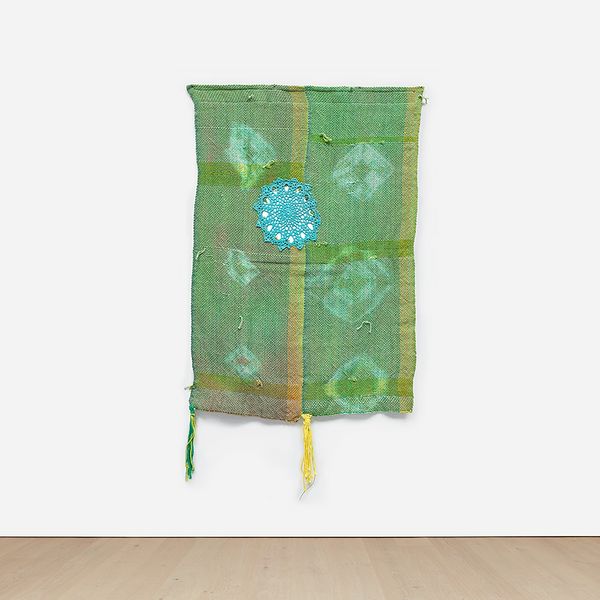 Diedrick Brackens, slain garden, 2017. New Now New York.
Los Angeles-based artist Diedrick Brackens explores intersections of identity and sociopolitical issues through his considered practice as a weaver. His work references European, American, and African traditions of textile-making in a poignant expression of the complexities of African-American identity. His use of cotton as a material is charged by the historical violence and subjugation inherent to the material, but the artist flips that narrative by taking ownership of the material and making what he calls "beautiful, pleasurable objects" from it. The title of this work, slain garden, is representative of the artist's approach, as it's at once referential to violence, and the possibility of cultivation and renewal. As the artist has so poignantly explained, "I want my work to be beautiful, but I also want it to be the truth."
Originally from Mexia, Texas, Brackens earned an MFA in textiles from the California College of the Arts in 2014. He has since shown work in exhibitions throughout the United States and was featured in the group exhibition Made in LA, 2018 at the Hammer Museum. Though slain garden represents the artist's auction debut, his work is already in several public collections, including the Brooklyn Museum, Crystal Bridges Museum of American Art, the Los Angeles County Museum of Art, and the Metropolitan Museum of Art in New York.
Eden Seifu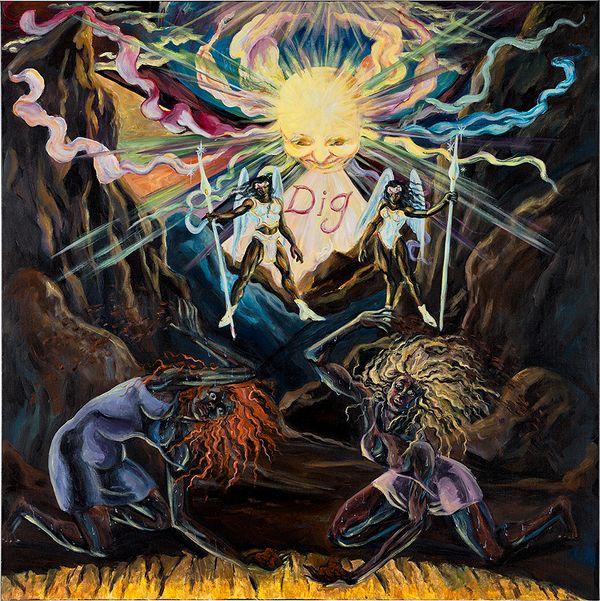 Eden Seifu, I Will Tell You How The Mountains Were Made: God Descended And Said 'Dig', 2021. New Now New York.
Drawing inspiration from romance novels, Russian Symbolism, illuminated manuscripts, adventure anime, comic books, and more, Eden Seifu's fantastical paintings place people of color in surreal landscapes. By setting Black bodies in supernatural scenes, Seifu rejects the exclusion of people of color from historic representations of mythic human emotion. As the artist has noted, "My work takes an interest in depictions of the fantastical and surreal as mediums for one to become intimate with the psychology of oneself and of others."
I Will Tell You How The Mountains Were Made: God Descended And Said 'Dig' is the first work by the Seattle-based artist to ever appear at auction. The work's portrayal of Black figures participating in the creation of the landscape exemplifies her characteristically inclusive approach to depicting existential narratives. Seifu's work has been shown in numerous group exhibitions, including at Seattle's Center on Contemporary Art.
Discover More from New Now New York >
---
Recommended Reading