Ed Clark, Black Daylight, 1966. 20th Century & Contemporary Art New York Day Sale, Morning Session.
Written by Folasade Ologundudu
Spiral art collective exhibition flyer. Courtesy National Gallery of Art, 2003.
Black artists of the 20th century often addressed the social and political issues of their time. But those who forged new paths from the 1950s through the 1980s, and even into the present day, sought to break free from the clutches of the overtly figurative discourse on race by developing abstract practices. Abstraction offered infinite possibilities, where the process and application of radical ideas that unearthed the Black experience through visual art could be explored through rigorous experimentation.
[…] If possible, in these times, we hoped with our art to justify life… to use the black and white and eschew other coloration. […] This consideration, or limitation, was conceived from technical concerns, although deeper motivations may have been involved.

- Spiral Group statement
Norman Lewis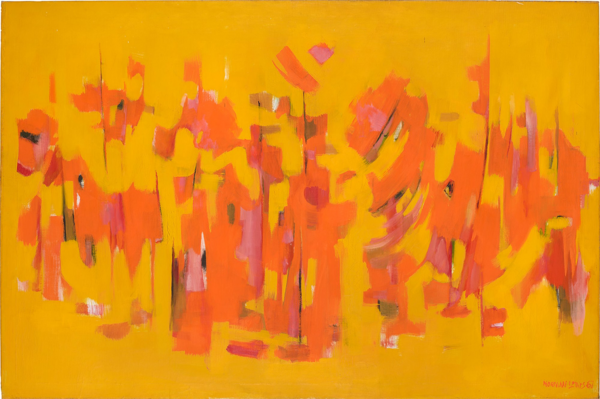 WATCH: Norman Lewis, Fleshy Phase, 1973-1974. 20th Century & Contemporary Art New York Day Sale, Morning Session.
History remembers Norman Lewis as the first African American Abstract Expressionist painter and the only African American member of the New York School of Abstract Expressionism whose other members included Willem de Kooning, Jackson Pollock, and Mark Rothko. During his remarkable career, Lewis engaged with realism, abstraction, and minimalism, testing the limits of each movement through experimentation. Similar to much of the work made during the last two decades of his life, Untitled (1967), a vibrant painting of yellow, orange, and slivers of pink, moves through abstraction and figuration blending the two contrasting styles with fluid gestural marks. Working to combat racial injustice through art, as a co-founding member of Spiral, which included Charles Alston, Emma Amos, Romare Bearden, and Hale Woodruff, Lewis devoted himself to the Civil Rights Movement while uncovering art's ability to engage questions of racial inequality. Fleshy Phase (1973-1974), marks an incredibly important time in the artist's career, during which his interest in the color black provided meditations on his experiences not only as an artist but as a Black painter working in abstraction at a time when it was unpopular. Among his peers, many believed that Black artists had a responsibility to make work that confronted the conditions Black people faced through segregation, poverty, and extreme violence. And while he was passionate about the plight of Black America as an artist, activist, and educator, he also believed his work needed to exist outside the confines of race. "I wanted to be above criticism, so that my work didn't have to be discussed in terms of the fact that I'm black," he once revealed.
Sam Gilliam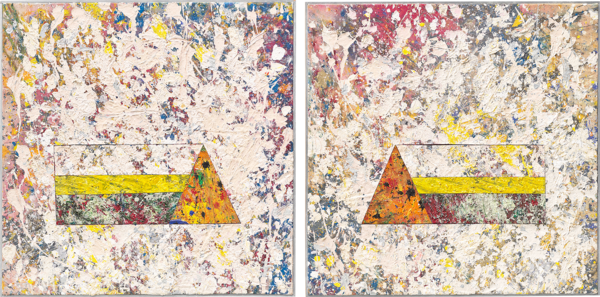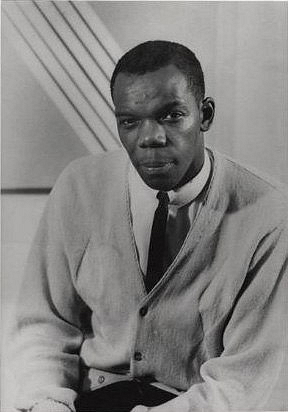 Sam Gilliam, 1966. Photo: Geoffrey Clements. Courtesy Archives of American Art, Smithsonian Institution, Washington, D.C. and New York.
Sam Gillam's draped paintings, which bring canvases off white walls and into three-dimensional space, continue to push our understanding of what a painting can be. Through his own abstract mode of artmaking, Gillam observed and at times referenced artists such as Jackson Pollock and Josef Albers, but resolved himself to chart a path all his own through his inventions. As the first Black artist to represent the United States in the Venice Biennale in 1972, Gilliam solidified his place in history as a radical thinker whose inquiries in painting birthed new forms of abstraction. Over nearly six decades, Gillam devoted himself to the practice, which offered a space for endless creativity, expansive thoughts, meditations on the world, and improvisation through rigorous analysis. Affixing canvas strips to large swathes of material, staining, squeezing, folding, draping, and assembling canvases in infinite arrangements, Gillam freed himself of the confinements of liminal spaces. Untitled (1976) represents a period in Gillam's oeuvre where his experiments with color, texture, and materiality allowed him to approach the canvas in new ways through additive methods.
Jack Whitten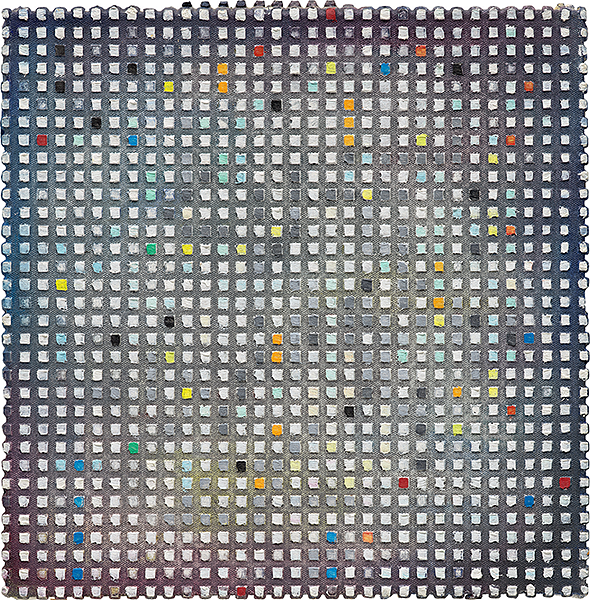 Following a fire in 1980 that ruined his studio, Jack Whitten took a three year hiatus from his practice before returning to the medium of abstraction as a means of experimentation. Dutch Treat III (1985) features small squares in a haphazard pattern of black, white and primary colors. Using self-made tools to garnish the painting's with color and texture through a series of nuanced processes, Whitten explored notions of geometry while developing radically new techniques. His work, like some of his peers, transcends time and place, moving into a realm of infinite possibilities, as expansive as the cosmos. At a time when most Black artists were concerned with the struggles of Black life in America and their response to it through visual arts, Whitten was fascinated with the experimental nature of abstraction and its limitless potential. The 1970s and 80s marked a period of exponential artistic growth for Whitten where his ingenious use and application of materiality blossomed. Deeply impacted by the brief time spent studying medicine at Tuskegee Institute in Alabama under the tutelage of scientist George Washington Carver, Whitten's innovative practice is made all the more magnificent through his constant desire to build upon his experiments. In his own words: "I'm convinced today that a lot of my attitudes toward painting and making, and experimentation came from George Washington Carver. He made his own pigments, his own paints, from his inventions with peanuts. The obsession with invention and discovery impressed me."
Richard Mayhew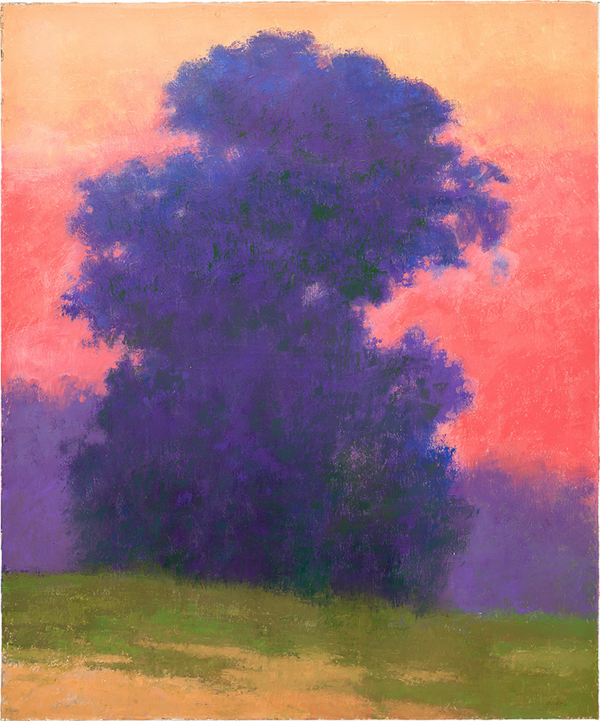 Richard Mayhew's majestic landscapes are filled with piercing colors that unearth the mysteries of time and the complexities of emotion, drawing upon a well of ancestral knowledge through his African American and Native American heritage. Guardian (1999) depicts a large violet tree dominating the center of the canvas. The background's calming peach and rich magenta sky illustrates the vibrance of a setting sun amid a small patch of grass in the foreground. Traditionally, American landscape painters have been overwhelmingly white, and their depictions of the country's vast outlooks and sweeping vistas are tied to the colonization of land and its peoples. During the Civil Rights era of the 1960s – a time in American history when virtually no Black artists were making landscapes – Mayhew's work, then, and to this day, offers a respite from the archaic lens through which landscape painting has been articulated. At 98, Mayhew still paints every day; his lifelong career informed by the spiritual connection he holds to the land that was forcibly taken from his forebearers, the Shinnecock Indian Nation of Long Island. A member of Spiral, he, along with Norman Lewis and Romare Bearden, engaged in the kind of rigorous discourse that questioned the role of artists both politically and socially.
Ed Clark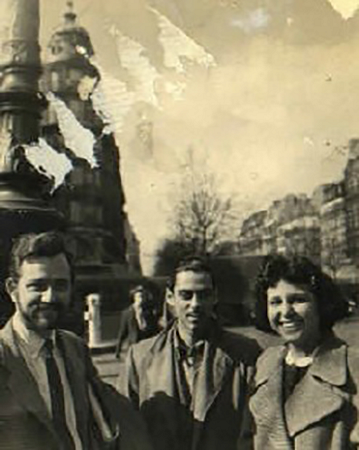 Ed Clark in Paris, 1952. Photo: artistedclark.com.
Many Black artists during the years leading up to the Civil Rights Movement fled America in search of the freedom Europe provided. Ed Clark, whose originality in Abstract Expressionism and Minimalism have played an important role in modern and contemporary art, lived and studied in Paris for a time before returning to the U.S. in the late 1950s. His years in France deeply impacted a practice in which unconventional forms made by gestural marks were influenced by artists such as Monet and Matisse; for Clark, close proximity to the artistic and cultural production of Paris influenced his never-before-seen techniques in abstraction. A pioneer in his own right, Clark changed abstraction forever when he picked up a broomstick, saturating canvases with expansive strokes of color and making his first painting on a shaped canvas. With a career spanning seven decades, Ed Clark produced monumental paintings that addressed nature and the human condition through his ruminations on color, form, and process. Black Daylight (1966) features large swathes of black, green, and orange paint and like much of Clark's work, the use of vibrant colors and the process of brushing oils onto canvases with large brushes brought vitality, immediacy, and a sense of movement to his work that became easily recognizable in the zeitgeist of Black abstract painters.
[Paris] was the most famous city for an artist in the 1950s. I mean New York in that moment was not considered the capital of the art world—it was Paris. They were all alive, man! Picasso, Braque, both of them. Everybody was there! [...] That was a big thing. The history was second to none.

- Ed Clark
Beauford Delaney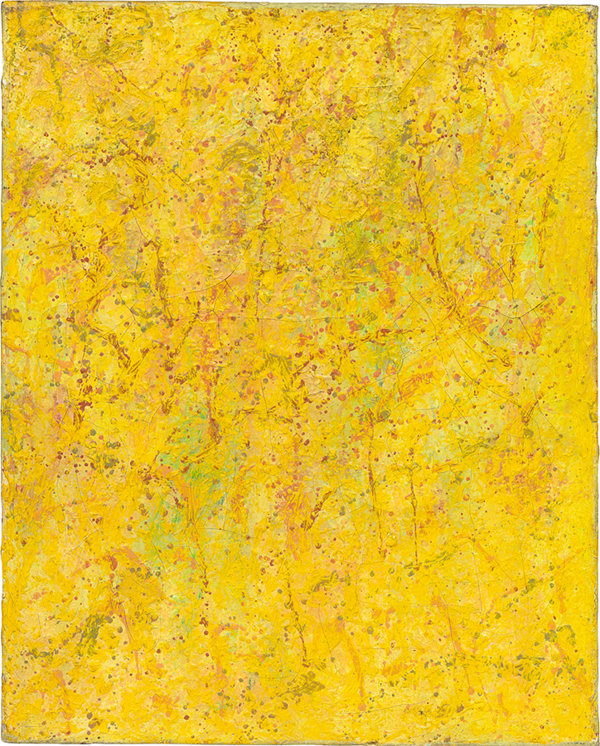 Beauford Delaney's Yellow Abstraction (1957), like much of his work created during his early years in France, employs the vibrant hue in thick brush strokes of oil paint applied to canvas. In Paris, Delaney began to paint the abstractions that would soon become integral to his oeuvre as an artist. Prior to this, while living in New York's Greenwich Village from 1936 to 1952, Delaney created what are today known as the "Delaney Greene Street" paintings, which included portraits, still lifes, and street scenes. The sheer well of creativity in the streets of New York City during those illustrious decades meant Delaney mixed and mingled with some of the era's most important artists and creative thinkers. Friends and peers included Norman Lewis, Jacob Lawrence, Augusta Savage, Romare Bearden, Richard Wright, Robert Blackburn, Countee Cullen, Ralph Ellison, and Gwendolyn Knight, as well as Henry Miller and Georgia O'Keeffe. Dissimilar to many of his peers, Delaney's work was not centered on race, or the struggles Black Americans faced; instead, his foray into portraiture displayed an uncanny universality and timelessness capturing the essence and spirit of his subjects with deep reverence.
Bob Thompson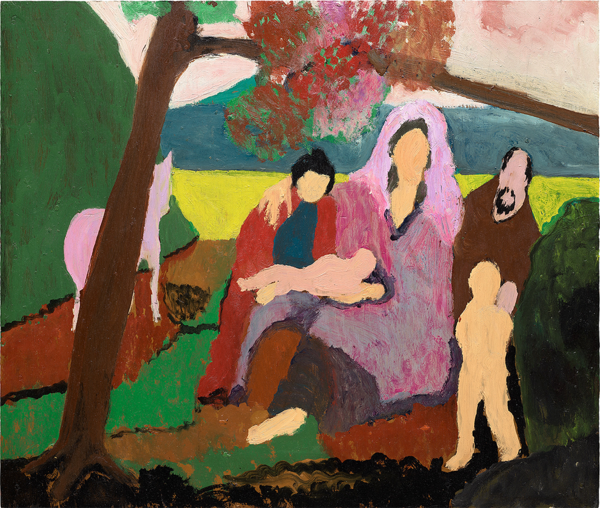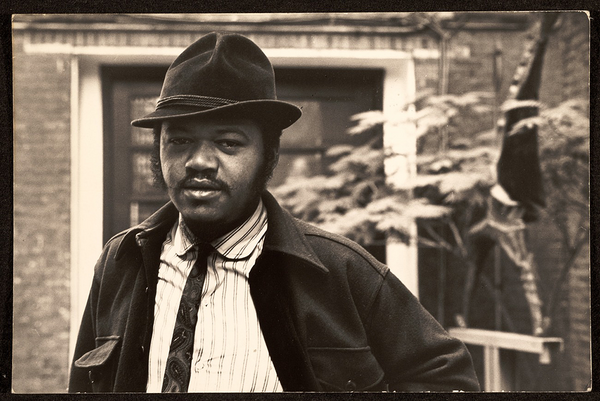 Bob Thompson in the garden of the Martha Jackson Gallery, New York, 1965. © Dorothy Beskind, Bob Thompson papers, 1949-2005. Archives of American Art, Smithsonian Institution.
In the same vein as Ed Clark and Beauford Delaney, Bob Thompson traveled throughout Europe during his lifetime, spending time in London, Paris, Ibiza, and Rome, where he died following complications from gallbladder surgery. His brief career is marked by exceptional skills in academic drawing and his expressive use of color. Depicting rich scenes often with communal groups, Thompson's work explores the relationship between man and nature. Originally from Louisville, Kentucky, Thompson settled in New York City in the 1950s and quickly joined a group of like-minded artists who were challenging the mediums of figuration and Abstract Expressionism. Inspired by artists such as Piero della Francesca and Francisco de Goya, Thompson recreated his own scenes with mythical flair, and his richly detailed imagery seemed to challenge notions of good and evil. The Family (1961), made during his time in Europe, depicts a family amidst a pastoral landscape of green mountains as a lush tree stands tall in foreground. While his career was tragically short, Thompson achieved phenomenal success in his lifetime. At a time when many Black artists struggled to show their work in galleries, Thompson enjoyed gallery representation and critical acclaim.

Robert Colescott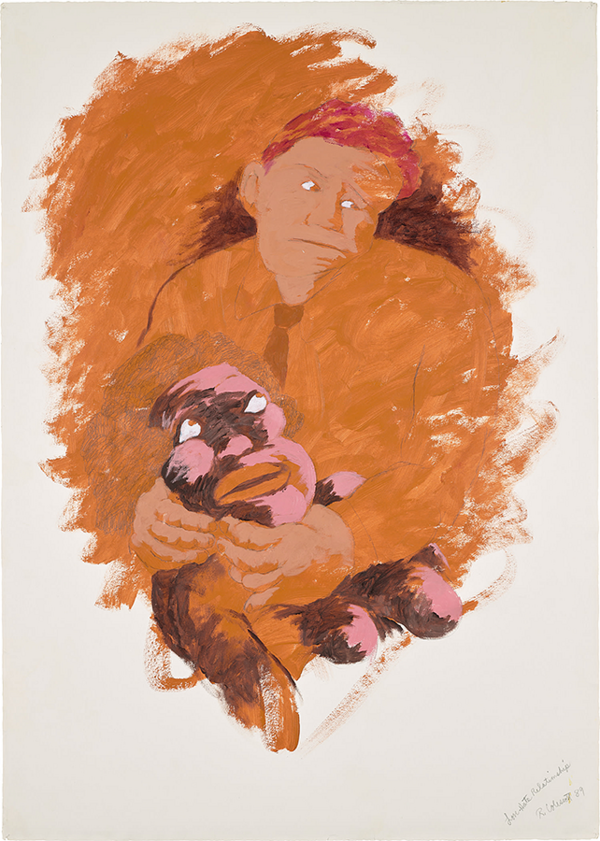 The satirical work of Robert Colescott is often disturbing, depicting the repulsive sides of American culture, most notably its racist past and present. As a genre, satire holds human nature to criticism where political, social, religious, and cultural structures take center stage. The complexity of the genre itself implies that one may laugh, cry, be repulsed, enticed, and experience a well of conflicting emotions. Colescott's work elicits these feelings and more. Reformulating the Western art historical canon by depicting Black figures in settings that challenged both Black and white stereotypes, Colescott forced viewers to take a closer look at the subversive narratives of American culture. Love Hate Relationship (1989) depicts a red-headed white male figure clutching the neck of a black person as the Black figure stares up into its assailants' eyes, which are cast down and looking away. One immediately wonders where's the love in a relationship like this, and can the scene depicted even be called a relationship, when in truth it depicts violent bondage.
Melvin Edwards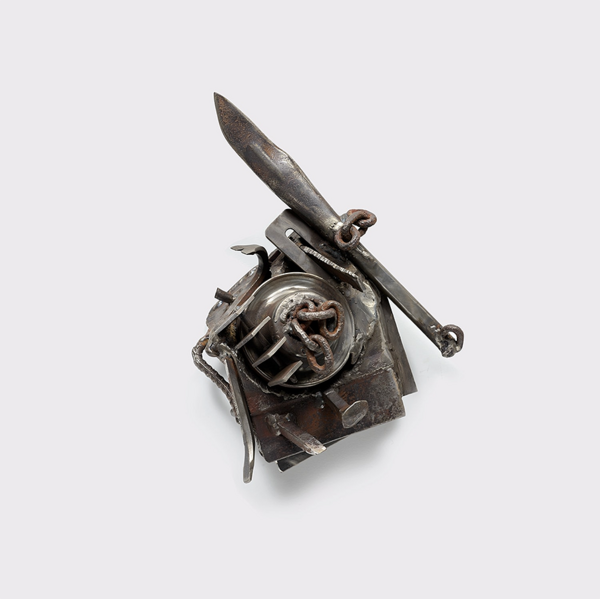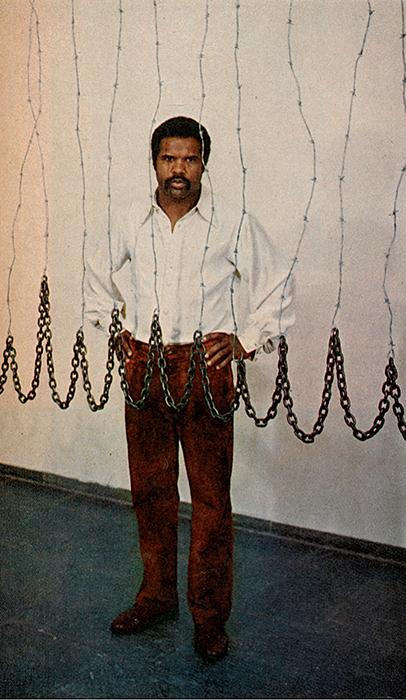 Melvin Edwards with Curtain for William and Peter (1969) at the Whitney Museum of American Art, New York, 1970. Photo © Frank Lerner, from Time, April 6, 1970, 84. Artists Rights Society (ARS), New York.
The weight of Melvin Edwards' metal sculptures is heavy, laborious, and ripe with brute force. Materiality echoes the violent history of America's deep South. The energy behind his sculptures is palpable; intense and withering. Connecting objects rooted in our collective memory, metal chains, nails, spikes, and utilitarian tools are melded, fused, and affixed together hauntingly recalling a dark past. Edwards' process-based approach starts with observations that consider every life through personal stories and political histories. After more than a half century of making art, Edward's extensive oeuvre incorporates symbols that address issues of race and labor through the lens of the African diaspora. Makatini (1992) made of welded steel garners a visceral power that is undeniable, commanding, and absolute. Edwards began welding in 1960 while studying at the University of Southern California. His well known Lynch Fragments series (1960-Present), highlights social injustice and political awareness by investigating African American history and culture through slavery and beyond.
Folasade Ologundudu is a writer, podcast host/creator, and multidisciplinary artist whose work explores issues of identity, race, and culture as it pertains to art, fashion, and design. She is the founder of Light Work, a creative platform rooted at the intersection of art, education, and culture.
Discover More from 20th Century & Contemporary Art >
---
Recommended Reading
A Glimpse at Two Rare, Early Andy Warhol Paintings >
Cy Twombly's Monumental 'Bacchus' Painting Comes to Phillips New York >