Kenneth Tyler and Roy Lichtenstein, New York, 1990. National Gallery of Australia, Canberra. Gift of Kenneth Tyler, 2002. © Jim McHugh.
With Kenneth Tyler nothing was impossible. If I said, could we, he said, yes, yes, it can be done.

– David Hockney
It is no wonder that the printmaking workshops of Kenneth Tyler were often hailed to be the "artist's candy store," as they brought about some of the most significant artist-printer collaborations of the twentieth century. Between 1965 and 2000, the master printer Kenneth Tyler (b. 1931) collaborated with many of the most seminal figures in modern art to push the boundaries of printmaking. From Roy Lichtenstein and Frank Stella to Helen Frankenthaler, Robert Rauschenberg and, of course, David Hockney, Tyler's no rules approach provided artists with the creative freedom to extend their practice and embrace the possibilities of printmaking. Tyler set out to encourage and educate the very best artists of his day, promising them: "Here is a workshop, there are no rules, no restrictions, do what you want to do."
Tyler opened his first printmaking studio, Gemini GEL, in 1965, on Melrose Avenue in Los Angeles. The studio quickly gained a reputation as a thriving artistic environment where significant advances in contemporary printmaking were being explored. Major figures of contemporary art were attracted to the workshop and Tyler began collaborating with artists and building working relationships that would go on to last decades. It was at the Gemini GEL studio where David Hockney and Roy Lichtenstein both worked with Tyler for the first time, on the Hollywood Collection and Cathedral series, respectively. In the 1970s, as New York's art scene reached new heights, Tyler moved east and, in 1973, established Tyler Graphics in Bedford Village, New York. The new workshop was fitted with state-of-the-art printing equipment and a skilled team of printers and technicians were recruited to be on-hand to collaborate with artists and bring their creative visions to life.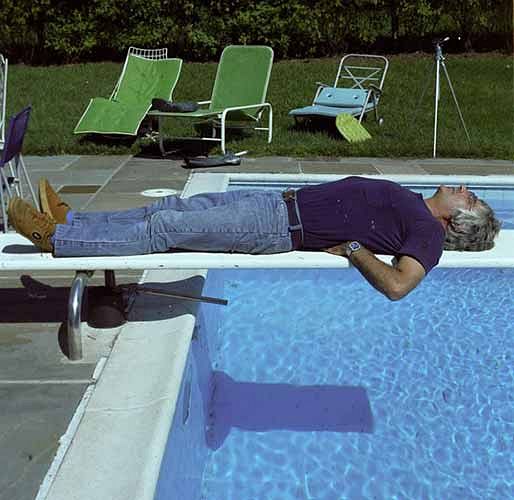 Kenneth Tyler resting on the diving board of his swimming pool. Photo: © Lindsay Green.
Ken had a swimming pool in the garden and every day we would have lunch by the swimming pool… I kept looking at the swimming pool; and it's a wonderful subject – water, the light on the water… every time you see it, it takes on a different character. You look at the surface, you look below it, you look through it, every day it looks different.

– David Hockney
It was at the Bedford Village workshop where, in 1978, the swimming pool in the backyard caught Hockney's attention. He soon embarked on an ambitious series of eleven lithographic prints depicting the same scene: a sun-drenched swimming pool complete with a diving board that casts its shadow over the moving water below. Using a single aluminium plate, the artist was able to reproduce the transparent effect of water emphasized by the diversity of line and the inclusion of blue and green washes. Showcasing Hockney's concern with illustrating the fluid nature of water, the subject matter and graphic marks in Lithographic Water later informed the execution of Pool Made with Paper Blue Ink for Book. Completed in 1980, Pool Made with Paper Blue Ink for Book presents dynamic blue gestures that evoke the water's constant movement and variations in color. Much alike the Lithographic Water compositions, Pool Made with Paper Blue Ink for Book also includes a diving board, this time a bold orange color, contrasting with the azure swimming pool below. Tyler's technical expertise allowed Hockney to explore the endless possibilities of printmaking. They would continue to work together over the coming decades, including taking a trip to Mexico to work on the Moving Focus series. As well as building a strong friendship, Hockney and Tyler formed an enduring working relationship that proved important to Hockney's evolution as an artist and had a momentous impact on Hockney's oeuvre.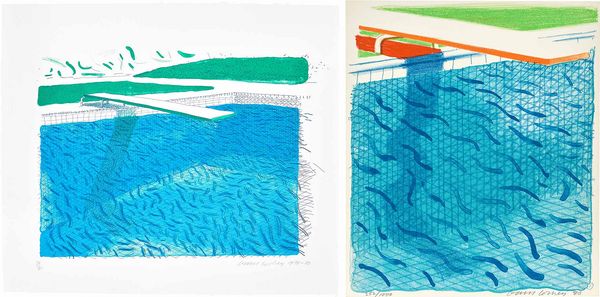 ---
In 1987, having outgrown the Bedford Village studio, Tyler Graphics Ltd moved to a purpose-built facility in Mount Kisco, New York. With a state-of-the-art press room, large artist studio, dedicated gallery space, and even a custom paper mill, this workshop was designed specifically to fulfil Tyler Graphics' purposes. This allowed Tyler's already extraordinary repertoire of techniques to incorporate even larger and more advanced projects than before.
When you've had a long history together you have a lot of trust and that trust goes a long way. It allows oneself to be free in the creative act and not to be too conscious of the other person that you're collaborating with. It makes the collaboration that much better and richer in every way.

– Kenneth Tyler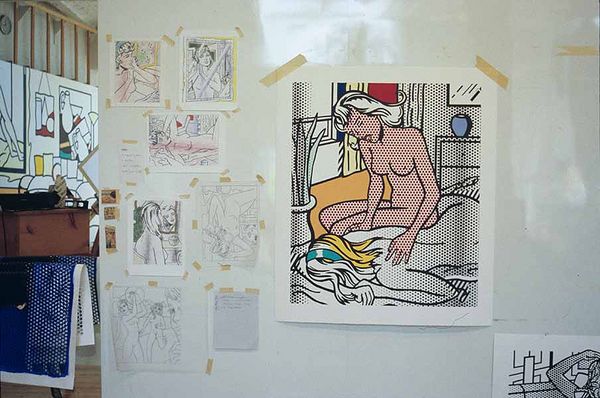 Roy Lichtenstein's preparatory sketches for his Nudes series and a trial proof of Two Nudes, artist's studio in NYC, New York, 1993. National Gallery of Australia, Canberra. Gift of Kenneth Tyler, 2002. © Jim McHugh.
Much like Hockney, Roy Lichtenstein had a long and fruitful working relationship and friendship with Tyler at both his West and East Coast workshops. They repeatedly collaborated over the decades on iconic projects such as Lichtenstein's Entablatures and Reflections series. Their working relationship culminated in the mid-nineties, when they produced Lichtenstein's Nudes series, which would be the artist's final project before his death in 1997.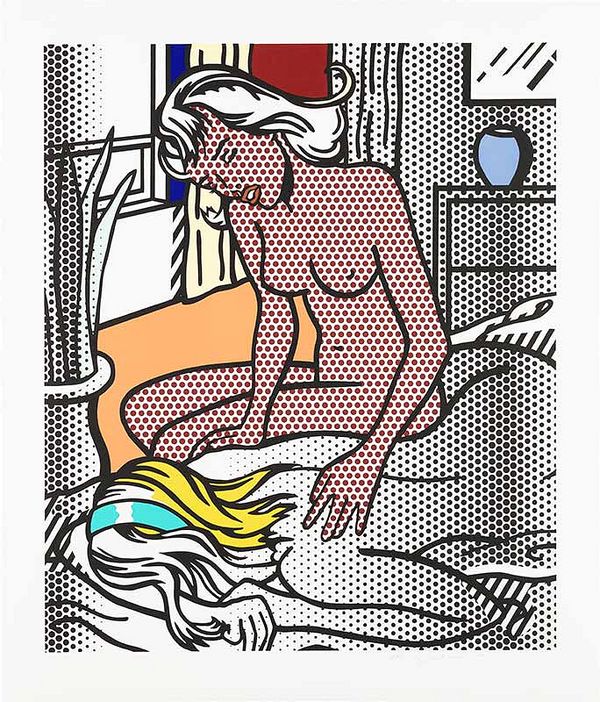 Roy Lichtenstein, Two Nudes, from Nudes Series (C. 284), 1994. Evening & Day Editions, London.
The Nudes series began in late 1993, when, in his New York studio, Lichtenstein started making the collage studies that would serve as models for the subsequent print series. In early 1994, Lichtenstein took his studies to Tyler's Mount Kisco studio, where he began meticulously hand-cutting Rubylith stencils to outline each image. Five of the outlines were then translated onto magnesium relief printing plates and one onto a plastic relief plate. Ever the innovator, Tyler was one of the first printmakers to embrace computer technology. In the Nudes series, the iconic Ben-Day dots were created on a computer, then transferred to positive film before additional Rubylith stencils were cut for the block colors and diagonal lines. The stencils and films of dots were then registered using the original outline sketches and made into individual color relief printing plates. Finally, voluptuous layers of pigment were printed to BFK Rives paper, ensuring a finished result with extremely rich colors and crisply delineated forms. Typifying Lichtenstein's iconic machine-made aesthetic, this meticulous process enabled the metamorphosis of his comic book cuttings into large scale artworks that both engage with and subvert the art historical canon. Moreover, in their technical complexity and combination of multiple graphic techniques, they serve as prime examples of the extraordinary results that can emerge through collaborative efforts between artists and master printers like Tyler showcasing the boundless creative potential of the medium.
It became like a candy store for the artist and no matter what their fancy might have been, technique wise we were able to pull it off.

– Kenneth Tyler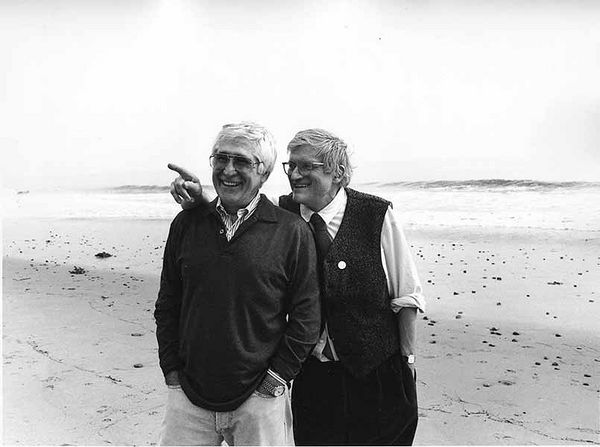 David Hockney and Kenneth Tyler at the beach in front of Hockney's Malibu, California home, Los Angeles, 1992. National Gallery of Australia, Canberra. Gift of Kenneth Tyler, 2002.
The legacy of Kenneth Tyler's printmaking workshops stands as a testament to the transformative power of artistic collaboration. Spanning four decades, the workshops fostered a collaborative and experimental atmosphere for artists to explore new techniques and publish the highest quality prints. The global influence of Tyler's contribution to printmaking was made clear when Pablo Picasso lightheartedly requested that Tyler bring the studio across the Atlantic to him, as if it could be put in a suitcase. A master of numerous printmaking techniques and an innovative, inspiring artist collaborator, Kenneth Tyler worked with artists to vividly illustrate the limitless possibilities of the medium.
Discover More from Editions London >
---
Recommended Reading
Back Again by Popular Demand >
Weaving Time: Editions London >