Grayson Perry, Map of Truths and Beliefs, 2011. Evening & Day Editions London.
This June, our London Editions sales will feature several striking fabric works. In celebration of the medium and manufacturing ingenuity, we trace a non-linear path from the earliest production of textiles, to contemporary works that continue to elevate the medium.
---
ca. 3400 BC
Textiles are first produced in Egypt.

Textiles are used not only for clothing, shelter, and other practical purposes, but also to express social status, religious piety, and cultural identity. Women are primarily responsible for textile production, which is an important part of the Egyptian economy. Their skills are passed down through generations.
2018
Artist Tschabalala Self, born 1990 in New York, creates Princess.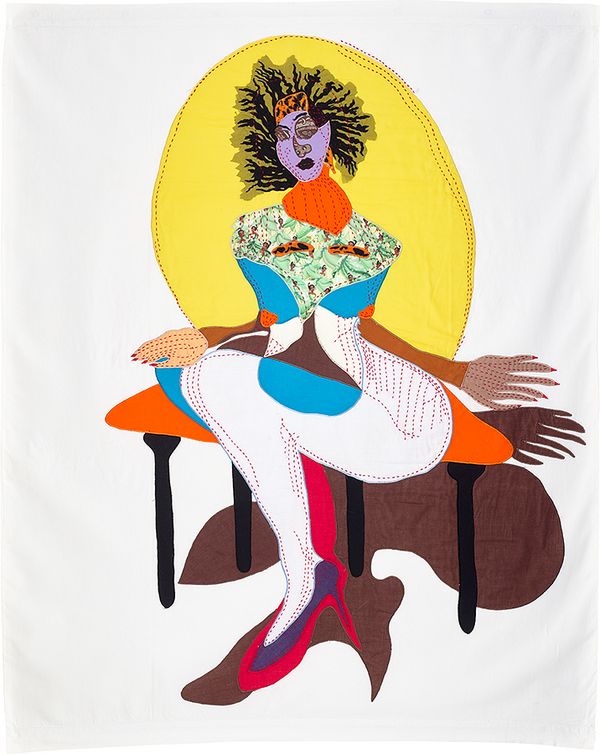 The use of fabric is an integral and personal aspect of Tschabalala Self's creative process. It conjures her upbringing and connects her to the women in her family, as she once recalled, "I started sewing after my mom passed. She would trace patterns on the floor, and I frequently work on the floor as well. I use a lot of the fabric that she collected. She would also reuse things. If my sisters outgrew a pair of pants, she would turn them into skirts. I do that in my practice. Everything is a part of the space that it was created in."
Self skilfully interweaves the personal with the political in her work, drawing on her own history and the associations of textiles to women and "women's work" to create highly charged pieces that explore attitudes towards race and gender in the 21st century. In 2017, the United Nations for The Art of Empowerment commissioned Self to reproduce her unique assemblage work Princess in an edition of 30. The result is an immediately moving portrait in quilted fabric — recognized by Self as "a craft that unites women across cultures and ages" — which celebrates the strength and resilience of Black women.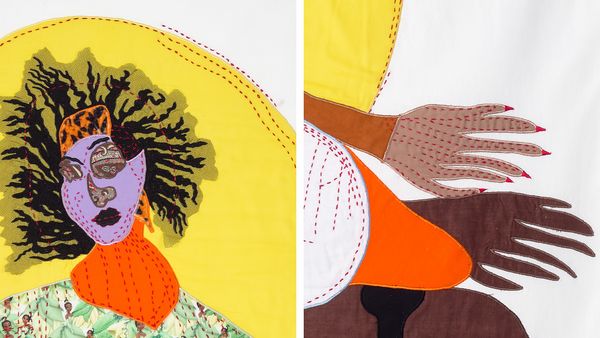 ca. 3000 BC
The first silk production methods are developed in China.

Silk is considered a precious material and is believed to have mystic properties. As a result, it is frequently used in religious ceremonies and worn by priests, contributing to the growing global tradition of sacred fabrics utilized during worship.
2018
Damien Hirst, born 1965 in Bristol, UK, creates Prophecy from Enter the Infinite (The Visions).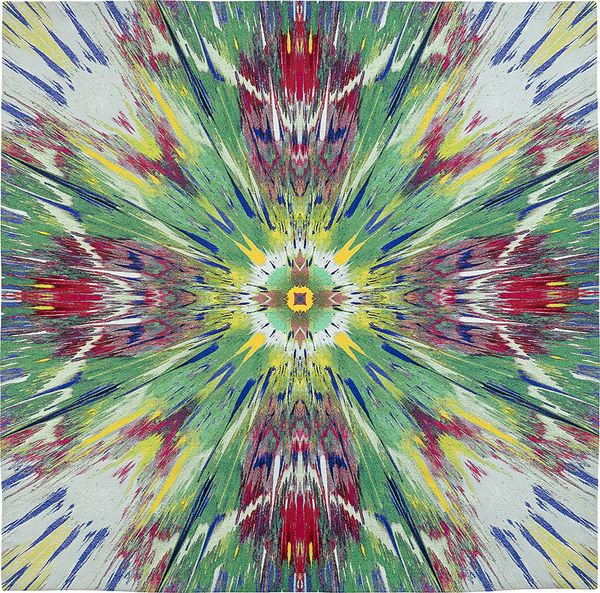 Damien Hirst, Prophecy from Enter the Infinite (The Visions), 2018. Evening & Day Editions London.
The titles of Damien Hirst's individual tapestries, and the Enter the Infinite series in its entirety, signify the artist's attempts to construct a transcendental experience through art. Alongside Prophecy, works such as Revelation, Trance, and Exaltation demonstrate Hirst's intention to create work that is not solely viewed, but instead encountered and remembered as an ineffably transformational interaction, akin to a religious experience.
Prophecy is a monumental tapestry created using a Jacquard loom. It is one of twelve tapestries in the Enter the Infinite series. The designs for the tapestries were created using a precise mathematical process, in which sections of Hirst's 2008 Spin Painting titled Beautiful Flailing, Falling, Grip on Reality Pull Yourself Together Painting were divided, reflected, and repeated to form perfectly symmetrical, prismatic bursts of color.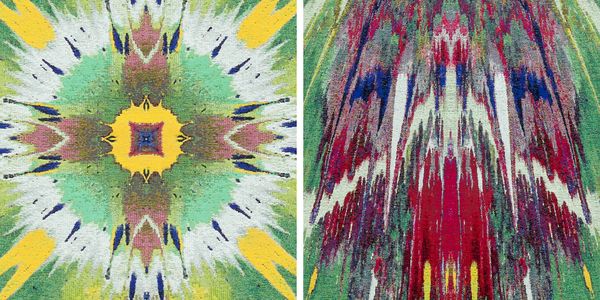 Damien Hirst, Prophecy from Enter the Infinite (The Visions) (details), 2018. Evening & Day Editions London.
ca. 3000 BC
Cotton is first cultivated as a fabric in the Indus River Valley in present-day Pakistan.
Later, Arab merchants introduce cotton fabric to Europe and the fabric is widespread on the continent by the middle ages.
2016
2016 — Etal Adnan, born 1925 in Beirut, Lebanon, creates Summer based on a drawing from 1970.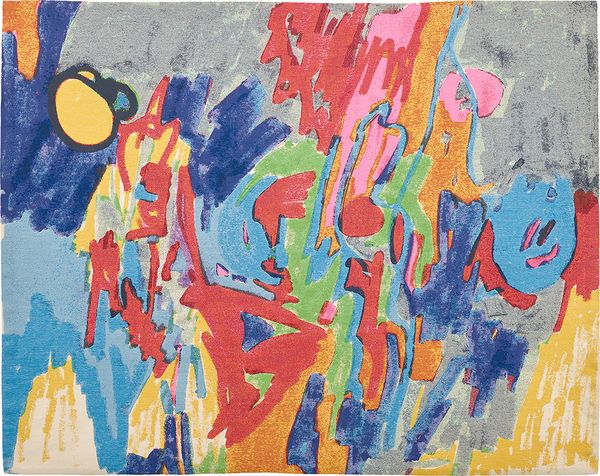 Adnan's interest in tapestry stems from her childhood in Beirut, where she first experienced the rich colors and textures of Persian rugs. The Summer series draws from her engagement with different practices, intellectual concerns, and Arab and American cultural influences.
In 2016, to celebrate a solo exhibition in London, Etel Adnan created two edition runs of her 1970 drawing Summer, one as a series of prints and the other as Jacquard woven tapestries. The tapestries are monumental yet graceful, with expressive swaths of colors and shapes activating their surfaces.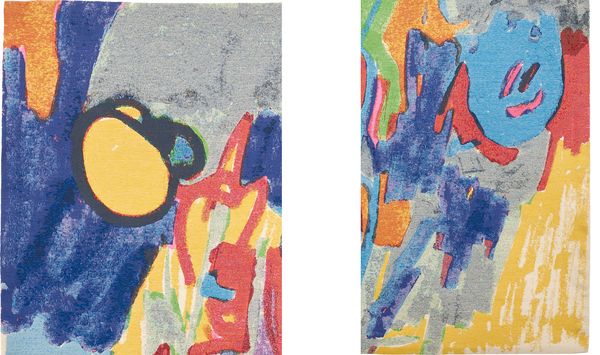 ca. 1200 AD
The spinning wheel is introduced in Europe, increasing the speed of production.
The use of tapestries that depict religious and historical scenes is pervasive in castles and churches throughout Europe.
2012
Tracey Emin, born 1963 Croydon, UK, creates The Beginning of Me.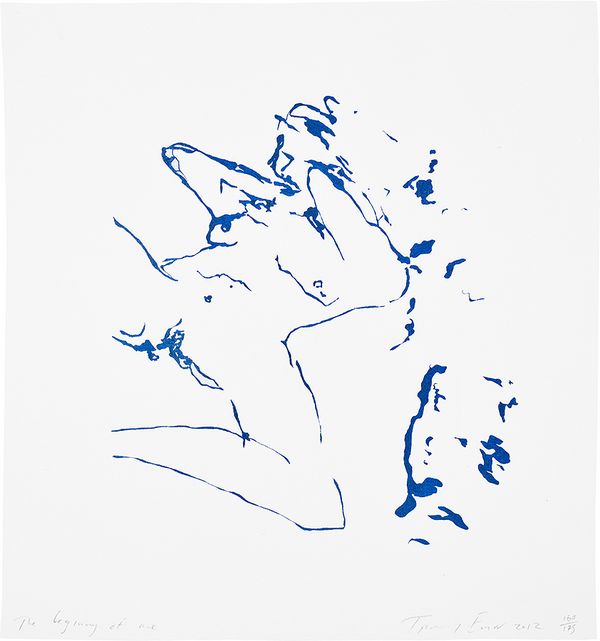 This screenprint on cotton fabric is an intimate self-portrait that captures Tracey Emin's distinctly personal vulnerability and strength. Of her nude self-portraits, she has said that she uses her body to "tell stories" and to "make sense of the world."
Emin has used an array of materials in her oeuvre and she has used fabrics in a variety of works, including sculptures and installations. In an interview with Sculpture magazine in 2002, Emin said, "I like poor materials ... I like neon, because it's moving constantly and like drawing. The chemicals going through the neon turns me on really — it's sexy. I like fabrics, but one of the main things with objects is that I really have to love them before I can use them."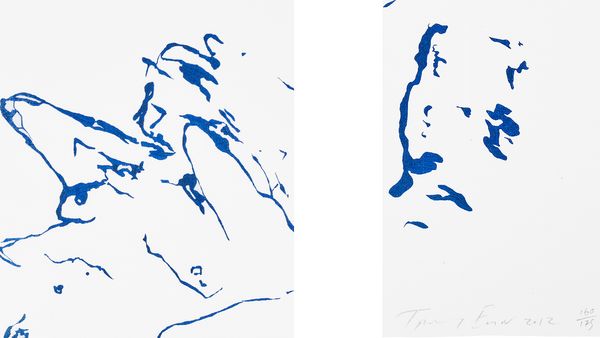 ca. 1733–1844
ca. 1733 AD — The flying shuttle is invented, which allows for a faster weaving process.
Accelerated innovation follows English inventor John Kay's development of the flying shuttle. The power loom is invented in 1785, which further speeds up the weaving process. In 1801 the Jacquard loom is developed, which allows for the production of complex patterns.
2011
Sir Grayson Perry, born 1960 in Essex, UK, creates Map of Truth and Beliefs.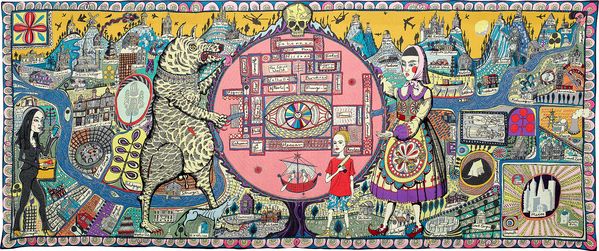 British artist Grayson Perry works in a variety of traditional mediums, including ceramics, yet tapestry plays a primary role in his output. His monumental tapestry Map of Truths and Beliefs fuses the traditional and contemporary to create a humorous and thought-provoking meditation on the concepts of pilgrimage and the afterlife. The work is inspired by historic textiles and medieval maps, but also includes references to contemporary culture, such as Las Vegas, Graceland, and the Champs-Élysées. Perry's conflation of prosaic locations with sacred sites humorously highlights instances of continuity as well as significant changes in attitudes between historic and contemporary cultures.
The work is also a commentary on the artist's own personal beliefs and experiences. The central figure in the tapestry is Perry's teddy bear Alan Measles, who represents the artist's "personal metaphor for God." The surrounding figures represent different aspects of Perry's own life and worldview, including his gender identity, his working-class background, and his interest in art and history.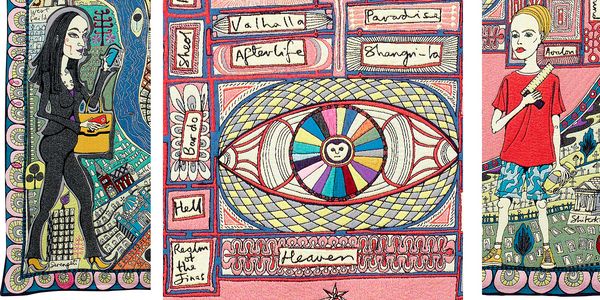 Grayson Perry, Map of Truths and Beliefs (details), 2011. Evening & Day Editions London.
ca. 1960s
CAD and manufacturing developments lead to revolutions in the textile industry.
Rapid technological progress inspires artists to explore new ways of creating and presenting art and makes it possible for artists to collaborate with each other across the globe.
2009–2010
Louise Bourgeois, born 1911 in Paris, France, collaborates with Tracey Emin to create Do Not Abandon Me.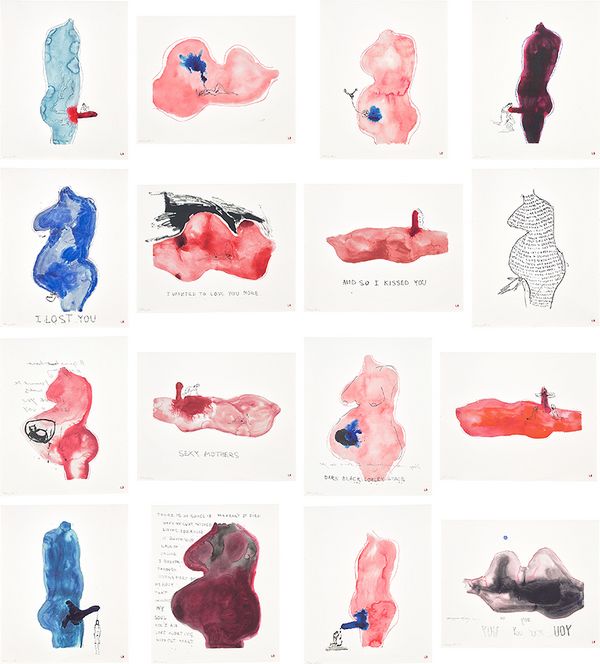 Louise Bourgeois and Tracey Emin, Do Not Abandon Me, 2009–2010. Evening & Day Editions London.
Do Not Abandon Me is a remarkable collaborative work by the multidisciplinary artists Louise Bourgeois and Tracy Emin. Louise Bourgeois initially created the gouache paintings of male and female torsos on paper, and then worked with Dyenamix studio in New York to digitally print her creations onto fabric. Dyenamix sent these works to Emin in London, who added her own drawings of fetuses and miniature female bodies to each image, using a transfer technique. The completed works were returned to Dyenamix who printed the combined images to produced the final edition of 18 sets.
The cross-generational collaboration between the two artists represents a union of their confessional and autobiographical styles. As Emin noted, working with Bourgeois "was like holding hands with history. I thought of it like holding a baton; Louise passes it to me and then I pass it to someone else."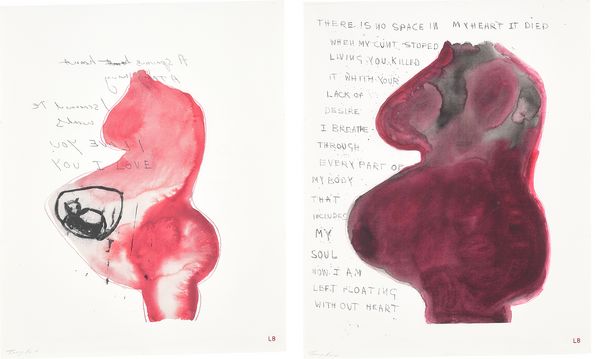 Louise Bourgeois and Tracey Emin, Do Not Abandon Me (details), 2009–2010. Evening & Day Editions London.
---