Auctioneer and Head of Sale Rebecca Tooby-Desmond on the rostrum during the white glove David Hockney Auction in September 2022, with Florence Hillard.
In September 2022, Phillips broke new ground with its inaugural David Hockney auction. Presenting an exciting variety of museum-quality editions, the auction achieved white glove status, with all lots sold (nearly 80% above their high estimate) and 38 record auction prices achieved.
Phillips has succeeded in moving the market for Hockney editions at auction and will be offering regular David Hockney auctions every September in London. To celebrate the reprisal of our dedicated-artist auction, we take a short stroll through Hockney's biography, guided by some of the most important artworks set to feature in our upcoming David Hockney sale in September 2023.
I'm interested in all kinds of pictures, however they are made, with cameras, with paint brushes, with computers, with anything.

– David Hockney
A History of Hockney
The Early Days
Born in Bradford, West Yorkshire in 1937, David Hockney honed his interest in art at Bradford Grammar School, before entering the Bradford School of Art in 1953. At the latter establishment, Hockney made his first foray into printmaking, producing the colour lithographs Fish and Chip Shop and Woman with a Sewing Machine in 1954. In Woman with a Sewing Machine, Hockney used his mother as a model in the detailed domestic interior, while Fish and Chip Shop includes an early self-portrait of the young artist at his local takeaway in Eccleshill, Bradford. Created by a seventeen-year-old David Hockney, these two prints provide tender insights into the artist's formative years and are among the earliest and rarest prints produced by the artist.

The 1960s
Following a stint at the Royal College of Art, London, between 1959 and 1962, Hockney sought to escape the humdrum of post-war Britain in search of exciting adventures and new inspirations. The 1960s marked Hockney's spontaneous relocation to Los Angeles – a city he visually defined through his mesmerising depictions of the Southern Californian lifestyle. Enamoured with his new surroundings, Hockney produced A Hollywood Collection in 1965. Consisting of six colourful lithographs detailing fictional compositions complete with printed frames, this series was intended to serve as a ready-made art collection, pre-packaged for a Hollywood star. While the glamour of Tinseltown interiors certainly captivated a young Hockney, it was his focus on the exteriors of the Hollywood homes – specifically, the backyard swimming pools - which really catapulted him to stardom. Hockney's celebrated swimming pool paintings, such as A Bigger Splash (1967) which resides in the Tate's permanent collection, are among his most iconic works. Hockney ended the decade engrossed in etching, spending most of 1969 creating the series Illustrations for Six Fairy Tales from the Brothers Grimm. Focusing on narratives such as Rapunzel and Fundevogel, Hockney conjured up fascinating visual accompaniments to these famous fables.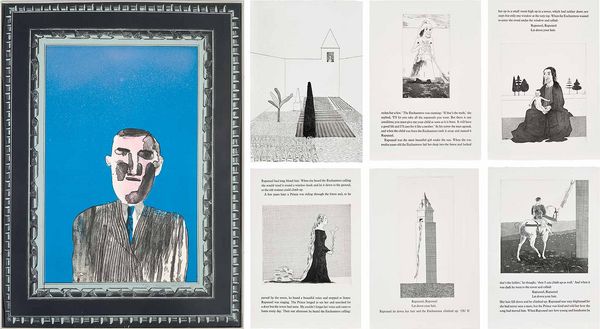 I moved here in 1964… and I thought, "This is the place to be - the land of swimming pools."

– David Hockney on Los Angeles
The 1970s
The swimming pool continued to be a plentiful source of inspiration for Hockney in the 1970s. Symbolising the hedonism of post-war America, pools also served as metaphorical springboards into Hockney's extended investigations into the formal challenge of representing water. Between 1978 and 1980, a period of intense experimentation in collaboration with the master printer Kenneth Tyler resulted in Hockney's renowned Paper Pools series, along with eleven lithographic editions which depicted a single view of Tyler's pool and included the richly coloured Lithographic Water Made of Lines, Crayon, and Two Blue Washes. Following Hockney's first collaboration with Tyler on The Hollywood Collection in 1965, the pair continued to work together across all four of the printer's workshops and produced further lithographic series during the 1970s, including Friends and the Weather Series.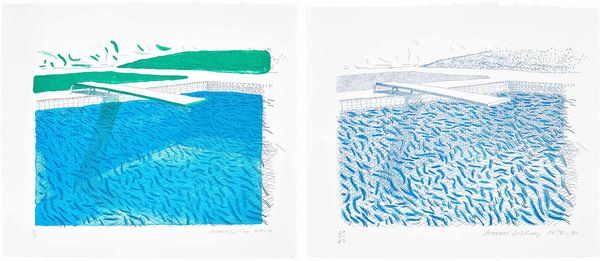 The 1980s
Following his visit to the Museum of Modern Art's landmark Picasso retrospective in 1980, Hockney was further inspired to challenge the conventions of linear perspective in his artwork. Using a camera, the artist created a series of photographic collages which combined multiple viewpoints into a single image, before exploring reverse perspective through his ambitious printed series, Moving Focus. Including iconic works such as Hotel Acatlán: Second Day, An Image of Gregory and Pembroke Studio Interior, Moving Focus is Hockney's largest and most pioneering series of colour lithographs, consisting of over 29 vibrant compositions. Ever the innovator, the 1980s also marked Hockney's discovery of a new edition-making process using the photocopier, which allowed for unprecedented spontaneity and resulted in his charming and vibrant home-made prints, epitomised in Self-Portrait, July 1986.

The 1990s
By the 1990s, Hockney's experiments with perspective had transformed into kaleidoscopic configurations of vivid colour. Following on from his laser-printed Painted Environments – which depict abstract works positioned on easels in similarly decorated rooms, making it difficult to decipher where the work ends, and the surroundings begin – Hockney created his Some More New Prints series in 1993. Featuring purely abstract designs, screenprints such as Above and Beyond showcase the artist's ability to create texture and depth through colour and technique alone.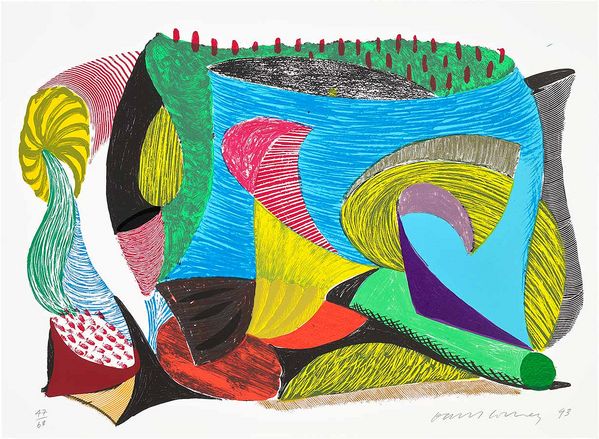 The 2000s
By the early 2000s, Hockney was visiting his birthplace of Yorkshire, England, with increasing frequency, and he began to repeatedly depict the landscapes around Bridlington – the long-term residence of his sister, Margaret, and home of his beloved mother who passed away in 1999. Hockney set up a studio in the historic coastal town in 2008 and continued to experiment with recent technologies by utilising Photoshop and creating drawings on his computer. Works such as Rain on the Studio Window, which was published alongside the book David Hockney: My Yorkshire: Conversations With Marco Livingstone, cement the artist's status as an innovator and pioneer of digital images while simultaneously emphasising the depth of his unwavering connection to Yorkshire.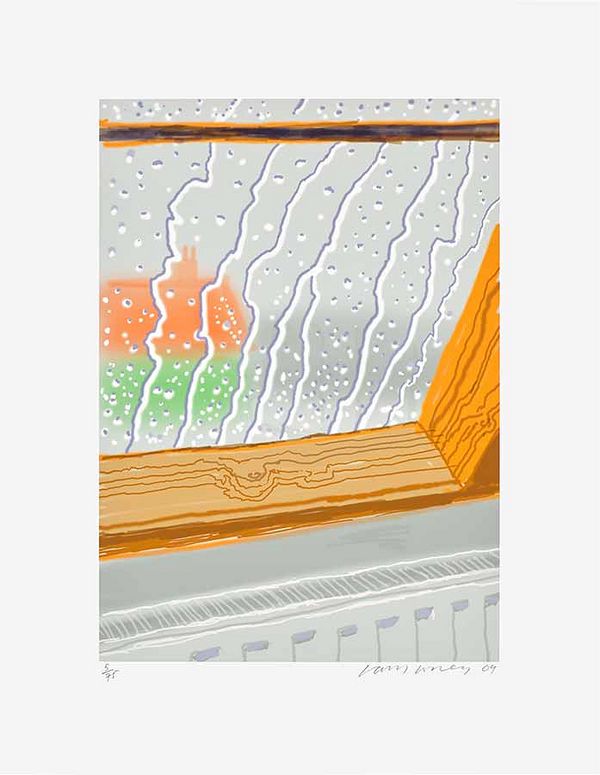 To do landscapes, you've got to know the place rather well. You've got to love it actually.

– David Hockney
The 2010s
When Apple released the first iPad in April 2010, David Hockney acquired one immediately. The iPad revolutionised Hockney's artistic practice, allowing him to efficiently render landscapes digitally en-plein-air. Hockney first tackled the dramatic scenery of the Yosemite Valley with his iPad to produce The Yosemite Suite in 2010, before turning to the bucolic landscape near Bridlington for his seminal series, The Arrival of Spring in Woldgate. Beginning on New Year's Day of 2011, Hockney captured over sixty views around Woldgate Woods which serve as an epic of nature, documenting both the subtleties and the drama of winter's transformation into spring. The series featured in the 2012 exhibition Hockney: A Bigger Picture at The Royal Academy of Arts in London. Despite the iPad's newfound prominence in Hockney's artistic arsenal, his appreciation for the camera never wavered. Works such as Sparer Chairs and Inside It Opens Up As Well demonstrate Hockney's continued exploration of the photographic medium. Comprised of hundreds of digital images combined into single compositions with multiple vanishing points, Hockney's 'photographic drawings' seek to reinvent the portrayal of three-dimensional space on a two-dimensional surface.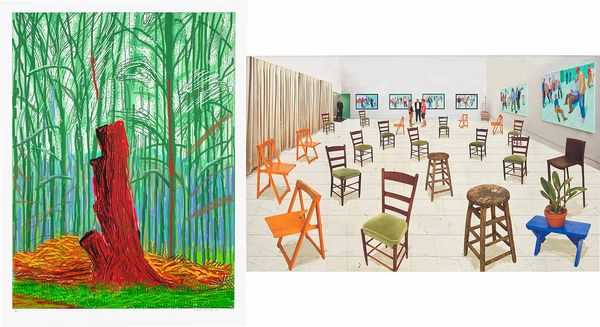 The 2020s
The current decade began with a major retrospective of Hockney's drawings at the National Portrait Gallery in London - an exhibition which met great critical acclaim and is scheduled to be reprised in November 2023. The decade also brought with it a change of scenery, as Hockney relocated to Normandy, France. When the COVID-19 pandemic hit in 2020, the artist was confined to his French home throughout recurring lockdowns – a period encapsulated in the work Self-Portrait in My Living Room. Yet, Hockney still found artistic inspiration within this much-limited radius and continued to prolifically produce work, as exemplified by the abundance of drawings in the facsimile sketchbook that accompanies the aforementioned print. Similarly, 20 Flowers and Some Bigger Pictures (2021), a still life series also produced by Hockney while quarantining, documents the artist's daily inspirations as well as his ongoing fascination with the iPad. Now in his eighties, titles from this body of work including 7th March 2021, More Flowers on a Table precisely date stamp the artist's outstanding productivity. With exhibitions dedicated to this pioneering British artist planned across Europe, America, and Asia in 2023, the critical and commercial appreciation of David Hockney's work is ever-increasing.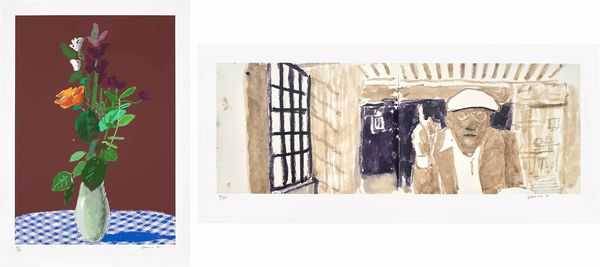 Discover More from Editions London >