Roy Lichtenstein, Still Life with Portrait, from Six Still LIfes Series, 1974. Evening & Day Editions, London.
Anne Schneider-Wilson, Senior International Specialist
One apple, five cherries, two lemons: it's Girl Dinner! Who needs a picnic in a park, when I can nibble on shiny red fruits in the sanctity of my boudoir. Lichtenstein perfectly employs graphic outlines and white spaces to create a cartoonish still life that will never decay. My portrait in the attic and the apple that never rots!
Louisa Earl, Associate Specialist

David Hockney, Hotel Acatlán: Second Day, from Moving Focus, 1984-85. David Hockney, London.
A summer breeze rustles the trees.
The grass prickles but puts you at ease.
Lie down, stretch out, the shade awaits.
Take a break while the sun abates.
The hotel staff will bring the snacks.
There's much to be found in the picnic pack.
No need to rush, the cocktails will follow.
Tequila or rum, any color of the rainbow.
Rebecca Tooby-Desmond, Specialist, Head of Sale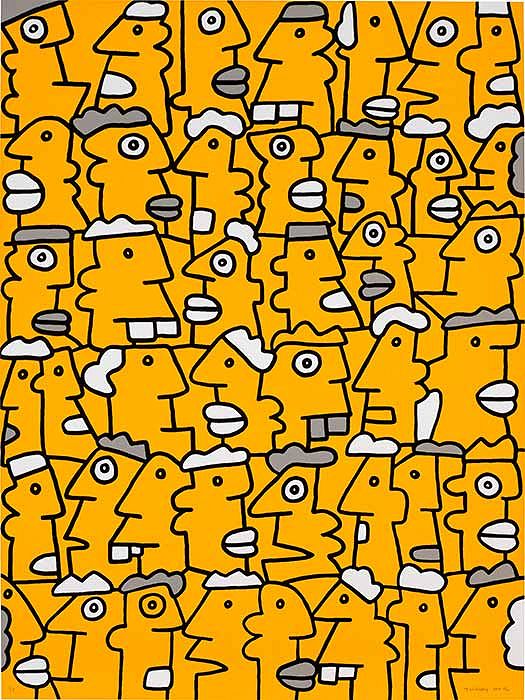 "Hey I'm here, whereabouts are you? Behind the big tree, near the ice-cream hut? Umm… I can't see you, which direction from the entrance? North? I don't know where North is. I'm going uphill if that counts? Ugh this brie is seriously stinking out my tote bag. You're near the guy playing guitar? Why?! There's like a thousand people here, where are you? Drop me a pin! Okay I think I see you, oh no wait that's another group. Can one of you stand up? Is that you waving? I'm near the fork in the path that leads to the zoo. What do you mean, the zoo? Wait. You're in Hyde Park?! … I'm opening the rosé."
Christian Rosolino, Administrator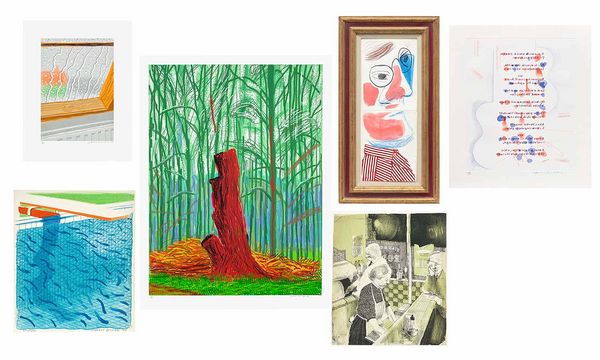 As I look outside my window, all I see is grey
This summer dragging on day after day
I've dreamt of spring arriving, becoming summer
Yet the weather keeps on being a bummer
I've dreamt of fish and chips while sat in the park
Of going swimming until it's dark
I've dreamt of playing my blue guitar
So people can hear me from afar
Alas in this dreary season of '23
I must find my summer through David Hockney
Grace Brown, Cataloguer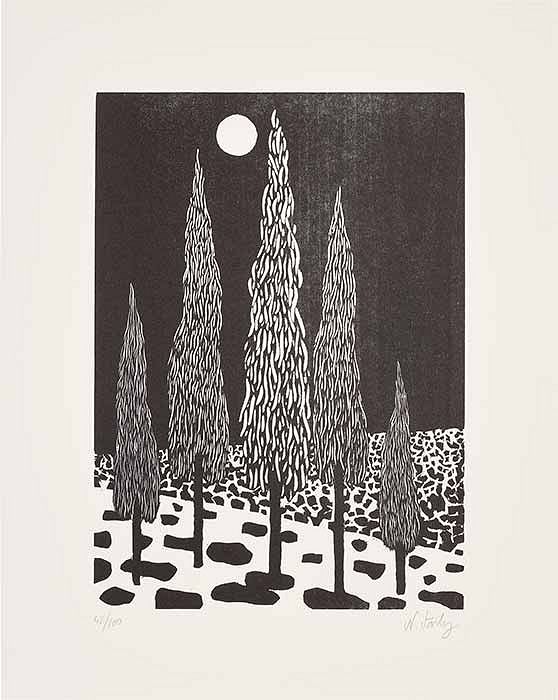 If you go down in the woods today, you're sure of a big surprise,
If you go down in the woods today, it's sure to delight your eyes,
For every print-geek that ever there was
Will gather there for certain because
Today's the day the Editions team have their picnic!
Georgie Byworth-Morgan, Associate Researcher
Time for tiny tea! Although Rachel Whiteread is known for her monumental casts of houses, libraries and staircases, it is her miniature cup, saucer, and cutlery that I'll be bringing to the Editions picnic. Hand-painted in a style reminiscent of dolls house toys, these small-scale casts evoke the cottage core aesthetic ideal for any summer party, especially Grace's teddy-bear picnic!
Robert Kennan, Head of Editions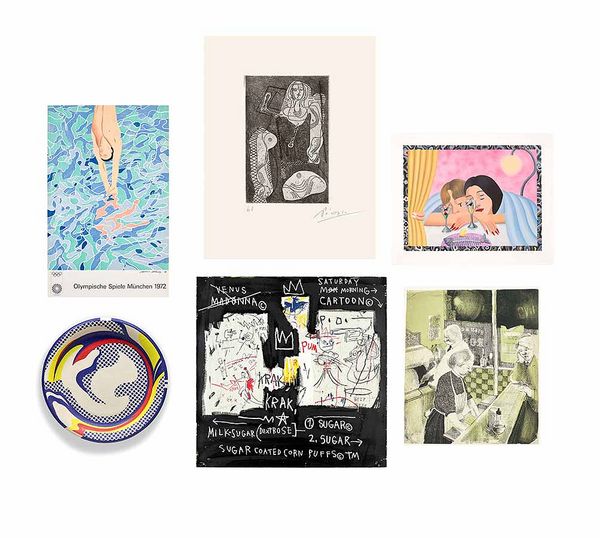 Pool party, you're all invited…
GaHee, darling, did you guys finish off all the booze?! Get a case…
Roy, don't forget those paper plates
Pablo, put that etching down, bring the goats cheese, Lois will take care of the printing
Jean-Michel, be an absolute superhero, bring a trestle table
Mr H., dripping 'n' scraps are so Bradford…
Discover More from Editions London >
---
Recommended Reading
Back Again by Popular Demand >