The New York Watch Auction: EIGHT takes place on June 10 and 11, inside our Manhattan headquarters at 432 Park Avenue. The auction includes more than 120 of the world's finest watches; here, we look at and compare two modern grand complication timepieces produced by Audemars Piguet.
---
– By Logan Baker
Audemars Piguet introduced the most complicated wristwatch in its history back in February. The Code 11.59 Universelle RD#4 combined 23 complications in a single 42mm package, emphasizing the Swiss firm's legendary history in complicated watchmaking.
It was an effective strike back against the online pundits that snark on Audemars Piguet's recent focus on the Royal Oak family and its derivatives. As remarkable of an achievement as the Universelle is, it doesn't change the truth of the matter – Audemars Piguet has always been one of the Swiss watchmaking's leaders when it comes to complications.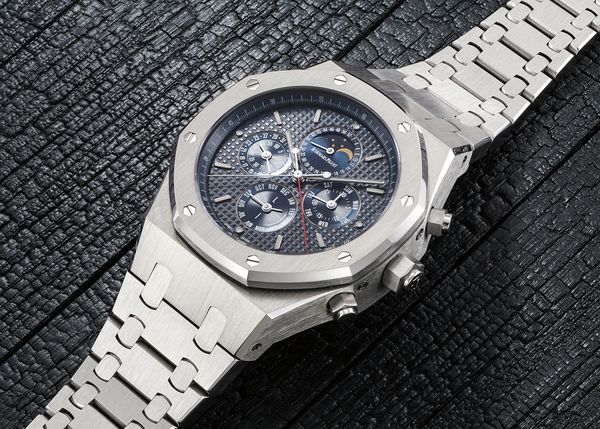 For starters, they're the only company I can think of that employs an executive-level "Head of Complications" position. More importantly, all you have to do is investigate Audemars Piguet's recent catalog to uncover some true complicated hidden gems.
For example: Did you know Audemars Piguet has, in recent history, created grand complication pocket watches for its top clients? Yup. There's one from 2011 in the upcoming New York Watch Auction: EIGHT.
There's also a unique Royal Oak Grand Complication from 2012 in the sale worth taking a look at. With the recent release of the Universelle fresh in our minds, it seemed like malpractice to not take a closer comparative look at these two extremely uncommon takes on a grand complication in the modern era by Audemars Piguet.
Lot 134: A 2011 Unique Audemars Piguet Grande Complication Pocket Watch Ref. 25701PT
A grand complication in the most classic form brings together three of watchmaking's most intricate inventions: a minute repeater, a split-seconds chronograph, and a perpetual calendar. Audemars Piguet didn't produce its first grand complication wristwatch until 1996, in the Jules Audemars line, but its first grand complication pocket watch came as early as 1899, when founders Jules Louis Audemars and Edward Auguste Piguet were still leading the firm.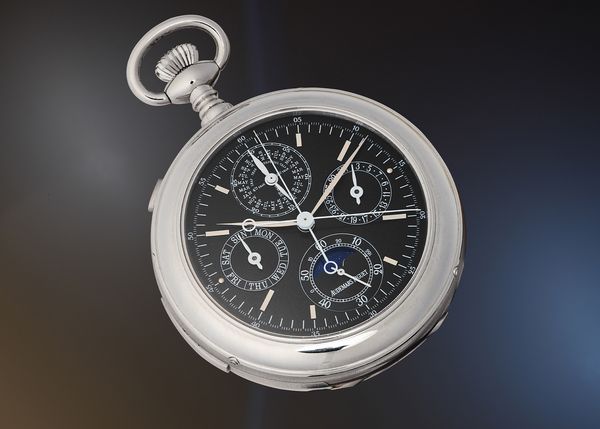 Audemars Piguet continued to focus its energy on the production of grand complication pocket watches long after the death of its founders in the late 1910s. Even in the 1970s and '80s, despite the decline in demand for pocket watches due to the Quartz Revolution, Audemars Piguet continued building extraordinary grand complication pocket watches for its top clients, often at remarkably high prices.
In the late 1970s, Audemars Piguet even commisioned one Mr. Philippe Dufour to create a batch of pocket watches featuring a grande and petite sonnerie, which, although did not count as a grand complications, represents the quality and complexity of watchmaking Audemars Piguet remained interested in during this era. The first Audemars Piguet Grande & Petite Sonnerie pocket watch finished by Philippe Dufour recently sold at PHILLIPS for CHF 889,000 during the Geneva Watch Auction: XVII, in May 2023.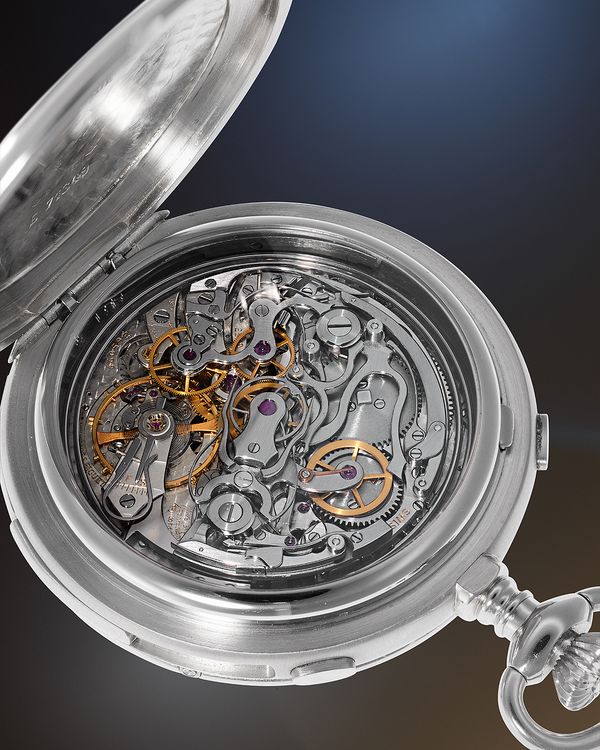 The Audemars Piguet Grand Complication Pocket Watch ref. 25701PT is a modern interpretation of the brand's early mechanical marvels, executed in a quintessential fashion with a minute repeater, a split-seconds chronograph, and a perpetual calendar.
Manufactured in 2011, it has a contemporary black dial, offsetting the clean sheen of the 52mm platinum case. The minute repeating mechanism chimes with great tone and clarity, attesting to the manufacture's mastery, and the split seconds chronograph functions with the appropriate alacrity. The watch embodies the masterful craftsmanship and long history of Audemars Piguet's complications expertise. The timepiece is in excellent overall condition and is accompanied by its original international warranty card and Life & Care card, as well as an Audemars Piguet Extract from the Archives confirming production on May 6, 2011. Estimate: USD $60,000 - 120,000
Lot 138: A 2012 Unique Audemars Piguet Royal Oak Grande Complication Ref. 25865ST
Audemars Piguet completed its first Royal Oak Grande Complication in 1997, a year after releasing its first wristwatch grand complication in the Jules Audemars line. Today, Audemars Piguet produces approximately eight wristwatch grand complications per year across all collections inside a dedicated workshop at the center of the Musée Atelier Audemars Piguet in Le Brassus.
The Audemars Piguet Royal Oak Grande Complication Ref. 25865ST included in the New York Watch Auction: EIGHT once again combines a minute repeater, a perpetual calendar, and a split-seconds chronograph inside the classic sport-luxury stainless-steel package.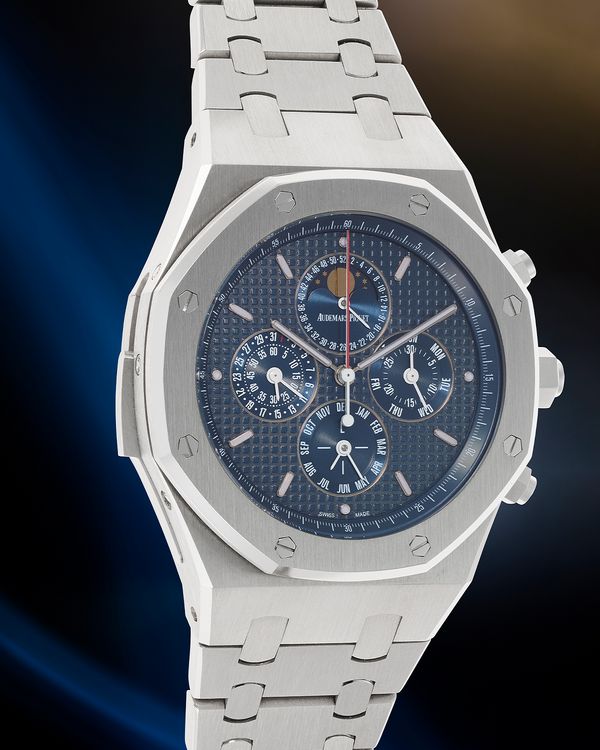 Grande Complication timepieces are most typically produced either in an extremely limited series or as unique pieces on special commision or as a proof of concept. The challenges and costs involved with the realization of these watches maintains their overall rarity even today.
As the number 1/1 on the caseback proudly notes, the present Royal Oak Grande Complication is a unique piece. The self-winding caliber 2885 inside is an absolute masterpiece of watchmaking craft, both for its architecture and for its finish as well. It features an impressive 648 components – all finished and assembled by a single master watchmaker who requires about a year to complete the project
Very few watchmakers or brands today are able to offer a grand complication, and the present watch is an impressive example of Audemars Piguet's watchmaking ability – and perhaps the ultimate complicated expression of the Royal Oak. Estimate: USD $250,000 - 500,000
You can learn more about and register to bid in the New York Watch Auction: EIGHT by visiting our online catalog.
---
About Phillips In Association With Bacs & Russo
The team of specialists at PHILLIPS Watches is dedicated to an uncompromised approach to quality, transparency, and client service. Phillips in Association with Bacs & Russo holds the world record for the most successful watch auction, with its Geneva Watch Auction: XIV having realized $74.5 million in 2021. Over the course of 2021 and 2022, the company sold 100% of the watches offered, a first in the industry, resulting in the highest annual total in history across all the auction houses at $227 million.
About Logan Baker
Logan has spent the past decade working in watch-focused media, reporting on every aspect of the industry. He joined Phillips in Association with Bacs & Russo at the start of 2023 as the department's Senior Editorial Manager. He splits his time between New York and Geneva.
---
Recommended Reading
A Previously Unknown Audemars Piguet Grande Complication Pocket Watch
A Guide: The Audemars Piguet Royal Oak Offshore
A Technical Overview Of Philippe Dufour's First Pocket Watch