The New York Watch Auction: EIGHT takes place on June 10 and 11, inside our Manhattan headquarters at 432 Park Avenue. The auction includes more than 120 of the world's finest watches; here, our specialists and staffers highlight a few of their favorite watches from the auction.
---
Lot 12: The Roger Smith Pocket Watch No. 2
Estimate: In Excess of $1 Million
Paul Boutros, Head Of Watches, The Americas
A person's first encounter with Roger Smith's Number Two pocket watch will no doubt be an emotional experience. First, its massive, 66 mm diameter will surprise with how large and impressive it is. Examining the completely handmade dial's details, such as the hand-carved, spade-shaped tips of the gold hour and minute hands, will make one quickly realize that it is a masterpiece.
Opening its caseback to discover the exquisite movement, with its gilt and frosted plates, hand-engraved mainspring barrel, and black polished bridge securing the massive, tourbillon-equipped balance wheel, will certainly take your breath away. Finally, holding it and feeling the magnificent heft of its 18 karat gold case will further make the experience unforgettable.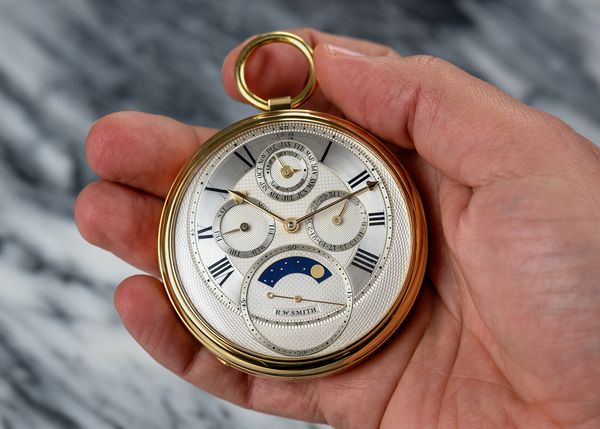 As Roger Smith himself described, this is his most important watch, and is a testament to the incredible creations that human hands can realize through hard work, dedication, and perseverance. Smith's first, hand-made watch was the product of 18 months of effort, but was deemed not good enough to win him a coveted apprenticeship with George Daniels, the late British watchmaker widely considered the greatest of the 20th century.
Smith was one of many watchmakers who presented a watch to Daniels in hopes of securing an apprenticeship. As recalled by Michael Clerizo, author of the book, George Daniels: A Master Watchmaker & His Art, all were rejected by Daniels with their first attempts. Only Roger Smith would return with a second watch – this very watch – that was the result of five full years of painstaking effort to perfect it to be good enough for Daniels. Interestingly, as Smith shared with me, the original case of his first pocket watch was melted down and used to create the case of this second pocket watch.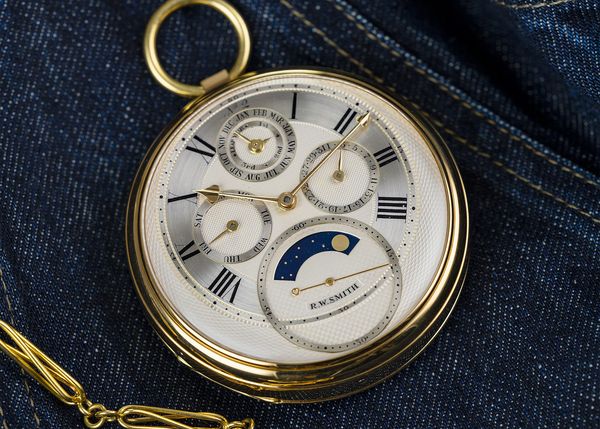 One look at the Number Two pocket watch in the metal, and it's immediately apparent that Daniels could only say yes to taking Roger on as his only apprentice. Without the creation of this timepiece – and Daniels' wise decision – there would be no Roger Smith brand today, and the landscape of Independent watchmaking would look very different today.
Roger Smith's Number Two pocket watch is, in my humble opinion, one of the finest handcrafted timepieces made during the modern era, and one of the most important watches in the world. We are truly honored to offer it publicly for the first time in The NY Watch Auction: EIGHT and hope you will have the chance to see it in person during our exhibition leading up to its sale.
Lot 93: A Circa 2002 F.P. Journe Chronomètre á Résonance In 18k Pink Gold
Estimate: USD $130,000 - 260,000
Isabella Proia, Head Of Sale, New York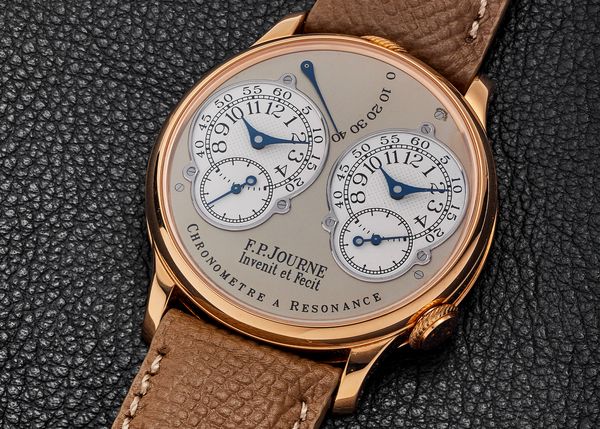 While collectors and scholars can debate the Resonance or the Tourbillon Souverain all they would like, for me, there is nothing as quintessentially Journe as the Chronomètre à Résonance. We are lucky to have three very different examples of the Résonance in this sale: an early Résonance from 2002 in pink gold with a white gold dial, an example from the Ruthenium collection, and then the most modern iteration, the RQ. The elegance and versatility of the -02R cannot be overstated. It is a chameleon, the dial taking on different hues depending on the lighting conditions, and acting perfectly in harmony with the warmth of the pink gold case. The 38mm proportions are absolutely ideal for my tiny T-Rex wrists.
To take Antide Janvier's double pendulum clock, and condense not only its size but its ingenuity into a chronometer-certified wristwatch is a feat achievable only by someone who is incredible daring and ambitious - traits that are no mean feat to sustain over decades. The highly deceptive simplicity of the Résonance also contributes to my admiration - always better to be more than meets the eye
Lot 18: A 1959 Omega Speedmaster Professional 'Broad Arrow' Ref. 2915-2
Estimate: USD $40,000 - 80,000
Doug Escribano, Senior International Specialist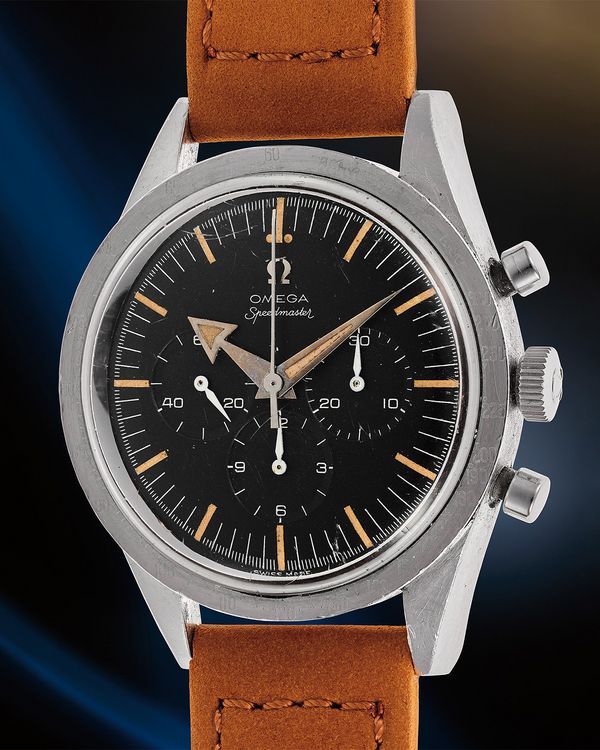 Early Omega chronographs set the standards for the brand's most iconic timepiece known today, the Speedmaster. This iconic model is cherished for its role in the early NASA space program and evolved from the earliest models. The reference 2915 is a rare chronograph made in three iterations between 1957 and 1959 and is historically important in the brands evolution. The present lot 18, from the -2 generation, is in wonderful original condition and offered for the first time at auction. The well preserve "Broad Arrow" hands are a prominent feature of early models as is the metal bezel, which was replaced with a bezel insert on later models. The innovative design to feature the tachymeter scale on the outside of the dial was ingenious, giving the dial a clearer visible aesthetic. This classic Speedmaster has the correct "Base 1000" bezel, which has aged over years of wear and the scale is lightly visible. The dial's Omega signature sports the fat "O" and longer "r" lettering which collectors cherish. Made in 1959 and sold to Jamaica, this reference 2915 is a grail watch for collectors, and its wonderfully preserved condition makes it a superb collectors timepiece.
Lot 124: A Circa 1950 Patek Philippe Chronograph Ref.1436
Estimate: USD $100,000 - 200,000
Melissa Dahl, Sale and Business Development Manager, Watches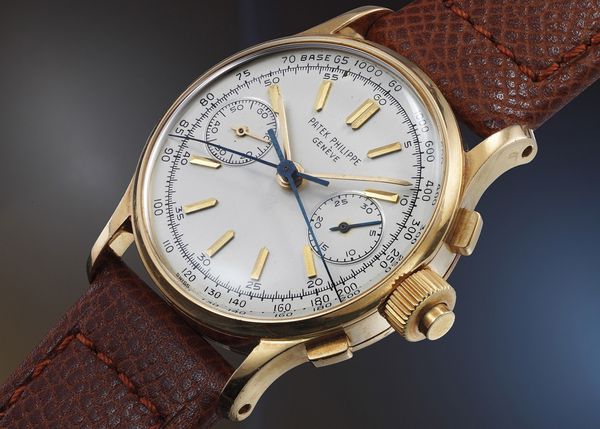 My pick for our upcoming sale is Lot 124 –a Patek Philippe Ref. 1436 consigned by the family of the original owner. For me, Ref. 1436 epitomizes timeless elegance, with its clean and refined design. The two-register chronograph layout, with sub-dials for seconds and minutes, offers functionality without compromising the watch's legibility. Its modest case size of 33 mm imparts a refined and understated charm, making it suitable for both formal occasions and everyday wear.
As Patek Philippe's first split-seconds chronograph wristwatch, it holds historical significance and represents a milestone in the brand's illustrious history. The rarity of this timepiece, combined with its historical importance adds to my love for this watch.
Lot 56: A 1990 Patek Philippe Perpetual Calendar Chronograph Ref. 3970E
Estimate: USD $50,000 - 100,000
Erica Downs, Administrator, Watches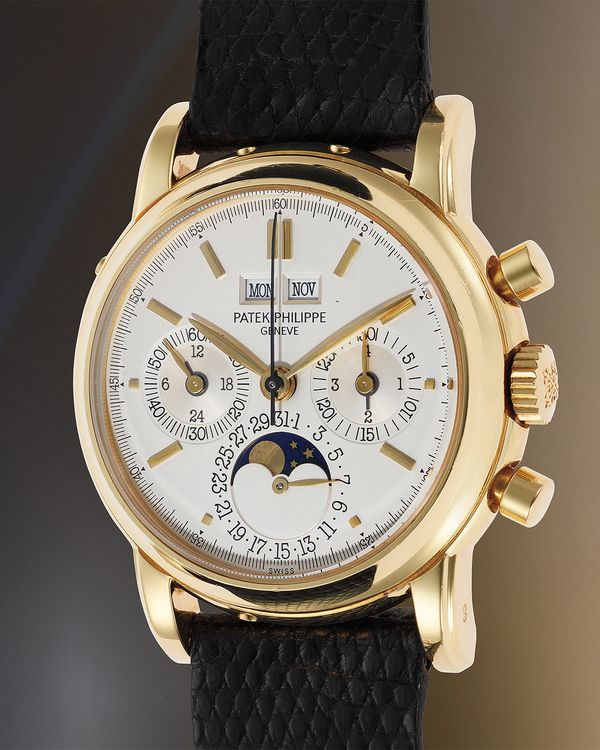 Evolving from a significant line of perpetual calendar chronograph wristwatches, the iconic 3970 reference began its production in the late 1980's as the successor for references 1518 and 2499. Introduced in 1986, Patek Philippe's second series 3970E, carries the model letter "E" which represents and translates to "étanche" or "water-resistant."
This model perfectly epitomizes elegance, timelessness, and attractiveness. I find the 3970E to be so aesthetically pleasing to the eye; though it is complicated, its modernized simplicity in juxtaposition to its traditional three subsidiary dials makes it most appealing. In my opinion, it has become the pinnacle of neo-vintage.
Lot 89: A 1952 Patek Philippe Ref. 2481 'Pristine Forest'
Estimate: USD $600,000 - 1,200,000
Marcello de Marco, Specialist, Business Development Associate, Auctioneer
Few timepieces can be as powerful in their simplicity as a Patek Philippe ref. 2481 with cloisonné dial. A true statement of design and rarity (with an estimated production of 10 examples with this dial style), such watches represent the intersection of mechanical perfection, complex case making and ultimate dial décor - and are the forerunners of what is today the hallowed "Rare Handcraft" line.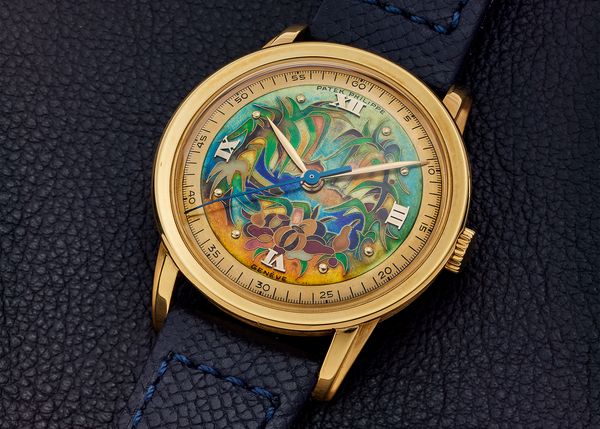 Beyond the historical importance, however, it is the unbound aesthetic impact of the watch that most enthrals me. Already the case of ref, 2481 - with its sculpted, 2499-ish lugs and convex bezel - is a joy to behold but when coupled with the Virgin Forest enamel dial, the result is breathtaking.
Among the references with most cloisonné "real estate" - given its relatively large case diameter - this specific design is possibly the most colourful and complex to be found in vintage timepieces. It is the perfect example of how cloisonné dials manage to achieve unbridled aesthetic power while maintaining a somewhat naive - even childlike - approach to the graphical representation, dictated necessarily by the technique. Combining all of the above with the stunning condition, freshness to the market, and original owner provenance, the present example is to me one of the most fascinating 2481 to ever surface in an auction room.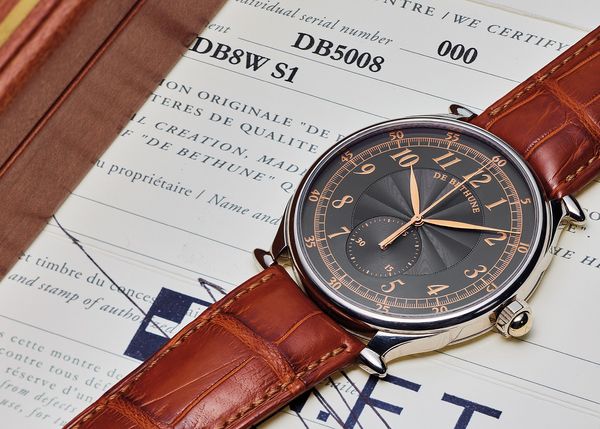 Lot 10: A Circa 2005 De Bethune DB8 Prototype Monopusher Chronograph
Estimate: USD $30,000 - 60,000
Arthur Touchot, International Head of Digital Strategy & Specialist, Author of De Bethune : The Art of Watchmaking
If you're wondering why this monopusher chronograph should matter to you, think about why it matters so much to De Bethune.
The monopusher chronograph has been part of De Bethune's lineage since the brand's founding in 2002 - when it given the responsibility of leading its inaugural collection as the "DB1" - and more than twenty years later, it retains a spot in De Bethune's catalogue with the recent introduction of the DB Eight.
Perhaps more importantly, and even though new calibers presenting variations in the number of registers were developed during that time, De Bethune has carefully preserved the general design of their monopusher chronographs - the Maxichrono being a totally different family - indicating how strongly the brand feels about its classically styled, slim case chronograph with short bullet shaped lugs and guilloché dial.
This particular example, bearing the serial number no. 000, stands out for obvious reasons since it is a prototype and features a very appealing dial configuration.
Lot 123: A Circa 2007 Patek Philippe Split-Seconds Chronograph Ref. 5959
Estimate: USD $150,000 - 300,000
Logan Baker, Senior Editorial Manager
The Split-Seconds Chronograph ref. 5959 is one of Patek Philippe's most important watches of the 21st century. I truly believe that. It was the first timepiece to house Patek's hand-wound caliber CHR 27-252 PS when it was released in 2005, a movement that stood tall as the very first in-house chronograph movement ever produced by the Genevan firm. The caliber CHR 27-252 PS also set a record (that has since been surpassed) of being the thinnest column-wheel chronograph caliber ever built.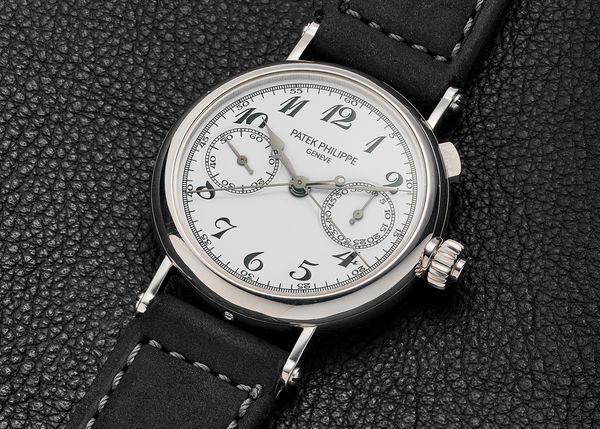 The movement represents a historic achievement for Patek Philippe, and it's an absolute delight to pore over with a loupe. But what might be the most utterly remarkable thing about the ref. 5959 is the size of its round platinum case – a mere 33.20mm × 8.45, unheard of dimensions for a contemporary chronograph. Patek Philippe offered this inaugural platinum version of the 5959 with a white lacquered dial and painted black Breguet numerals. A platinum case and black lacquered dial option would be introduced in 2008, and Patek would eventually release a small run of 5959s cased in 18k pink gold and paired with a black lacquer dial. The platinum, white-lacquer dial variant – as seen in lot 123 – is arguably the most classic version of the reference. Despite a production run spanning over a decade, it's believed that Patek Philippe produced no more than 50 examples of the ref. 5959P-001. If you love Patek Philippe, vintage watches, and split-seconds chronographs, it's hard to find any fault in Patek Philippe's very first in-house chronograph.
Lot 47: A 1999 Halter Barnes Perpetual Antiqua
Estimate: USD $120,000 - 240,000
Ben Kramer, Photographer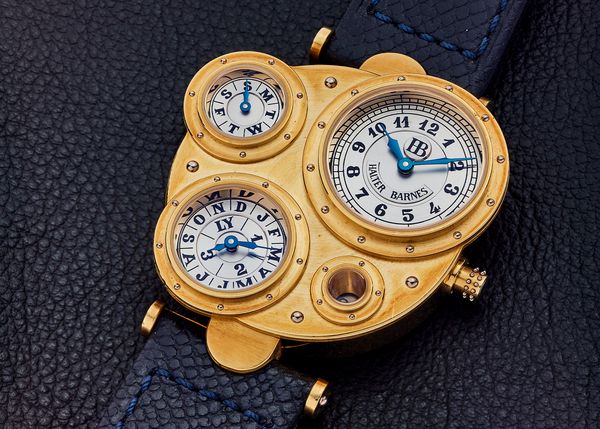 My specialist pick is Lot 47, the innovative Halter-Barnes Perpetual Antiqua. Drawing from the visionary writings of Jules Verne and H. G. Wells, Antiqua is a unique fusion of science and fiction. It offers a masterclass in engineering and timekeeping encased in an artifact from a future unknown. This steampunk relic is crafted with the highest level of finishing and attention to detail. Its asymmetrical case, over 100 hand-fitted rivets, and hand-crafted dials are testaments to its creators' ingenuity. Antiqua is the rare watch that tells you what time it is now while evoking a time that never was. Its portholes glimpse into the depths of imagination and futurism. Antiqua is a true collector's item and one of the most important watches of the modern era.
You can learn more about and register to bid in the New York Watch Auction: EIGHT by visiting our online catalog.
---
About Phillips In Association With Bacs & Russo
The team of specialists at PHILLIPS Watches is dedicated to an uncompromised approach to quality, transparency, and client service. Phillips in Association with Bacs & Russo holds the world record for the most successful watch auction, with its Geneva Watch Auction: XIV having realized $74.5 million in 2021. Over the course of 2021 and 2022, the company sold 100% of the watches offered, a first in the industry, resulting in the highest annual total in history across all the auction houses at $227 million.
---
Recommended Reading
Roger W. Smith OBE On Working With George Daniels On The Anniversary Series (Video)
A Beginner's Guide To The World Of F.P. Journe