Phillips in Association with Bacs & Russo is thrilled to welcome you to The Geneva Sessions, Spring 2023, online auction, running from 10:00 AM CET, Thursday, March 9, to 4:00 PM CET, Thursday, March 16. Featuring more than 50 different high-end luxury wristwatches, the sale covers everything from F.P. Journe and Daniel Roth to Audemars Piguet and Patek Philippe. It even includes a Rolex Daytona ref. 116506 in platinum with baguette diamond hour markers, as featured in this story.
---
– by Arthur Touchot
Exactly ten years ago, Rolex launched the Rolex Cosmograph Daytona ref. 116506, the brand's first ever platinum Daytona. Though it was not officially an "anniversary model", the way other brands might present the model, its release marked an important milestone in the model's history – its uninterrupted production between 1963 and 2013 – and it was immediately crowned the "50th Anniversary Daytona".
Those of you who were paying attention to Baselworld releases in 2013 will remember the buzz surrounding Rolex that year. Granted the watch community was a lot smaller back then, this was still a highly anticipated event and many shared their predictions of what Rolex might present – a custom that has since become an annual tradition.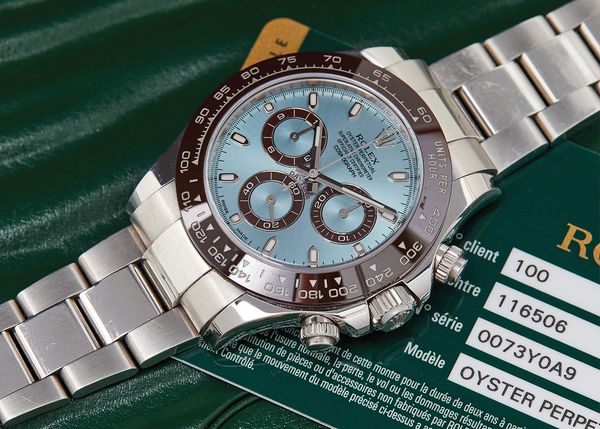 Many believed the brand would release a new stainless-steel Daytona, most probably inspired by the original Ref. 6263 but featuring some of Rolex's latest technology. The brand's then-recent introduction of Cerachrom in both the Daytona Everose and in the Submariner line suggested its imminent wider use in Rolex's catalogue … and we would eventually get that Daytona in 2016.
But no. That's not what happened in 2013. While using an anniversary to launch a watch that both honours its past and represents its future is a tried-and-tested strategy in watchmaking, Rolex is Rolex. This is a brand that sets trends and follows its own rules.

I think it's no exaggeration to say Rolex caught pretty much everyone by surprise when it unveiled the Reference 116506. The Cerachrom bezel was there. Check. But the watch featured an ice-blue dial, which could only mean one thing: the watch was cased in platinum. And that came with a big premium. While the stainless-steel Daytona in the 2013 catalogue (Ref. 116520) retailed for USD $12,000 … the much more limited "50th Anniversary Daytona" would retail for USD $75,000, a price that only a very small group of hardcore collectors would have been ready to pay for a chronograph – even a Daytona.
But let's quickly pause here for a moment, to discuss how we got to the platinum Daytona. And why the Daytona's position in Rolex's catalogue has changed so drastically since the model's launch in 1963.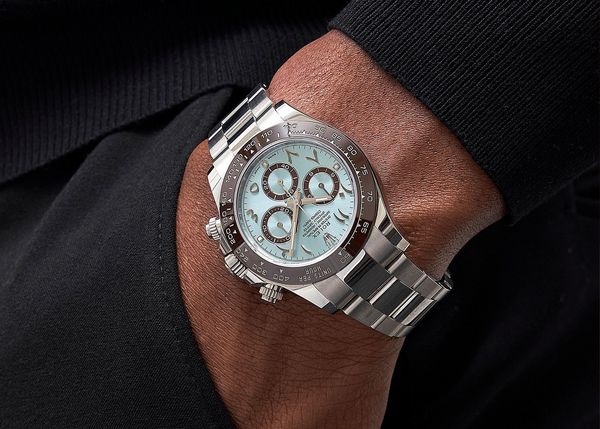 The Ref. 116506 was not the first precious metal Daytona. In fact, Rolex started experimenting with its iconic chronograph in the 1970s. Rolex introduced the first yellow gold Daytona in 1970, shortly before the launch of genre-defining luxury sport watches like the Royal Oak and the Nautilus. And unlike Audemars Piguet and Patek Philippe, Rolex continued exploring that genre by picking models from an existing roster of sports watches, including the Daytona.
These once utilitarian and quite affordable tool watches underwent an incredible metamorphosis when Rolex began adding precious stones on their dials and bezels. Rolex introduced the first two bejeweled Daytona references – the very rare and sought-after Ref. 6269 and Ref. 6270 – in the 1980s and continued the practice following the transition to automatic models, taking the chronograph further into the world of luxury than any one had gone before with the release of the rainbow-themed gold Daytonas in 2012.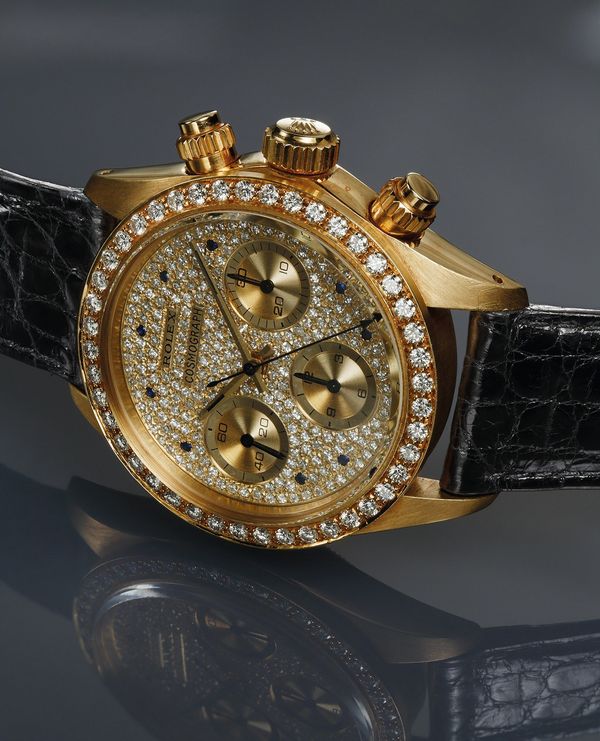 The Daytona was therefore much more than a tool watch even before the release of the ref. 116506. Still, the decision to use watchmaking's noblest material for a chronograph took the Daytona to a different league. It also created a totally new experience of the watch on the wrist. The Ref. 116506 was considerably heavier than any other Daytona, and for some that was problematic. A VIP Rolex client who will remain anonymous recently told me that he had been offered one shortly after the model's release but chose instead to purchase a white gold Daytona due to the difference in weight. However, others loved its heft.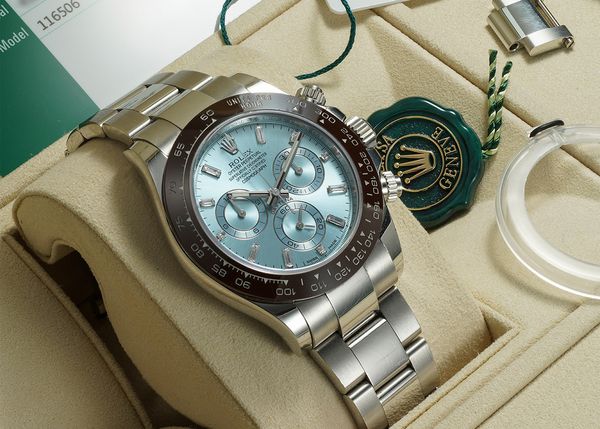 Another divisive feature was the watch's unusual colourway. The dial's ice-blue colour, used exclusively for Rolex's platinum watches including Day-Date and Datejust platinum models, was for the first time paired with a dark chestnut brown bezel. Apart from the red "Daytona" text there was little borrowed from the model's usual palette. But again, many, including yours truly, thought the idea was original and the result extremely attractive.
What's interesting is what happened after the watch's release. We do have some interesting data points for this watch, including the result of the very first Ref. 116506 sold at auction during "Lesson One", a thematic sale of 50 exceptional Daytona watches held by a different auction house, but sold under the leadership of a certain Mr. Aurel Bacs.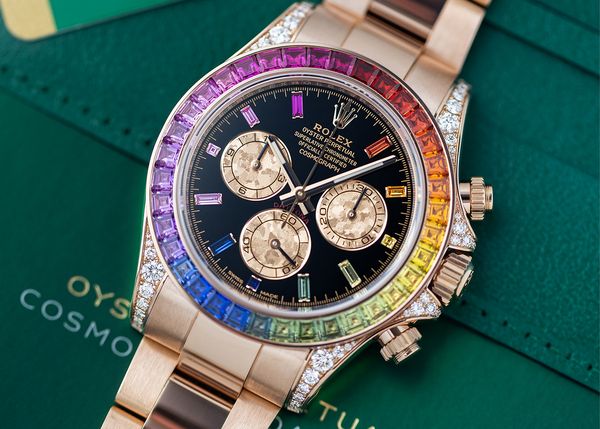 That watch achieved almost CHF 200,000 or around double its pre-sale high estimate. However, the model's market price did not increase substantially after the auction as it does nowadays when a contemporary watch sells well above its recommended retail price. In fact, interest in the Ref. 116506 remained tepid during the first few years of its production.
But that did not stop Rolex from developing the line and introducing even more layers of exclusivity to the watch. Soon after the release of the "50th anniversary Daytona", Rolex introduced the Ref. 116576TBR – with a diamond-set bezel and diamond-set dial – before launching several other versions of the Ref. 116506 including models with baguette set dials, and models with Arabic dials.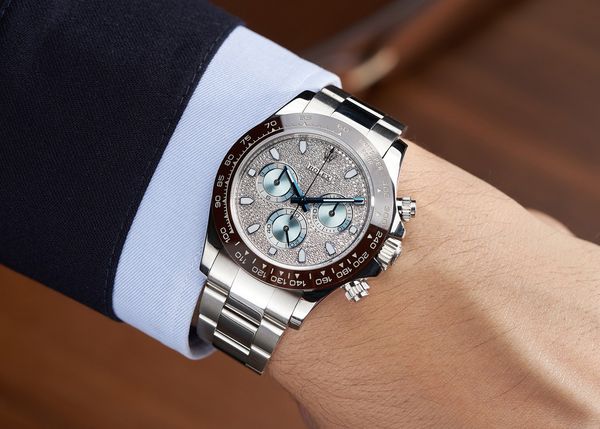 With each new release the platinum Daytona solidified its position in Rolex's catalogue, while high-profile personalities also helped raise its visibility. The Ref. 116506 was the first watch Kevin Hart pointed out in his collection when I interviewed him for Haute Time in 2015, and many in the entertainment industry, including TV personalities (Trevor Noah), musicians (John Legend), and athletes have joined the platinum Daytona owner's club.
Meanwhile, the Ref. 116506 remains a stalwart of the Rolex catalogue, confirming that it was in fact not just an "anniversary" model, but a watch with a much more important role in the company's future.
The "60th Anniversary Daytona"
This year, the Daytona turns 60. And it is safe to say that many more people will be paying attention to Rolex's releases in 2023, compared to 2013. Already, there are plenty of renderings of a potential "60th Anniversary Daytona" doing the rounds on social media.

But ... whatever Rolex is getting ready to announce, let the 50th Anniversary serve as caution. If there's a lesson to be learned here, it's that we shouldn't try to predict how Rolex will celebrate the chronograph's sixtieth. I mean, who knows if there even will be a new Daytona?

Personally, I'm hoping for another surprise. I'd love it if Rolex came out with something totally unexpected, as only Rolex knows how to do. And … because I simply can't help myself … I'm going to ignore my own recommendation and share a (totally uneducated) prediction: a full titanium model.
---
About Phillips In Association With Bacs & Russo
The team of specialists at PHILLIPS Watches is dedicated to an uncompromised approach to quality, transparency, and client service. Phillips in Association with Bacs & Russo holds the world record for the most successful watch auction, with its Geneva Watch Auction: XIV having realized $74.5 million in 2021. Over the course of 2021 and 2022, the company sold 100% of the watches offered, a first in the industry, resulting in the highest annual total in history across all the auction houses at $227 million.
About Arthur Touchot
Arthur Touchot is a former journalist who specialized in the luxury market. Having earned a master's degree in journalism at Northwestern University, Arthur combined his love of watches and words by becoming a regular contributor to The New York Times and the Financial Times at the start of his career, later becoming senior European editor at Hodinkee. In 2017, Arthur joined Phillips as International Head of Digital Strategy to lead the global content and digital marketing strategy of the auction house's watch department, and has been involved in bringing some of the world's rarest timepieces to auction.
---
Recommended Reading
Why "The Winner" Is One of the Most Difficult Rolex Daytonas to Obtain
The Ultimate Automatic Rolex Daytona