The Impossible Gem
Coming to the auction market for the first time from a private collection, this magnificent necklace from Bulgari was realized in 2004 after the house came into possession of an exceptional and rare blue sapphire from Sri Lanka.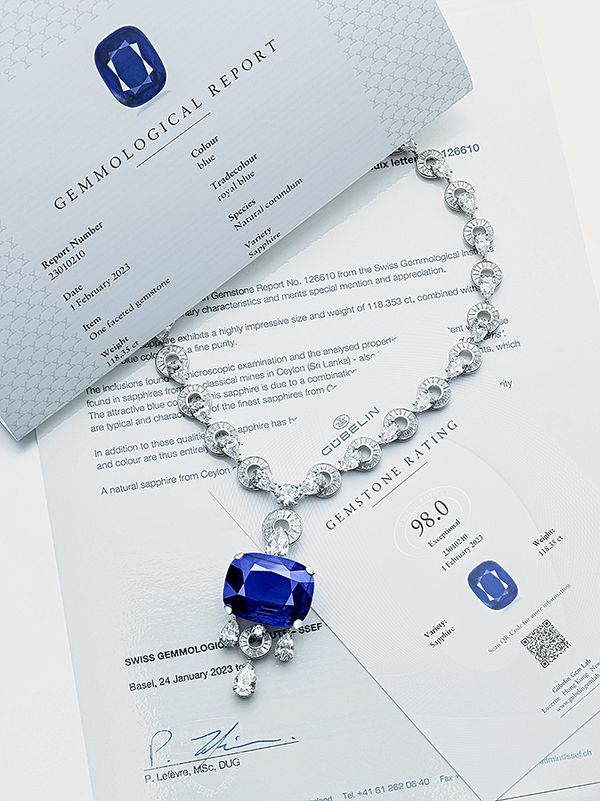 Lucia Silvestri, Jewelry Creative and Gems Buying Executive Director at Bulgari, could still recall this sapphire, which she first held in her hands more than 20 years ago.
"I was so impressed and touched that I still remember the emotion I felt."
—Lucia Silvestri
Silvestri further commented that Sri Lankan sapphires possess "the transparency and luminosity" of "gems (that) are infused with light and joy," making them perfect for Bulgari High Jewelry creations.
Bulgari High Jewelry Collection only accepts gemstones of near perfection, like this Sri Lankan sapphire which scored an impossible 98 points in Gübelin Gemstone Rating. This rating carefully assesses the quality, rarity, and salience of a specific gemstone. This very sapphire was awarded 98 out of 100 Gübelin Points, which places it on the highest 'Exceptional' grade.
Pedigree and Size
Weighing 118.35 carats, it is one of the largest sapphires ever offered at international auctions in the past three decades. Moreover, it received the 'Royal Blue' color grading by Gübelin Gem Lab, promising an even saturation rarely seen in blue sapphire of this size. Notable sapphires of significant size include the 486.52-carat Giant of the Orient, the 422.99-carat Logan Blue Sapphire on display at the Smithsonian Institution's Museum of Natural History, and the 392.52-carat Blue Belle of Asia. These three legendary sapphires all originate from Sri Lanka.
Sri Lanka, previously known as Ceylon, remains one of the most important and historical sources for fine gemstones with one of the earth's largest concentrations of gem deposits, encompassing more than 40 gem-species. Blue sapphires account for 85% of the gemstones mined on the island. Sri Lanka's gem mining history is nearly 2,500 years old, marking it as one of the earliest sources of sapphires in the world. The island produced beautiful blue jewels that were traded among the Greeks, Romans, and Persians, and by the 5th century an active international trade of these gems was established. It is no surprise this impressive array of gemstones has earned Sri Lanka the name "Ratnadeepa," directly translating to "Gem Island."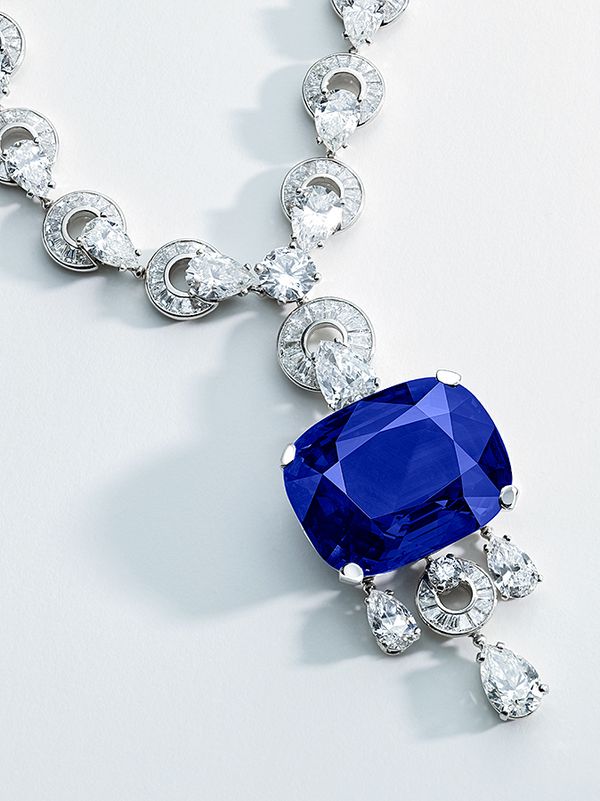 Without doubt, this sapphire's rich and homogenous color is the first thing that draws one's eyes towards it, yet upon closer inspection, its high transparency easily inspires awed admiration from the most seasoned connoisseurs. Swiss gemmological laboratory SSEF issued an appendix letter for this sapphire, stating that it "exhibits a highly impressive size and weight, combined with an attractive blue color and purity." With recognition from two of the world's most reputable gemmological laboratories, it is definitively a collector's gem.
The Design
In the 2000s, as the House of Bulgari progressed towards a more two-dimensional design approach, platinum and white gold made a comeback. Jewelry mounted in white metal emanated a magnificence that resonated with the opulence of the 1950s and this was especially true of creations from the High Jewelry Collection.
This necklace assumes an absolute symmetry that reminds us of classic noble and royal jewels. Centering on a single colored gemstone of impressive size, the diamond-set necklace employs a stone arrangement that is found in earlier works from the 30s to the 50s.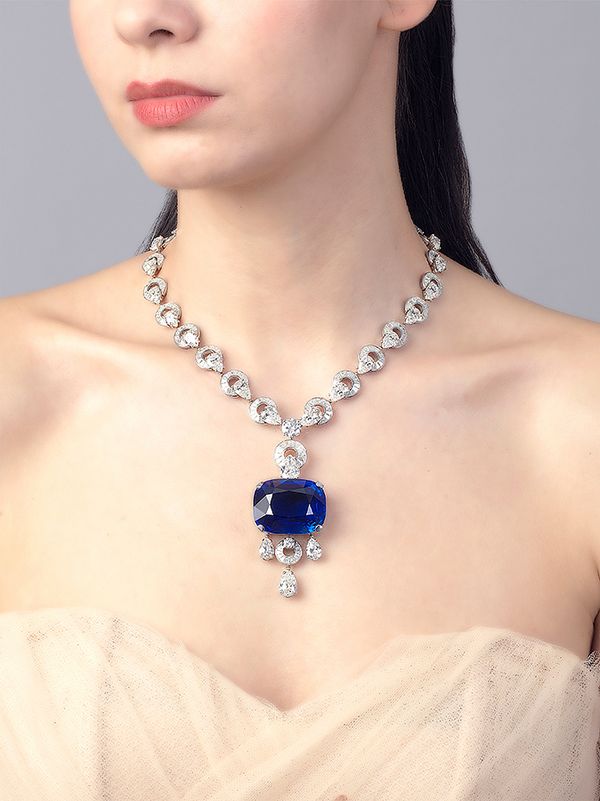 The repeating circular links are typical of Bulgari's "modulo" jewelry designs, where a single element is produced in series and then connected to each other. The Parentesi Collection, inspired by details of the Eternal City pavements, is one of the house's most successful modular designs.
This necklace's clean and sleek lines, elegant geometry, and the unusual horizontal setting of the Sri Lankan sapphire are all elements that afford this necklace a timeless modern appeal. It is a work of art that embodies a miraculous and singular occurrence in nature, savoir faire from an illustrious Italian jewelry house, and the utmost caliber of a rare gemstone collection.


Preview /
New York
6 - 7 April 2023 10am - 6pm
Phillips New York (map)
Enquiries: [email protected]
Singapore
20 - 22 April 2023 11am – 7pm
The St. Regis Hotel (map)
Enquiries: [email protected]
Taipei
6 - 7 May 2023 11am - 6pm
Bellavita, B1 Art Gallery (map)
Enquiries: [email protected]
Geneva
10 - 12 May 2023 10am - 7pm
Hôtel La Réserve (map)
13 – 15 May 2023 10am – 6pm
Phillips Geneva (map)
Enquiries: [email protected]
Hong Kong
18 - 23 May
Thursday - Monday 10 am - 7pm
Tuesday 10 am - 12pm
Phillips Hong Kong (map)
Enquiries: [email protected]
Auction /

Jewels & Jadeite Hong Kong
23 May 2023, 2pm
Phillips Hong Kong (map)
---
Recommended Reading
Under the Loupe: Benoît Repellin >