A large emerald pendant gives this diamond necklace the gravitas it needs to make a statement. Lot 594, A 22.07 carats Zambian Emerald and Diamond Pendant Necklace. Estimate: HK$ 240,000-400,000 (US$ 30,000-50,000). Jewels & Jadeite, 27 November
By Vivienne Becker
Meet today's precious power couple: emeralds and sapphires. Ever since Cleopatra smothered herself with emeralds, and centuries later, fashion-influencer Josephine de Beauharnais chose a sapphire for the toi-et-moi ring to seal her engagement to Napoleon, these two noble colored gems have been expressions of power, rank and status, coveted and flaunted for centuries by women of substance, style and stature.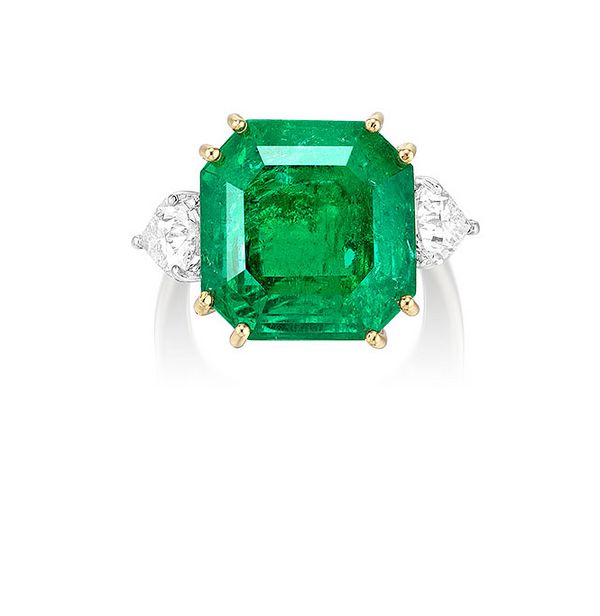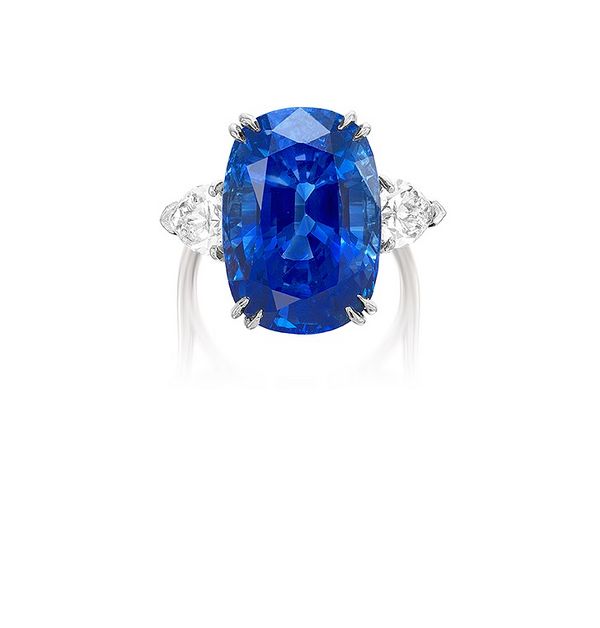 For Cleopatra, emeralds, mined in Egypt, were sacred, representing not only the natural world, fertility and rebirth, but also the supremacy of her realm, and, we have to assume, her seductive sensuality. It's not surprising then, that while filming Cleopatra in Rome in 1962, Richard Burton lavished Elizabeth Taylor with suites of Bulgari emeralds, including a sublime emerald and diamond brooch as an engagement gift. They sealed their love over sumptuous jewels in a private room in Bulgari's via Condotti store, accessed by a secret side entrance.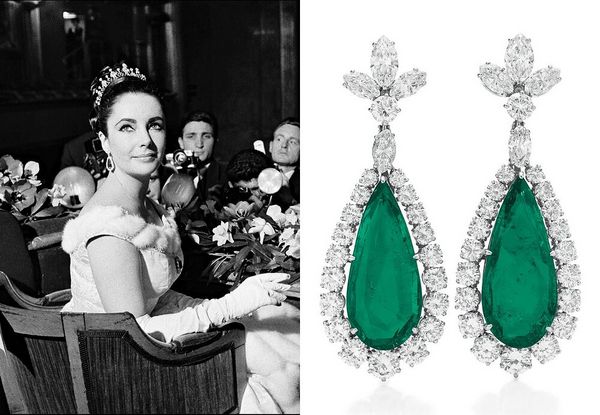 Bulgari Emerald and Diamond ear pendants, gifted to Elizabeth Taylor by Richard Burton (via VanityFair & VogueFR)
The wild, intoxicating and fiery beauty of the emerald mesmerized Renaissance royalty and nobility, when the lusted-after 'green stones' made their way on Spanish galleons to Europe from the New World. And they became the badges of great female power-brokers for centuries to come: Catherine the Great's magnificent Colombian emerald and diamond brooch proclaimed her unrivalled might and majesty, echoed later by the Grand Duchess Vladimir's dramatic emerald and diamond necklace with a 100 carat hexagonal center stone. Smuggled out of Russia, post Revolution, her emeralds found their way to Cartier, Paris, where they were purchased in 1947 by the Woolworth heiress, Barbara Hutton. She had them set on a tiara that she loved to wear, with her signature sari, in her villa in Tangiers, Morocco.
The Cambridge emeralds are amongst the most famous gems in the British royal collection. The luscious cabochon Colombian emeralds were won in a state lottery in Frankfurt around 1820 by Princess Augusta of Hesse, Duchess of Cambridge, grandmother of the jewel-adoring Queen Mary. The emeralds ended up in the hands of Queen Mary's brother, Prince Francis of Teck, a reckless gambler, who left them, on his untimely death to his mistress. His sister, soon to become Queen Mary, consort to George V, lost no time in negotiating with his mistress, securing the emeralds for herself and the Crown. She wore some in a suite made by Garrard to the Delhi Durbar in 1911, others became alternative drops for the Vladimir circle tiara while others still were conjured into a 1920s choker famously worn by Diana, Princess of Wales, when she danced with her husband on a visit to Australia in 1984.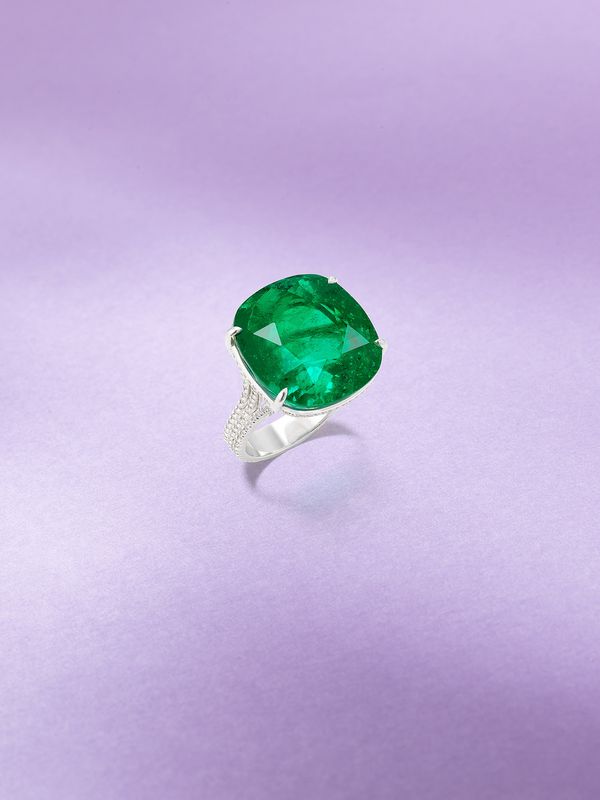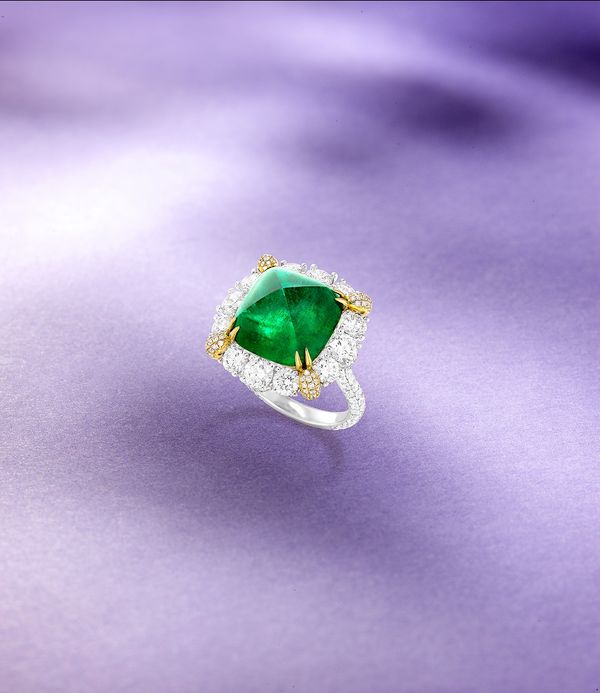 Emerald rings have long been a favorite choice among royalty, including Hollywood. Colombian emeralds, in particular, are known for their warm, intense green color.
Lot 528, A 30.57 carats Colombian Emerald and Diamond Ring
Estimate: HK$ 160,000-240,000 (US$ 20,000-30,000)
Lot 566, A 10.83 carats Colombian Emerald and Diamond Ring
Estimate: HK$ 550,000-700,000 (US$ 70,000-90,000)
Jewels & Jadeite, 27 November
The emerald was the gemstone of choice for the great American socialites, including Mrs. John D Rockefeller, Eva Stotesbury, and Wallis Simpson, later Duchess of Windsor, who chose a colossal emerald for her engagement ring in 1936. Meanwhile the emerald's wayward glamour made it irresistible to Hollywood royalty: Marlene Dietrich wore her two sensational cabochon emerald bracelets, stacked together, both on and off screen, one by Traebert & Hoeffer-Mauboussin, the other by Paul Flato. Merle Oberon's necklace, made by Cartier in 1938, dripping with cabochon emerald drops, remains one of the most evocative Hollywood jewels.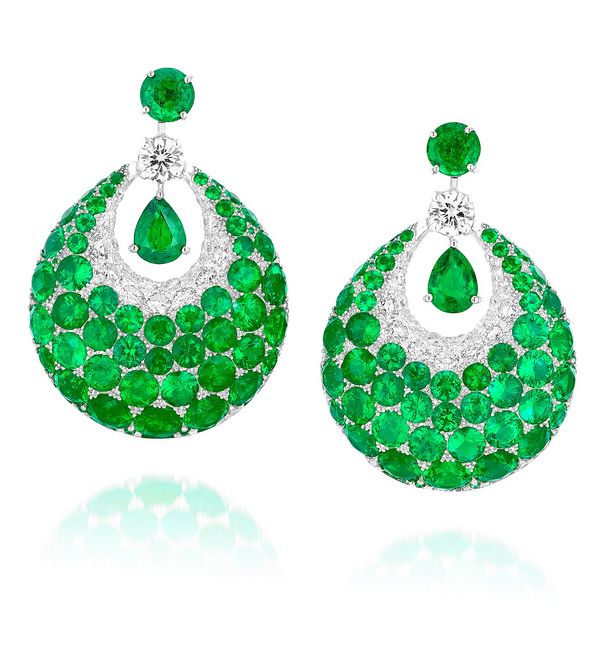 Sapphires, on the other hand, while just as noble, just as lusted after, tend to exude a cooler, more courtly and cerebral glamour – more secretive than seductive in their velvety depths. The color of heaven, meditation, devotion and contemplation, sapphires have meandered through history hand-in-hand with emeralds, their stories intermingled, sharing many of the same characters, especially when it comes to royalty: Catherine the Great, Queen Victoria, Grand Duchess Vladimir, the late Queen Elizabeth II, a long list of sapphire-loving luminaries that begins with Helen of Troy, said to own a mesmerising star sapphire, representing her supreme heaven-sent beauty.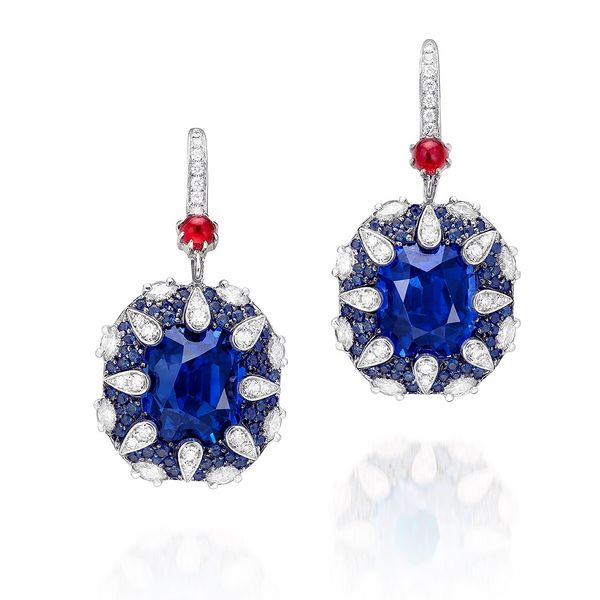 The grandest of sapphire parures were worn at court, especially in France. Both the gem-obsessed Empress Josephine and her adopted daughter, Stephanie de Beauharnais owned ravishing sapphire suites, as did Queen Marie-Amelie, who even pinned great sapphire ornaments down the length of her skirts; The necklace of one of her parures, now in the Louvre, said to have belonged to her ill-fated aunt, Marie-Antoinette.
In Great Britain, sapphire has long reigned as the nation's favorite gemstone, perhaps influenced by Queen Victoria. On the eve of her wedding, Prince Albert (fond of designing jewelry himself) presented her with a sapphire and diamond brooch, which she wore pinned to her wedding dress. The brooch was a favorite of the late Queen Elizabeth II, along with the sapphire suite given to her also as a wedding gift by her father, George VI. The tradition was crystallized when Lady Diana Spencer chose a sapphire and diamond cluster for her engagement ring, the ring now worn by Catherine, Princess of Wales. Diana was also given a massive sapphire and diamond brooch as a wedding gift by the late Queen Mother, Charles' grandmother. She turned it into the centrepiece of a deep pearl choker, the quintessential New Romantic accessory, and wore it, unforgettably, with her tight ruched black Revenge Dress to a party at the Serpentine Gallery, in 1994.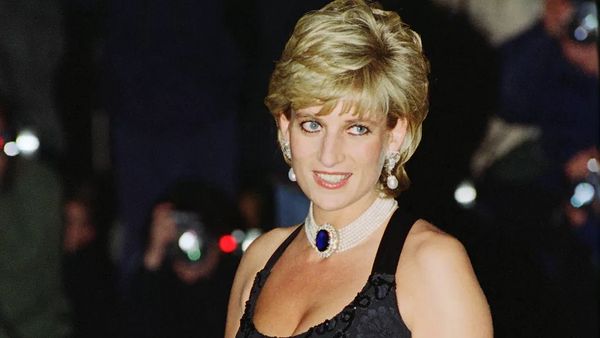 Princess Diana accessorized her famous "revenge dress" at the Serpentine Gallery with an eye-catching sapphire and pearl choker. (via Marie Claire UK)
One of the most sensational royal sapphires belonged to Queen Marie of Romania: a monumental, velvety cornflower blue Sri Lankan stone of 478.88 carats, mounted in 1919 by Cartier on a long diamond sautoir in Art Deco style, and purchased by King Ferdinand of Romania for his queen in 1921. It made the perfect accompaniment to her Russian sapphire-studded kokoshnik tiara, with its immense center stone, that had belonged to none other than the Grand Duchess Vladimir.
Naturally, socialites also salivated over sapphires. Mrs Polly Logan (previously Mrs Guggenheim), a Washington D.C. mover and shaker, owned the 422.99 carat sapphire, now in the Smithsonian. Marjorie Merriweather Post draped herself in a stunning sapphire and diamond necklace, and the Bismarck sapphire, a rare Burma stone nearly 100 carats, set in a Cartier necklace of 1927, was a gift to the beautiful Mrs. Harrison Williams, later Mona Bismarck, from her besotted and enormously wealthy husband. When we reach the Art Deco years, it's interesting to see that emerald and sapphire were set together for the first time, a radical, racy combination of intense colors influenced by the drama and sultriness of the Ballets Russes. It proved to be a marriage made in heaven.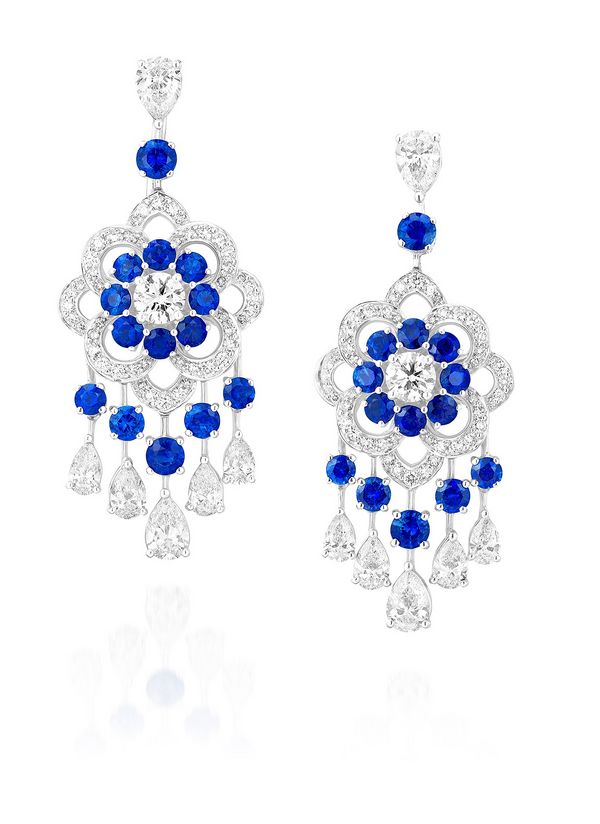 Marriages and sapphires came together in Hollywood's continuing love affair with gems and jewels: Mary Pickford's Star of Bombay (a Sri Lankan stone) was given to her by her husband Douglas Fairbanks Sr., and Joan Crawford's 72 carat emerald-cut stone was a gift from her husband, Douglas Fairbanks Jr. Perhaps the final glimmer of starlight must go to Elizabeth Taylor, who moved effortlessly between her love of emeralds and sapphires. In 1972 to celebrate her 40th birthday, Richard Burton presented her with a Bulgari sautoir, in the glamorous jet -set style of the day, centred on a lustrous sugarloaf Burma ruby – one of the ravishing jewels I included in my book, The Impossible Collection – the 100 Most Important jewels of the 20th century.
Today's crush on color, demonstrated by the Jewels & Jadeite sale, has more than a whiff of the storied female power-player about it. Moving beyond technical aspects of gemological classifications or categorizations, or shall we say adding to their gloss, is a growing fascination with emeralds and sapphires that resonate with social, cultural and historical richness, and most of all, with the scent of the powerful women of style who wore them.
---
Jewels & Jadeite
Hong Kong 27 November 2022
Click here for more information.
---