Phillips in Association with Bacs & Russo is thrilled to welcome you to The Geneva Sessions, Spring 2023, online auction, running from 10:00 AM CET, Thursday, March 9, to 4:00 PM CET, Thursday, March 16. Featuring more than 50 different high-end luxury wristwatches, the sale covers everything from F.P. Journe and Daniel Roth to Audemars Piguet and Patek Philippe.

---
Our first multibrand auction of the year is packed with interesting and underrated lots from all sorts of brands. We have a focus on independent watchmaking (of course!), as well as a number of interesting chronographs and limited-edition pieces that you may have missed when they were first released.
As our Geneva-based team worked on sorting through the 53 total lots included in the sale, we naturally developed a few favorites. These are those watches – the six pieces that our team of seven specialists and writers couldn't get out of their head after studying them for weeks and weeks in preparation for the sale.
You read that right: Six pieces highlighted by seven Phillips Watches team members. Oh yes, two of our specialists ended up falling head over heels for the exact same lot – and you'll never guess which watch it is.
Lot 35: Daniel Roth Perpetual Calendar Ref. C117
Estimate: CHF 25,000 - 50,000
Alexandre Ghotbi, Head Of Watches, Continental Europe And EMEA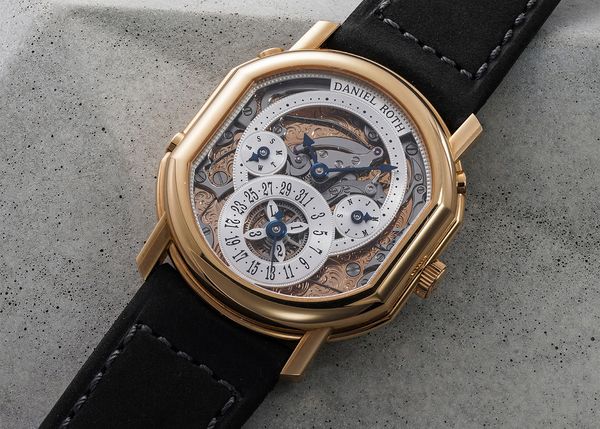 This watch sees the teaming up of two incredible watchmakers whom in their own way not only changed independent horology as we know it in the 1990s but also opened the path to a new generation that would take the world by storm: Daniel Roth and Philippe Dufour. Roth had reached out to Dufour to create the world's first instantanious perpetual calendar, where all indications would jump to the next increment simultaneously at midnight rather than dragging slowly to the next increment at different moments. At first their idea was to have the calendar functions indicated via discs visible through appertures on the dial but the discs proved to be too heavy and the duo opted for an indication using hands; thus, the world's firsr instantanious perpetual calendar movement was born. The present example also features an intricately finished openwork dial that allows you to admire the perpetual calendar in action.
Lot 15: Rolex Daytona Ref. 116506
Estimate: CHF 70,000 - 140,000
Tiffany To, Head Of Sale, Senior International Specialist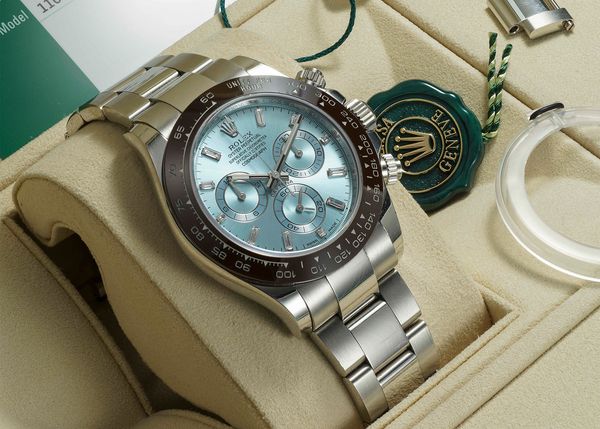 Launched at the Baselworld 2013, the Rolex Cosmograph Daytona ref. 116506 marked a milestone for the firm as it was released to celebrate the 50th anniversary of the world-famous chronograph. The watch has an incredibly stealthy appearance – if you know, you know. Aesthetically, I also find the appearance to be completely stunning with the ice blue dial contrasting beautifully against the brown bezel.
Lot 11: Louis Erard × Massena LAB Le Régulateur
Estimate: CHF 2,000 - 4,000
Virginie Liatard Roessli, Specialist, Associate Director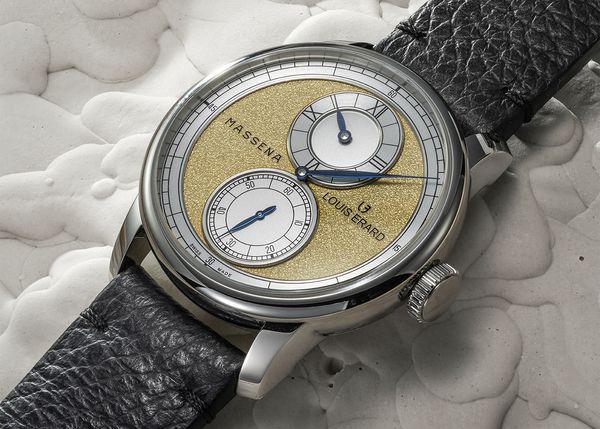 The Louis Erard × Massena LAB Le Régulateur is certainly an eye-catching watch. The presence of its 42mm case diameter on the wrist does not go unnoticed. But what captivates my eye is its dial. The choice of a regulator display allows the dial, built on two levels, a beautiful golden grainé finish and rhodium circular satin finish on the outer ring and the subdials, to display its beauty without the disruption of an hour hand. The result is nothing short of spectacular. It's no surprise that the entire limited edition release sold out instantly when it was released in 2022. I particularly appreciate this piece – I actually own one! – which is proof that, despite its size, it can fit all wrists.
Lot 44: Parmigiani Fleurier Toric GMT Minute Repeater
Estimate: CHF 30,000 - 60,000
Arthur Touchot, International Head Of Digital Strategy, Specialist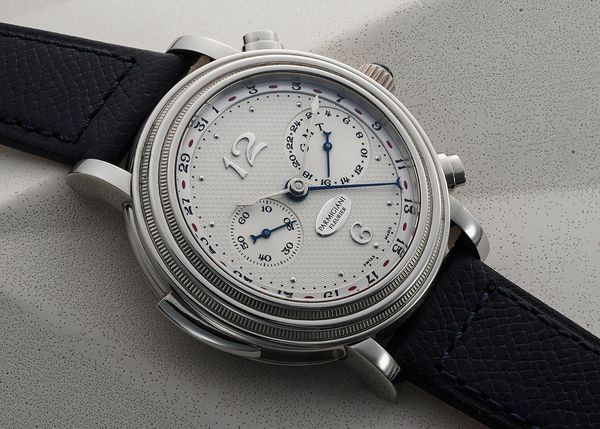 Michel Parmigiani founded his first workshop in 1976, in Couvet, Switzerland. Held in high esteem for his seemingly effortless ability to restore some of the world's rarest and most complicated timepieces, he was soon joined by an incredible roster of watchmaking talent, including Kari Voutilainen (founder of Voutilainen), and Denis Flageollet (founder De Bethune), who reveled at the chance to cut their teeth on the timepieces found in Couvet. Parmigiani continued to lead by example when he launched his own brand, in 1996, to develop a collection of timepieces that captured what he admired most: complicated mechanisms, beautiful movement architectures, and traditional hand-finishing. The present Toric GMT Minute Repeater is a fine and early example of Parmigiani's personal endeavour to keep those principles alive. With fewer than 20 examples made, this is a rare opportunity to claim one of the finest watches made during that special period for watchmaking.
Lot 39: Patek Philippe Perpetual Calendar Chronograph Ref. 5970P, Factory Sealed
Estimate: CHF 120,000 - 240,000
Marcello de Marco, Specialist, Business Development Associate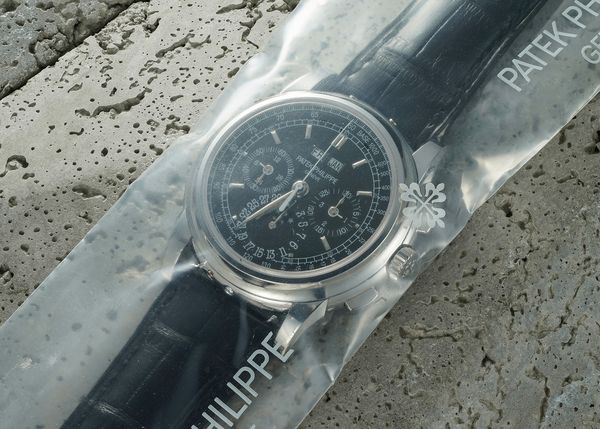 The Patek Philipee ref. 5970 is as close as it gets to the "perfect watch" for me. Aesthetically, it is an example of perfectly balanced design and a true trait d'union between vintage and modern Patek production. Technically it is the last model to feature the historic Lemania movement, truly the end of an era. in terms of rarity and collectability, it features one of the most unusual production runs of the company: The pink gold and white gold models were in production for four years, then the yellow gold example was made for just one year, and finally the platinum version was in production for the final two years. Such an unusual production history makes each version extremely rare, in fact even more so than its predecessor, the ref. 3970. Choosing a version is an arduous task as each one has merits of its own: the versatility of the white version, the warmth of the pink one, the sporty elegance of the platinum, and the vintage vibe and rarity of the yellow case... Thus my apologies for cheating a little but I will leave this choice to the collector and limit myself to say that any 5970 is a dream watch and at the top of my fantasy wish list.
Lot 11: Louis Erard × Massena LAB Le Régulateur
Estimate: CHF 2,000 - 4,000
Clara Kessi, Client Relations Manager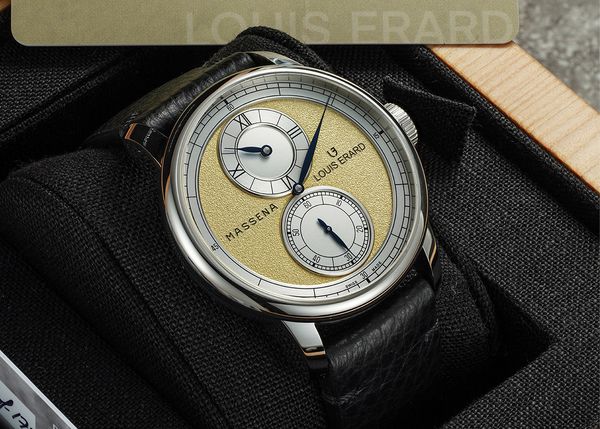 For their first collaboration, Louis Erard and Massena Lab worked relentlessly on a new wristwatch that would combine traditional craftsmanship, history, and avant-garde technology. In 2022, they unveiled Le Régulateur, which would instantly be nominated for an award at the internationally acclaimed Grand Prix de la Haute Horlogerie de Genève. Taking great inspiration from the marine chronometers developed by Ferdinand Berthoud and the work of Antide Janvier, Le Régulateur shows hours, minutes, and seconds, divided over three registers presented within a mesmerizing gold frosted dial. Aesthetically beautiful featuring blued steel hands contrasting to perfection with the brushed registers and golden dial, Le Régulateur moreover impresses by its precision and durability. Offered for the first time at auction, the present lot will certainly delight the new and seasoned collectors looking to enter the intricate world of independent watchmaking with an eye-catching and unusual timepiece at an accessible price.
Lot 5: Breguet Classique 5175 Ginza Edition
Estimate: CHF 10,000 - 20,000
Logan Baker, Senior Editorial Manager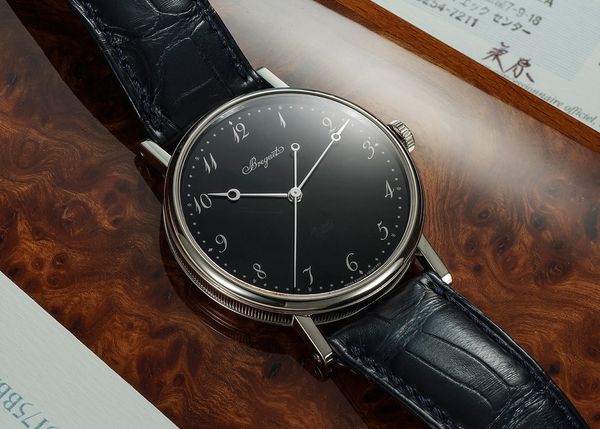 I say this out of love and admiration, but Breguet has been on a bit of a cold streak over the past few years. The company's biggest area of emphasis these days appears to be the Marine series of sport-adjacent watches, but it's difficult to say whether those have successfully found a market. And despite consistent rumors for years about a new generation of the legendary Type XX/XXI pilots' watch, we've yet to see one materialize. You could say that it's a bit of a hard time to be a Breguet enthusiast, but I bring good news: There are still some incredible watches being produced by the brand – you just have to know where to look for them.
One such watch is the Classique 5175 Ginza Edition, a simply gorgeous limited-edition dress watch that Breguet created in 2017 to commemorate the 10th anniversary of the brand's boutique in Tokyo's Ginza luxury shopping district. Only 10 pieces were produced, which is far too few, because it's a downright beautiful watch. The grand feu enamel dial is a perfect shade of dark indigo blue, interrupted only by the delicate italicized Breguet numerals that were placed using powdered platinum. The lack of a date aperture is wonderful thing to relate – which is something we can't quite say for the 5175's follow-up production series, the Classique 5177.
I think the Classique 5175 is a perfect example of everything that is wonderful about Breguet. In fact, I'd go so far as to say it's arguably the best dress watch the company has produced in at least a decade, and as far as I can tell, the example (No. 10 of 10) included in our Geneva Sessions online sale is the first ever to appear at auction. If you consider yourself a Breguet fan but have grown disenchanted with the brand of late, I think you owe it to yourself to consider placing a bid on the Classique 5175.
You can learn more, place a bid, and view the entire Geneva Sessions, Spring 2023, catalog here.
---
About Phillips In Association With Bacs & Russo
The team of specialists at PHILLIPS Watches is dedicated to an uncompromised approach to quality, transparency, and client service. Phillips in Association with Bacs & Russo holds the world record for the most successful watch auction, with its Geneva Watch Auction: XIV having realized $74.5 million in 2021. Over the course of 2021 and 2022, the company sold 100% of the watches offered, a first in the industry, resulting in the highest annual total in history across all the auction houses at $227 million.
---
Recommended Reading
Auction Highlights: Our Favorite Limited Edition Watches At The Geneva Sessions, Spring 2023 Online Sale
Auction Highlights: Independent Watchmaking At The Geneva Sessions II, Spring 2023 Online Sale