John Baldessari Transform (Lipstick), 1990. Unique work comprised of two chromogenic prints with vinyl paint, flush-mounted.
"Something that is part of my personality is seeing the world slightly askew. It's a perceptual stance. The real world is absurd sometimes, so I don't make a conscious attempt, but because I come at it in a certain way, it seems really strange."
—John Baldessari
John Baldessari's Transform (Lipstick), 1990, made its public debut in his solo exhibition at Galerie Chantal Crousel, Paris, in 1991. The following summer, it was shown at the Fondation Cartier pour l'art contemporain in Jouy-en-Josas in the group exhibition À Visage Découvert, curated by Jean de Loisy. The show, which also included works by Francis Bacon, Robert Mapplethorpe and Cindy Sherman, was thematically centred on the human face in art. This particular piece was hung in the same section as Larry Rivers' Parts of the Face, a Congolese initiation mask and a Pakistani Gandharan sculpture. Seen together, these works explored the various ways artists deconstructed and depersonalised faces in order to create generic portraits devoid of identity. Transform (Lipstick) showcases Baldessari's use of appropriated imagery, asking the viewer to read the work as a narrative whose separate parts point together to signify a meaningful whole.
Baldessari [creates] works that are riddled with puns and signs for the viewer to decode.
In the early 1970s, Baldessari became interested in film stills, realising "that people carry around ideas of movies in their head," and he could, "somehow, strategically trigger these associations in people's minds, but maybe, somehow, warp the direction in which they were going." By the mid 1980s, he was experimenting with colour, incorporating oil tints, acrylic and vinyl paint into his works. He started painting circles over individual faces in the found photographs, eliminating their identity, and drawing attention to body language and positioning. The implementation of his signature dots provided "such a food of relief," he said, "you couldn't believe it felt so satisfying to obliterate those people."
In addition to eliminating the faces, he also placed different and at times oppositional images side by side in various configurations, creating a hybrid narrative. Baldessari has continued to build his meticulously catalogued archive of images, creating works that are riddled with puns and signs for the viewer to decode. Working in the tradition of the collage and the photomontage, Baldessari breaks down the pictorial narrative and asks the viewer to find new meanings both in the images and in the spaces between them.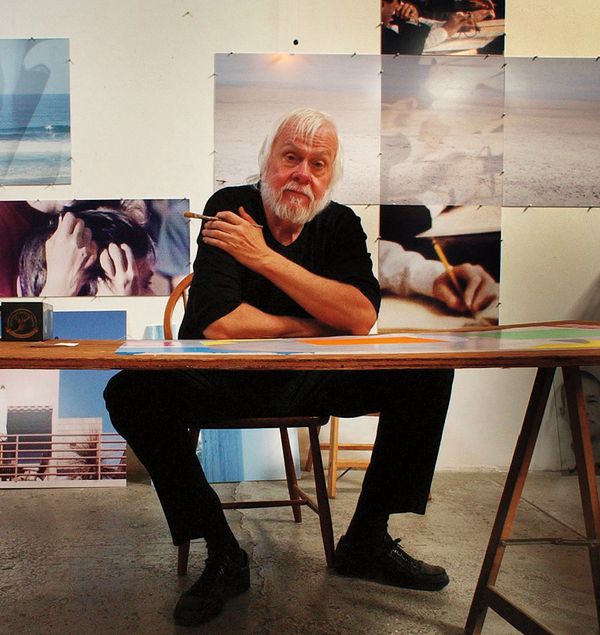 John Baldessari in his studio, Santa Monica, 2001 © Richard Hartog/Los Angeles Times via Getty Images
After receiving a Guggenheim Fellowship in 1986, Baldessari gave up his teaching post at the California Institute of the Arts in order to focus exclusively on making art. By 1989, Baldessari was using colour photographs, reimagining his practice in a more contemporary context, while his painting evolved from dots to blocking off larger areas of the photograph, obscuring whole figures or objects. In 1990, his second major museum retrospective opened at the Museum of Contemporary Art, Los Angeles. That same year, Baldessari, then 59 years old, created 121 unique works, including this lot from our sale. According to Briony Fer in the opening essay to Baldessari's 2012 Catalogue Raisonée, it was in that year that the colour-blocked figure became his primary device, which "is not surprising," she notes, since "after all, it can obliterate or be seen through, cover up or reveal, act like an intruder into a picture or become a fugitive from it."
Baldessari is interested in extremes and in dichotomies, in violence and in kisses, as evident in a large body of work that he created in 1990, which together showcase his wide experimentation with source imagery. Images ranged from the ordinary – houses and animals – to the sultry – crossed legs and lips. In the present lot, the images signify a woman's daily routine with Baldessari's applied paint, both erasing and heightening the narrative. The top panel of Transform (Lipstick) is a close-up of a woman's mouth as she applies a lipstick that is painted a vibrant red, and beneath is a woman bathing, her face covered in peach paint masking her identity. Alongside Two Figures in Bath (One with Leg Extended), 1991, the featured work stands out as one of a few images that address the theme of femininity so clearly.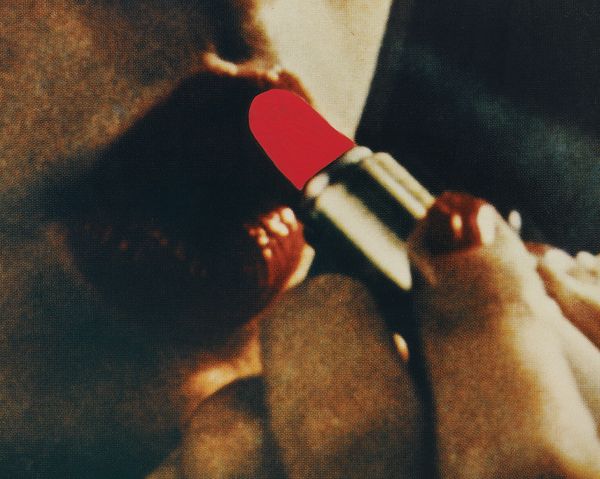 John Baldessari Transform (Lipstick), 1990 (detail)
In the context of the Fondation Cartier show, this work can be analysed in terms of the deconstruction of portraiture. Seen alone, it acquires another level of meaning, as an examination of the construct of femininity. The title Transform (Lipstick) brings us face-to-face with how women present and transform themselves. Often, Baldessari's titles, using a slash or parenthesis, refer to the various parts of the work. In this case, Transform relates to the transformation that the two women are undertaking, and (Lipstick) addresses the top section. Using paint to both erase and heighten the images, he contrasts the two photographs. The figure in the bath, her face and body erased by the peach vinyl paint, is juxtaposed against the painted lipstick, which is heightened by the ruby red. More intimate and sensual than many of his other images, this work provides us with a nuanced understanding of female ritual and presentation.

"I'm interested in what gets us to stop and look as opposed to simply consuming images passively," Baldessari has explained, "if there is anything political in my work then it is to be found in the ability of my images to question the nature of imagery itself." Splicing together images, Baldessari creates a hybrid narrative, manipulating the meaning and insisting the viewer to uncover something new.
Baldessari's combination of appropriated images, words and colour, applied in dots or amorphous shapes, has been described as playful, open-ended, serious, cerebral and provocative. He provides the viewer with clues to unravel, as they uncover pre-existing meanings, explore free-association and decipher the work, finding their own understanding of what is hanging in front of them.