Emma Webster, Ophelia, 2020. New Now New York.
The shock of the new — to borrow a phrase — gives way to the joy of the new in an emerging generation of women artists, whose inspirations and motivations are as fascinating as the contemporary frontiers they navigate. Together, this grouping of artists showcases a deep understanding of art history with refreshing insight into the world of today, not merely as reaction, but as engagement between practice and prospect. In this blurry era, we realize that a new wave is quickly rising; pandemic MFAs are debuting at auction and showing us the speed with which art, just as the world around it, now moves.
These are the names to know.


---
Emma Webster
A 2018 Yale MFA grad, while still in school Emma Webster speculated that the history of landscape was more related to scenography than it was to painting natural spaces as they exist. Making maquettes out of paper-mache and clay, staging them with light, photographing them and then creating her paintings from the images, Webster turned her theory about the artificial world into a reality—and it's one that sublimely touches on our current environmental concerns.
Creating make-believe realms that we could now see and visually enter, like her 2020 painting Ophelia, Webster drew inspiration from a 16th century style of painting imaginary, panoramic landscapes as seen from a God's-eye view. The artist replaced the character of Ophelia, who was driven to madness from the death of her father at Hamlet's hand, with a dramatically lit bird, whose life was most likely cut short by man's mismanagement of nature.
A key painting in her 2021 solo exhibition at Carl Kostyal's smart London gallery, the work was created in her Los Angeles studio, where the talented millennial was beginning to experiment with VR to construct her dioramas in digital space before being transferred to canvas. Offering her landscapes as post cards from virtual reality on a large-and-lively scale, subsequent solos at Stems in Brussels and Perrotin in Seoul set her on an uncharted path, where Webster's illusionistic paintings allow us to share her dreamworld, too.



Daisy Dodd-Noble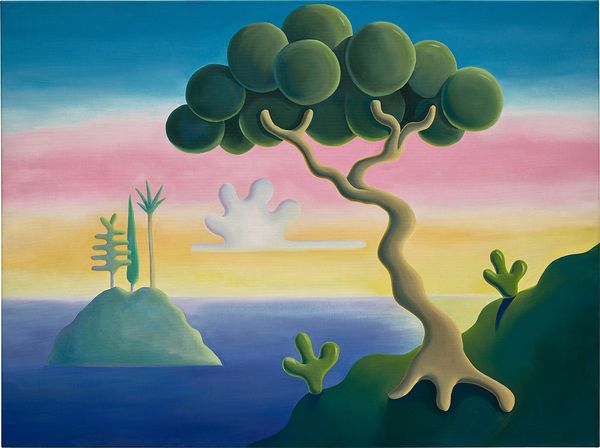 Daisy Dodd-Noble, Three Trees on an Island, 2021. New Now New York.
Encouraged by artist Inka Essenhigh to work from her imagination rather than from reality, the London-born and based painter Daisy Dodd-Noble took the lesson to heart when studying for her MFA, which she earned from the New York Academy of Art in 2017. Having obsessively painted horses and dogs in a traditional English manner from the ages of eight to fifteen, Dodd-Noble now found creating artificial landscapes in the way that she wanted to see them both refreshing and motivating.
Coming off of a job in the oil and gas industry in Dubai, the emerging artist embraced the opportunity to construct a more meditative, mystical realm in her environmentally friendly, surreal pictures of mountains, trees, plants, clouds and serene skies. Starting with a single tree observed while she is out for a walk or run, the painter makes note of its features, takes a photo, makes a sketch it to create a character out of it and the designs a dreamscape composition around it.
Her vibrant 2021 painting Three Trees on an Island portrays a trippy tree in the foreground and three different types of trees sprouting on a lumpy island while engulfed by a psychedelic sky. Completely devoid of animals, birds and people, her soft, shaded shapes are layered to create the illusion of depth in the brightly lit pictorial space. Exploring themes of escapism through nature, Dodd-Noble's marvelous paintings make us long for those precious moments when we have found ourselves alone in an idyllic outdoor spot.
Laure Mary-Couégnias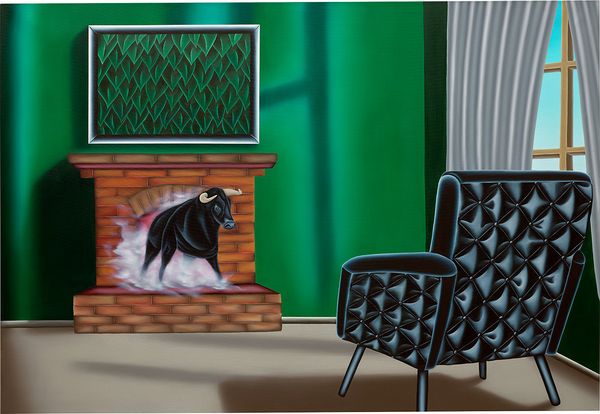 Laure Mary-Couégnias, The Visitor, 2021. New Now New York.
A philosophical painter with a great grasp of art history, French artist Laure Mary-Couégnias also paints pictures without people, but she doesn't shy away from depicting wild animals, cats and dogs in her symbolic domestic settings. Portraying familiar objects and sparse spaces in surreal compositions, she constructs an open dialogue between the enigmatic subjects that are on view.
Earning her master's degree from the École Nationale Supérieure des Beaux-Arts de Lyon in 2015, Mary-Couégnias developed her graphic style of painting at a number of artist residencies while simultaneously exhibiting her work in Europe. A 2020 group exhibition at Richard Heller Gallery in Santa Monica led to solo shows at the gallery in 2021 and 2022, as well as the inclusion of her paintings in the Untitled Art Fair in Miami and Expo Chicago in the same years.
The enchanting painter's 2021 canvas The Visitor brings work by the Belgian surrealist René Magritte and the German graphic artist Konrad Klapheck to mind. Presenting a stylish armchair in the position of observing a fireplace with a painting of layered leaves above it, the supposed sitter (if there was one) is confronted by a charging bull coming from a cloud of smoke billowing out the glowing firebox. A dreamlike narrative, it suggests that we must be ready to confront the unknown—to face our fears—even in the most tranquil times.


Jo Messer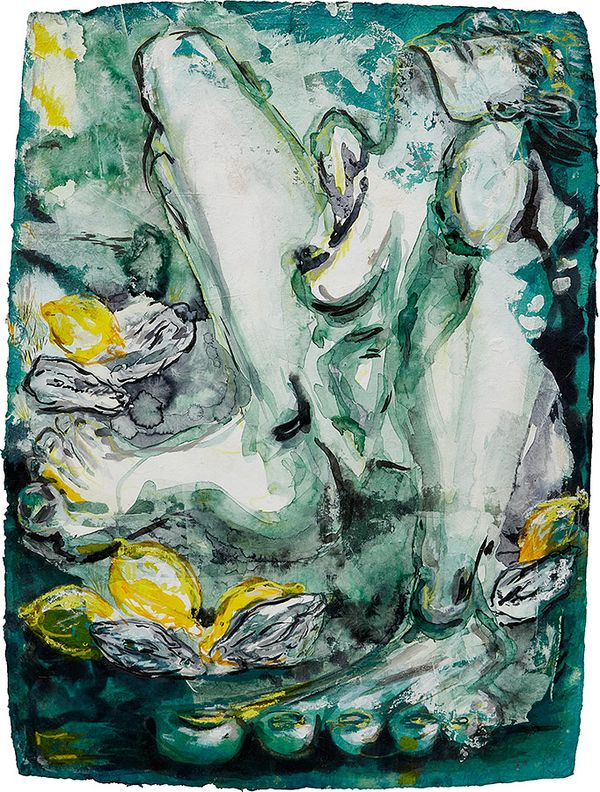 Jo Messer, Pass Pass Aperitif, 2021. New Now New York.
Jo Messer makes expressive figurative paintings of naked women in claustrophobic settings. The daughter of painter Sam Messer and filmmaker Eleanor Gaver, the emerging artist received her BFA from Cooper Union in 2014 and MFA from Yale in 2017—taking the year off in between to star in one of her mother's feature films.
Currently the subject of a solo show of recent acquisitions at the Rubell Museum in Miami, Messer paints mostly monochromatic canvases of disproportionately shaped women enjoying Dionysian pleasures. Based on photos of pin-up girls and porn, her nude figures sport immense feet, which are squeezed between other bodies or objects in cramped rooms. Bacchanalian characters in bohemian dens of iniquity, they sip wine and smoke cigarettes while passionately cuddling their contorted bodies.
Painted with bold brushwork and swipes of a palette knife, their transparent colors are layered to give the outlined bodies a sense of physical dimension. Beautifully blurring the boundary between abstraction and figuration, Messer's ethereal creatures conjure Surrealism co-founder and poet Andre Breton's famous last line from his book Nadja, "Beauty will be CONVULSIVE or will not be at all."
Yuan Fang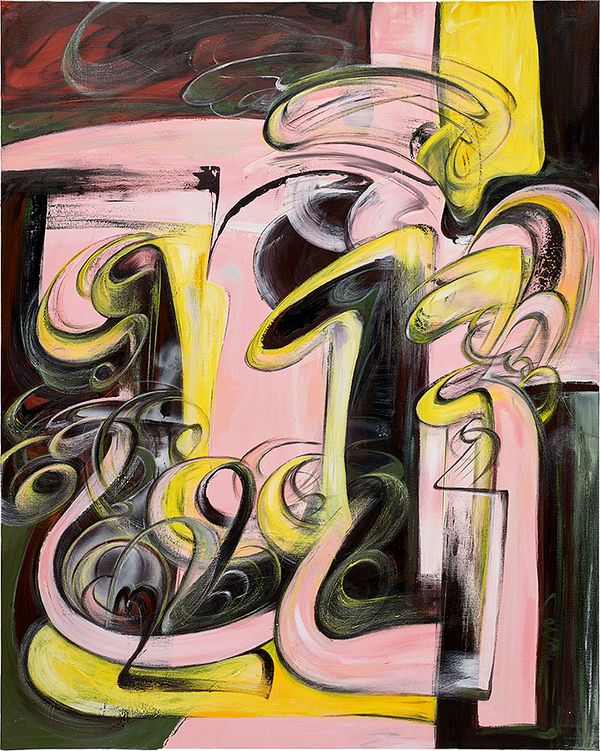 Yuan Fang, Expanse (Mask), 2022. New Now New York.
Born in Shenzhen, Yuan Fang journeyed from China to New York to study photography at the School of Visual Arts (SVA), but after turning her photographic images into digital abstractions, she shifted her major to painting and a passion for it quickly developed. She had her first one-person exhibition shortly after receiving her BFA from SVA and continued to have solo shows in the U.S. and China while still pursuing her MFA, which she gained with honors from SVA in 2022.
One of the more captivating emerging artists currently working with abstraction, Fang paints layer upon layer of bold swirling brushstrokes to build up compelling compositions that immediately catch the eye and keep it in continuous motion. Starting with looser background marks, including broad brushwork and paint pours, each gestural layer gets tighter, more physically engaging and more intense.
As witnessed in her recent solo show at Half Gallery in New York, Fang's sensual layering of curvilinear forms creates a visual vortex that sucks the viewer into the action—creating a mesmerizing entanglement in the pictorial space rather than a traditional reading of it. In her 2022 painting Expanse (Mask), which was part of her one-person exhibition at Bill Brady Gallery last summer, there's a tension between the vertical mark-making and the arabesques that shift the eye horizontally. One senses the battle that the artist is having with the medium and the thought, energy and labor that she puts into the effort of being triumphant in that grand, living-in-the-moment encounter.


Hannah Lupton Reinhard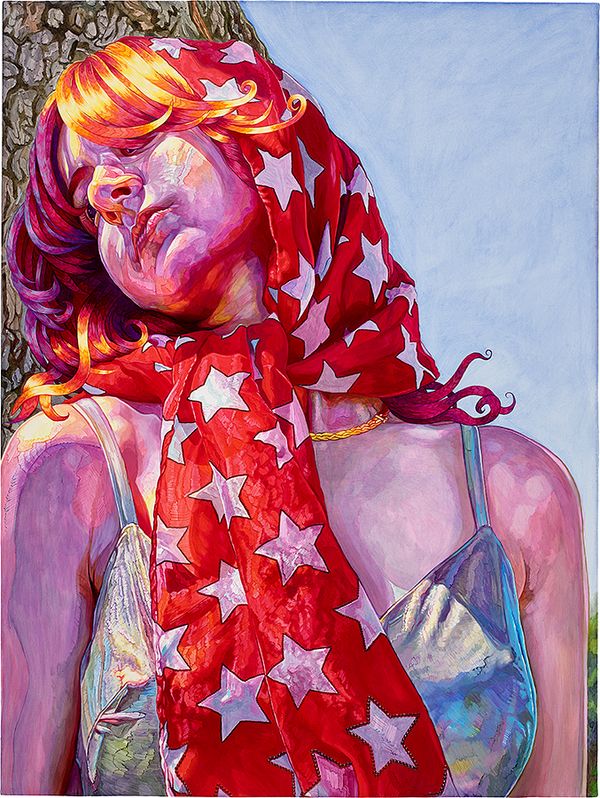 Hannah Lupton Reinhard, Morning (Mourning), 2021. New Now New York.
Making a major breakthrough in her painting during the pandemic, Hannah Lupton Reinhard finished her final year at the Rhode Island School of Design (RISD) online in her parent's garage in California, surrounded by her sisters, who became the subjects of her vivacious new paintings. Receiving her BFA in 2020, her biggest takeaway from school was her discovery of a secret room at RISD called The Crystal Palace, which held a half-million-dollar cache of glass crystals donated for use by Swarovski.
Painting her siblings and friends, as well as self-portraits in a signature style that she calls "fantasy realism," Reinhard layers transparent levels of oil paint to get a shimmering, glassy look to her richly colored pictures. She then infuses sections of the figures with sparkling crystals, which can take anywhere from days to weeks to complete. Each star in the subject's symbolic scarf in Reinhard's 2021 canvas Morning (Mourning) is surrounded by tiny red crystals, which add emphasis to the painting's powerful red, white and blue palette.
Desiring her portrayals to teeter between beauty and ugliness, Reinhard takes on a bit of a badass persona, even when depicting religious scenes related to her Judaist upbringing, which pulses strongly through her life and her craft. Painting women in the acts of celebration and sisterhood, Reinhard eagerly merges elements of high and low art to create an outcome that's equally humorous and heartfelt.
---
About Paul Laster /

Paul Laster is a writer, editor, curator, artist, and lecturer. He's a contributing editor at ArtAsiaPacific and Whitehot Magazine of Contemporary Art and writer for Time Out New York, Harper's Bazaar Arabia, Galerie Magazine, Sculpture, Art & Object, Cultured, Architectural Digest, Garage, Surface, Ocula, Observer, ArtPulse, Conceptual Fine Arts and Glasstire. He was the founding editor of Artkrush, started The Daily Beast's art section, and was art editor of Russell Simmons' OneWorld Magazine, as well as being a curator at P.S.1 Contemporary Art Center, now MoMA PS1.


---
Auction /
New Now
8 March, 10am EST
432 Park Ave, New York (map)

Viewing /
27 February – 8 March
Monday – Saturday, 10:00am – 6:00pm
Sunday, 12:00pm – 6:00pm

Discover More from 20th Century & Contemporary Art >
---
Recommended Reading
New Talent Speaks: Five emerging artists to benefit Foster Pride >
Wave After Wave: Paul Laster on six women artists on the contemporary crest >

On a Very Good Day: A reflection on the late great Willem de Kooning by Anthony Haden-Guest >