Tania Marmolejo, Dreams of Escape, 2021. New Now New York.
Our New Now, New York Auction on 8 March features a selection of works that have been donated by young artists to benefit the nonprofit organization Foster Pride. Since 1993, Foster Pride has empowered over 15,000 children and teens in foster care to develop their talents, build self-esteem, and reach their potential through mentoring relationships and the arts.

The donated works offer a glimpse of the astonishing scope and variety of artistic practice today. Read below to hear directly from selected artists on their work, lives, and why Foster Pride matters to them.
---
Christian Ruiz Berman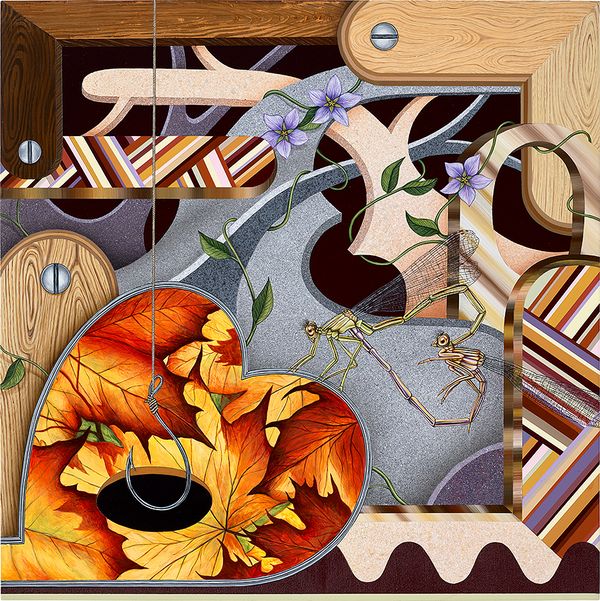 Christian Ruiz Berman, Heartache Apparatus, 2022. New Now New York.
Phillips: Please tell us about your work in New Now New York that benefits Foster Pride. How does it relate to your work as a whole?

Christian Ruiz Berman: This painting is called Heartache Apparatus, and features two damselflies mating in an abstracted landscape. I am guided by my interests in architecture, memory, and storytelling to create layered and detailed works that explore illusion and depth on flat surfaces. We live in a world where separation and unity coexist and define almost every aspect of reality. The most essential nature of our matter is said to be both a wave and a particle. Looking to the writings of contemporary philosophers like Karen Barad and Donna Haraway, I examine the notion that each person, animal, and object is not only an essential component of the present moment, but an entangled element in a greater apparatus of constant change and adaptation. I seek to depict our reality in ways that reimagine anthropocentrism and established hierarchies, and am fascinated by the potential of hybridity, remix, and reinterpretation.

My work emphasizes the idea that magic and surprise always happen as a result of shared experience, cross-cultural inspiration, and the subversion of established tropes and identities. I like to question the human animal's centrality in the cosmos and engage a fascination with the diversity and inherent tension of life's web. Animals often take center stage in my work, acting as mischief makers, seers, and stewards of human culture. My paintings reference both the flattening of space and culture via digital screens and also the fact that infinite depth and information reside within our devices. Heatache Apparatus is a testament to the complexity of love and heartbreak.


P: Do you have any poignant childhood memories of making art?

CRB: I have photos of myself as a two-year-old in Mexico, painting on an easel — but my memories are not quite as vivid. I do have vague memories of making drawings and comics, and I've always been engaged in creativity.


P: How do you express the stories of the figures and mythologies at play in your work? Are they an expression of your own history, or something more mysterious?

CRB: My paintings exist outside of our timeline and history, and the recombination of objects and environments allows for historical artifacts, often stored in the depths of museum storage, to take on new life. There is a nod here to ethno-futurism and decolonization. I come from a nation that is often bogged down by trauma, corruption, and disfunction. By freeing them from their usual setting in time and place, the objects of my cultural heritage are liberated from some baggage and are able to tell new stories and relate to a broader range of interpretations. I consciously set out to avoid telling too specific a narrative, and do not want my paintings to be didactic and preachy. Sometimes a painting will include a very specific myth or personal story, but these stories are always presented to the viewer via symbols and objects that are open to interpretation. My goal is to subvert and destabilize narratives that are self-important, nationalistic, politically expedient, etc.


P: What is your process like? How has it evolved over time? Does it change with each work?

CRB: My paintings usually begin as loose and improvisational series of brushstrokes, then progress into a building of illusory architectures, and finally incorporate realism and narrative. The process takes me from an almost complete removal from subject matter and composition, through to a very tight examination of form and story. I take great joy and care in color theory and experimentation, and I am fascinated by the ways that paint can create space, texture, and feeling.


P: What has been the highlight of your career thus far?

CRB: I currently have a solo museum show at the Kemper Museum of Contemporary Art in Kansas City. I think this is probably the highlight of my career because it has allowed me to share my work in a more public and democratic setting than any other exhibition I've had. It makes me very happy to share the paintings with people of all ages, and I get a kick out of the fact that school kids have been studying the paintings and drawing from them. It's also a compilation of work spanning several years, and it was really nice to see the ways that the work has changed over time. I believe that art has massive cultural and social value, and the more I get to share my explorations with the public, the more engagement and conversation can happen.


P: What does Foster Pride mean to you?

CRB: Making art can be a very solitary and isolating pursuit, and the selling and viewing of art often happens in a very rarefied bubble. If I can make any kind of positive social difference by sharing and selling my work, then I am overjoyed. I did not study art or work in the arts when I was younger, and I had a previous career in urban forestry and conservation. I've always been interested in making the world a more livable place, and I'm grateful to participate in an incentive that encourages young people to find value and joy in creativity. I believe that our creative institutions are woefully underfunded, and that our respect and care for each other and for our world is rooted in the ability to create and share with one another.

Julia Maiuri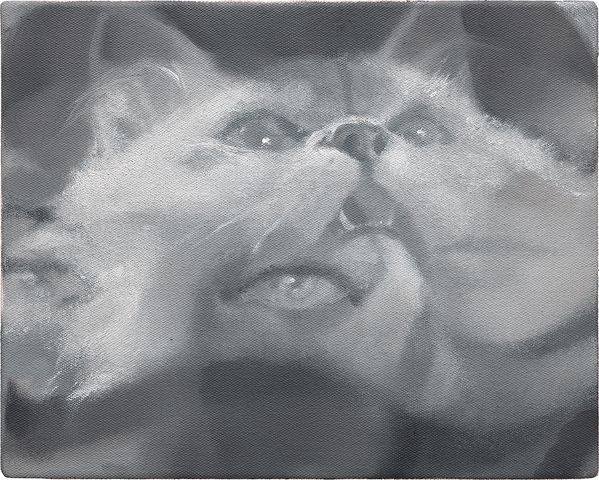 Phillips: Please tell us about your work in New Now New York that benefits Foster Pride. How does it relate to your work as a whole?

Julia Maiuri: The painting that is in New Now, New York was made after watching Nobuhiko Obayashi's 1977 experimental horror film House. It fits into the larger scope of my work exploring genre films as an entry point into fantastic spaces. I was particularly drawn to the cat in the story, Blanche, who the girls in the film joke is a witch. "Any old cat can open a door," says one girl, "only a witch cat can close a door."


P: Do you have any poignant childhood memories of making art?

JM: Yes, one that stands out is learning about perspective drawing from the television show Lamb Chop's Play Along.


P: Are there any films, songs, books, or other art that are inspiring your work at present?

JM: At the moment, I am making a lot of work inspired by noir and horror films. A recent favorite is My Name is Julia Ross which is a gothic film noir from 1945. Music-wise I've been listening to a compilation CD called Southeast of Saturn which features Michigan-based shoegaze and space-rock.


P: What is your process like? How has it evolved over time? Does it change with each work?

JM: My process starts with a lot of movie consumption and digital collage. I usually try to keep the actual painting quick in one or two sessions so that things stay fresh and don't get overworked. My process doesn't change much from painting to painting, but playing around with scale more over the past few months has kept me on my toes.


P: What has been the highlight of your career thus far?

JM: This summer I was able to start renting my first private studio — and it has windows!


P: What does Foster Pride mean to you?

JM: To me, Foster Pride is a crucial support system. It means empowerment through community relationships, financial and educational resources, and the arts — it's a path forward.

Tania Marmolejo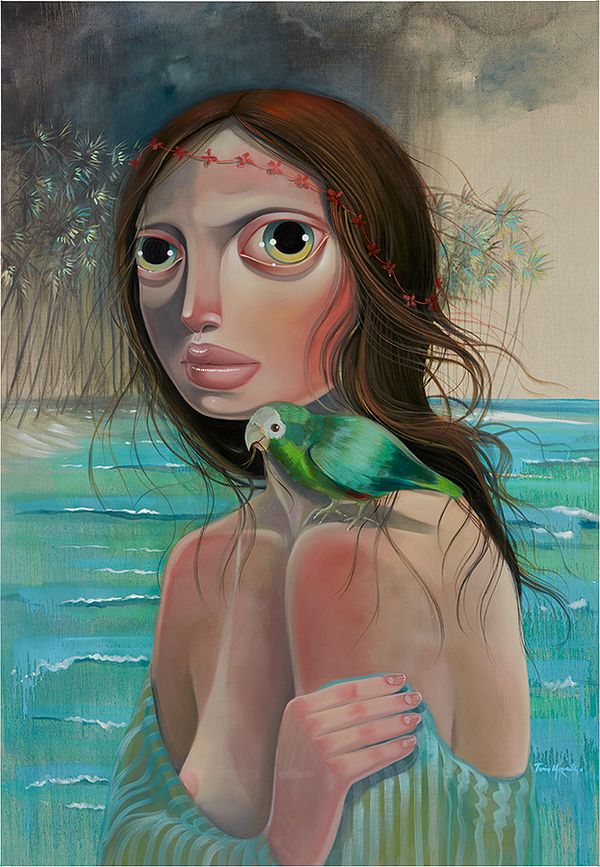 Tania Marmolejo, Dreams of Escape, 2021. New Now New York.
PHILLIPS: Please tell us about your work in New Now New York that benefits Foster Pride. How does it relate to your work as a whole?

TANIA MARMOLEJO: The piece I've donated for auction is a representation of my Caribbean roots. It is based on the feeling of belonging to the culture, the warmth and cheerfulness of the tropics, but represented in a kitschy way — almost the way others may see the culture. It is a happy piece, embracing a certain cliché while allowing the viewer to decide what the story really is. The painting is part of a group of paintings about cultural identity as a female, seen from different points of view.


P: Do you have any poignant childhood memories of making art?

TM: I have many. I started drawing ever since I could hold a pencil, so my memories start very early. My favorite is an early memory of painting an enormous Santa Claus with my father at around 4 years old and feeling so proud that I was his co-artist.

Another very early memory is drawing myself at 3 years old and realizing that the scratches I made representing hair were not like the hair in children's books and trying so hard to mimic the curve of my hair. I still have that self-portrait, and it is filled with details — you can see the effort I put into it! I also have fond memories of creating murals and the background scenes for plays in schools, where I was the only grade schooler among the high school artists.


P: How does your identity as a Dominican-Swedish Woman inform your work?

TM: Being Swedish Dominican provides never-ending inspiration. The opposite, almost impossible to blend Caribbean and Scandinavian heritages, the memories of childhood spent in both places, the story of my mother — a Swede in the Dominican Republic — my identity as a female in between two opposite cultures, and the experience of not quite fully belonging to, but embracing both extremes.


P: Does your experience in commercial art and fashion illustration influence your approach to fine art?

TM: It was my experience as a character designer for animation that most influenced my art. My art today is still about characters, and they are my favorite theme to paint. As for working in commercial art and textile designs, I learned more about business and discipline, but they didn't really influence my art. I began painting seriously and exhibiting as an escape from the commercial art I was creating. The difference between creating what I wanted, and not what a client wanted.



P: What has been the highlight of your career thus far?

TM: That is hard to say, as I've had so many wonderful experiences in the last couple of years. My first solo show in Asia (Korea) is one, as it opened up the market in Asia. Solo shows in New York, Dubai, Norway, Paris, Spain, and other countries allowed me to travel and enjoy my experience as an artist, which is the best experience I could have. I am so grateful to the galleries that have collaborated with me and have trusted my work.


P: What does Foster Pride mean to you?

TM: Foster Pride is an incredible organization that opens a world of possibilities for youth in foster care through their various proactive creative and mentoring programs. Being a creative person, I know art has provided me with self-confidence, the possibility to create a passionate, fun future for myself, and has provided structure and discipline in my life. It takes a lot of self-discipline to make it in a creative field, and I think this is key to helping youth trace their own paths in the world, especially youth that have lost a clear structure in their lives.

Working with inner city youth in art programs, I have personally witnessed how art can act as therapy, and also change a child's self-confidence when they realize what they are capable of achieving creatively. To learn to trust and depend on yourself is the key to success in life, and Foster Pride gives youth in foster care the tools to achieve this.

Anja Salonen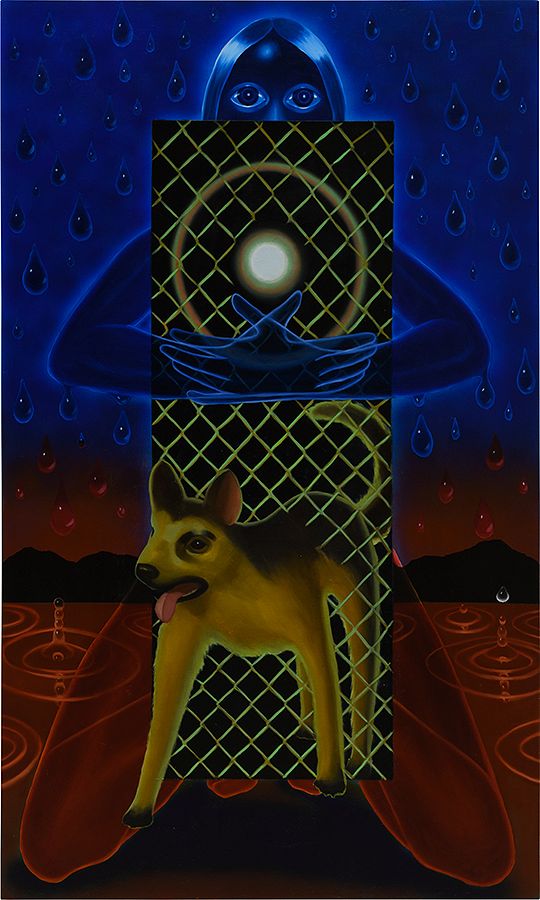 Phillips: Please tell us about your work in New Now New York that benefits Foster Pride. How does it relate to your work as a whole?

Anja Salonen: Moon Dog is an oil and acrylic painting that depicts a translucent figure kneeling in a rainy landscape with silhouetted mountains, the figure's arms wrapped around another frame within the painting. The interior frame depicts a dog emerging through a torn wire fence, the full moon peeking through, circled by a halo of light. A panting dog walks through the fence unscathed, as if emerging from the figure's body, bringing the solidity of the enclosing boundary into question. The two images, spliced and interwoven, create paradoxical spatial relationships heightened by layers of transparency and watery reflection. The figure glows in a phthalo blue descending into earth red, the interior frame emitting a radiant green. Moon Dog is the term for the halo phenomena around a full moon when moonlight refracts through ice crystals in the atmosphere (acting like a prism) exhibiting spectral colors. This painting is part of a body of work investigating the knotted web of relation between the industrial and ecological and the nature of their edges, employing a visual language that merges a graphic style influenced by digital aesthetics and slow-motion photography with classical oil painting techniques. The work is part of an ongoing investigation in complex chromatic harmony and dissonance, referring to the color light spectrum, weaving organic tones and pigments with synthetic chemical hues and airbrushed acrylic.


P: Do you have any poignant childhood memories of making art?

AS: I feel very lucky to have always been in art classes as a child. I vividly remember learning about Malevich's Black Square and in turn painting my entire piece of paper ultramarine blue and declaring it done with mischievous delight. I would mostly paint animals, stars, figures, flowers, and remember the sense of liberation I felt from exposure to the zero point of painting. I learned to draw from life. I was fortunate enough to go to a school with a strong art program and after school figure drawing classes which fortified my interests. The support and encouragement I received from art teachers and my family were fundamental to the path I'm on with my practice today.


P: Browsing your Instagram, it's clear that you're an accomplished classical pianist. Do you also write your own music? How does your music making inform or relate to your painting practice?

AS: I started learning classical piano around age four and took lessons from a teacher who was a pivotal mentor for me throughout childhood. She allowed me to learn intuitively and by ear which came more naturally to me, as well as through reading music. Although I haven't had lessons in about fifteen years, classical piano is firmly lodged in my muscle memory and informs the electronic music that I now make and perform. I approach music making and painting in similar ways — I create the constructs and conditions of an environment and then render within it, combining countless layers to create chimeric compositions of classical and technological origins. The immateriality of electronic music often acts as a respite from the deep physicality and weight of making large scale paintings. I feel a freedom of abstraction in music while I love building structure and form in painting. Playing piano however uses the body and touch as a vehicle for expression in a way that doesn't feel dissimilar to painting — the weight of touch or stroke, tempo, arc, motion, drama.


P: What is your process like? How has it evolved over time? Does it change with each work?

AS: My process has evolved greatly over time and I'm always experimenting with new materials and techniques to push the boundaries of my practice, although no matter how far I've strayed I always find myself back at the foundation of oil painting. Lately I've been experimenting with dyeing raw canvas with neon pigments, sealing it with clear gesso, airbrushing acrylic, and then modeling and building the painting up with oils. In the past I've been interested in painting on dimensional surfaces, and have worked on folding panels, sculptural corner pieces, and freestanding multi panel pieces. I recently finished painting a triptych on frames made in collaboration with Ben Borden that were 3D modeled and routed wood composite. I source my imagery from art historical references, my own body or generous friends, archival photography, internet searches, and computer-generated imagery, creating digital collages on an iPad that act as the basis for drawings. Once I have the drawings on canvas I begin world building without a reference, responding to the painting as it's emerging and creating intricate structural relationships until they reach a fleshy tangibility.


P: What has been the highlight of your career thus far?

AS: Six rabbits have attended my exhibitions and only two of them were my own.


P: What does Foster Pride mean to you?

AS: Coming from a creative family, I was uniquely privileged with full encouragement of my artistic pursuits, and without that support I can only imagine how out of reach an arts path would have felt. Learning to make art and music offered me pathways to channel the unnameable complexities of being alive, a means to process and digest the world around and within me, to think spatially. Receiving meaningful mentorship as a child has profoundly transformative lifelong effects, especially for kids growing up within an alienating bureaucratic system. I'm grateful to support the work of Foster Pride in offering the support, care, and respect that helps young people grow into their fully embodied selves.

Brittney Leeanne Williams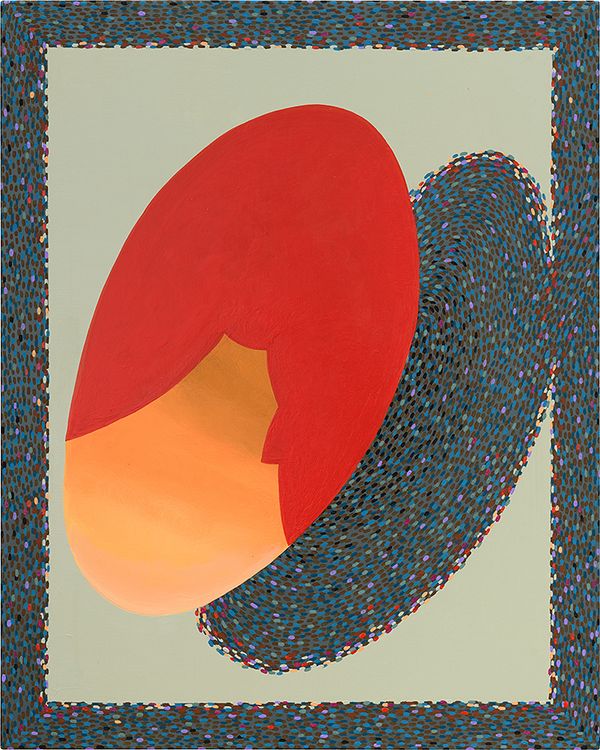 Brittney Leeanne Williams, Disk, 2022. New Now New York.
Phillips: Please tell us about your work in New Now New York that benefits Foster Pride. How does it relate to your work as a whole?

Brittney Leeanne Williams: Disk continues my recent experimentation with pointillist techniques, staging and reflecting the central red female figure that frequently appears in my work.


P: Do you have any poignant childhood memories of making art?

BLW: I was introduced to art in a more serious way after being diagnosed with dyslexia. I struggled in grade school with reading, and it began to erode my self-esteem. My mother was convinced the antidote was finding something I felt like I could master. We began attending Norton Simon Art nights and I was completely awestruck by their collection, especially the Monet and Magritte. My parents put me in art classes, and I took to them. Attempting perfection with pastels, paint, and graphite provided me with a sense of power, relief, play, and expression while I continued to struggle in the narrow structure of the classroom.


P: What does the color red signify for you in your works? How did you begin working with the color in your figures? How do you envision your use of the color going forward?

BLW: I have been committed to the color red for about 6 years. I began my explorations with it after attending Skowhegan School of Painting and Sculpture, where I began rendering the black tired female figure that often appears in my work. When I returned to Chicago, where I was living at the time, I was struck by how the red pulsing light of emergency sirens had the ability to choreograph space and time. At the time, I felt this bent figure required that red beacon, so I began to address Blackness through the color red. Red can choreograph our gaze; it can slow down our read of Blackness and invite us to see a figure's humanity foremost. Currently, I am thinking of a more transparent red; of light passing through red, like the effect of a stained glass window.


P: How does the community in Los Angeles influence or help shape your work?

BLW: I moved to LA last year, so being back is still pretty new. But the artists here have been special, and the new relationships I've built feel like they run deep. I'm also surrounded by my family here and see them often. Being close to family has stirred up a deep nostalgia in my work. And the sun sometimes feels like it's also part of my community — the LA sunset has very much shaped my work. There's something very special about the pink and yellow afternoon in LA.


P: What has been the highlight of your career thus far?

BLW: I'm grateful for many recent opportunities I've had, so it's hard to pick one highlight. I had dreamt of the Skowhegan residency when I was a teenager, so that was incredible. More recently, I've been honored to have my work enter public collections like the MFA, Houston, HEM in China, and The Columbus Museum, Georgia.


P: What does Foster Pride mean to you?

BLW: One of my aunts fostered multiple children when I was growing up. My mother worked with the elderly, while my father worked with the formerly incarcerated. So I've been in close proximity to organizations such as Foster Pride throughout my life — I truly value their mission.

---
Auction /
New Now
8 March, 10am EST
432 Park Ave, New York (map)

Viewing /
27 February – 8 March
Monday – Saturday, 10:00am – 6:00pm
Sunday, 12:00pm – 6:00pm

Discover More from 20th Century & Contemporary Art >
---
Recommended Reading
Wave After Wave: Paul Laster on seven women artists on the contemporary crest >

On a Very Good Day: A reflection on the late great Willem de Kooning by Anthony Haden-Guest >