- By Logan Baker

Welcome to our new editorial series highlighting the exceptional watches available through Perpetual, Phillips' boutique service offering immediate access to the world's rarest and most desirable timepieces. You can view the current selection of available watches by stopping in our London headquarters at 30 Berkeley Square, or by visiting Perpetual online.

---
A. Lange & Söhne has spent the past two decades feverishly investing in the field of chronograph development. You'd be hard pressed to identify another watchmaker that has innovated as deeply and widely in the genre this century as A. Lange & Söhne.
Watches like the Datograph, Double Split, and Triple Split have tended to monopolize discussion around the brand's chronographs in recent history, but one of the German brand's best models is much more under the radar. Quietly released in September 2020 in a run of 100 watches, the 1815 Rattrapante Honeygold "Homage to F. A. Lange" was the very first time A. Lange & Söhne created a split-seconds chronograph without any additional complications.
All 100 watches sold out in short order – but now, for the first time since its initial release, an example is publicly available for sale, exclusively through Phillips PERPETUAL.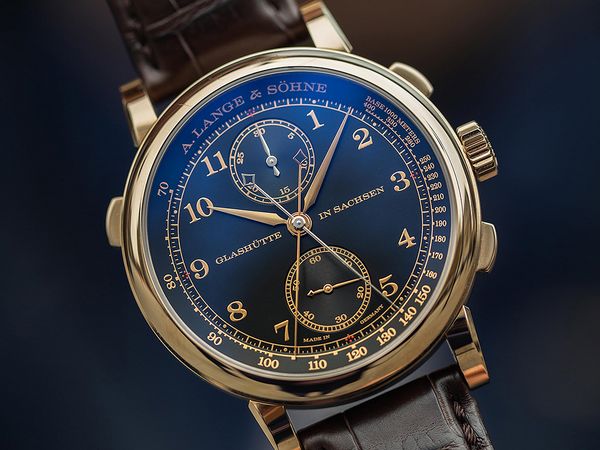 When the 1815 Rattrapante Honeygold was released, it was the thinnest rattrapante chronograph from A. Lange & Söhne (41.20mm x 12.60mm) as well as the first to be housed in a case made of Honeygold, the company's proprietary extra-hard 18k gold alloy.
Honeygold is a fascinating material not only for its subtle color that is paler than both traditional yellow and pink gold but also for its hardness. Honeygold measures approximately 300 Vickers on the Hardness Scale, which makes it far more difficult to machine but also twice as resistant to scratches as traditional 18k yellow gold. It's even more durable than platinum.
Due to the intricacies involved in its creation, A. Lange & Söhne has only ever used Honeygold in limited-production watches – only 12 different timepieces have used the specific alloy since it was first released in 2010.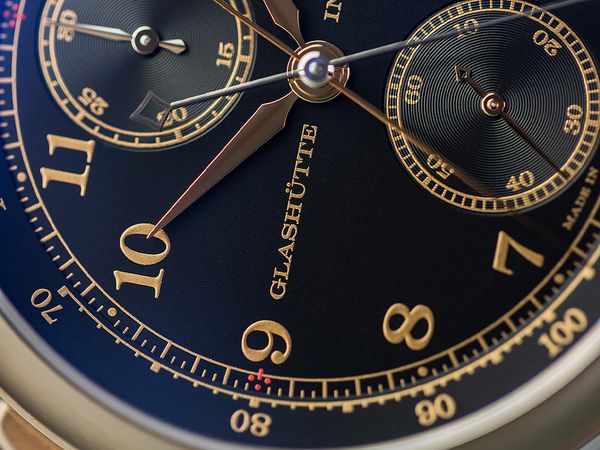 The 1815 Rattrapante Honeygold is also the first time A. Lange & Söhne paired a case made of Honeygold with a black dial. The result is a beautifully simple affair, with gilt lacquer markings used for the Arabic numerals, chronograph sub-dials, tachymeter scale, and railroad-style minute track.
The dial and case are as good an ambassador as you could ever hope for in a watch, but the real gem of the 1815 Rattrapante Honeygold is the movement inside. The manual-wind caliber L101.2 is a simpler evolution of the movement architecture A. Lange & Söhne first created in 2013 for the 1815 Rattrapante Perpetual Calendar. It's worth noting that this is an entirely separate movement design and chronograph system as what you'll find in the Double Split and Triple Split.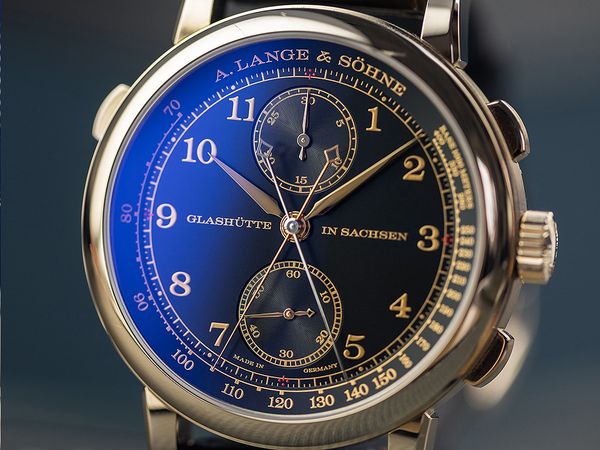 The caliber L101.2 utilizes a pair of column wheels. One controls the conventional start and stop of the chronograph, and then there's a subordinate column wheel that splits the running chronograph via pausing and restarting the rattrapante seconds hand. The movement comprises 365 total parts and runs at 3 Hz with a total running autonomy of 58 hours.
What makes the caliber L101.2 and its rattrapante implementation different from the Double Split, Triple Split, and many other split-second chronographs is A. Lange & Söhne's choice to not make use of an energy isolating mechanism. Typical split-second chronographs utilize an isolating mechanism to minimize excess torque that might build up in the movement when the wheel connected to the split-seconds mechanism is paused.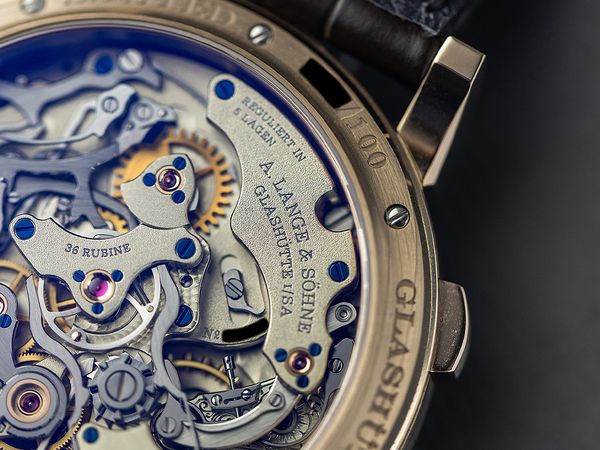 In conversations I've had with Anthony de Haas, Director of Product Development at A Lange & Söhne, he's mentioned that the issue with using a specific isolator mechanism is that it requires an increase in the movement's thickness. That might be bearable when you're dealing with a watch like the Triple Split that is inherently large, but it's not as suitable when you want a more classical and wearable chronograph, which is what the 1815 Rattrapante Honeygold is meant to be.
The alternative approach used by A. Lange & Söhne on the 1815 Rattrapante's caliber L101.2 is a more traditional method that consists of a small helical coil and a heart-shaped reset cam. When the split-second mechanism is engaged, the rattrapante clamp snaps down on the split-second wheel, pausing the rattrapante seconds hand on the dial.
The entire time that the chronograph is split, the heart-shaped cam turns in place while a single solitary ruby rides alongside it. When the rattrapante mechanism is reset, the previously mentioned coil jumps ahead, sliding the ruby to its position near the cam's lowest point, causing the split-seconds wheel and hand to align directly with the rest of the chronograph display.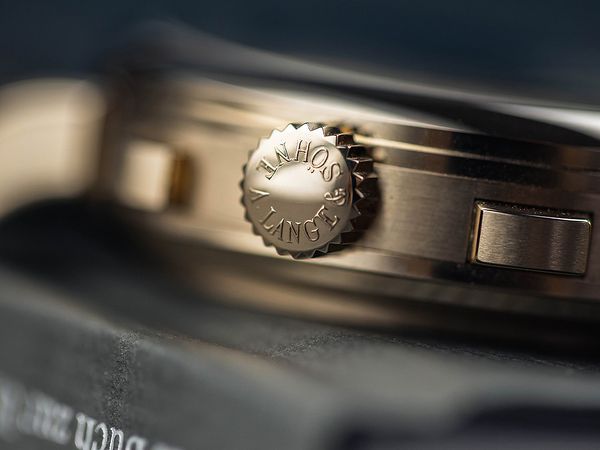 Of course, the caliber L101.2 features elaborate decoration. The bridges are crafted from traditional German silver with beautiful fine-graining and beveling, the balance cock is engraved by hand, and the chatons are made of solid gold and mounted with heat-blued screws. One element that makes this special-edition release even more unique is the hand-engraved floral decoration on the second chronograph bridge that complements the patten found on Lange's balance cocks. Additionally, the engraving found on both bridges has received a black rhodium galvanic treatment, a design choice that is unique to the 1815 Rattrapante Honeygold.
A. Lange & Söhne followed the 2020 release of the 1815 Rattrapante Honeygold with a new variant released last year and cased in 950 platinum with an argenté silver dial. It had a slightly wider run of 200 pieces compared to the 100 Honeygold examples. To my eye, the original 2020 model is more attractive – the dial and case combination is both rarer and more unique to Lange's specific Teutonic design language, and the use of Honeygold is of course exclusive to A. Lange & Söhne.
And if you're looking for a comparison outside the world of A. Lange & Söhne, the 1815 Rattrapante Honeygold matches up favorably to watches like the Patek Philippe 5370P-011 Split Second Chronograph, the F.P. Journe Chronographe Monopoussoir Rattrapante, and the Vacheron Constantin Traditionnelle Split-Seconds Chronograph Ultra-Thin.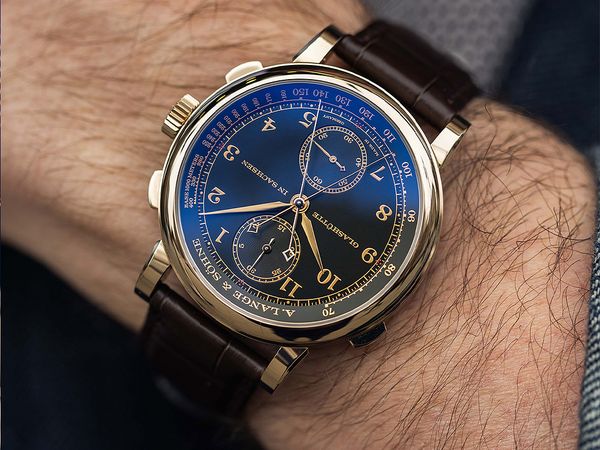 When it was released in 2022, the 1815 Rattrapante Honeygold had an MSRP of USD $134,000 and was only available to existing A. Lange & Söhne clients via the company's brand boutique network. We're aware of multiple high-profile collectors that went out of their way at the time to make sure they could add this model to their personal collections. And now, three years after its initial release, we've yet to see any examples come up for sale at auction or elsewhere on the secondary market. That's one reason we're so excited to be able to offer this example through Phillips PERPETUAL.
Our example is in excellent condition and comes complete with its original presentation box and warranty booklets. It's priced at GBP £189,950. You can learn more about the specific watch here, or by reaching out to the PERPETUAL team at [email protected] with any questions or for more information.
---
Phillips Perpetual
Phillips PERPETUAL offers a boutique experience to clients for both the sale and purchase of fine and rare watches, in London's Berkeley Square and the Gstaad Palace, in Switzerland.
About Logan Baker
Logan has spent the past decade reporting on every aspect of the watch world. He joined Phillips in Association with Bacs & Russo at the start of 2023 as the department's Senior Editorial Manager. He splits his time between New York and Geneva.
---

Visit Phillips Perpetual /
30 Berkeley Square, London, United Kingdom, W1J 6EX (map)
Monday through Friday, 10:00 AM – 17:30 PM
Contact & Consignment Enquiries /
00 44 207 901 7916
[email protected]
@phillipsperpetual
Discover More from Phillips Perpetual >
---
Recommended Reading
The Beauty and Art of A. Lange & Söhne
Stainless Steel A. Lange & Söhne 1815 'Homage To Walter Lange' Sells For $852,525
A. Lange & Söhne: Three Great Stories Behind Three Great Watches