Anthony De Haas hails from the Netherlands, where he studied micromechanics and watchmaking, before spending a few years as a watchmaker responsible for after sales service, first at a jewellery shop in his native country, followed by a few years with Seiko in the Netherlands, before joining IWC Schaffhausen in 1997, where he met the late Günter Blümlein, who predicted then that he would one day work at Lange. He stayed in Schaffhausen until 1999 before moving to Le Locle, taking up residence at Audemars Piguet (Renaud & Papi), where he specialised in the department dedicated to chiming watches. Unusually for a technician, he moved within ARPR to head their sales and marketing, and also their human resources, but this gave him a particular affinity for the human aspect of watchmaking. In 2004, the opportunity with Lange presented itself, and he hasn't looked back since. - extract taken from the PHILLIPS x Blackbird Retrospective: 2000 - 2020 catalogue portrait of Anthony De Haas. Discover the full portrait here.
- Comments by Anthony De Haas
Lot 90 - Lange 1 Tourbillon "Honey Gold"
The Lange 1 Tourbillon is in fact a watch that was born before I had any involvement with the brand. It's a Blümlein project. It was launched in 2000, originally in platinum and pink gold limited editions which were quickly sold out. In 2010, we wanted for the 165th anniversary to launch the first watches in our new proprietary honey gold material. So we built an anniversary collection of three different pieces including the Lange 1 Tourbillon (as well as the Tourbograph and the 1815 Moonphase) all in honey gold. Of course, we didn't just take the "standard" Lange 1 Tourbillon movement developped for the original edition. Instead we developed a new calibre that introduced a stop-seconds mechanism for the tourbillon, and we opened the dial and introduced a higher level of finishing. We always try to find a way to elevate our watches. We think it's fair towards the collectors to present new ideas.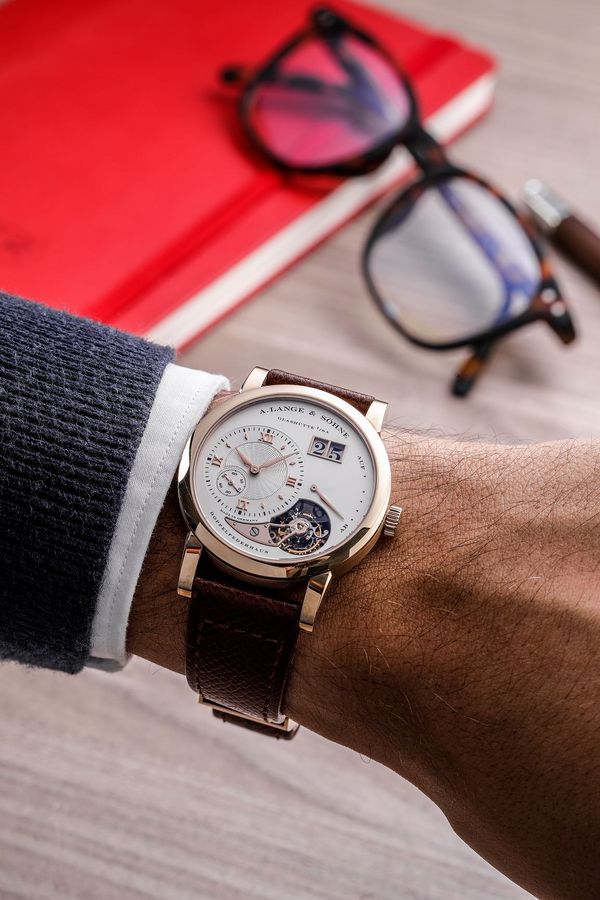 Regarding the material itself: Honey gold is the result of a quest to find a type of gold that is 18k gold but is harder than usual 18k gold alloy. It took many attempts over almost 5 years to find. Why is honey gold reserved only for special pieces and limited editions? Because when you have to machine honey gold, the wear and tear on watchmaking tools is 5 times that of typical gold (for reference, the wear and tear of platinum on watchmaking tools is "only" 3 times that of gold). It's a nasty material to machine. We would love to use it more often because it looks so good and it's harder than normal 18k gold but it just doesn't work. We would have issues with production and delivery otherwise.
Lot 135 - Pour Le Mérite Tourbillon

I know this watch very well, even thought I was not at A. Lange & Söhne when the brand presented it to the public for the first time. But I was at Renaud & Papi (APRP), a company which helped a little bit with the development of the Pour Le Mérite movement. When Blümlein and Walter Lange wanted to re-establish the brand, they knew no one expected East Germany to establish a new watch brand, so they had to put the bar really high. It wouldn't have worked out if the watches were not spectacular. That is why they had to create something eye-catching in terms of design – that's the Lange 1 – and also they needed a very high complication - that would be the PLM.

They started working in Glashütte with two movement designers – Annegret Fleischer who still works at Lange and Helmut Geyer, who is now retired – working in shifts on a single computer. One came in the morning and worked, and the other came in the afternoon. And Blümlein knew they were good but high complications have historically been made in the Vallée de Joux. So he decided to enlist the help of Giulio Papi of Audemars Piguet Renaud et Papi (APRP) – one of the first to work with a computer - to design the concept of the Pour Le Mérite.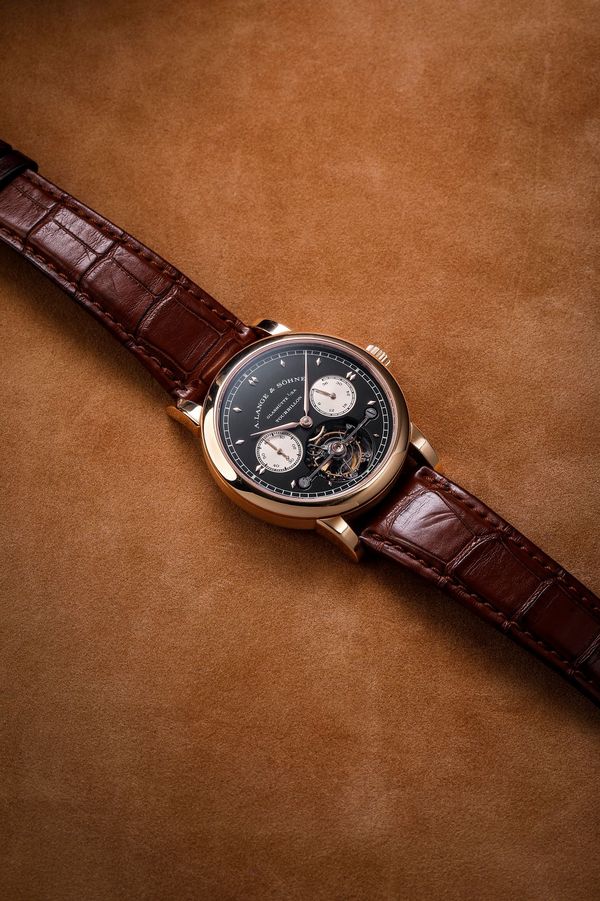 Developing the chain for that movement was perhaps the most exciting challenge. We didn't know how to make one that small. We ended up going to an old chronometer watchmaker in the Vallée de Joux who used to repair chronometer pocket watches with fusée-and-chain transmissions and he tough us a simple trick using silk paper between the links of the riveted chain to smoothen the transmission – later we found a different solution that allowed us to put the watch into production. Walter Lange and Günter Blümlein were very open about the need for help at the beginning, due to the size of their team and their focus on the Saxonia, Lange 1 and the Arkade which is already a huge challenge. APRP would later help with the Tourbograph, leading to my first trip to Glashütte and I remember all of us were flabbergasted by what we found when we arrived there, and I would join the company in 2004.
Lot 66, 67 and 68 - 1815 Homage to Walter Lange
This watch is important because of the reasons we chose to make it. Why did we do this watch for Walter Lange? When I first started at Lange in 2004, I met Walter Lange for the first time. He came in my office and he was happy that a watchmaker had been appointed in my role. He told me that was important because A. Lange & Söhne was a watchmaker's brand. He told me he was very proud of the jumping, stoppable centre seconds patented by his great-grandfather that had been introduced in 1877 as it was the first patent by a watchmaker based in Germany.
He asked me if we could do something with this patent and there we had our first disagreement because I was never a fan of doing a jumping second. It's beautiful but it requires a huge amount of work to make the watch look like a quartz watch. Although I really liked the original movement (it was in fact, the predecessor to the chronograph so it is a very interesting movement), I didn't really want to go in that direction.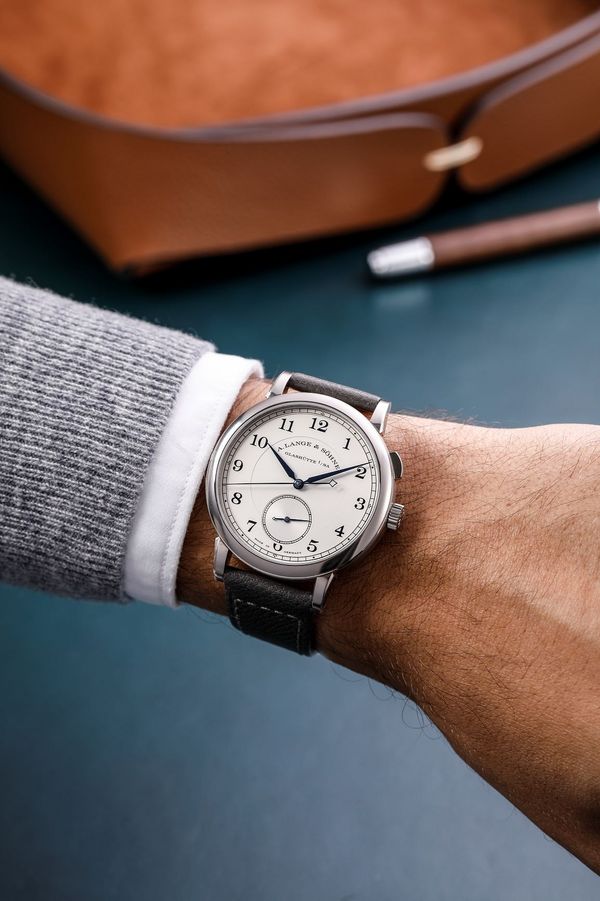 Years later, maybe around 2010 or 2011, Walter Lange had been to the fair in Basel and he came back and threw an Arnold & Son catalogue on my desk and he burst out in anger and said: "you didn't listen to me and now someone has beaten us to it" even though it wasn't really the same mechanism. So we kept coming back to this patent, especially when we launched the Richard Lange Jumping Seconds which uses a remontoir system and introduced a zero-reset mechanism which had never been done. But still he didn't like it because it wasn't the patent of his great-grandfather. So what happened after Walter Lange passed away is that the team got together to discuss a project that would honour him. And it quickly became clear, that if there was one watch to do so, it was a watch based on his great-grandfather's patent.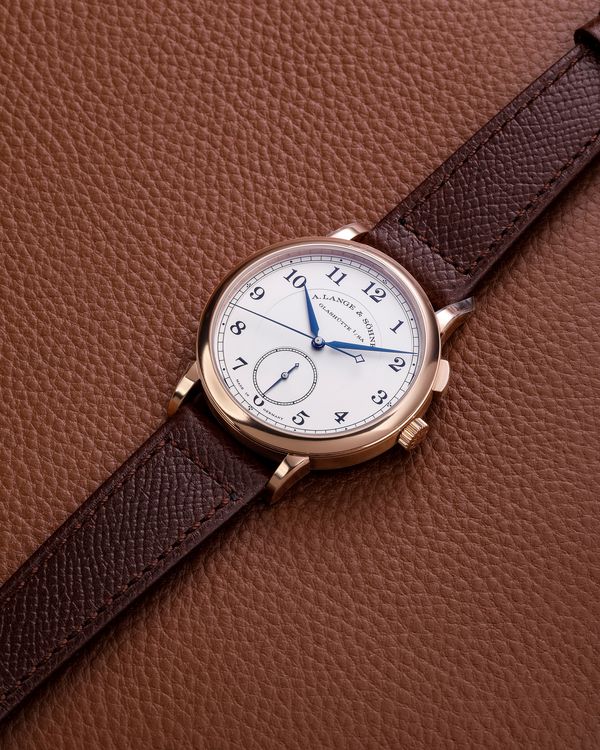 Of course, this was like shooting ourselves in the foot because we had only a year to develop an extremely complicated movement. I spoke to the team and we decided the least we could do is to try. The movement designer had to skip his summer holidays (three weeks, which he caught up the next year) to be able to advance the project and the whole team worked incredibly hard to deliver a working prototype by the next SIHH. The result is a beautiful watch but it's a one of a kind. Don't except us to make any other, because for me it's still...quite…. useless <laughs> Sorry. It's a beautiful mechanism, really, I love it but it's only to honour that man, Walter Lange, whom we are so grateful to for re-launching the company at an age when most people would have retired, and who drove it with so much passion.