- By Logan Baker
Our first Watch auction of the year, Le Concours de Complexité, a single-owner online sale featuring 11 exceptional F.P. Journe wristwatches, is now live and accepting bids until January 20. You can view the complete catalog and register to bid, right here.
It's always a good day when we can discuss the world of F.P. Journe, but today is better than most. Why? It's because our colleagues in the Phillips' Hong Kong office have put together Le Concours de Complexité, a remarkable collection of rare and complicated F.P. Journe timepieces, each coming from the collection from a single consignor who acquired them over a period of years.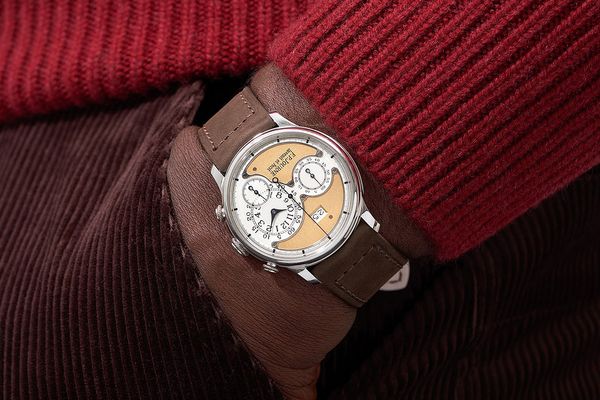 I recently took a lengthy look at all 11 of the F.P. Journe watches included in Le Concours de Complexité in this story, but here I thought it might be fun to rewind and return to some of the most important F.P. Journe watches that have appeared under the hammer at a Phillips in Association with Bacs & Russo auction in the recent past.
Let's start with the heavy hitters.
Pay Now, Receive Later: The Souscription #001 Set
This is where it all began for F.P. Journe.
The French-born watchmaker would have been unable to launch his company in 1999 without the help of 20 true believers who each paid upfront to pre-order the first version of his Tourbillon à Remontoir d'Égalité. The subscription – or, souscription – idea is one Journe borrowed from a few of his greatest watchmaking influences, including Abraham-Louis Breguet. After completing the Tourbillon deliveries, Journe went on to create additional 20-piece debut productions runs of the Chronomètre à Résonance, the Octa Chronographe, the Octa Calendrier, and the Octa Réserve de Marche, all via the souscription method taking place over the course of a few years.
Journe offered the supporters of his original souscription Tourbillon à Remontoir d'Égalité the first chance to acquire one of his next souscription models with an identical serial number to their first.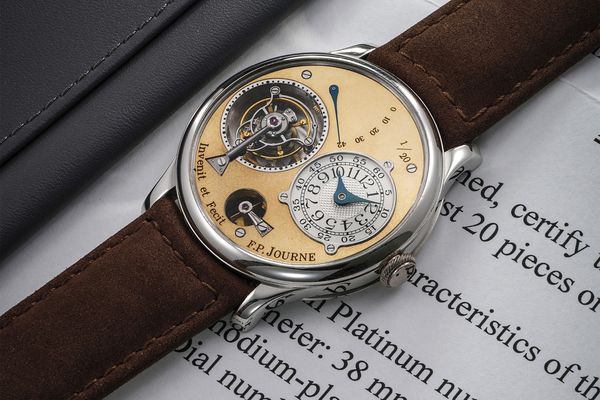 The individual who purchased #001 of the Tourbillon à Remontoir d'Égalité made the brilliant decision of acquiring the remaining #001 variations. He eventually decided to place the entire set up for auction at the Phillips in Association with Bacs & Russo Geneva Watch Auction: XIV, in November 2021, with each watch standing as its own lot.
Five F.P. Journe souscription watches went under the hammer that weekend, which resulted in five new F.P. Journe auction records being set. The Tourbillon à Remontoir d'Égalité and Chronomètre à Résonance each broke the CHF 3,500,000 mark, while the Octa Chronographe and Octa Calendrier landed just under seven figures. The Octa Réserve de Marche even came in at an impressive sum of more than CHF 550,000.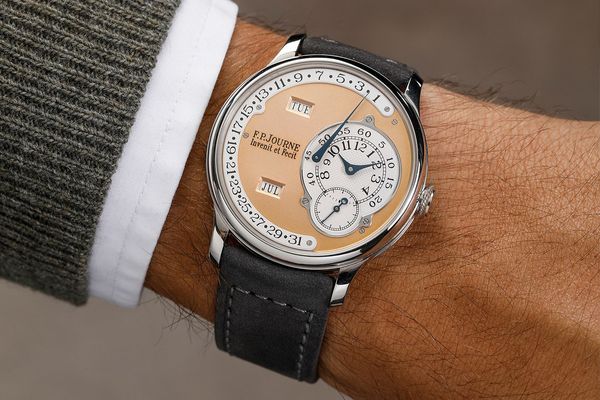 The most unexpected result of this one-of-a-kind set being auctioned off was actually for an empty F.P. Journe-branded wooden box that the watches were stored in. Auctioned off for charity, it resulted in an almost unbelievable donation of CHF 100,800 to the Association Monegasque contre les Myopathies, to support research into Duchene Muscular Dystrophy.
Interested In More Souscription? You're In The Right Place
A total of 100 Souscription pieces were produced across all five models, and although only five of those watches could bear serial number #001, the remaining 95 watches are still immensely collectible with different examples coming up for sale every so often.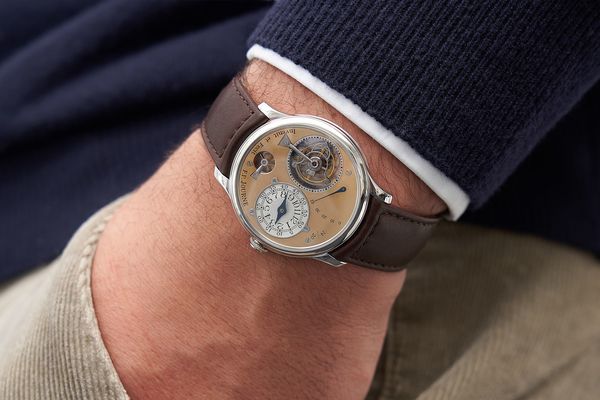 At Geneva Watch Auction: Two, in November 2015, Phillips sold serial #009 of the Tourbillon à Remontoir d'Égalité series for CHF 269,000 – a price that six years later would look like an absolute bargain when serial #016 would achieve CHF 1,400,000 at Geneva Watch Auction: XI, in June 2020.
A Chronomètre à Résonance example with serial number #014 soared above its high estimate in June 2020, at the Geneva Watch Auction: XI, where it sold for a then-record CHF 1,040,000. Six months later, at the Racing Pulse Auction in New York, serial #004 in the series – featuring a rare dial made of white gold, rather than typical yellow-gold – landed at USD $403,200.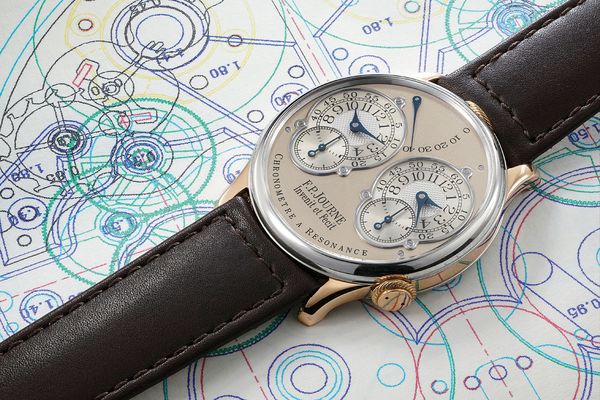 And then less than a year ago, at Geneva Watch Auction: XV, in May 2022, serial #014 from the Octa Calendrier series sold for CHF 504,000.
A Gift For George Daniels, From F.P. Journe
F.P. Journe views the legendary English watchmaker George Daniels as a personal mentor and a huge professional inspiration.
"Without you, I would most certainly never have started to make my first watch," Journe once wrote, in a public tribute to Daniels after his 2011 death. The two had a real relationship built around mutual respect and admiration, which Journe honored by gifting Daniels a 40mm platinum example of his Chronomètre Souverain in 2010.
Journe even engraved a movement bridge with a line of text that reads "FP to George Daniels my Mentor 2010."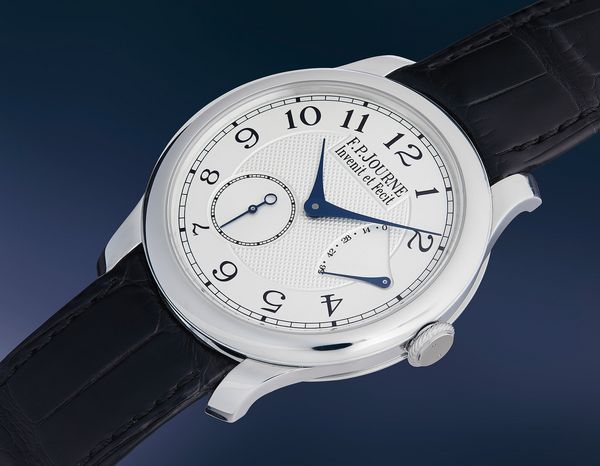 During our June 2022 New York Watch Auction: Six, this unique Chronomètre Souverain sold for USD $1,482,000 to an in-the-room bidder.
So Many Special Tourbillons, So Little Time
The Tourbillon à Remontoir d'Égalité is a flagship F.P. Journe creation, which makes it fertile ground for unique customized pieces and experimental small-batch runs.
Just check out the diversity of a few of our all-time favorite lots below.
Going Bleu For Only Watch 2015: Phillips hosted Only Watch in 2015, the same year F.P. Journe decided to participate in the charity auction for the very first time. The result? A one-off 40mm Tourbillon Souverain in a tantalum case with a brilliant chrome blue dial – purposefully riffing on the look and feel of the popular time-only Chronomètre Bleu – which sold for CHF 550,000.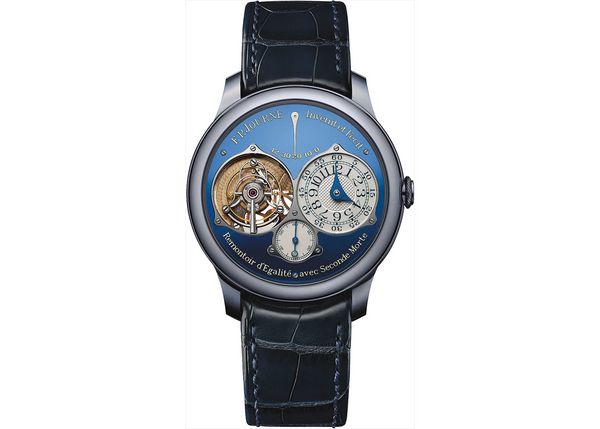 A Trilogy Of Post-Souscription, Brass Movement Tourbillons: Once all 20 examples of the souscription Tourbillon à Remontoir d'Égalité had been completed and delivered, Journe continued to create new examples of both watches, quickly moving on to introdice the first quasi-production models in each collection.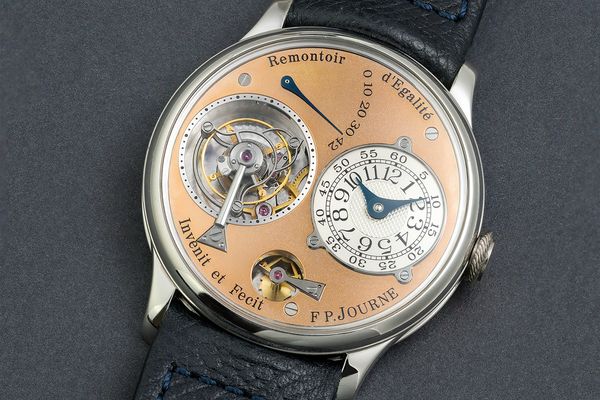 The first example of this era came in May 2021, at the Geneva Watch Auction: XII, when serial #041 sold for CHF 327,600. A little over one year later at the New York Watch Auction: Six, in June 2022, serial #035 achieved USD $1,361,000.
And then, most recently, during our final Watches sale of 2022 (December's New York Watch Auction: Seven), a rare early Tourbillon fitted with a pink gold dial and bearing serial #038 ended up selling for an impressive USD $1,240,000.
A Jade Queen: F.P. Journe's in-house dial-making operation at Les Cadraniers de Genève created the gorgeous green dial featured on this circa 2015 third-generation Tourbillon out of a genuine piece of jade gemstone.
It's confirmed that an especially small number of Tourbillon watches were produced with jade dials during this time, in either 38mm or 40mm case options. A 40mm platinum example came up as part of New York Watch Auction: Six, in June 2022, where it eventually sold for USD $1,240,000.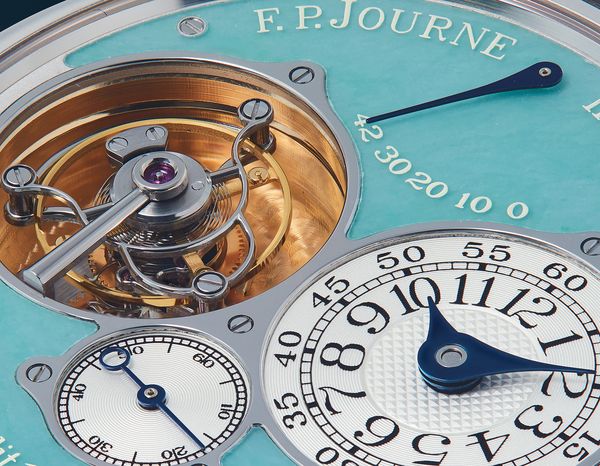 Beijing's Red-Hot Tourbillon: As of January 2023, F.P. Journe currently operates nine different brand boutiques around the world – but in the past there were a few more that are no longer with us, including one located inside the heart of China's capital city.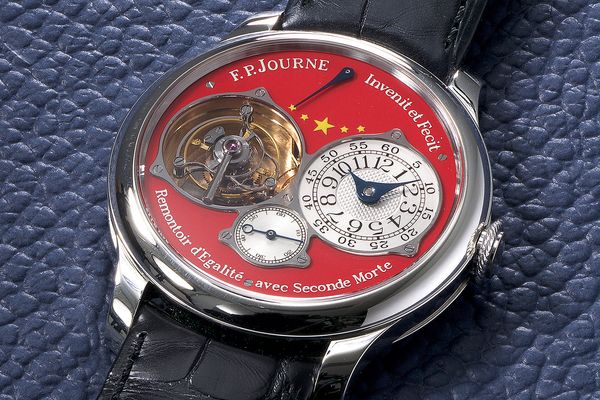 The company's sixth boutique was opened in 2010 in Beijing's bustling business distract of Yintaï Centre, where it lasted a brief seven years before closing its doors for good. This Tourbillon Souverain with its bright red dial that echos the national flag of the People's Republic of China was limited to only five pieces to commemorate the store when it first opened.
Although the Beijing boutique is no longer with us, this ultra-rare Tourbillon Souverain left an impression during our Hong Kong Watch Auction: XIV, in May 2022, where it sold for HKD 8,720,000 (over one million U.S. dollars).
Sincerely Yours: Mother of pearl is a relatively common material in watchmaking. No one bats an eye when they see a soft off-white mother-of-pearl dial that lightly reflects rainbow hues in the light. It's fairly basic.
Well, F.P. Journe doesn't do basic, which is why he hunted down the mysterious, alluring, and rare black coloration of the substance for the dial of a highly limited run of five Tourbillon Souverains in 2005 that were created for the 50th anniversary of Sincere Fine Watches, Singapore's longstanding and beloved luxury-watch retail destination.
One of the five examples sold for USD $718,200 during our December 2021 New York Watch Auction.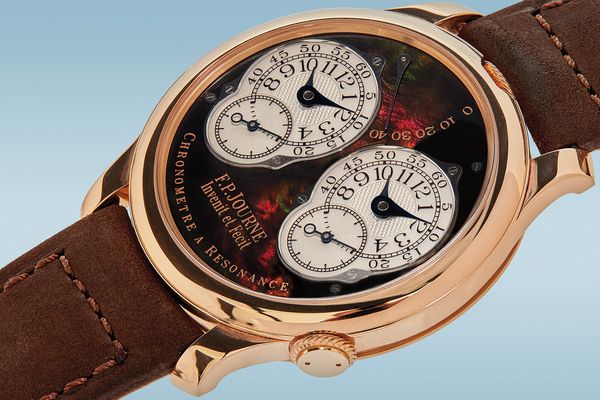 There's No Place Like Home: Made in a run of five pieces in 2008 for the second anniversary of the brand boutique in F.P. Journe's home city of Geneva, this second-generation Tourbillon Souverain featured an unexpected case metal made of titanium that was accented by a solid 18k rose gold crown and clasp. An anthracite dial with pink lettering continues the unexpected twist on two tone.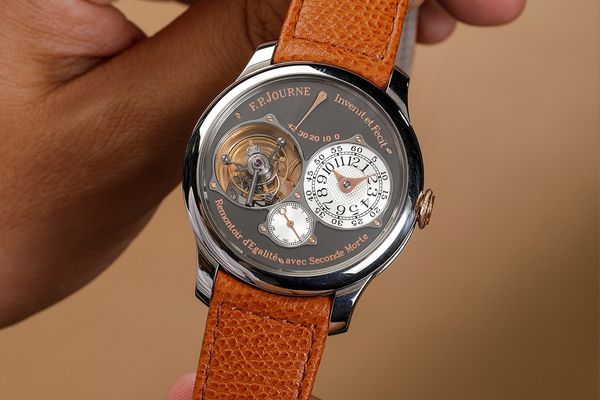 The watch's color orientation was later continued with the ongoing release schedule of the Centigraphe Souverain Anniversaire. The Geneva Watch Auction: XIV, in November 2021, included serial 2/5 of the so-called Tourbillon Souverain "Genève 08," which sold all-in for CHF 504,000.
Journe Is For The Children
A one-of-a-kind watch originally created to be auctioned off in 2005 as part of a charity auction that took place during the biannual Children Action Gala dinner, this unique-piece Octa Zodiaque returned to the rostrum in May 2022 as part of Geneva Watch Auction: XV.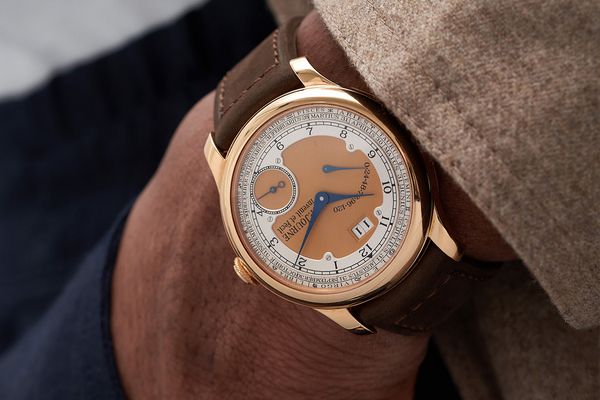 The watch was consigned by the winner of the 2005 auction, who agreed to donate all proceeds from the result of the watch's sale. The final result doubled the high estimate, achieving an all-in total of CHF 804,400, including the buyers' premium, which was all donated to the Children Action Foundation.
The Chiming Watch That Broke All The Rules
F.P. Journe's Sonnerie Souverain is arguably – alongside his Astronomic Souverain – the most complex wristwatch he ever created. Ten patents were registered by Journe during the watch's development, and it takes an individual watchmaker, working on nothing else, more than three months to assemble and test the movement.
The Sonnerie Souverain had a 12-year production run, with approximately four watches completed each year. That means there are less than 60 examples out there in the hands of collectors, and there's no inkling of an updated Sonnerie Souverain coming out of F.P. Journe's Geneva workshop anytime soon.
To date, the sole Sonnerie Souverain to be auctioned off by Phillips in Association with Bacs & Russo sold for CHF 680,400 during our November 2020 20-Year Retrospective sale in Geneva. It's a hard watch to find, but there is some good news – a Sonnerie Souverain with an uncommon black dial is included in Le Concours de Complexite, our single-owner online sale dedicated exclusively to F.P. Journe wristwatches and hosted by Phillips in Association with Bacs & Russo, between January 13, 2023, and January 20, 2023.
The Chronomètre Bleu Byblos With An Eastern Arabic Surprise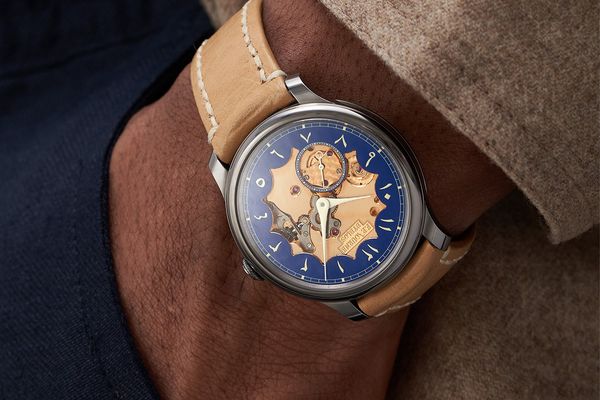 F.P. Journe celebrated the opening of his Beirut brand boutique in 2014 by introducing a whole new take on the tantalum-case Chronomètre Bleu that involved removing the central portion of the rich blue dial to expose the decorated 18k rose gold caliber 1304 inside. Ninety-nine examples of the Chronomètre Bleu Byblos were created, with 20 of those watches featuring a slight numerical twist with the addition of Eastern Arabic digits on the remaining blue portions of the dial.
At the May 2022 Geneva Watch Auction: XV, number 50 of the series soared to a remarkable final sum of CHF 630,000.
A Tourbillon With A Hidden History
The Tourbillon Anniversaire Historique is a watch packed with even more idiosyncrasies than usual for an F.P. Journe creation. It was a rather unexpected release when it debuted in 2013 as a 99-piece limited edition combining Journe's frequent use of a tourbillon regulator inside of a wristwatch that carried the aesthetics of the very first timepiece completed by F.P. Journe as a student. That exact timepiece is a tourbillon pocket watch that Journe finished in 1983, after six years of trial and error.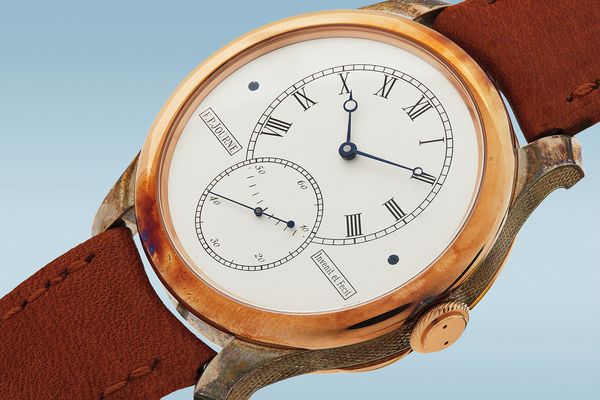 Thirty years after accomplishing his initial step into horology, Journe introduced the Tourbillon Anniversaire Historique – also known by its reference number, "T30" – to commemorate the milestone occasion. Its smooth solid silver casebody is topped by an 18k rose gold bezel, while the manual-wind tourbillon-equipped movement inside is at first hidden by the presence of an 18k rose gold half-hunter caseback with a lovely guilloché finish. The gorgeous caliber 1412 references the original creations of Abraham-Louis Breguet in its architecture. It's also very handsomely finished and crafted out of gilt brass, another throwback element to Journe's early days.
The 99 examples cost $99,000 each when launched, a price that was purposefully set lower than the contemporary Tourbillon Souverain in order to reward his most devoted clientele. It's no surprise, then, that the T30 has a current market valuation that's quite a bit higher than its decade-old MSRP.
Phillis in Association with Bacs & Russo sold its first T30 – serial 97/99 – at our December 2021 New York Watch Auction for USD $529,200, and followed that result up with an HKD 3,024,000 (approx. USD $387,210) figure for serial 22/99 at the November 2022 Hong Kong Watch Auction: XV.