José Parlá, Chinatown Chronicle, 2008
Lot 151, Estimate HK$ 450,000 - 650,000
20th Century & Contemporary Art & Design Day Sale in Association with Yongle,
30 November
From the anonymity of Banksy to the popularity of KAWS, street art finds its way home, eventually.
Always in motion even when be held still, the humble propulsive aerosol charges and ruptures the streets, leaving ecstatic torrents of fleeting colour and mind-defying illusions, breathing a breath of new life into neighbourhoods.
Today, burgeoning urban art bends notions of movement, cultural identity, and cohesion.
José Parlá
José Parlá is publicly known for his permanent installation of large-scale paintings; whose works has been described as "lying between the boundary of abstraction and calligraphy". With influences drawing from his Cuban-American heritage, involvement with Hip Hop's underground art culture and his city surroundings, Parlá has established a style of painting that transforms the language of the street into a hybrid form of abstraction and urban realism through his calligraphic, gestural marks.
In 2012, he collaborated with photographer JR in the project 'The Wrinkles of the City, Havana'. In his works, José Parlá brings the city into the gallery, his markings echoes the distressed surfaces of the walls he inscribes and offer commentary on JR's portraits of the lives of Cuba's elders. Parlá recent exhibition includes Brooklyn Abstraction: Four Artists, Four Walls, Brooklyn Museum (August 2022), where five of his newly created painting raw upon his youth as a Cuban American in Miami in the 1980s, his world travels, his almost fatal battle with COVID-19 in 2021, and his survival and recovery, will be on view through August 2023.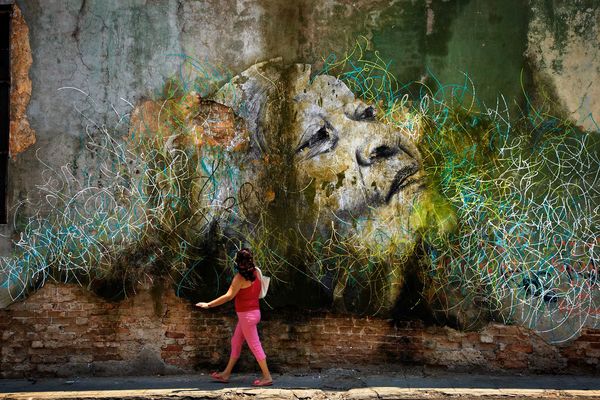 The Wrinkles of the City. LA Habana. Alicia Adela Hernandez Fernandez, Cuna, 2012 (via JR-ART.net)
Similarly, and like many of his paintings that are associated with specific places, Chinatown Chronicle, 2008 is inspired by New York's Chinatown, as he expresses the visible effects of time and human activity around places, offering a direct encounter without the mediations of transit that normally condition people's engagement with city walls.
Swathed with accumulations of texture, multiple marks, and painterly incidents, it is a piece that beckons with its rich layers of colour, influenced by José's teenage memories of tagging and graffiti.
Futura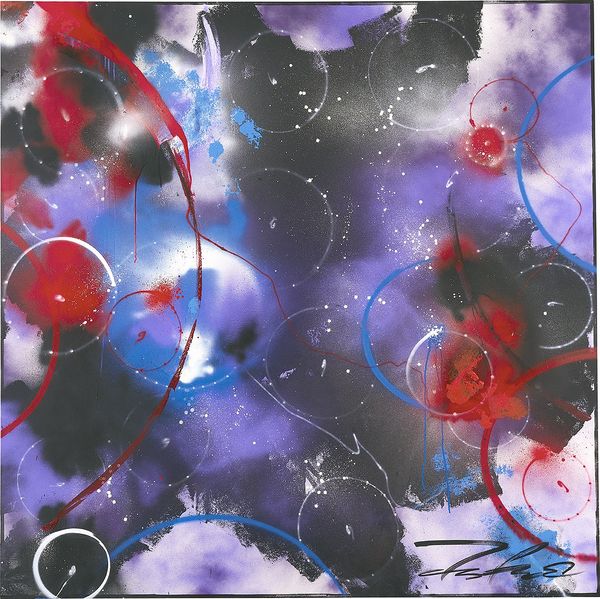 Dubbed the Godfather of contemporary graffiti, and one of its most recognizable figures, Futura is the genesis of a completely American form of expressionism, and has been widely praised for playing a part in defining the graffiti movement of the early 1970s by extending abstraction to an entirely letter-based medium.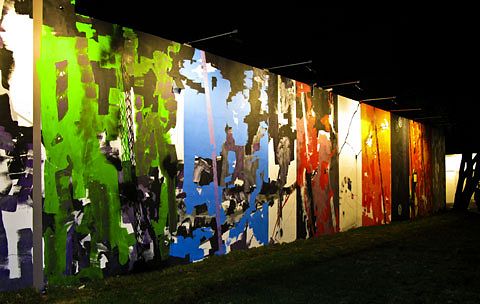 Futura, The Wynwood Wall Project, Art Basel Miami Beach (via Wikiart)
Patrick, 2019, an exuberant collision of atoms, starts, fields of colour, and circles, is full of vim and vigour whilst still retaining a sense of balance, intermixing in a highly retro-futuristic style.
Timothy Curtis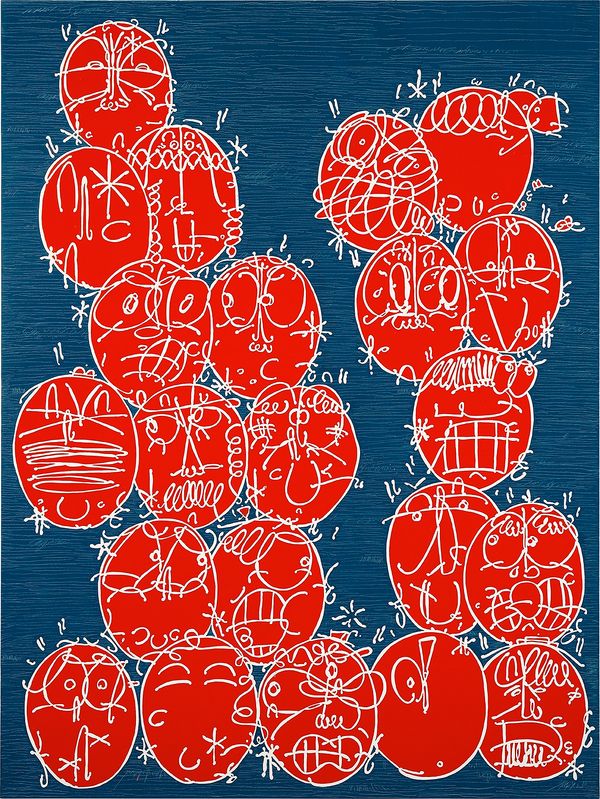 "If my work is completely understood, then I'm doing something wrong", pronounces Timothy Curtis. "I draw every day and I am different on every day. And so, my work evolves as I do."
Curtis's career began on the streets of Philadelphia in 1991, at age 9. Graffiti was his natural outlet, where he catalogued every moment, idea, and feeling as if in a visual journal.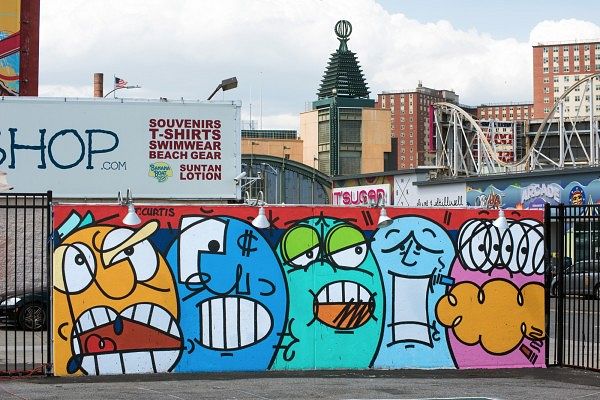 Timothy Curtis, Untitled, 2016, Coney Art Walls, Coney Island (via Coney Art Walls)
On From Space With A Crazy Face III, 2019, emotive scarlet faces veil the royal blue canvas. Placing an emphasis on the intensity, strength, and intuition of bold lines, the sheer span of expression and profusion of figures serve as ways to define the human experience.
Invader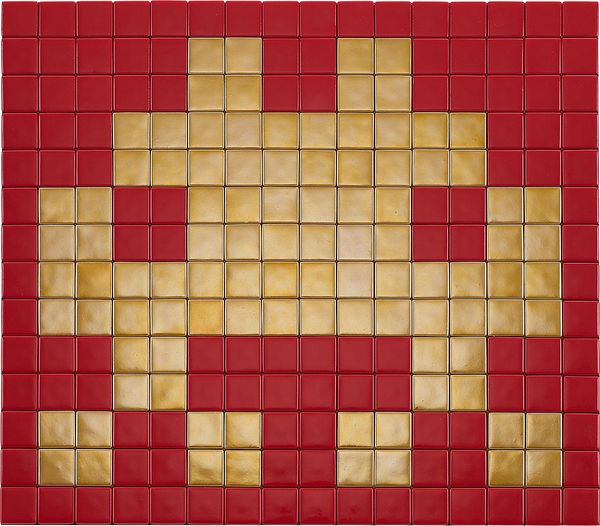 French urban artist Invader has garnered international recognition for his pixelated ceramic mosaics found all over city walls spanning the globe.
Working under a pseudonym inspired by the widely popular 1978 Space Invader arcade game, the artist attributes the Space Invader titular aliens, as depicted in Invader, HK_31, as being "the perfect icons of our time, a time where digital technologies are the heartbeat of our world".
Composed of red and gold, the symbolically auspicious colours in Chinese culture, the piece is brimming with nostalgia for bygone digital world. The work was first installed on Gloucester Road by Victoria Park in Hong Kong in January 2014.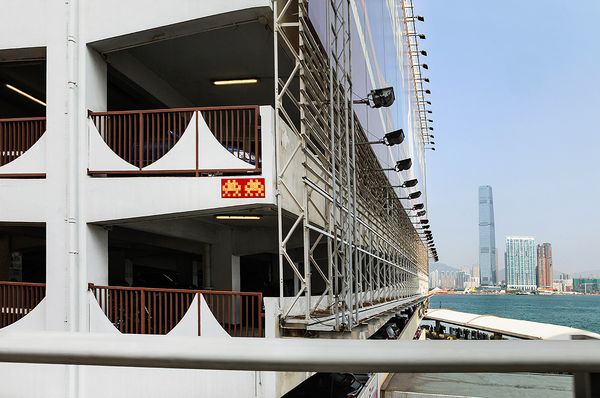 Invader, HK_63, 2014, Hong Kong (via Invader)
Composed of green and brown tiles outlined in black, MLGA-03 shows a pixelated potted marijuana plant. This work was first installed at Calle Bolivia in Malaga, Spain, outside of a natural herb supplements dietary store.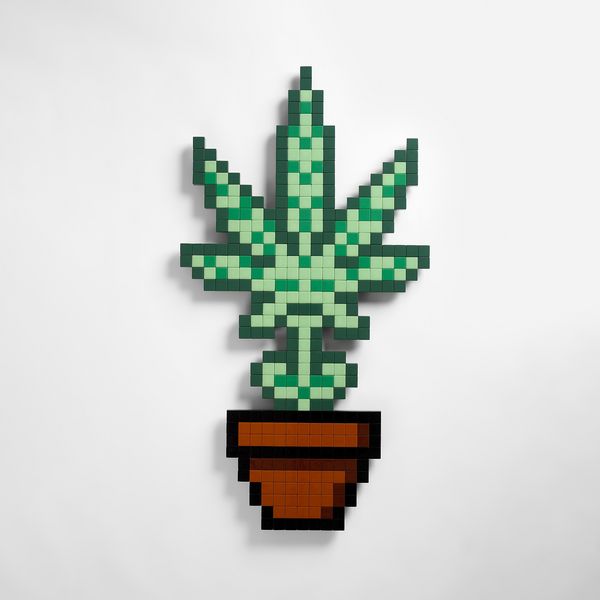 KAWS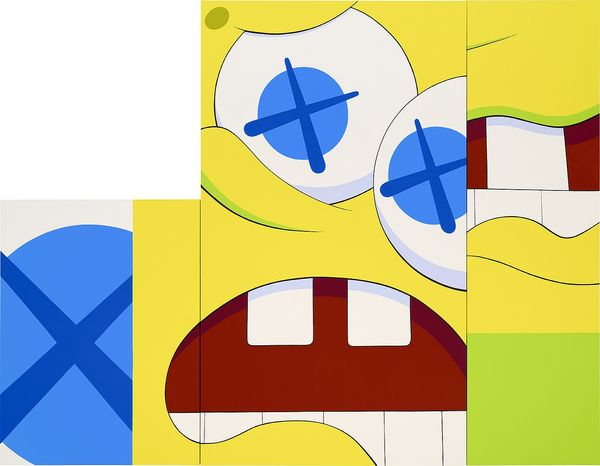 A master in toppling traditional ideas of fine art, KAWS creates works synonymous with contemporary street art culture, as he positions his works as both a celebration and critique of consumerism.
Painted in 2010, Hot Seat Junction features a cropped and chopped SpongeBob SquarePants, endowed with his signature X'd-out eyes. Presented with a gasping mouth and surprised face, spliced together with dissected zoom-ins of his pupils and clenched jaw, our SpongeBob is charged with raw emotion.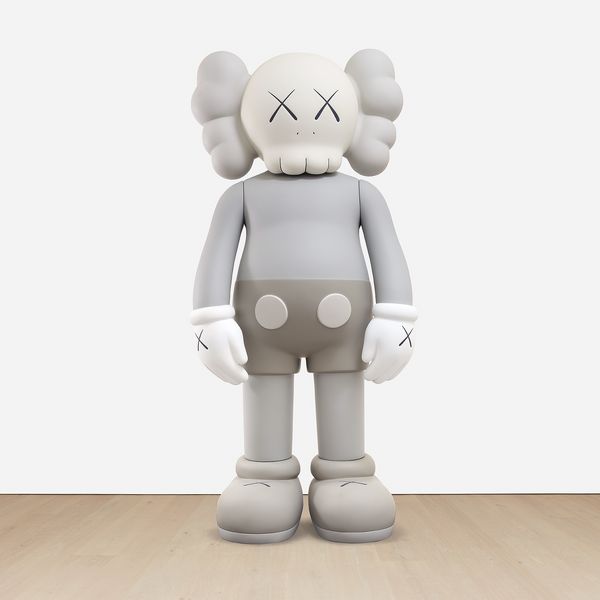 "When I was doing graffiti, my whole thought was, I just want to exist." — KAWS
Magnificently grand in its execution, the prodigious COMPANION is undoubtedly one of the most prized symbols that define the multidisciplinary oeuvre of the art world icon, KAWS. The large 'X' eyes and skulled head might appear to be intimidating at first, yet its rounded silhouette, smooth surface, along with shorts and shoes all evoke the likings of beloved cartoon characters, giving the work an overwhelmingly endearing quality. This is in turn enhanced by its larger than life scale, transporting the viewer into a toy-like wonderland.
Banksy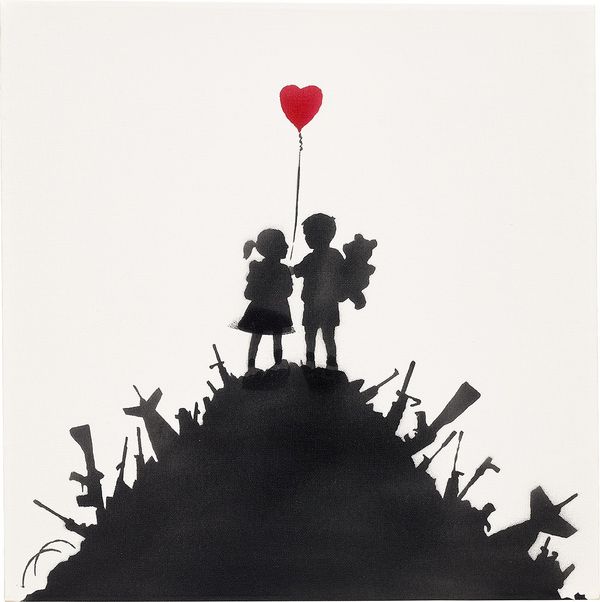 Hailed as the most controversial street artist in the contemporary art scene, Banksy is an international sensation who continues to catapult the art historical cannon in new directions, whilst still maintaining his anonymity.
With its striking simplicity and raw immediacy, Kids on Guns is a stark example of the artist's famed stencil and spray paint approach that originated from his time as a graffiti artist on the streets of Bristol. This technique allowed him to work quickly and make hasty escapes.
Known for his anti-war imagery, the shining red balloon – an iconic motif that is almost synonymous with Banksy himself— is an advocate for hope amongst fear in sombre solidarity, as a girl and boy are seen standing atop a mountain of weapons, in sharp juxtaposition.
In 2022, Banksy unveiled several works in the Ukrainian town of Borodyanka, which had been heavily damaged by fighting in the early days of the war. The artworks were stenciled on the walls of buildings destroyed by shelling.
Banksy, Borodyanka, Ukraine, 2022 (via Banksy Instagram, @banksy)
A biting example of Banksy's satirical oeuvre, Girl with Balloon & Morons Sepia is a double-sided composition boasting two of the artist's most famous images: Girl with Balloon and Morons. When held up to the light, Girl with Balloon and Morons Sepia magically fuse into a single composition, transporting the young girl into the auction room, and creating a mirror effect between her extended arm and that of the auctioneer – a feat that distinguishes it from Banksy's other editions of Girl with Balloon and Morons, highlighting a sense of irony unique to the anonymous artist himself.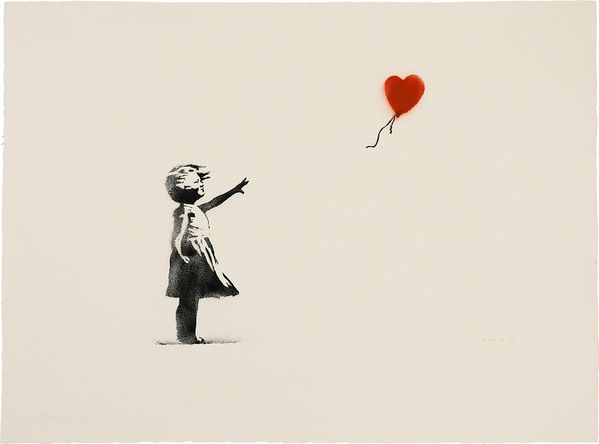 ---
Hong Kong 30 November 2022
---
Hong Kong 1 December 2022