Andy Warhol, Nosepicker I: Why Pick on Me (The Broad Gave Me My Face But I Can Pick My Own Nose), 1948. 20th Century & Contemporary Art Evening Sale, New York.
As part of our November Evening Sale of 20th Century & Contemporary Art, Phillips will offer two early paintings by Andy Warhol: Nosepicker I: Why Pick on Me (The Broad Gave Me My Face But I Can Pick My Own Nose) and Living Room, both created during the artist's last years at Carnegie Institute of Technology (now Carnegie Mellon University). Executed in 1948 and indicative of the genius that was to come, these incredible relics of one of the 20th century's greatest visionaries have remained in the artist's family for over seventy years, until now. An additional aspect to the history of these works is the fact that they were thought to have been lost at one point in the late 1970s. The paintings were in the Warhola family car when it was stolen. Fortunately for the family and for art enthusiasts across the globe, the car was recovered, with the artworks completely unscathed. Prior to the sale in New York on 15 November, they will travel to Southampton, Los Angeles, London, and Paris.
---
As a 20-year-old art student at the end of 1948, Andy Warhol created his first self-portrait painting, and what many consider to be his first masterwork. Nosepicker I crudely renders the artist then still known as Andrew Warhola — immediately identifiable by his distinctive blonde hair and bulbous red nose — with a finger jammed up his nostril in a gesture that is at once repulsive and absorbing, playful and intimate. A rare example of a painting by Warhol's hand, it perhaps evokes the expressive rawness of Jean Dubuffet more than the silkscreened aesthetic of his later persona. However, Nosepicker I's interrogation of reproduction, self-image, and so-called "good" taste epitomize the Warholian themes that already underpinned his revolutionary approach.
During his senior year at Carnegie Institute of Technology, Warhol was introduced to Ben Shahn and Paul Klee, unique and liberated pictorial language painters. These 20th century masters soon became two of Warhol's most enduring influences. He began executing humor-inflected paintings and drawings that traced his development of a new technique: "blotted-line" transferring. This idiosyncratic process, a version of monotype printing, became Warhol's first aesthetic trademark and originally stemmed from financial necessity. The youngest child of a working-class immigrant family in Pittsburgh, the artist was obliged to work with the least expensive drawing paper, which caused the ink to run and smear unpredictably. But where others saw difficulty, Warhol saw opportunity.
As an early iteration of this new technique, Nosepicker I is one of Warhol's first works in which the act of reproduction figures as an element of the medium itself. The blotted lines that outline the subject and adorn the decorative background presaged a career later preoccupied with a form of more mechanical repetition: silkscreen printing. This postmodern interrogation of the multiple would also manifest itself in Warhol's propensity to return to his own image time and time again in an iconic body of self-portraits. Beginning with Nosepicker I and spanning almost four decades, these works traced his evolution from Andrew Warhola to rising '60s art world star, and then to one of the greatest figures of the 20th century.
Soon after completing the work, he sent his daring submission to the 39th Annual Exhibition of the Associated Artists of Pittsburgh in January 1949, where it was refused inclusion on the grounds of its supposedly "offensive" subject matter. Undeterred and remaining confident in his first masterwork, Warhol resubmitted it to an exclusive summer group exhibition at the Arts and Crafts Center a few months later. The painting's audacious irreverence and formal inventiveness attracted much local attention and success. This story of Nosepicker I's reception is a fitting metaphor for Warhol's career, which saw him indefatigably pushing up against the walls of what was possible during his time.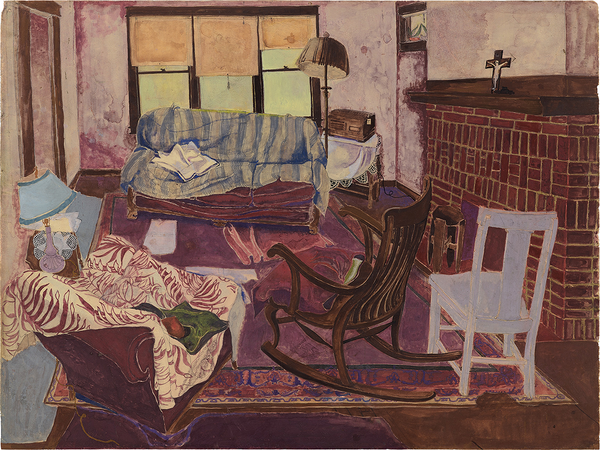 Featured alongside Nosepicker I is another early work from the same year that offers the view a peek into Warhol's early life and perspective of a youth growing up with his Carpatho-Rusyn emigrant parents and siblings in a small two-bedroom house at 3252 Dawson Street in Pittsburgh. Expertly manipulating the textural versatility of the medium to articulate varying shades of red, Living Room depicts the worn and beloved heart of the Warhola residence, adorned with the family's shabby maroon sofa and armchair, wooden rocking chair, and brick fireplace that his father built. Like Nosepicker I, it has remained in the Warhola family until now, a rare painted example of the 20th century master's hand, executed before he transitioned to his silkscreen technique and machine aesthetic.
A major in "pictorial design," one exercise given to Warhol called for the students to visualize a living room for an imaginary Oakland family and elucidate in a supplemental written component how the depicted belongings denoted the unseen characters' status and traits. Having lived in the working class neighborhood for almost 15 years, the artist cleverly bent the rules and covertly rendered the Warhola residence for a multigenerational household of six. The family he envisioned bore a thinly-veiled resemblance to his own. In a sense, Warhol handed himself a more difficult task than was assigned: to understand not only what his family home and belongings said about himself, but also what they might say about their other owners in a parallel universe. The work thus reveals as much about Warhol's life and childhood as it does that of its hypothetical inhabitants. It is not only an account of his formative years, but a harbinger of what was to come.
Highlighted in countless museum exhibitions, such as the recent retrospective Andy Warhol: From A to B and Back Again at the Whitney Museum of American Art, New York, Living Room is a seminal example of Warhol's signature negotiation of illusion and reality. The false narrative he playfully constructed for a place of deep personal significance to him presages his later unraveling of the glittering face of celebrity and stardom and the turbulent truth that lay behind it. One of the central tenets of his revolutionary approach, which was just becoming visible in Living Room, it was this same interrogation of identity that bridged Andy Warhol the icon and Andrew Warhola the person.
Discover More from 20th Century & Contemporary Art >
---
Recommended Reading
The Rothko Effect: Why Does Art Move Us? >