Helen Frankenthaler, Saturday Night, 1985. 20th Century & Contemporary Art New York Day Sale, Morning Session.
This November, Phillips' 20th Century & Contemporary Art Sales highlight the contributions of over 20 women artists whose practices engage and question the canon of abstraction. Alongside exceptional works by Joan Mitchell and Yayoi Kusama in the Evening Sale, the Morning and Afternoon sessions of the Day Sale feature early pioneers in abstraction such as Helen Frankenthaler and Emily Mason, whose contributions are finally being addressed in retrospect, as well as artists like Amy Sillman and Lucy Bull, who continue to challenge conventions today. The works presented here communicate the range and scope with which these artists expand the domain of abstraction.
Marginalized Visionaries
Although Abstract Expressionism has been historically tied to the names of its male practitioners, including Jackson Pollock, Mark Rothko, and Willem de Kooning, female artists also played a central role in shaping the movement. Emily Mason and Helen Frankenthaler, now understood as masters of abstraction, made important, early contributions, though the scant history of their critical reception stands in stark contrast to the overwhelming acceptance of their male peers' work.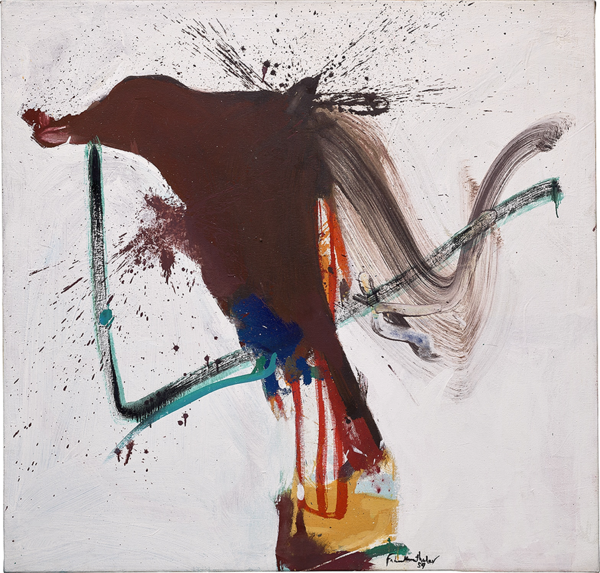 Recognized as one of the most important female American artists of the 20th century, Frankenthaler is considered a leader in the transition from Abstract Expressionism to Color Field painting. She first entered the New York scene in 1950, when Adolph Gottlieb selected one of her paintings to be included in Fifteen Unknowns: Selected by Artists of the Kootz Gallery. By 1959, the year she painted Brown Bird, her paintings had a regular presence in exhibitions around the world alongside some of the most important mid-century artists. Mason had her first solo show in 1960, after having spent time in Venice on a Fulbright grant, a move that allowed her to develop her practice away from the spotlight of her more well-known contemporaries — including her husband, Wolf Kahn. While many other Abstract Expressionists were grappling with existential intensity and raw affect, Mason probed the realms of memory and nature, themes which would come to the fore over subsequent decades and have received renewed critical attention in recent years.
The painter Hans Hoffmann once said, "This is so good, you wouldn't know it was done by a woman," ostensibly to compliment the work of his female peer, Lee Krasner. His famous line encapsulates the barbed tension of the term "female artist" in the mid-20th century. On the one hand, in a male-dominated field, being told one's painting was so good, "you wouldn't know it was done by a woman," was a compliment. But at the same time, the statement implies that women in general are incapable of creating art at the same scale or intellectual level of their male peers. To be a "female artist" is thus to be both a remarkable exception and a liability in the historical moment of Abstract Expressionism.
Carried over into the present, the term is similarly problematic in its reliance on narrow definitions of gender identity, as this limits the interpretive scope of an artist's work. As Elaine de Kooning argued: "To be put in any category not defined by one's work is to be falsified." Frankenthaler and Mason stand as models here, their contributions to a history of Abstract Expressionism obscured and somewhat complicated by the caveat "woman artist." Following de Kooning's suggestion, we can approach the work of these artists on its own terms, even while we address the limitations and challenges faced by women working in a man's world in the post-war period.
Frankenthaler's Brown Bird showcases her prowess in the gestural improvisation central to definitions of Abstract Expressionism, predating her signature soak-stain technique and her transition into a more subtle and calligraphic style of painting. In Saturday Night, Frankenthaler's deep purple pigment forms the backdrop to the minimal brushstrokes that make up the foreground. The marks swing backwards and forwards, their densities varying to make them appear as if they're fading in and out. Within the canvas' geography, her marks defy recognition while demanding interrogation. As with most of Frankenthaler's works, Saturday Night functions on ambiguity – a quality that the artist herself attributes to any painting's success. Likewise, Mason's practice made use of improvisation and ambiguity in original ways. Her decades-long exploration of spatial relations, the fluidity of color and ethereal lyricism are on full display in Like Frost Upon a Glass. In a 2005 interview with The Brattleboro Reformer, she compared her method of working on a canvas to playing chess: "Pick it up, make a move, wait, let time go in between," she said. "Then I know what to do."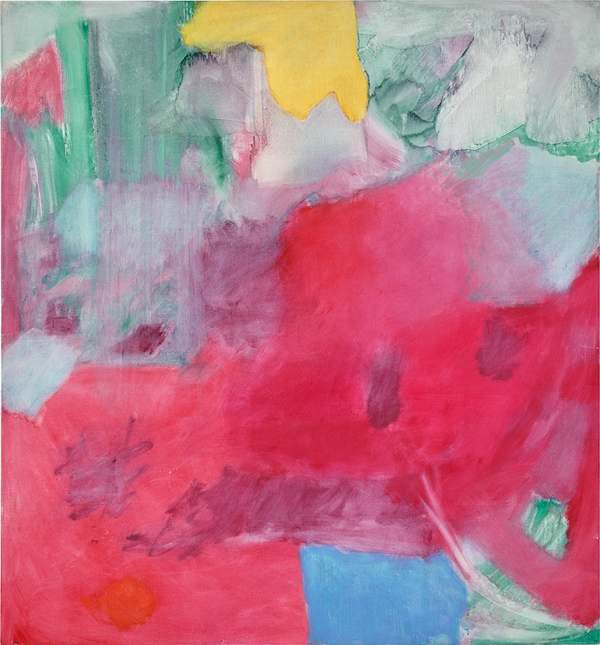 Contemporary Interpretations
In the decades following the mid-century heyday of Abstract Expressionism and Color Field Painting, approaches to abstraction have remained as numerous and diverse as the artists working in this vein. Alongside these pioneering works, we look to a contemporary generation of women working in abstraction – each artist pushing against prevailing trends in exciting ways whether well-established, or just beginning to make waves at auction and exhibition.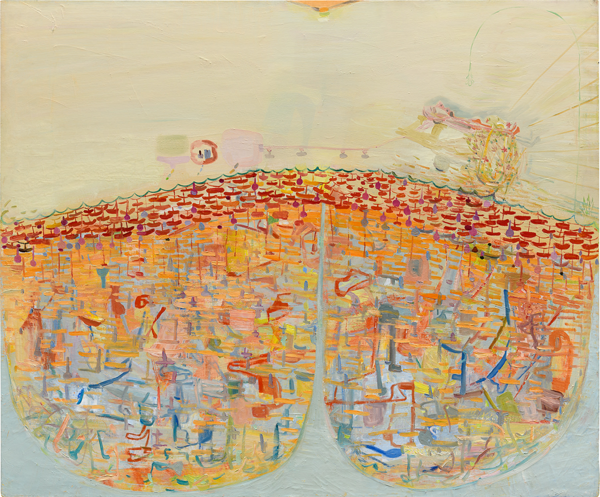 Painted in 2001, Amy Sillman's Cart showcases her signature mode of process-based paintings that move between abstraction and figuration, combining sweeping gestural strokes with a palette gone rogue and hovering at the boundaries of figuration and abstraction. Given the range of the artist's scope, color itself serves as an "engine," or a form of movement that adapts to the many layers Sillman imbues to a single work, from humor and doubt, to informality and approaches to conventional modes. The New York-based painter came of age in the 1970s, a time when the medium was largely repudiated by critics, and developed her practice through the 1990s with subversive acid and pastel hues, cartoon-like lines, and conceptual engagement with liminal space and discovery through the unknown in her compositions. Sillman champions "the relevance of painting" with what critic Phyllis Tuchman describes as "messy, multivalent, lively" art, which "reframes long-held notions regarding the look and emotional character of abstraction." Cart exemplifies this notion perfectly: Sillman is an artist fluent in the language of Abstract Expressionism to the level of infraction; she demystifies the movement while pushing its boundaries into the 21st century. Sillman's work was featured as part of The Milk of Dreams exhibition at the 2022 Venice Biennale, and her contemporaneous influence on younger artists is a testament to her ability to continually innovate her practice.
Born in 1994, Michaela Yearwood-Dan is among the generation of young painters reflecting on questions of subjectivity and identity, as well as themes of class, culture, race, and gender through abstraction. Replete with a host of cultural and personal references, her lush works exemplify an artist whose approach explores collective experience through a deeply personal lens, often incorporating song lyrics, drafted notes of text messages never sent, and her conversations with Apple's virtual assistant, Siri, exploring the realms of human and non-human experience. Yearwood-Dan avoids trite stereotype or reductive cliché by inflecting this visual language with her own, lived experience. Text written in Yearwood-Dan's expressive gold script further relates to past emotional experiences – a breakup, the global solitude of 2020 – drawing viewers into a two-way mirror of emotional and physical abstraction as Yearwood-Dan creates the space in which to engage. More than reflection on her technological present, Yearwood-Dan also responds to the socio-cultural experience of being a Black British woman, borrowing cultural signifiers including carnival culture, acrylic nails, and hooped earrings for her lexicon. In Muddlin on through, we catch snippets such as "I know that it's hard, I know that it's hard to be in this position," or "Run away whilst you still can," mixing lyrical elegance with a defamiliarizing landscape to great effect.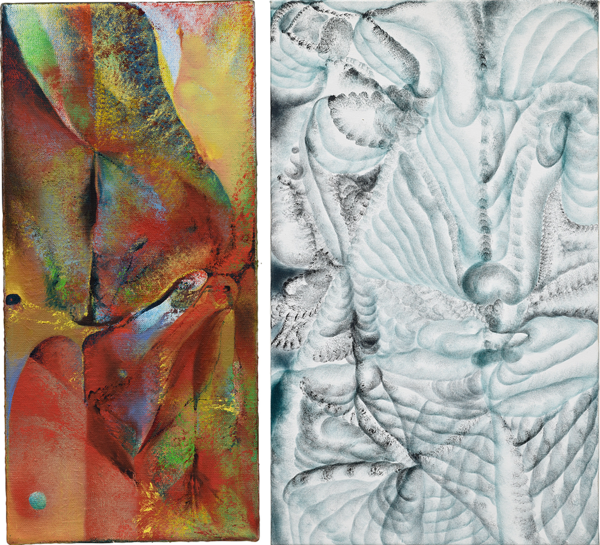 Heralded by W Magazine as "The Painter Bringing Back Abstraction," American Artist Lucy Bull (b.1990) is among the standout artists in the new generation of women in abstraction. Known for her surreal and psychedelic compositions, Bull's practice prompts a visceral sensory experience in what the artist describes as a "timed release": "The layers start to shift and unravel, and the more you look, the more you start to see," Bull notes. This interplay between subjectivity and distinction creates a friction Bull considers relational in her approach to abstraction. Such is the defamiliarizing effect of Untitled (Green Dot), wherein Bull employs an array of colors and textures in a way that balances density and lightness, silence and sonic overload, all in a deceptively inviting composition. Beautiful but also unsettling, Untitled (Green) engulfs the viewer in its imagined geometry. Bull encourages viewers to make peace with her work's concord and discord through her use of repeated forms, establishing a sense of movement that allows the viewer to find order within the chaos. After a breakout solo show at David Kordansky Gallery in Los Angeles last year, exceptional auction results have followed: Phillips' sale of Bull's 2020 painting 8:50 in June 2022 achieved over seven times its high estimate. Her work is in the permanent collections of MAMCO Geneva, Museum of Contemporary Art, Los Angeles, and Institute of Contemporary Art, Miami, and more. In view of this contemporary resurgence, Phillips is commited to elevating the present artists and many more, for their contributions to be celebrated in their time, and also for those who emerge in the generations to come to embrace the rich and continually evolving history of women in abstraction.
Discover More from 20th Century & Contemporary Art >
---
Recommended Reading
A Glimpse at Two Rare, Early Andy Warhol Paintings >