Danica Lundy, Miss Fist Kiss, 2019. 20th Century & Contemporary Art Evening Sale.
Danica Lundy
Canadian artist Danica Lundy's work draws on a long, painterly interest in the human body and perspective in art history, which she uniquely interprets with disorienting, complex canvases. Lundy cites Italian Renaissance masters like Leonardo da Vinci and Battista Alberti as an early reference point, first learning to draw figures by copying Renaissance sculptures from a book. Yet unlike her Renaissance inspirations, who sought order and harmony in their compositions, Lundy's paintings lean into the chaos of bodily existence. Seen here, the claustrophobic composition of Miss Fist Kiss depicts bodies with transparencies and overlapping limbs, obscuring where one body ends and another begins. "We live in bodies we can't usually see into, so why shouldn't painting be a forum for that imaginary observation?" the artist asks. Lundy completed her BFA at Mount Allison University, Sackville, and her MFA at the New York Academy of Art. Her recently exhibited works include solo shows in the United States, Canada, and Europe, as well as a summer 2022 solo exhibition "Stop Bath" at White Cube in London, where she is represented.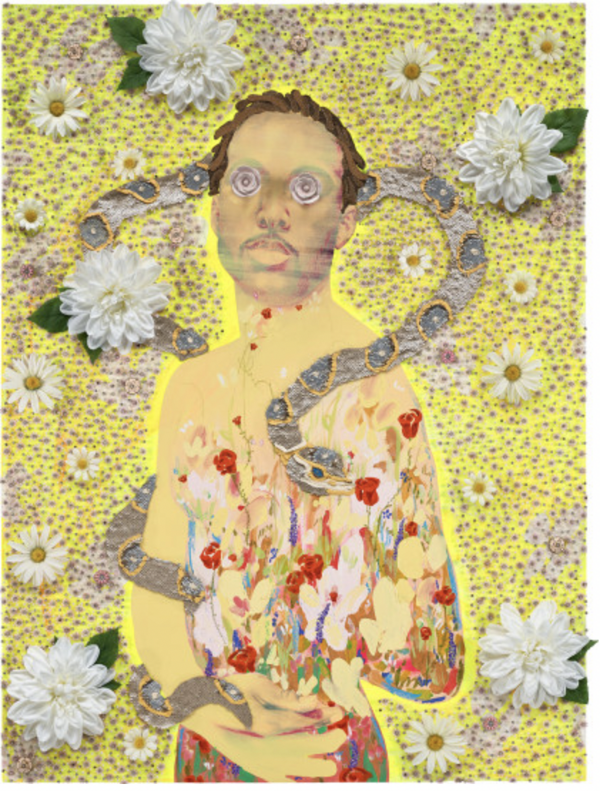 Devan Shimoyama
Highlighted in a solo museum exhibition "Devan Shimoyama: Cry, Baby" at the Andy Warhol Museum in 2018, Devan Shimoyama often incorporates three-dimensional materials such as jewelry, flowers, or feathers into his distinctively layered portraits — a practice the artist relates to "the same process a drag queen may use to get ready for a gig. I'm essentially creating a glamorous, sparkling, magical, fictitious version of myself and others... I'm always striving to create my own origin mythology or folklore of the queer Black male." Shimoyama's collaged portraiture deals largely with themes of societal transformation, referencing both personal narratives and wider cultural touchstones, like classical mythology, tarot cards, films, and pop music icons. Born in Philadelphia, Shimoyama studied drawing and painting at Penn State, followed by an MFA from Yale. His work has been featured at Kavi Gupta Gallery, De Buck Gallery, and the Studio Museum in Harlem.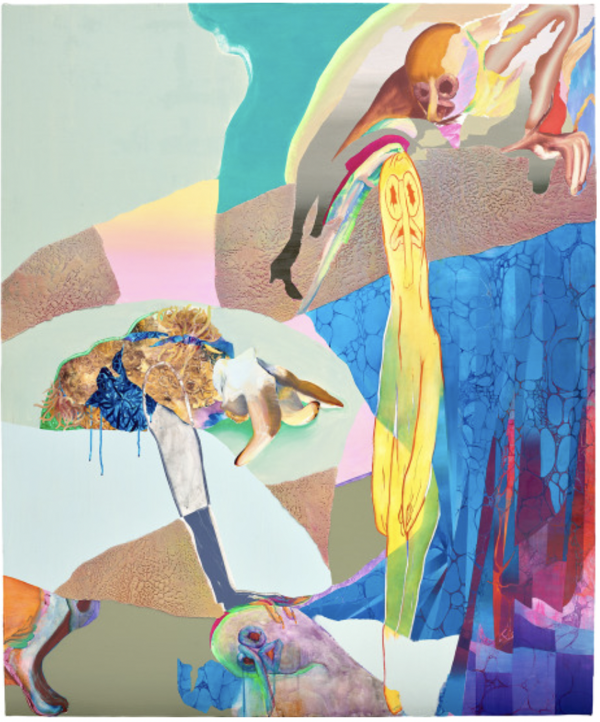 Ilana Savdie
For Ilana Savdie, painting is form of protest — themes of power and play inform both the content and the process of creating her work. Savdie's Marimonda Desplegada fuses the folkloric and the grotesque in a composition inspired by the artist's upbringing in Barranquilla, the Colombian city that hosts the world's second-largest carnaval. The painting prominently features several fluorescent marimonda, Columbian jester costumes dating to the 1800s, which mock the elite with their primate-cum-elephant forms. But her works are also festive and hopeful, containing a celebration that pushes against societal boundaries. Moving to Brooklyn, the artist noticed parallels between carnaval and queer spaces in Bushwick. "We can locate in [the marimonda] a very queer history of exaggerating the body, and taking up space beyond imposed and oppressive boundaries as forms of resistance and protest," Savdie says. "I'm always going to be bigger than the space allotted for me, and embracing that is liberating." Savdie received a BFA from the Rode Island School of Design and an MFA from Yale. Recent exhibitions include "In Jest" at White Cube in London and "Entrañadas" at Kohn Gallery in Los Angeles.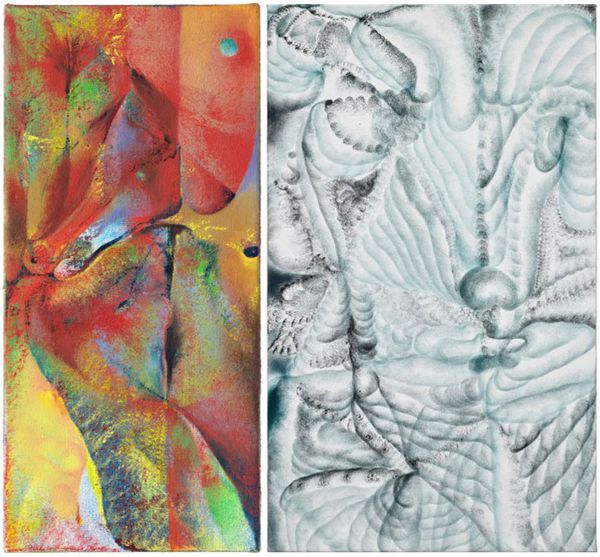 Lucy Bull
After a breakout solo show at David Kordansky Gallery in Los Angeles last year, Lucy Bull is making a name for herself as one of the most exciting young abstract painters. Bull's tessellating compositions are both surreal and psychedelic, prompting a visceral experience. "I am a representational painter, but not a painter of appearances," she says. "I paint representational pictures of emotional situations... The paintings kind of function like Rorschachs. If someone were to tell me they see a certain thing in them, it's telling me more about their psychology than about the work itself." Bull's work has recently produced stunning auction results, including at Phillips Hong Kong where the work exceeded more than seven times its high estimate. In addition to two solo shows in just as many years at David Kordansky, Bull has been the subject of solo exhibitions at High Art, Human Resources, and Smart Objects. She recently exhibited in "Women of Now" at the Green Family Art Foundation in Dallas, featured alongside Lauren Quin, Anna Weyant and Issy Wood.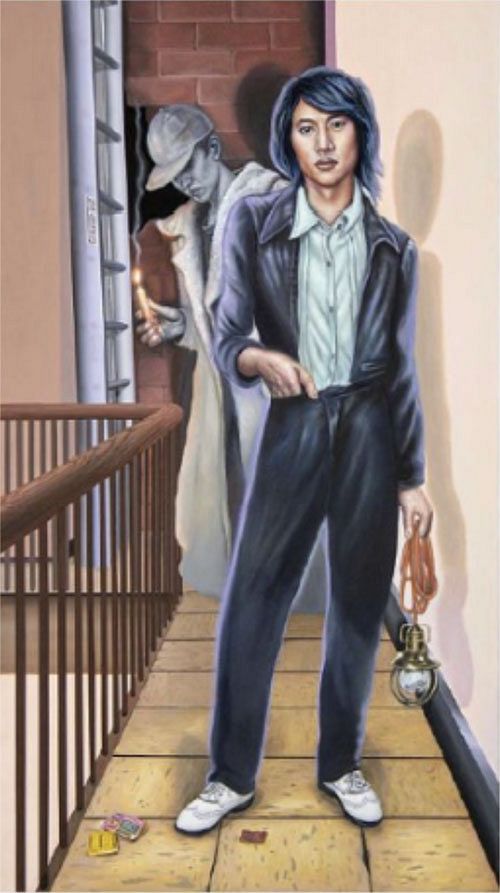 Alannah Farrell
Making their auction debut this season, trans-identifying artist Alannah Farrell spotlights subjects from their local queer community — whether strangers or friends — through powerfully intimate portraits that bring the experiences of each sitter to the surface. "I make paintings that celebrate the brilliant misfits, the survivors, the hustlers, the entrepreneurs, the advocates, the ones thinking and speaking outside the status quo," Farrell says. "My work underlines the perseverance of the community and individual spirit." Now based in Manhattan, Farrell grew up surrounded by a family of painters in Upstate New York. The artist studied at The Cooper Union and is represented by Harper's Gallery in New York and Anat Ebgi in Los Angeles. Farrell most recently exhibited in a solo show "I Want to Thank You" at Harper's, as well as in previous shows at The Painting Center, Thierry Goldberg Gallery, and Prior Art Space.
Discover More from 20th Century & Contemporary Art >
---
Recommended Reading
A Glimpse at Two Rare, Early Andy Warhol Paintings >
Meet the Specialists of Phillips Los Angeles >