Keen to find out what the future holds for you? This season's INTERSECT online sale, running from 21- 28 September, features a tapestry of contemporary art, jewels, and watches. Shedding light on your past, present, and future, accentuate your collection with Tarot-inspired choices that resonate with you on the deepest level.

The Magician: The power of creation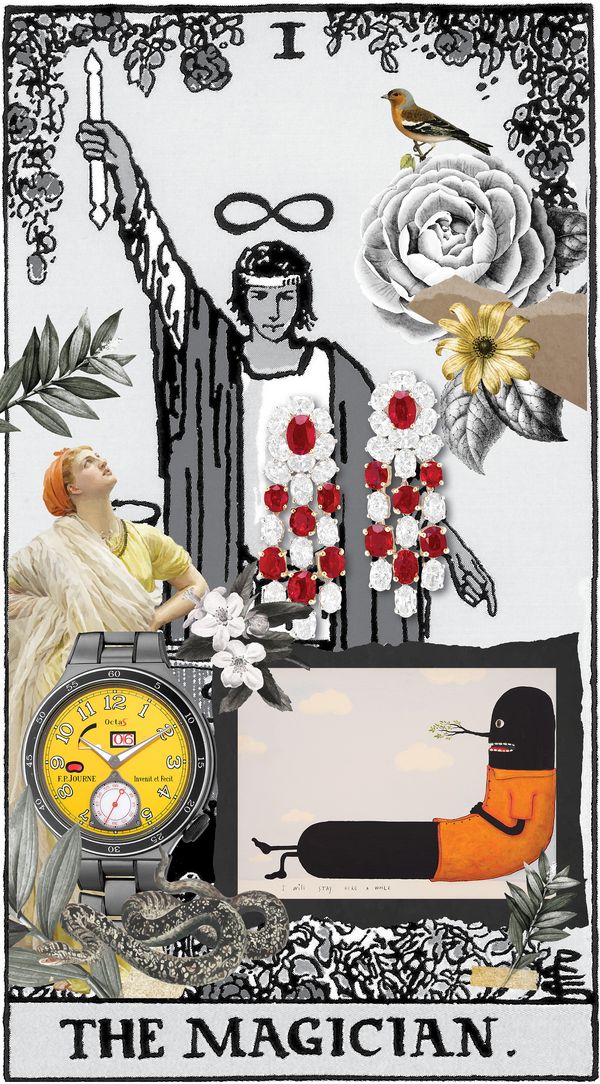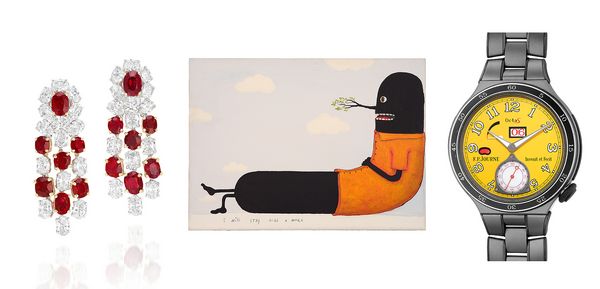 This Tarot card, adorned with gold-plated yellow, is associated with willpower, desire, and manifestation. A sign of positive things to come.
Known for his bold, dauntless, and mind-bending creations, Javier Calleja has amassed an enormous global following for hatching a swath of creatures, inborn with disproportionately wide eyes. I Will Stay Here A While is a perfect illustration of his style – brimming with whimsy, satire, and deep sentiment. A smaller-scale version of a street mural, this piece of urban art draws insight from the artist's past as it transports viewers back to his vibrant hometown in Málaga, Spain.
Resolutely radiating with zest, this bewitchingly beautiful Ruby and Diamond Pendant Earrings speak a burning obsession, with a dose of drama. Set with 9.09-carat oval rubies and 6.85-carat oval diamonds, it is enhanced with 18K white gold and gold, emanating timeless vibrancy.
Sporting in a resilient splash of racing yellow, the F.P. Journe, Octa Sports Automatique Réserve stands out with a statement. Featuring a 44mm diameter case made in titanium, it boasts sportiness with beating vibrancy. Inspired by an aficionado of the brand who is a professional sportsman, this is the ultimate watch born ready for action.
The Lovers: A magical card garnished with Red, Silver and Gold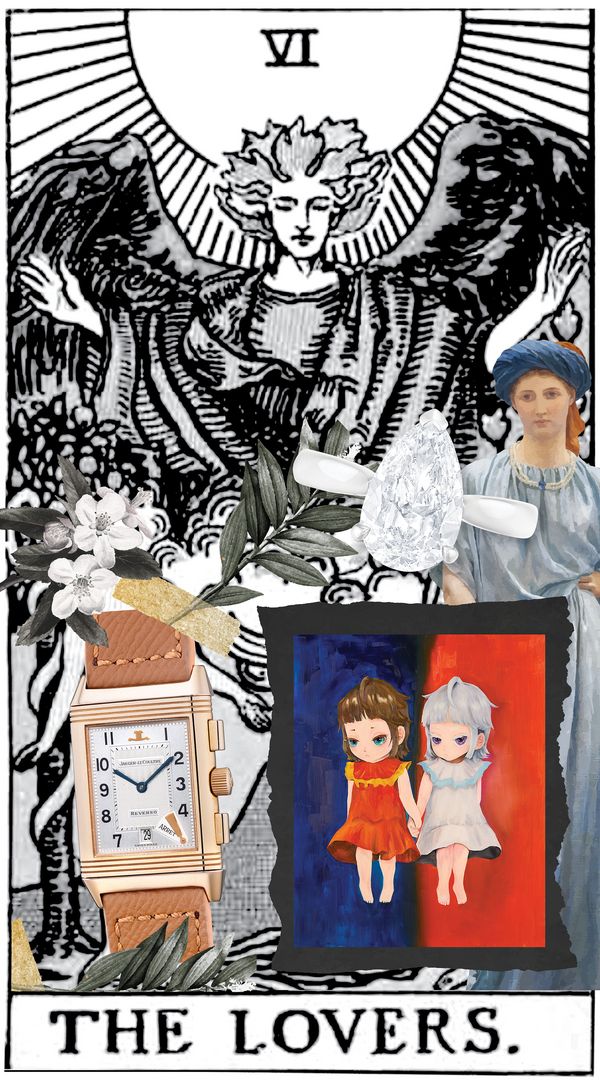 Romance, connection, and harmony. Two seemingly disparate elements are brought together to create a union of beauty.
"Everyone has two sides." In the work Reflection, one can find Jade Kim's signature icon "MIN" , a cartoon character inspired by his beloved wife and romanticised by figments of his immaculate imagination. Staring into thin air, MIN's desolate eyes invariably delineate an attitude toward the world, imbued with a sense of withdrawal and indifference.
Each diamond ring has its own divine story to tell. Set with a 3.01-carat pear-shaped diamond atop an 18K-white-gold ring, this timeless piece offered in INTERSECT captures the aura of sheer elegance. A perfect complement to an elegant evening outfit, it radiates an enduring style that can be enjoyed for generations to come.
Much coveted by both male and female collectors, Jaeger-LeCoultre, Reverso Chronographe Retrograde in pink gold is an exquisite treasure of Jaeger-LeCoultre's limited series. Beyond the two-handed time display and a date window at 6 o'clock lies a semi-skeletonised dial dedicated to the chronograph, upon reversal of the case. A true collector's piece, symbolising a constant quest for technical ingenuity.

The Star: Hope, renewed power, and strength to carry on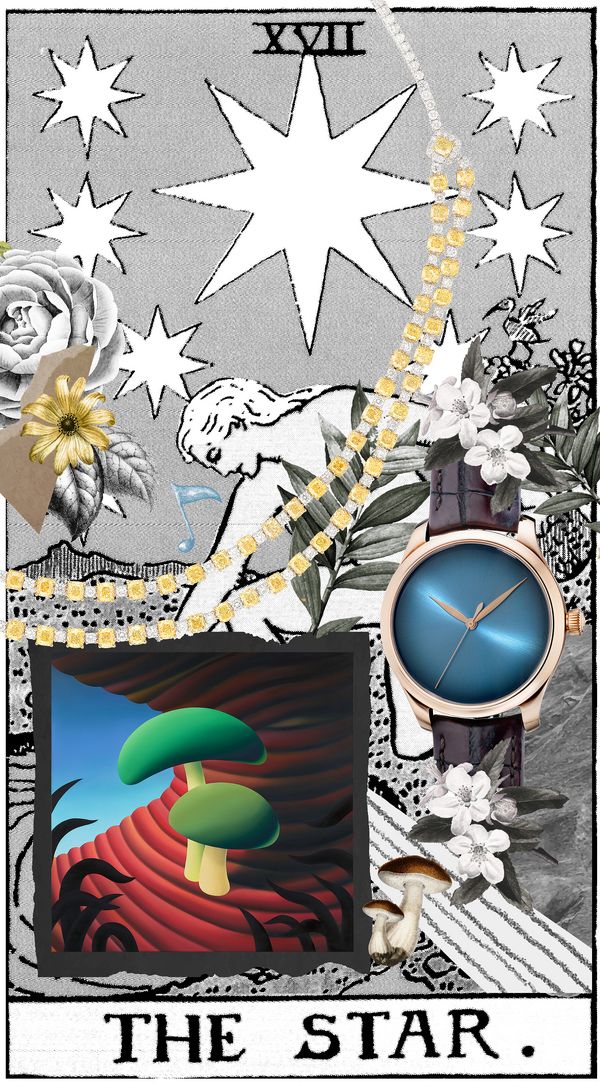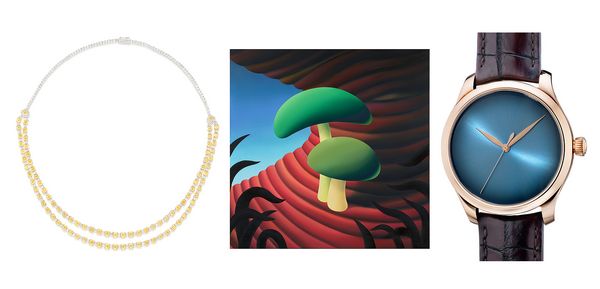 Spirituality in life and peace in natural surroundings. The sign of a calm, hopeful phase to come.
Steeped in mystique, serenity and optimism, A Pair of Mushrooms transports viewers back into the childhood realm, where lies a space rich in dreams, adventure, and fantasy. Almost disguised as an artificial rendering, this work is in reality an oil painting, meticulously achieved by applying very thin layers of carefully-mixed pigment, resulting in an impeccable smoothness of gradients. The video-screen effect activates a game of contrasts between the real and the fictitious, and the familiar and the unknown.
Echoing a majestic line-up of celestial bodies in the sky, this necklace features brilliant-cut 6.33-carat diamonds accented by cushion-shaped yellow tint diamonds totalling 23.97 carats, exquisitely set on an 18K white gold and gold necklace. A modern testament to the beauty of balance, it evokes the hopeful twinkle of what tomorrow may bring.
Capturing the vastness of the cosmos, this is a timepiece adorned with ethereal beauty. Highly revered for their refinement and contemporary elegance, H. Moser & Cie has created some of the rarest and most innovative timepiece designs today. This 18K pink gold Endeavour Centre Seconds features a "Funky Blue" fumé dial, unusually free from markers – it is only presented with a three-handed time display.
The Moon: A metaphysical card, in shades of Blue and Black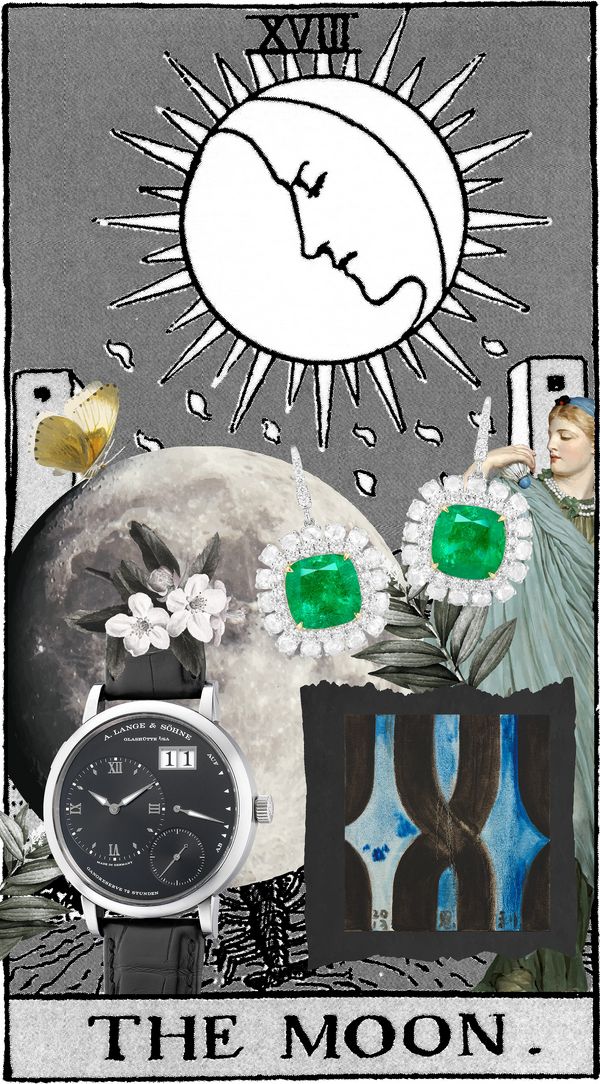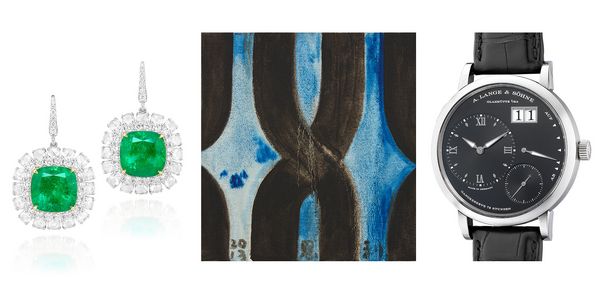 Silence, sentiments, and magnetism. Despite absolute darkness, the Light lies therein.
Shanghai-based artist Zhang Enli's often magnifies his subjects to fixate one's gaze on a specific fragment of a scene, as if enlarged through the viewfinder of a camera, like what we see in The Backlighting (ZEL_6632). Objects and abstracted motifs are ridded of obvious personality traits, opening up possibilities that transcend the confinement of space and time, penetrating into the essence of perception and experience.
A delight to wear, this pair of emerald and diamond earrings echoes the colour of celestial auroras. Each piece is adorned with a cushion-shaped emerald, at 9.36 carats and 10.29 carats respectively, enhanced with a plethora of 8.37-carat brilliant-cut and rose-cut diamonds.
One of A. Lange & Söhne's most coveted models, the Lange 1 has been revered for its classical Saxon watchmaking with a distinct modern twang, as the asymmetric dial design embodies the perfect proportions of the golden triangle that is celebrated among collectors. The stolidly Germanic, dark, and handsome timepiece offers an opulent touch to your day-to-night look.
Discover More from INTERSECT : Online Sale>
---
Recommended Reading
Specialist Spotlight: Takako Nagasawa >
First Person: Karena Lam on Art, Acting and the Women Who Inspire Her >