Try as we might to make the world smaller and connections instant, 9am in New York is still 10pm in Tokyo, and while we're firing up our laptops on Park Avenue, Takako Nagasawa is well ahead of us across the globe. As an International Specialist, Takako is based in New York and acts as the bridge between the American, European, and Asian markets, contributing greatly to the growing calendar of sales and partnerships in the region. All of which to say that when we ask about her local time, she knows already that it's the start of the business day in the US, because, of course, she's expecting a few client emails from New York shortly. We caught up with Takako during a quick break in her schedule to talk about the view from Tokyo and how the region is becoming a truly global hotspot for art.
PHILLIPS: Tell us a bit about recent developments in the market and overall contemporary art scene at the moment.
TAKAKO NAGASAWA: Naturally there's a lot of localized nuance for collectors and artists, but overall, the market is looking quite strong right now. We're seeing many works sell for well above estimate – by artists who aren't entirely familiar names in places like the US or UK – and more interest both within the region and from international buyers for art from the area. I'm getting calls from New York about works in Tokyo or Seoul and it's great to see relationships form in both directions. Especially considering how we're slowly coming out of the Covid landscape with lockdowns and quarantines still common, travel to the area isn't as frequent as it used to be, but interest from abroad is adding to what is already thriving here.
P: Are you seeing any trends in contemporary art in the region?
TN: It's interesting to see how much influence younger collectors are bringing to the table. Traditionally collectors skew a bit older, a bit more interested in well-established names or recognizable works, but we're seeing younger buyers who may have seen an exhibition abroad or follow artists through social media or even communicate with them directly and seek out their works at auction. It's easier for them to jump into the larger contemporary field because of just how connected they are in all sorts of ways. So now we've got this usual group, which is still a significant portion of the market, and also this new group that expands the scope of the artists coming to market and, in turn, the ways we bring those works to clients.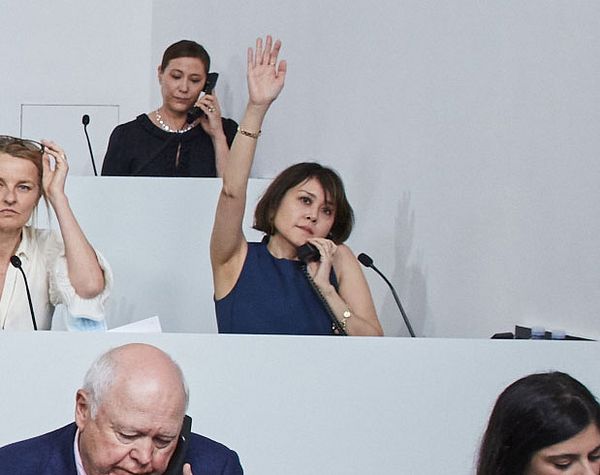 P: How are auctions engaging with these new factors?
TN: Everything is about speed and mobility. For a while you weren't able to tell the difference between a Hong Kong sale and a London or New York sale. Everything was very uniform in setup and the artists at auction; now there is much more local flavor throughout the region […] things like selling exhibitions, pop-ups – like we're doing in Korea with The New Romantics in partnership with The Artist Room – show that there's an appetite for art at the speed of daily life. It allows for the full range from white glove auctions to online sales and new artist exhibitions. This also includes partnering with galleries and initiatives that characterize their cities or countries in unique ways.
P: Following a string of strong sales for Phillips, what do you envision for continued success?
TN: What stands out for me is how versatile we're being in the sense of investing across the region for speed, like I was saying. We have a small group of specialists who are able to move quickly and get directly involved with clients and set up relationships as brokers and experts. There are many smaller shows where we're able to have a presence because of that, and as we see these artists become bigger players in the market, we already have that foundation with buyers, representatives, and galleries. That, to me, is the key to being innovative. When I hear about a new exhibition or a buzzy artist – and it can be hard to keep track of all of them! – I know that they're contributing to that wider scope; that both traditional collectors and younger, less conventional buyers are making up the regional scene and clearly getting attention from abroad as well, so what was previously considered a smaller market is very quickly becoming its own pillar on the global scale.
Discover More from 20th Century & Contemporary Art >
---
Recommended Reading
Their Asia Debut: 5 Artists to Watch in the Hong Kong Sales >