Marking Tiffany & Co.'s 150th anniversary in London, Vision & Virtuosity brings over 400 objects from the House's archives at the Saatchi Gallery, London. Photo: © Tiffany & Co.
Written by Vivienne Becker
So immersed was I in writing the catalogue for the Tiffany exhibition Vision and Virtuosity (at the Saatchi Gallery, London, until August 19th), so focused on research, content, and deadline (always deadlines) that it's only now, having seen the exhibition, that I truly understand its mission and message, the thematic sequence of exhibits, the unfolding story, the beckoning invitation into the World of Tiffany. I saw just how the exhibition and the finished catalogue present history in a totally modern way, mixing and melding the past with the present, bringing the sweeping saga of Tiffany & Co. to life, even more making it dynamic, engaging, relevant.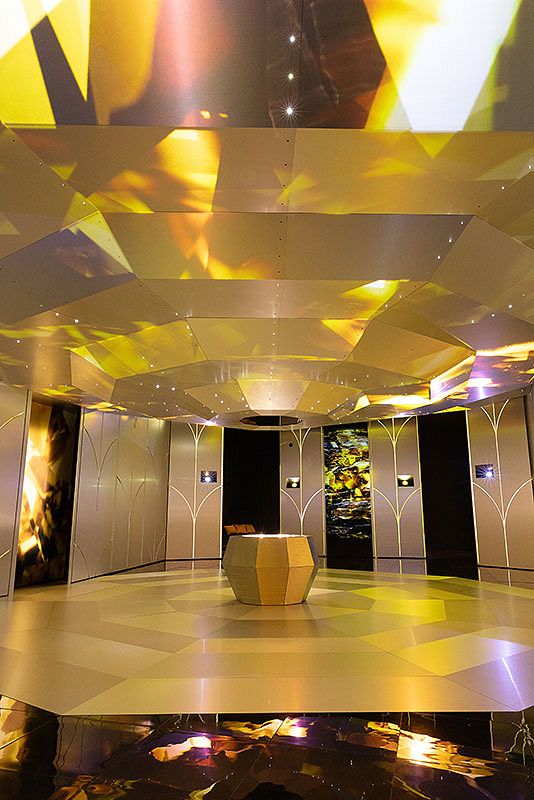 The dynamic displays in Vision & Virtuosity that capture the history, legacy and spirit of Tiffany that is ever vibrant, light-filled and modern. Photo: © Tiffany & Co.
The curator, Christopher Young, is Tiffany's Creative Director, Vice President for Global Creative Visual Merchandising, and now also in charge of the Tiffany Archive, which includes the company's collection of historic Tiffany jewels and objects. This exhibition is his vision, and he brings both areas of expertise together effortlessly, infusing history with emotive visual excitement. He makes history joyous and uplifting. I didn't know Christopher before I worked on the catalogue; as we Zoomed regularly last year to discuss it, I admit I didn't quite see the connections he was making between objects, or the seemingly random distribution of historical details and storytelling across the various rooms of the exhibition and chapters of the book. His approach was not chronological, non-linear, and resolutely non-academic. He saw the Tiffany story through the filter of modernity, through his skills of visual storytelling, and through the gaze of today's lifestyle.
Now, however, his vision and his own virtuosity become clear; a touch of unconventional Tiffany genius that has come from outside of academia or the museum community that is deeply respectful of history and heritage yet lives very firmly in the present with an anticipatory eye on the future. It's the challenge faced today by the great heritage jewelry houses of the world – how to renew and revitalize the history and legacy that give them credibility, status, and allure to inspire trust and confidence while staying current and relevant, capturing each new moment in time and appealing to each new generation.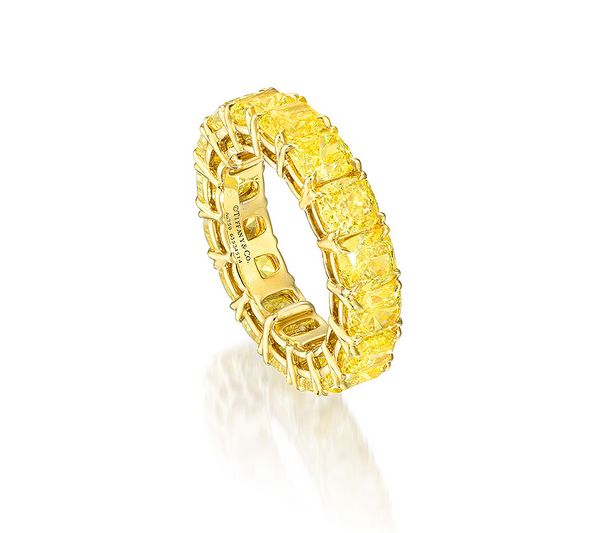 A Tiffany & Co. Colored Diamond Eternity Ring, with 11.72 carats of fancy vivid yellow diamonds, recently sold in the Jewels & Jadeite Hong Kong auction, June 2022.
LVMH, now the owners of Tiffany & Co, clearly have a keen eye on the future of this American brand – more of a national institution than a brand – with a very distinctive style of quintessentially American luxury, both aspirational and accessible. So that, with impeccable timing, Vision and Virtuosity both looks back and opens up a whole new chapter in Tiffany's 185-year history.
The exhibition opens, unexpectedly and thrillingly, with a parade of iconic Tiffany windows: the witty displays, made famous by Gene Moore, that remain so much part of Tiffany's charm. Inside the windows are some of the most famous Tiffany creations, starting with Schlumberger's Bird on a Rock, and including 19th and 20th century masterpieces, a Paulding Farnham dragonfly brooch, a Louis Comfort Tiffany necklace, Schlumberger's Thorns brooch, Elsa Peretti's scorpion necklace; all serving as an appetizer to the glorious fare of the exhibition. There was a subtext here, though: the windows, as I came to realize, were also very much part of Tiffany's all-American democratic essence offering passers-by, first on Union Square, later on Fifth Avenue, a kind of early street art experience, entertainment, diversion, escapism, at the same time luring them into another world. Just as here, in the exhibition, the recreation of window displays, including the 1957 "Jewels at the End of the Dock," by Jasper Johns and Robert Rauschenberg, invite visitors into the World of Tiffany, the next room in the exhibition.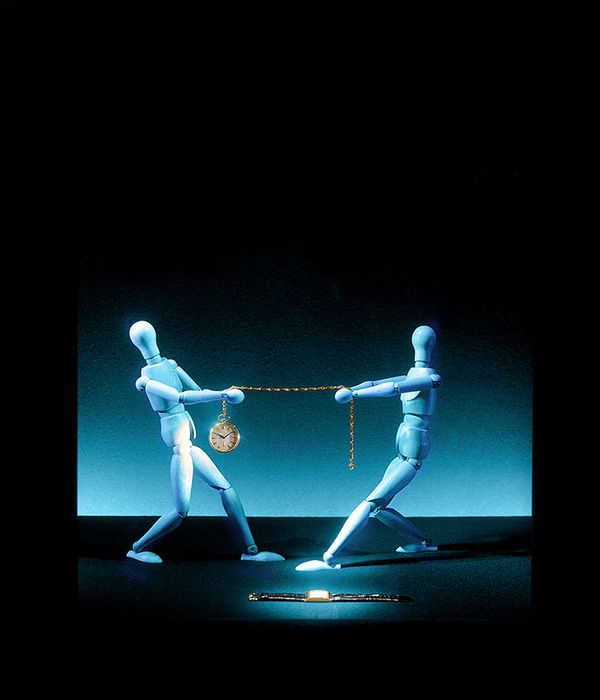 Featured in Vision & Virtuosity, a window display featuring two wooden jointed mannequins engaging in a "Tug of War" with a diamond necklace, designed by Tiffany & Co. window designer Gene Moore in 1967. Photo: © Tiffany & Co.
It's a world inhabited by some of the greatest 20th century designers, Schlumberger, Peretti, Paloma Picasso, whose lives, work, and European style are interwoven in this section with Tiffany's own very American story, through silver trophies celebrating milestones of Gilded Age New York, and paper documentation, order books, stock books, early blue boxes, and an account of the first day's takings in 1837.
The exhibition moves into Blue Book, showcasing 19th and 20th century jewels featured in the annual Blue Books that now present Tiffany's High Jewelry collections, but started as mail order catalogues. Louis Comfort Tiffany is represented by both art jewels and famous Tiffany lamps; there are masterworks by Angela Cummings, including a sublime gold feather necklace, and Paloma Picasso's strikingly bold, color-rich, color-block creations.

L-R: A Tiffany & Co. Art Deco Natural Pearl, Diamond and Platinum Necklace, circa 1925, sold in the Jewels New York auction, December 2021. A Schlumberger for Tiffany & Co. Pair of Natural Pearl, Diamond, Gold and Platinum Earclips, recently sold in the Jewels New York auction, June 2022.
Next, in a cinematic change of pace, the Tiffany Love room presents the celebrated engagement rings in various evolving designs, each set alone within a giant ring-shaped showcase. In this soft and glamorous interactive room, the ceiling is hung thickly with paper floral decorations, and the walls become screens on which messages can be written and sent out into the ether. Here I'll add one other revelation I gleaned from writing the catalogue: Charles Lewis Tiffany, who became known as the King of Diamonds, was one of the first to understand and harness the emotive power of light in a diamond. His revolutionary six-prong Tiffany setting, still a much-loved classic, lifted the diamond out of and above the usual metal setting to allow the light inside, and unleash the full hypnotic beauty of the stone.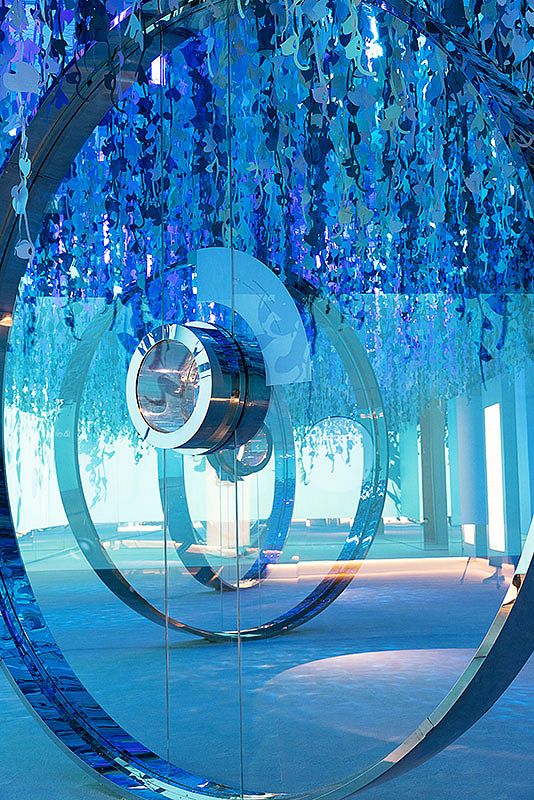 The Tiffany Love section of the Vision & Virtuosity exhibition featuring iconic Tiffany & Co. diamond engagement rings and an interactive display for handwritten love messages. Photo: © Tiffany & Co.
The Breakfast at Tiffany section highlights the role that Tiffany & Co. has played in popular culture, especially in film and literature. It's a thrill to see that little black dress, Truman Capote's typewriter, clicking away, and Hepburn's original script, with her annotations, all in a film-like setting that conjures the famous scene with a New York yellow cab and a recreation of the Fifth Avenue store frontage, where Holly Golightly stopped and stared so poignantly in the dawn light.
Film still from the iconic scene in Breakfast at Tiffany's, starring Audrey Hepburn. Photo: Audrey Hepburn® — Trademark and Likeness property of Sean Hepburn Ferrer and Luca Dotti — All Rights Reserved.
Lastly, thinking of light, the room focusing on Tiffany diamonds tells the story of C.L. Tiffany's genius in buying up diamonds from European nobility threatened by revolution. He was the biggest buyer at the historic auction of the French Crown Jewels in Paris in 1887, cementing his reputation as the King of Diamonds. This leads perfectly into the dramatic finale; the Tiffany Diamond, the immense and bewitchingly beautiful canary yellow diamond of 128.54 carats. It is an icon for the House of Tiffany, illuminating the company's illustrious heritage, embodying legacy, and at the same time ever young, ever vibrant, eternally light-filled and modern. The Tiffany Diamond encapsulates the spirit of this exhibition with its clever interweaving of past and present, innovation and tradition. For me, too, it sparkles mischievously with the message, the promise that for heritage brands, for museums and perhaps even for me, writing books, there is a new way to show and tell and share history.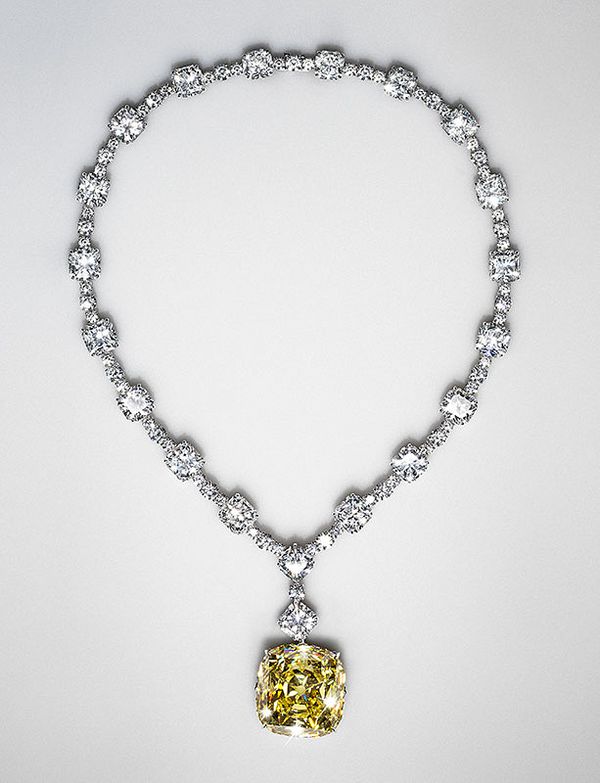 The 128.54-carat Tiffany Diamond mounted on a gold and platinum necklace set with over 100 carats of diamonds; 1879 (Tiffany Diamond); 2012 (necklace). Photo: Henry Leutwyler.
10 June - 19 August
Saatchi Gallery
Duke of York's HQ, King's Rd, London SW3 4RY
---
Recommended Reading
Under the Loupe: Benoît Repellin >