Wide Awakes, The Awakening Eye, installation view, Contemporary Art Museum St. Louis, March 12–August 15, 2021. Photo: Dusty Kessler.
In Phillips' Museum Focus series, we speak with directors and curators around America about the institutions they lead and what makes the cities they call home so unique. This week, we caught up with Lisa Melandri, Executive Director, Contemporary Art Museum St. Louis (CAM). the region's premier contemporary, non-collecting art institution. Since joining CAM in 2012, Lisa has brought both emerging and established artists from around the globe to St. Louis, presenting art that is always stimulating, provocative, and relevant. During her tenure, CAM has shown a wide array of exhibitions every year, presented alongside public programs for all ages that provide access and insight to the work on view. Lisa has expanded the Museum's reach into the community through innovative arts education programs; learning and engagement initiatives are central to CAM's mission, providing opportunities for St. Louis Public School students and teachers, as well as offering art experiences to CAM's immediate neighbors. As curator, Lisa has organized such outstanding exhibitions as Salvatore Scarpitta: Racing Cars; Sanford Biggers; Amy Sherald; Christine Corday: RELATIVE POINTS; and Kathy Butterly: Out of one, many / Headscapes. Shortly after arriving in St. Louis, In 2013, Lisa made CAM free to all, removing barriers to experience and enjoy contemporary art.
PHILLIPS: Give us three words to describe your museum.
LISA MELANDRI: Nimble, dynamic, and salient.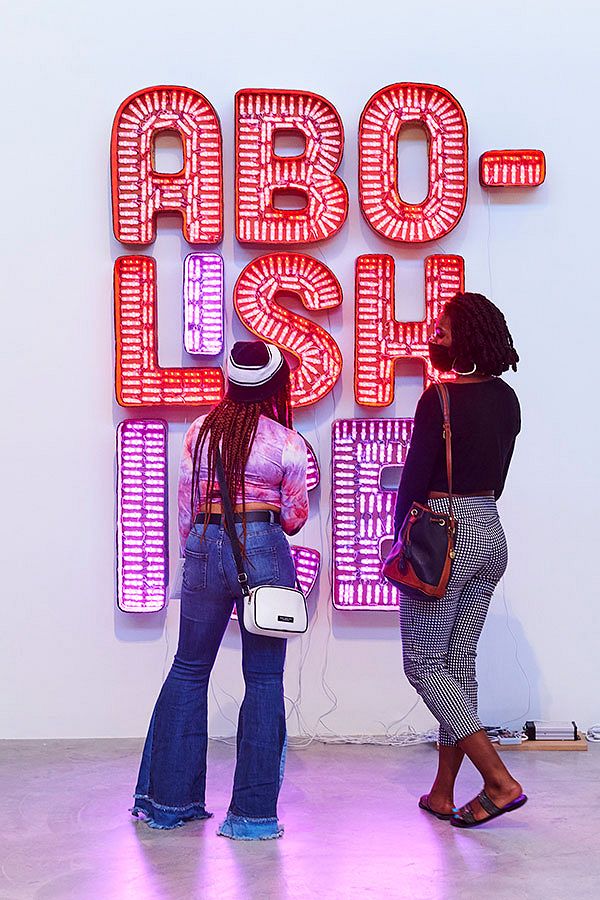 Photo: Will Driscoll.
P: Please tell us about a special exhibition or program taking place at your museum.
LM: Collective Impact was established in 2020 as a multi-year partnership between CAM and Creative Reaction Lab (CRXLAB). Collective Impact makes use of an Equity-Centered Community Design™ model to identify, develop, coordinate, and collaborate in artistic interventions that directly relate to the challenges faced in the Museum's immediate and shared neighborhoods. A rotating series of projects and public conversations with local residents and stakeholders take place over the year, informing exhibitions and content in CAM's education galleries. Through the program to date, CAM has mounted three exhibitions inviting community input on topics ranging from voter rights, housing and health, to neighborhood safety.
In Fall 2021, Collective Impact evolved toward a community-centered public art project developed for and with the residents in the neighborhoods around CRXLAB and the Museum: Covenant Blu/Grand Center, Vandeventer, and The Ville. The "Collective" — a cohort of ten locally based artists, stakeholders, and members of the community — formed and examined their neighborhood landscape in search of a common agenda to inform the group's discussions and activities.
This year, the Collective chose the topic of "safety" and designed a call for proposals for artistic interventions that speak to what safety, or the lack of it, means. Of the proposed projects, Collective members selected "Creative Garden," a social practice art project by Juan William Chávez, artist and director of Northside Workshop, a nonprofit art space dedicated to addressing cultural and community issues in North Saint Louis. Chávez and collaborators will receive $10,000 for project supplies, documentation, and honoraria to work with a group of neighboring residents on a two-part, single-day workshop on July 30, 2022 that introduces and combines the creative process of art with gardening. Chávez and his partner Kiersten Torrez, a master gardener and the director of programming and sustainability at Northside Workshop, will first lead select participants on a tour of several North St. Louis gardens as studio research to see and experience lines, shapes, forms, and materials that one may find in a creative garden. CAM will host the second part of the workshop, where Chávez and Torrez will guide participants in four creative exercises focused on preparing, planting, repurposing, and playing (as a process), resulting in a personal garden. The Creative Garden Workshop aims to promote art and gardening as healthy tools for self-expression through environmental stewardship and community building. CAM and CRXLAB will maintain relationships with Chávez, Torres, and the participants over the course of the coming year to continue cultivating the outcomes of the workshop.
In addition to a $2,500 Phillips x AAMD Museums and Communities Grant, CAM was recently awarded a 2-year $50,000 PNC Arts Alive grant and $36,524 Institute of Museum and Library Services (IMLS) American Rescue Plan Grant to continue and grow the program in 2021 and 2022.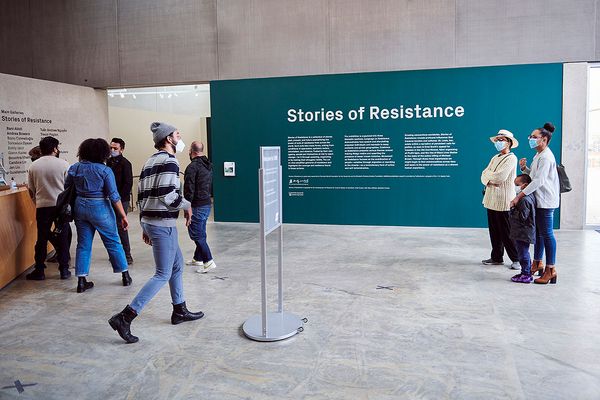 Photo: Will Driscoll.
P: What makes your city/region unique?
LM: The St. Louis region has a rich cultural tapestry built on the diverse, unique, and vibrant arts community. St. Louis values the arts as both a treasured community asset and a powerful tool for social change. St. Louisans love the arts and acknowledge the responsibility we have to leverage our abundant cultural resources to create a higher quality of life — not just for some, but for everyone.
For St. Louisans, accessibility to arts and culture is a priority. For example, the majority of the visual arts institutions, such as the Contemporary Art Museum St. Louis, the Saint Louis Art Museum and the Mildred Lane Kemper Museum at Washington University are free to the public, while other venues offer very affordable prices. Per capita, the richness of arts organizations in St. Louis provides extraordinary opportunities for residents and visitors to experience culture. The Grand Center Arts District alone, an area of four square blocks in which CAM resides, is the home of 60+ Arts and Cultural Organizations. As a result, more people attend and participate in the St. Louis arts than attend all St. Louis baseball, football, and hockey events combined.
CAM serves the community as the sole cultural institution in greater St. Louis focused exclusively on exhibiting contemporary art. A non-collecting museum, CAM has produced more than 265 exhibitions and brought the work of more than 650 artists from around the world to the city since the 2003 opening of its current location. Through gallery exhibitions, commissions on the 60-foot Project Wall, Street Views projections on the building's facade, outdoor installations, publications, and digital media, CAM serves as a platform for emerging artists, many of whom go on to critical acclaim. Our legacy of firsts includes debut solo museum exhibitions and major career surveys by Mel Chin, Nicole Eisenman, Derek Fordjour, Toyin Ojih Odutola, Amy Sherald, Lisa Yuskavage, and Shara Hughes, among others.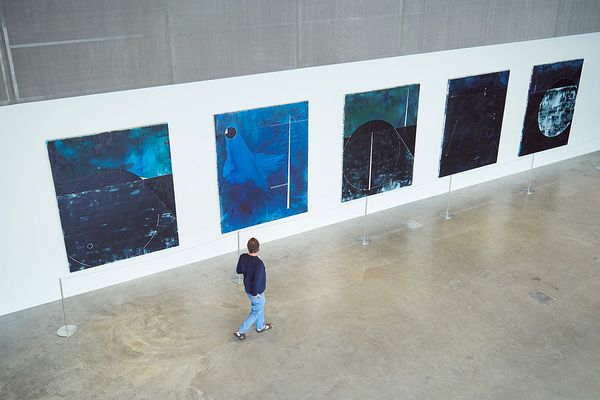 Photo: Will Discroll.
P: Any local artists to watch?
LM: The Great Rivers Biennial is a collaborative exhibition program presented by CAM and the Gateway Foundation. The initiative identifies talented emerging and mid-career artists working in the greater St. Louis metro area, provides them with financial assistance, and elevates their profile across the Midwest and national art communities. A panel of distinguished jurors representing leaders from the field of contemporary art, reviews all submissions, visit artists' studios, and select three winning artists who receive $20,000 each to mount a solo exhibition at CAM. In the autumn of 2022, CAM will present the tenth Great Rivers Biennial exhibition featuring new works by St. Louis artists Yowshien Kuo, Yvonne Osei, and Jon Young. The exhibition will be on view from September 9, 2022 through February 12, 2023. The Great Rivers Biennial Awardees are among talented emerging and mid-career artists to watch in St. Louis.
P: Any music or performance engagements in your area we should know about that are taking place in the coming months?
LM: St. Louis offers an abundance of performing arts activities year-round. CAM often partners with local performing arts organizations to bring live performances to the galleries in conjunction with the exhibitions on view. This autumn, performance organizations to watch include the St. Louis Symphony Orchestra, Jazz St. Louis, Repertory Theater, The Black Rep, St. Louis Opera Theater, and The Sheldon Concert Hall and Art Galleries.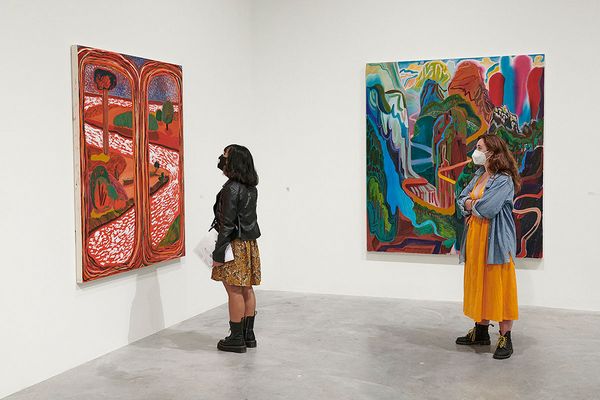 Photo: Will Driscoll.
P: Where should we grab a drink or a bite when we are visiting?
LM: Every Friday, CAM is open until 8pm. It is a great place to grab a drink in the café and view the current exhibitions. Additionally, the first Friday of every month, enjoy an evening of art, music, and culture in the Grand Center Arts District. At CAM, stop in for an exhibition tour, explore your creative side with special programming, and enjoy a drink at the bar. Arts organizations throughout Grand Center are free and open the entire evening. For a complete list of participating institutions, visit First Fridays in Grand Center. Beyond CAM, St. Louis offers a feast of culinary destinations including:
Sophie's Artist Lounge is within blocks of CAM. Its amazing bar program and gallery is an excellent setting to enjoy a cocktail.
Commonwealth Restaurant, located in the first floor of the Angad Hotel also features a menu of modern european cuisine conceptualized by executive chef and beverage director Matthew Birkenmeier, plus the restaurant's team: executive chef Scottie Corrigan, sous chef Sierra Eaves and bar manager James Cassidy
Turn by David Kirkland is owned/operated by award-winning local chef David Kirkland. Turn is located blocks away from CAM within .ZACK, the Kranzberg Arts Foundation's 40,000-square foot multi-use arts facility developed in the historic Cadillac building at 3224 Locust Street. And we have a plethora of culinary delights within the city. Each chef and restaurant below has been recognized as James Beard Award semifinalists: Chef Ben Poremba (Elaia, Olio, Nixta, and The Benevolent King). Chef Michael Gallina (Vicia), Chef Craig Rivard (Little Fox), and Chef Ben Welch (Botanica). Just beyond the city limits, you can also find amazing culinary experiences at Chef Bernie Lee's Akar (another James Beard Award semifinalist), and Chef Chris Kelling and Chef Adam Altnether at Elmwood. Additionally, St. Louis features several great food halls including City Foundry STL and Urban Eats.
P: Any other not-to-be-missed activities in your area?
LM: Join us for the opening of CAM's fall/winter exhibitions on Friday, September 9th. This event is free, no registration or tickets are required. Doors open at 6pm. The season's exhibitions include:
The Tenth Great Rivers Biennial 2022
We didn't ask permission, we just did it…Guest Curated by Manuela Paz and Christopher Rivera of Embajada
Elsewhere in St. Louis, there's plenty to check out:
Kehinde Wiley "Rumors of War" Sculpture
Luminary Counterpublic 2023 exhibition
Music at the Intersection 9/10 - 9/12
Kemper Museum @ Washington University
The Contemporary Art Museum St. Louis creates meaningful engagement with the most relevant and innovative art being made today. Founded by civic and cultural leaders in 1980, the Museum transformed from a small gallery into an internationally-recognized arts institution, now permanently housed in a flexible, open, and inviting building designed by renowned American architect Brad Cloepfil. CAM's distinct architecture reflects the organization's values and supports a dynamic range of exhibitions, public programs, educational initiatives, and community collaborations. The only museum in the region solely dedicated to contemporary art, CAM is one of the preeminent non-collecting institutions of its kind in the United States. We are a site for discovery, a welcoming space, free, and open to all.

Discover More from 20th Century & Contemproary Art >
---
Recommended Reading
The Art Lover's Guide to Seattle >