When Silvia Coxe Waltner, our Northwest Regional Director, moved to Seattle in 2002, she was unaware of the city's cultural richness. Through joining the fundraising group Seattle Art Museum Supporters, Coxe Waltner became familiar with the city's private collections, which, she tells us, rank among the best in the nation. But, she reminds us, "it is not just in private collections that one sees amazing art in this city."
Art is embedded in Seattle through the incredible architecture and sculptures that punctuate the cityscape. From The Olympic Sculpture Park to Ginny Ruffner's mechanical flower pot, the area boasts a wide array of inspiring, joyful artworks, ready for art lovers (and those who happen upon the installations by chance). And for anyone concerned about a certain metereological impediment, Coxe Waltner adds, "although Seattle is famous for rainy weather, there is plenty to see en plein air."

1. The Olympic Sculpture Park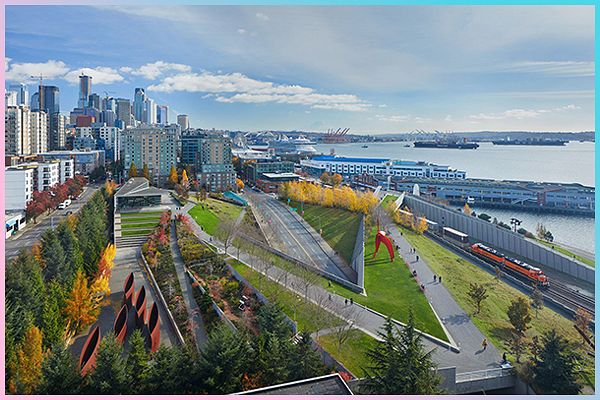 © 2019 Benjamin Benschneider. All Rights Reserved.
When talking about public sculpture in Seattle once must start at The Olympic Sculpture Park, part of the Seattle Art Museum. This vast park is free and open to the public all year round, overlooking the Puget Sound, the visitor walks among works by Calder, Plensa, Louise Bourgeois, Tony Smith and Richard Serra amongst others.
2. South Lake Union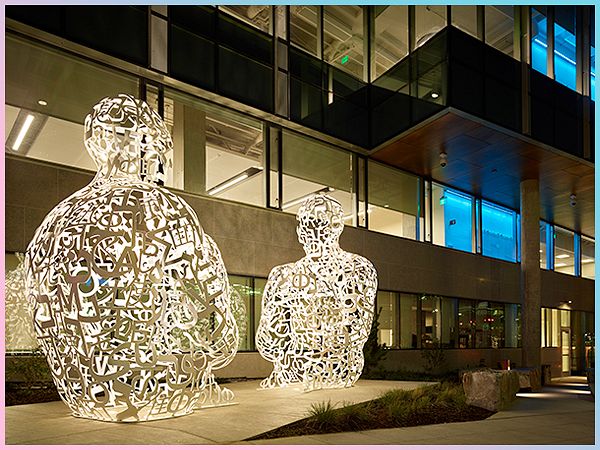 Jaume Plensa, Mirall, 2015. Stainless steel with white enamel finish. Allen Family Collection. Photo Credit: Benjamin Benschneider, Courtesy Vulcan Real Estate.
The area of South Lake Union has been revitalized and developed to host many of the country's largest tech companies such as Google, Facebook, Microsoft and Amazon. The gorgeous Mirall sculpture by Jaume Plensa sits outside the Paul Allen Brain Institute. It is part of the growing number of works that Vulcan has sited throughout South Lake Union. Vulcan Real Estate allocates 0.5% of construction costs towards public art for each major development.
3. The University of Washington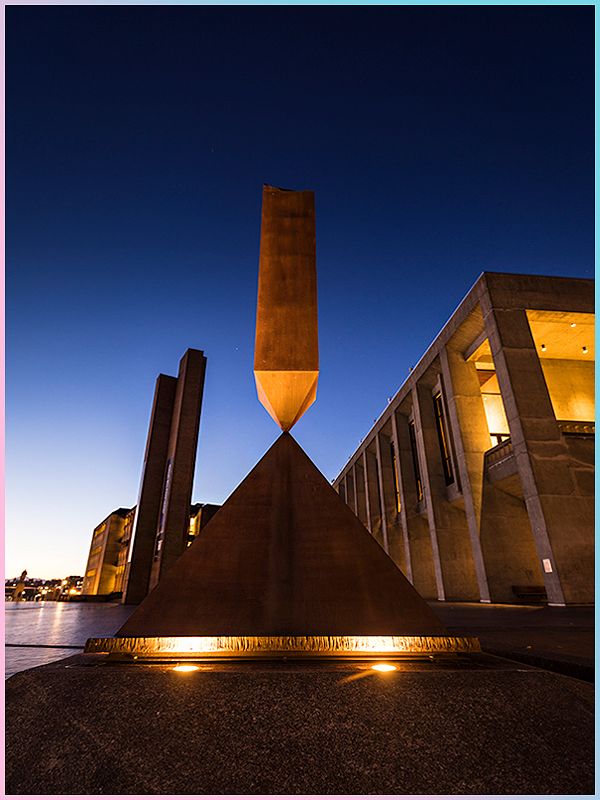 Barnett Newman, Broken Obelisk, 1971. Under the care of the Henry Art Gallery, the art museum of the University of Washington.
The University of Washington's Seattle campus is among the most beautiful in the nation. Its central square known as Red Square, is the setting for the great Barnett Newman's Broken Obelisk. Art Critic Robert Hughes has said: "Broken Obelisk is Newman's meditation on ancient Egypt: a steel pyramid from whose apex an inverted obelisk rises like a beam of light." This is one of my favorite spots in town; the tension from the seemingly precarious balance actually yields tremendous tranquility. The piece was gifted to the University of Washington by one of Seattle's greatest art patrons, Virginia and Bagley Wright.
4. Museum of Popular Culture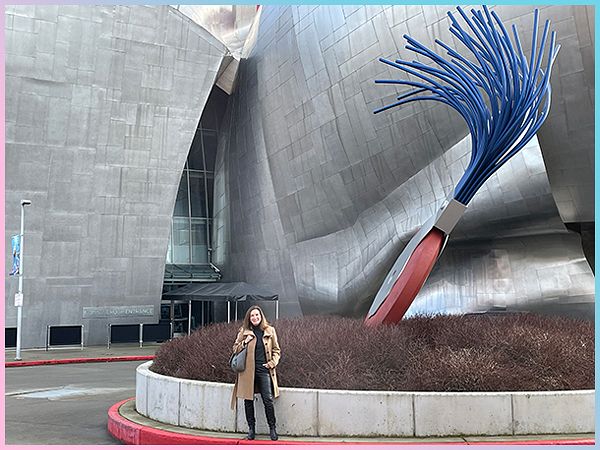 Silvia in front of Museum of Popular Culture (MoPOP), designed by Frank Gehry, and Claes Oldenburg, Eraser, on loan from the Allen Family Collection.
Museum of Popular Culture (MoPOP) features a collection of more than 100,000 contemporary and historical pop culture objects. The Claes Oldenburg work was proposed in 1975 but not actually sculpted until 1999. It is 19 ft, 4 in tall and made of stainless steel, fiberglass, and painted acrylic urethane.
5. The Urban Garden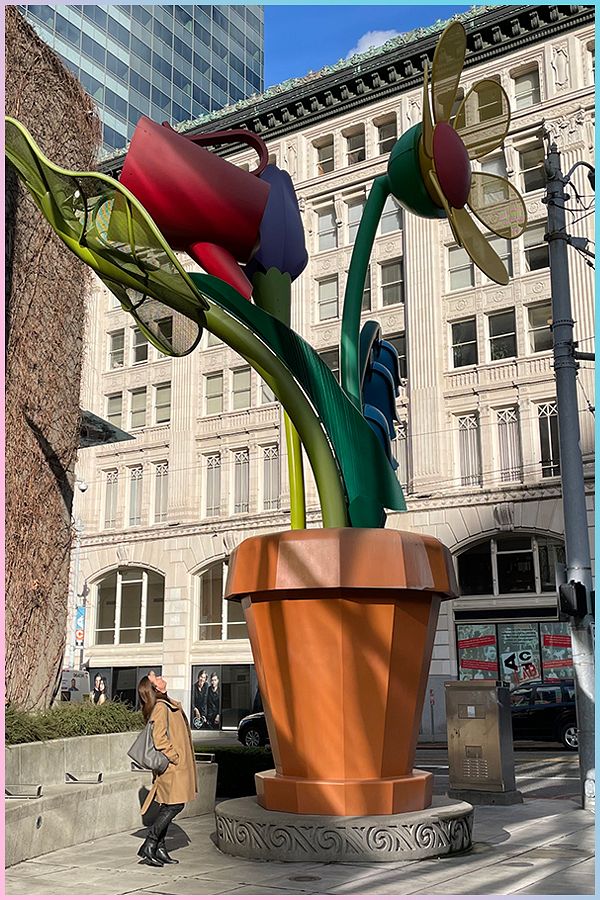 Silvia in front of Ginny Ruffner, The Urban Garden, 2011.
This very large and charming flower pot with several giant flowers has an internal mechanism that periodically waters the plants with a watering can and makes the blue flowers open and close. Ginny Ruffner is one of Seattle's most beloved artists, recipient of numerous national and international awards. Although she is known as a glass artist, she also works in metal and other media. I was lucky enough to visit her unique home where one can feel surrounded by her creative energy.
6. Seattle Public Library
Silvia in front of Seattle Public Library and George Tsutakawa sculpture Fountain of Wisdom
I love the architecture of the Seattle Public Library. It is just as spectacular when viewed form inside, a perfect blend of intricate lines and light filled spaces. The Tsutakawa sculpture is not large and yet its presence is not overshadowed by the massive building behind it. Like the building, lines, light, and the fountain's water intersect to create a lovely urban oasis for contemplation and pause. Tsutakawa is a native Seattle artist who influenced countless artists both here and in Japan. He was close to the talented artists who came to be known at The Northwest School, including Mark Tobey, Morris Graves, and Kenneth Callahan among others.
On the Map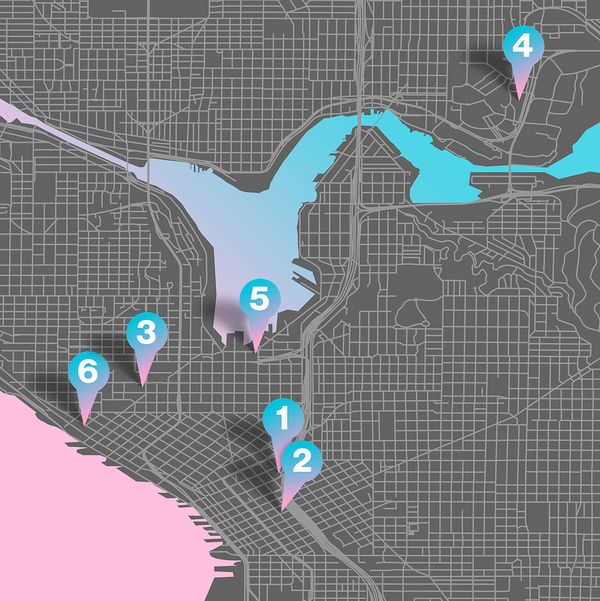 Contact
Silvia Coxe Waltner
Regional Director, Northwest
[email protected]
+1 206 604 6695

Recommended Reading
The Art Lover's Guide to Rio de Janeiro >
The Prompt: Victory by Michelle Tea >