Asheville Art Museum. Photo: Sterling E. Stevens.
In Phillips' Museum Focus series, we speak with directors and curators around America about the institutions they lead and what makes the cities they call home so unique. This week, we caught up with Pamela L. Myers, Executive Director of the Asheville Art Museum. Established by artists and incorporated in 1948, the Asheville Art Museum is committed to being a vital force in community and individual development and to providing lifelong opportunities for education and enrichment through the visual arts. The new Museum, opened in November 2019, serves as a cultural, educational, and architectural anchor in the center of downtown Asheville. The Museum's exhibitions and Collection of 7,500 objects explore 20th‐ and 21st‐century American art with works that illustrate American aesthetic and cultural development. The Collection also preserves the artistic traditions of the Southern Appalachian region, reflects the unique combination of cultures in Western North Carolina, and explores the mutual influence of Southern Appalachia on American art. The Asheville Art Museum annually presents 15 to 20 exceptional exhibitions and offers a wide variety of public programs for visitors of all ages.
PHILLIPS: Give us three words to describe your museum.
PAMELA MYERS: Modern, regional, and innovative.
P: tell us about a special exhibition or program taking place at your museum.
PM: Three exhibitions that we'd like to highlight today are the new installation of the Museum's Collection, Intersections in American Art, with themes such as time and place, experiments in material and form, and collaboration and interdisciplinary dialogue frame Intersections in American Art. These ideas are the cultural heritage, present, and future of the region and are explored in each gallery. Presenting regional contributions within the context of American art on the national scale, these themes help visitors organize and personalize their Museum experience as they move through the ten Collection galleries. Also American Perspectives: Stories from the American Folk Art Museum Collection, showcasing over 80 stellar works of folk and self-taught art from the 1700s to the present, and Border Cantos | Sonic Border, a unique collaboration between American photographer Richard Misrach and Mexican American sculptor and composer Guillermo Galindo that uses the power of art to explore and humanize the complex issues surrounding the Mexican-American border.
P: What makes your city unique?
PM: Explore Asheville is a great resource for your visit to Western North Carolina. Asheville is that type of unique, special place that stays in your mind for years to come. The city's rich and well preserved architectural legacy with its mix of Art Deco, Beaux Arts and Neoclassical styles is the perfect backdrop to the energy that emanates from the locally-owned shops and art galleries. The vibrant contemporary arts scene, with artists working in all media, inspires. The city also prides itself on its fascinating Appalachian past and celebrates this culture at the Asheville Art Museum and with annual events such as Shindig on the Green.
This thriving mountain city features a vibrant and eclectic downtown, locally-owned, unique, retail opportunities, live music and performing arts venues, and fabulous culinary, beer, and cocktail establishments to choose from. Of course, the awe‐inspiring scenery of the Appalachian Mountains and the French Broad River are not to be missed and a wide diversity of outdoor adventures that are available.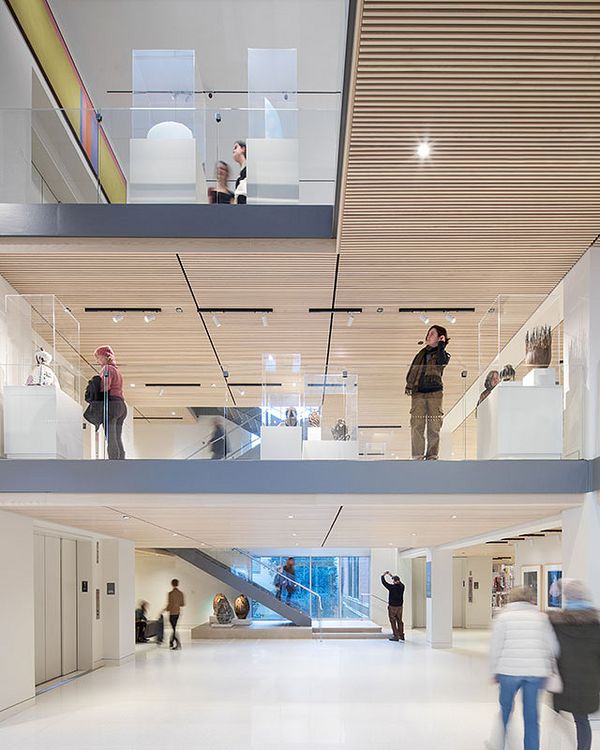 Asheville Art Museum interior. Photo: Sterling E. Stevens.
P: Any local artists to watch?
PM: A few of the many contemporary local or regional artists with artworks in the Asheville Art Museum's collection are Akira Satake, Liz Williams, Alex Matisse, and Kevin Hogan. Also not to be missed are Joshua Adams, Mark Peiser, Alex Bernstein, Richard Ritter, Matt Jones, Tara McCoy, Betty Clark, Shan Goshorn, Cristina Cordoba, and Margaret Curtis. There are many more regional and nationally known artists from the turn of the century to the present on view in the Museum. Additionally, Mel Chin, Joseph Pearson and Jenny Pickens and many other artists call the Asheville area home.
P: Any musical or performance engagements in your area we should know about that are taking place in the coming months?
PM: The Big Crafty is Asheville's celebration of all things community and craft and one of the city's most endearing annual events, and when it comes to concerts, Rabbit Rabbit and The Orange Peel are go-tos. For performing arts, Wortham Center for the Performing Artshas something for all ages. In August the Asheville Symphony Orchestra will hold its summer concert at Pack Square Park, and throughout the summer and into the fall there are plenty of events happening between the Asheville Community Theatre, the NC Stage Company, and LEAF Global Arts.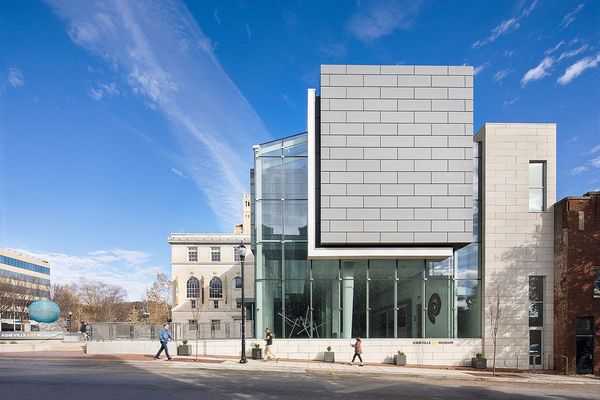 Asheville Art Museum. Photo: Sterling E. Stevens.
P: Where should we grab a drink or a bite when we are visiting?
PM: Perspective Café is the Museum's rooftop café which serves locally sourced food and beverages with expansive views of the mountains and sculpture terrace. Nearby, we also recommend Cúrate and La Bodega by Cúrate, White Duck Taco, Posana Restaurant, French Broad Chocolate Lounge, Rhubarb, Chai Pani, Buxton Hall BBQ, The Blackbird, Sovereign Remedies, and Table Restaurant. There are many more to choose from- but make a reservation.
P: Any other not‐to‐be‐missed activities in your area?
PM: In addition to the Museum, within walking distance visitors will discover a wide assortment of galleries, cultural and arts centers, performing arts venues, creative spaces, local makers, and more. Examples include the Center for Craft, Black Mountain College Museum + Arts Center, popular galleries such as Blue Spiral 1, Bender Gallery, and Momentum, and local makers like East Fork Pottery. We also recommend visiting the River Arts District to visit artist studios and enjoy your choices for food, beer, cocktails and more. And, of course, there is the Biltmore Estate and the Blue Ridge Parkway.

Discover More from 20th Century & Contemproary Art >
---
Recommended Reading
The Art Lover's Guide to Seattle >