A Rare and Exceptional Pair of 4.03 and 4.04 carat Burmese "Pigeon's blood" Ruby and Diamond Earrings
Estimate: HK$15,000,000 - 18,000,000. Lot 623, Jewels and Jadeite
It is extremely rare to find a matched pair of natural 'pigeon's blood' rubies of such an exquisite example. Both rubies, weighing 4.04 and 4.03 carats respectively, have been characterized by an outstanding purity and an attractive saturated red colour, a combination seldom encountered in Burmese rubies of this size. The inherent beauty of the rubies is enhanced and highlighted in this classic diamond surround setting. —Charlene Lau, Head of Jewels, Hong Kong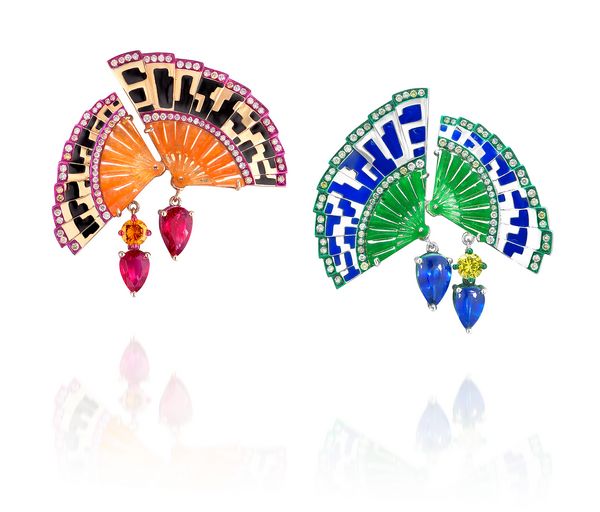 Austy Lee, A Pair of Jadeite, Gem-Set, Coloured Enamel and Coloured Diamond 'Akomegi Dansu' Earrings Estimate: HK$80,000 – 120,000. Lot 567, Jewels and Jadeite
Austy Lee's oeuvre comprises bold and beautiful jewels, inspired with a cultural twist. Paying homage to his Asian heritage, Austy's Akomeogi earrings were inspired by his fascination with the reverence of jade in Asian cultures.
This unique pair of earrings are inspired by the traditional Asian Fan Dance, encapsulating the movement of a folding fan held by the dancer while performing. The mismatched use of both green and orange jadeite as a contrasting pair of earrings highlights his use of a rich palette and sculptural forms, creating a contemporary design from traditional materials such as jadeite.— Dominique Lau, Cataloguer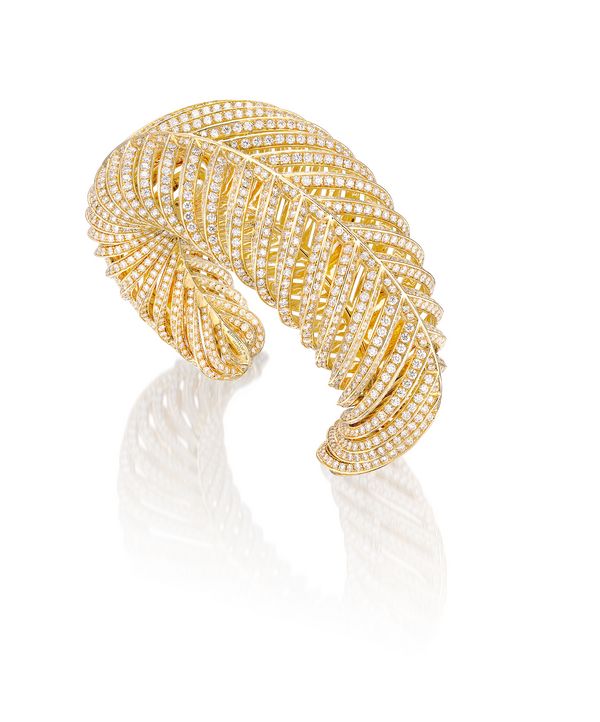 Tiffany & Co., A Diamond Bangle
Estimate: HK$480,000 – 650,000. Lot 599, Jewels and Jadeite
This beautifully crafted three-dimensional diamond bangle by Tiffany & Co. is one of my favourite pieces this season. With its unique design of diagonally arranged multiple diamond lining, the bangle creates such a contemporary and dynamic look. This is such a statement piece and for any occasion. It will pair well with both an elegant outfit and a pair of jeans and a simple top. The bangle is a must-have piece in any jewellery collector's collection! — Tomoko Mizutani, Specialist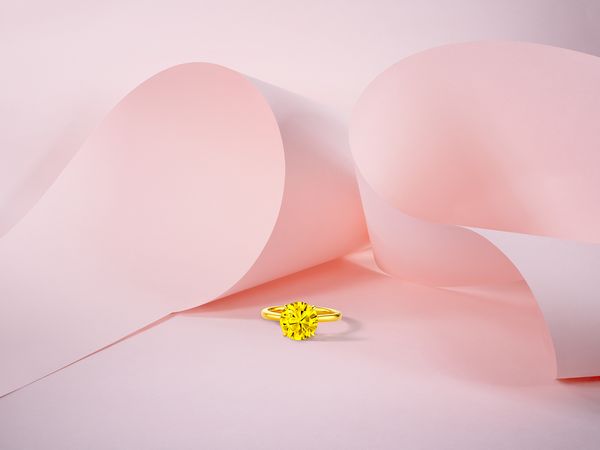 A 3.01 carat Round Brilliant Fancy Vivid Yellow Diamond Ring
Estimate: HK$1,100,000 – 2,200,000. Lot 600,Jewels and Jadeite
The round brilliant-cut is one of the rarest shapes for coloured diamonds, as they are usually fashioned to best maximize the weight of the often irregular-shaped rough. Due to the high levels of wastage when fashioning the rough, it is extremely uncommon to see a significant coloured diamond cut in this way, whilst still showcasing the highest strength of colour.
This 3.01 carat Fancy Vivid Yellow diamond is set in a minimalist yellow gold mounting, allowing the rarity of this beautiful diamond to speak for itself. — Cristel Tan, International Specialist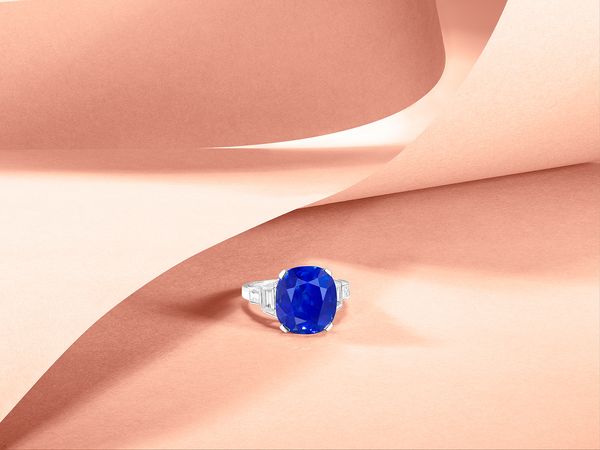 Bulgari, An Elegant Sapphire and Diamond Ring, Circa 1934
Estimate: HK$5,600,000 - 6,600,000. Lot 604, Jewels and Jadeite
Sapphires from Kashmir are the most sought-after. Discovered around 1879, in the Himalayas region, the blue gems generated interest and by 1882, the maharajah sent his regiment to take control of the mines. The stones were extracted for just a decade and then the mines were depleted. It is the particular appearance, the velvety blue, result of fine silk-like inclusions, and the scarcity that make these sapphires so special. Having a sapphire from Kashmir over 10 carats, weighing actually 11.42 carats, is already a true discovery. But moreover, the stone with a very attractive and lively hue was mounted by Bulgari in 1934 in a very classic and simple Art Deco design with diamonds on the side. This, this ring would appeal to both gem and jewellery collectors. Benoît Repellin, Head of Jewels, Europe
---

Recommended Reading:
Roll Out the Red Carpet: Rubies for All Occasions in the Hong Kong Sale