Peter Beard, Giraffes in mirage on the Taru desert, Kenya, June, 1960. Photographs London.
IN FOCUS: PETER BEARD (1938-2020) features 13 of Beard's embellished photographs that showcase his practice of merging photography and painting to breathtaking effect. Assembled by a European collector over a 15-year period, the collection ranges from the monumental Giraffes in mirage on the Taru desert, Kenya, June, to intimate and smaller scaled Polaroids. Beard's visual lexicon is informed by his deep interest in nature, literature, conservation and his unending fascination with feminine beauty, resulting in works that are uniquely his own.
In Giraffes in mirage on the Taru desert, Kenya, June (1960), Beard captures three giraffes as they promenade along the horizon line of the African desert. Their bodies are in silhouette against the landscape and are framed by his characteristic painterly embellishments. This image was taken during Beard's earlier years in Kenya and was initially published in The End of the Game: The Last Word from Paradise (1965). In Beard's distinctive handwriting is a quote borrowed from Karen Blixen, his close friend and the author of the best-selling novel Out of Africa (1937), which reads: "[…] the giraffe is so much a lady that one refrains from thinking of her legs, but remembers her as floating over the plains in long garb, draperies of morning mist her mirage."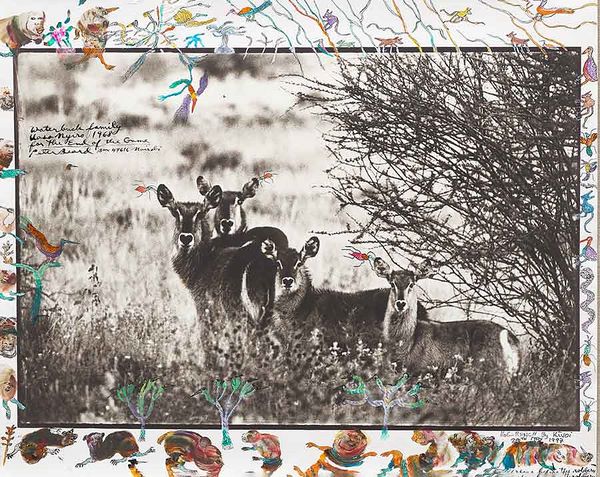 Peter Beard, Waterbuck Family, Uaso Nyiro for The End of the Game, 1968. Photographs London.
Beard photographs the Waterbucks as they stare intensely at his lens, a pose which is then echoed in the margin drawings by Kivoi, an artist-in-residence at Beard's Hog Ranch in Kenya. Indeed, many of Beard's most celebrated works include characters and scenes by various artists at the Hog Ranch, revealing the highly collaborative nature of his process.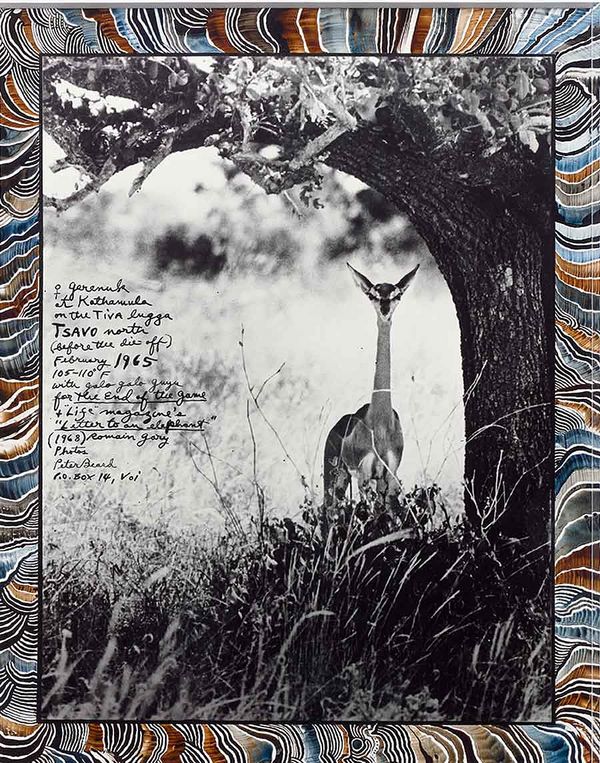 Peter Beard, Female Gerenuk on the Tiva, Tsavo North, near Kathamula (before the die-off) February, 1965. Photographs London.
Beard's photograph of the now-endangered gerenuk (also known as a giraffe gazelle) was taken in 1965 but, like much of his work, this print was executed later with an annotation referencing Romain Gary's "Letter to an Elephant" that was published in Time Magazine in 1967 (sic 1968). Much like Gary's text, Beard's work sought to bring the topic of conservation to the forefront by showing the interwoven destiny of man and his environment.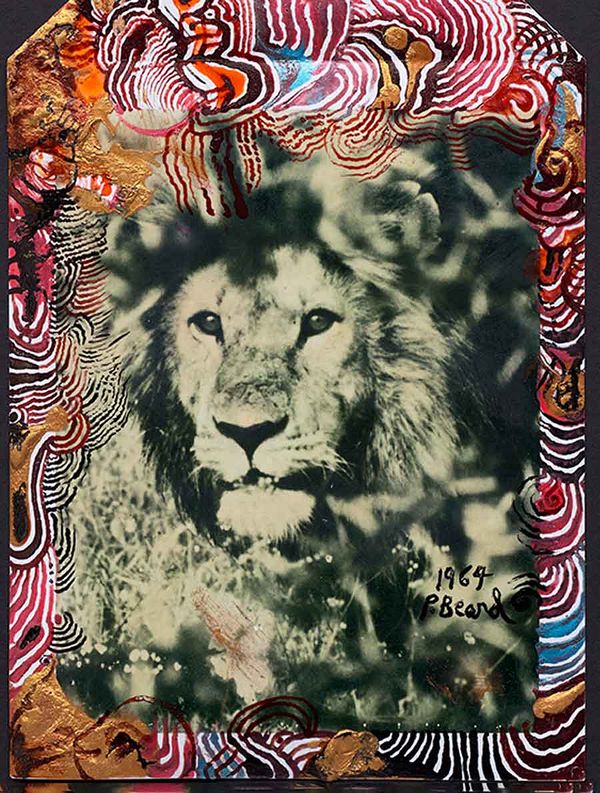 Beard's love for nature and willingness to get uncomfortably close to the wildlife is perfectly seen in this captivating Polaroid portrait of a lion with the hand-painted trim that frames the image much like a lion's mane frames its face.
Discover More from Photographs London >
Recommended Reading
A Rediscovered Treasure: Souvenirs du Camp de Chalons by Gustave Le Gray >