Rafael Pavarotti, R€I$, 2020. ULTIMATE: Photographs London.
Rafael Pavarotti
Auction Debut
Raised in a small village near the Amazon rainforest, Brazilian artist Rafael Pavarotti is profoundly influenced by his Afro-Indigenous identity and the juxtaposition of his upbringing with his nomadic trajectory into global metropolises and mass culture. Pavarotti's visual narrative incorporates these elements with the artist's personal engagement towards socio-political issues, taking cues from dominant forms of portrayal in media and redressing representative gaps. This is reflected in his fashion photography, which he uses to draw attention to these subjects. "As an Afro-Indigenous Brazilian photographer," Pavarotti notes, "my existence and work are already political."
R€I$, originally published as part of the story "In the Mood for Nobility" in Vogue Hommes, presents a striking close-up of a model in nobility-inspired fashion as a representation of ancestral origin, challenging the underrepresentation of black figures in both fashion and wider historical narratives. The title is formed by the Portuguese word for "king" and multi-national currency symbols, linking his birthplace to his recent locales and merging the cultures that have influenced his life and work. The soft focus and crisp white against the dark black and the dramatic pops of vibrant blue and red imbue the work with an otherworldly quality. Debuting at auction, Pavarotti has printed the image on offer in the largest size that will ever be released, exclusively for ULTIMATE.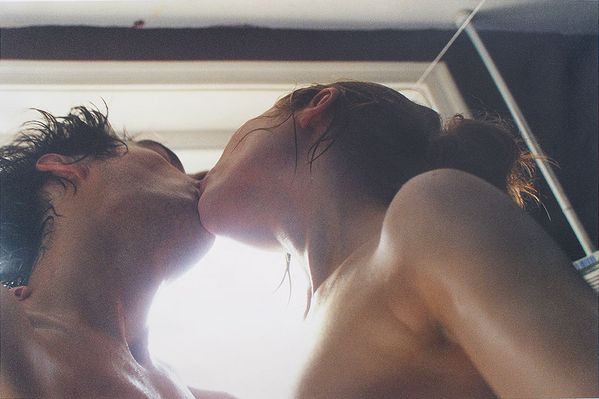 Lina Scheynius
Auction Debut
Swedish artist Lina Scheynius is known for her diaristic, unapologetically honest photographs, chronicling herself, lovers, and friends. Untitled (Diary) is from her earliest series, entitled Love, a photographic journey through her personal life. "This picture is part of the very foundation of my practice," she explains. "It's a portrait of me and my partner at the time. I was in my early 20s and was just starting to explore with a camera the topics that interested me the most: love, desire, the human body, relating."
Trained as a model before becoming a photographer, Scheynius' practice follows her visceral instinct for the precise moment of inspiration. She features her body as the subject of her visual and sensual explorations. For nearly 20 years, the artist has continuously recorded her intimate surroundings and questioned her place within them, centering the female gaze at the forefront of the narrative. Her work has been exhibited internationally – notably at the House of Photography, Hamburg; Foam, Amsterdam; and Photo Vogue Festival, Milan – and is appearing at auction for the first time.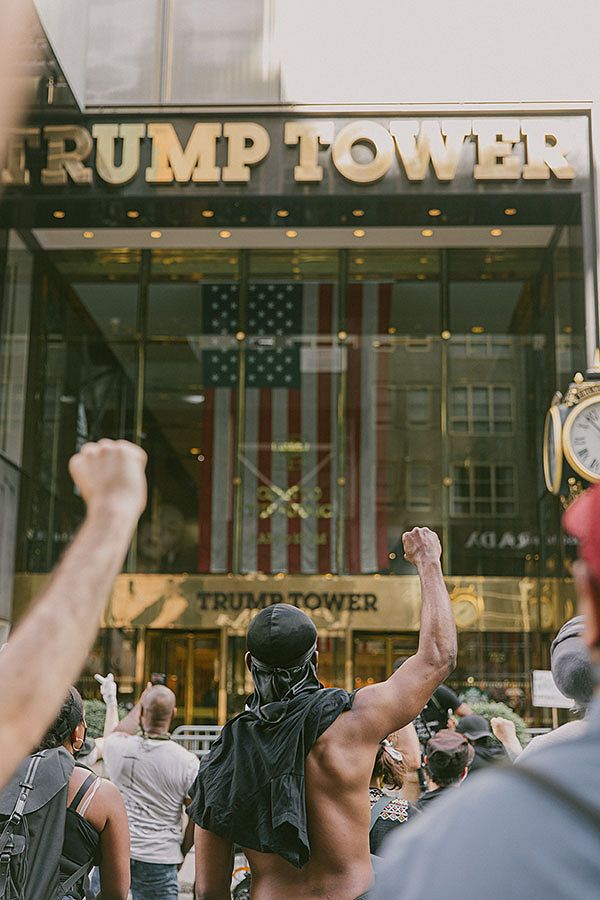 Mark Clennon
Auction Debut
On May 30, 2020, Mark Clennon set out to document a peaceful protest in midtown Manhattan. What he captured within Untitled (Today) instantly became an emblem of the socio-cultural moment, coinciding with a strong feeling of uncertainty and frustration after months of quarantine and the uprising against racial oppression worldwide. Clennon recalls how he "spotted a man […] I never saw the front of this man's face. I never spoke to him, [but] I snapped about 10 photos and the first one is the one I used. I kind of waited for him to raise his fist. I had a feeling he would."
This photograph of a man raising his fist and challenging institutional white power, here symbolized by the American flag protected behind the vainglorious Trump Tower facade, soon became an iconic depiction of the Black Lives Matter protest movement. The image went viral shortly after Clennon posted it, leading to engagement from viewers across the world and features in TIME and the Netflix series Strong Black Lens, but it is the crystalized moment that endures for the artist. "I want to see how [this image] is perceived in 10 years," Clennon says, "[…] I just want to see how the meaning of it will change."
Watch: Mark Clennon, "From there my world changed"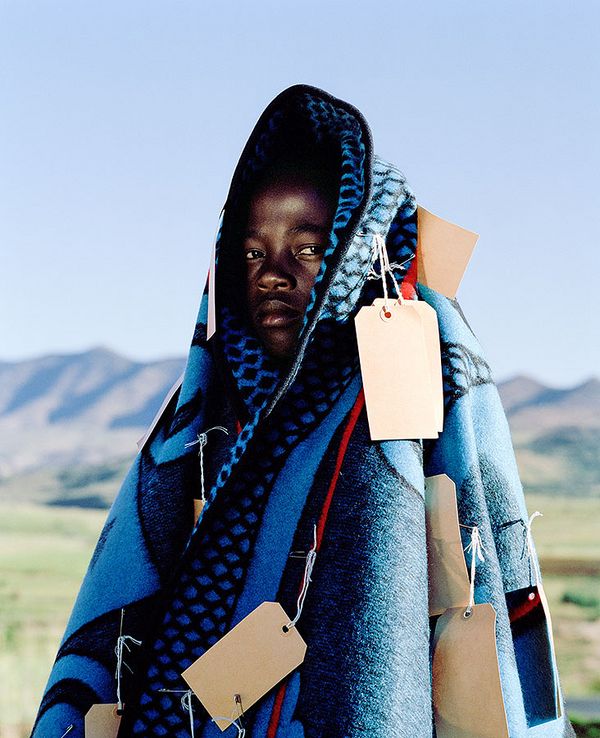 Namsa Leuba, Umfana from The Kingdom of Mountains, 2014. ULTIMATE: Photographs London.
Namsa Leuba
Auction Debut
Swiss-Guinean artist Namsa Leuba combines a documentary style with staged scenes to blur the line between fact and fiction in her photography. In her visual journey to reflect her dual heritage, Leuba constructs portraits which explore themes of what the artist calls "cultural hybridity," as well as cultural exchanges between Africa and Europe.
Umfana (meaning 'Boy' in Zulu) is part of the series The Kingdom of Mountains, produced in the area of Katse Dam in Lesotho, South Africa, during the artist's residency with the Swiss Art Council. These constructed portraits are presented as a colorful assemblage of poses and accessories, infusing a realistic veneer with a twofold gaze: the European fantasy of Africa and the preoccupied-with-truth photojournalistic lens; both of which become enveloped and reflected by the artist's subject. Leuba was one of the 15 artists featured in the recent world-tour exhibition The New Black Vanguard: Photography between Art and Fashion, organized by Aperture.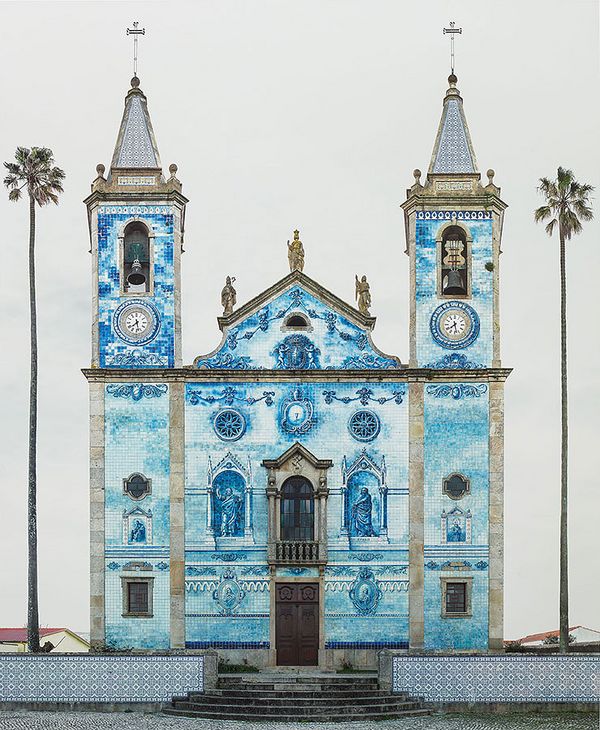 Markus Brunetti, Cortegaça, Paróquia de Santa Marinha from FACADES, 2013-2014. ULTIMATE: Photographs London.
Markus Brunetti
New to Phillips
German artist Markus Brunetti's mesmerizing depiction of the intricate blue tiles covering the Igreja de Santa Marinha de Cortegaça – one of the most beautiful churches in Portugal – makes this photograph an outstanding example of the artist's boundary-pushing approach to scale, detail, and precision in documenting architecture. Since 2005, Brunetti has travelled across Europe with his partner, Betty Schöner, living and working in their "expedition truck" (a mobile computer lab), carefully recording religious landmarks for his series FACADES.
His meticulous image-making process involves photographing the facade one square meter at a time from a fixed point then reconstructing it digitally over a period of weeks to months by stitching up to 2,000 images together and removing all signs of modern life. "When capturing, I deconstruct the facades to the smallest unit," explains Brunetti, "and when mounting the large images on our computer screens, we put these small details back into the big picture." The resulting image is a monumentally detailed view with a flattened perspective similar to that of an architectural drawing, as seen in the present work. His works reside in numerous institutions, including the Musée des Beaux-Arts; Le Locle, the National Gallery of Canada; Ottawa, and the Nelson-Atkins Museum of Art, Kansas City.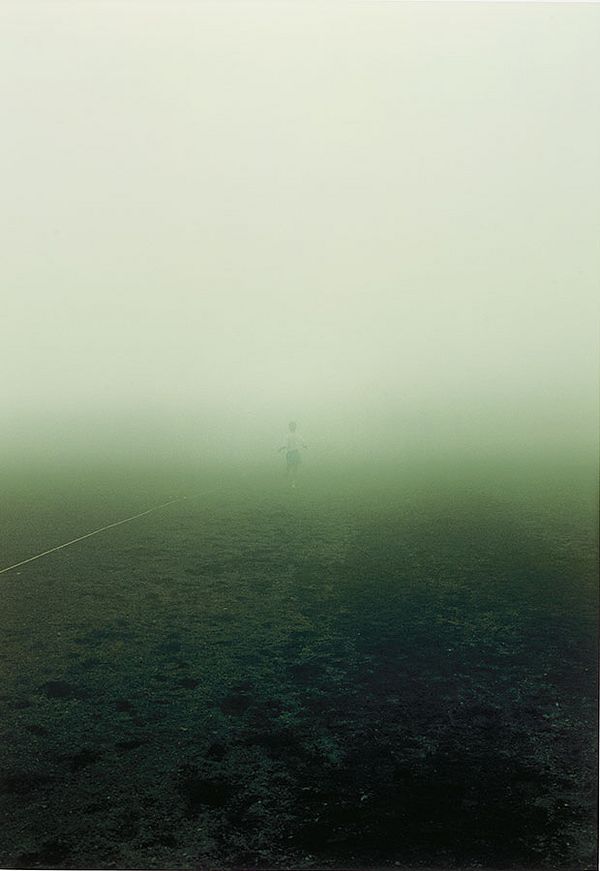 野口里佳 Noguchi Rika
New to Phillips
For her seminal series Fujiyama, Japanese artist Noguchi Rika climbed Mount Fuji to capture its surface, atmospheric light, and climbers trekking its incline at dawn. Maintaining an ethereal distance between herself and her subjects, Noguchi creates a unique perspective that can be seen throughout this compilation of meditative views. According to Noguchi, the series is "a work about prime numbers," as suggested by its English title A Prime. She draws a parallel between the ongoing quest to understand the mystery behind prime numbers and her continuing spiritual journey.
In this lyrical tableau, a single, small silhouette appears to be disappearing into the misty morning. The quasi-mystical presence at the center of this ethereal landscape of muted greens evokes spiritual connotations of Mount Fuji as a sacred, contemplative place. The artist notes: "I'm looking for the beauty in something that one does not understand, continuing to exist without understanding it." Noguchi's work has been exhibited internationally and resides in a number of prominent institutions, notably the Guggenheim Museum, New York and the Centre Pompidou, Paris, which both hold works from this series.
Discover More from Photographs London >
---
Recommended Reading
A Rediscovered Treasure: Souvenirs du Camp de Chalons by Gustave Le Gray >