Joris Laarman, Bone chair, 2006. Design New York.
Written by Luke T. Baker
Dutch designer Joris Laarman was only three years out of Design Academy Eindhoven when his 2006 Bone chair became an instantaneous icon portending the formal and technical possibilities of the then‐nascent field of digital design. Laarman designed the chair using data-driven modeling software that simulates the natural growth patterns of bones and trees — highly efficient structures that redistribute their mass at specific points in response to physical stress — creating an ultra‐strong chair with a minimum of material. With its low, mirror‐polished aluminum seat supported on a skeletal structure of attenuated members that seem to organically emerge from the floor, Bone chair's curiously original form captures tensions between the artificial and the natural, the industrial and the handmade.
Laarman's application of synthetic biology to this piece of domestic furniture established him as an experimental pioneer at the vanguard of emergent digital design practices. Bone chair quickly caught the attention of the international design community, with 6 examples from the edition of 12 (of which the present chair is number two) being acquired by major international institutions, among them the Museum of Modern Art in New York, the Vitra Design Museum in Germany, as well as the Rijksmuseum and Centraal Museum in the Netherlands.
Joris Laarman, Bone chair, 2006. Design New York.
Bone chair marries digital technology and nature in a seamless union that dispels the false dichotomy between them. From his earliest works, Laarman has derived aesthetic inspiration from the natural world (his insistently decorative Heatwave radiator from 2003 resembles an unruly, Neoclassical‐inspired acanthus leaf pattern). Bone chair marked the designer's first foray into using natural science to dictate not just the formal appearance of an object, but the structural logic that underpins its engineering and construction. Laarman became fascinated by the efficiency and material economy of human bones after discovering the work of German biomechanical scientists Claus Mattheck and Lothar Hartzheim. Their research revealed that our bones are continuously shaped by the body as it removes bone tissue from areas requiring less strength, reducing skeletal weight while reinforcing structural soundness. To apply these biological principles to the design of a chair, Laarman partnered with European automotive manufacturer Opel, which had adapted Mattheck and Hartzheim's research on these naturally occurring "smart" systems into modeling software that could develop more efficient industrial components. The program's algorithms mimic the body's own reductive process, removing excess material from a rudimentary mass (akin to the way a sculptor frees a figure from a block of stone), to arrive at an essential shape that's structurally optimized for its a principal purpose—to carry weight. "If Mother Nature wanted to create a chair, it would probably look something like the results we would get," Laarman noted of the modeling process.
Though it originates from a mathematical formula processed by a computer, Bone chair takes the human body as a direct point of reference. Its structural members are almost identical in scale to our own bones, and they share the same organic aesthetic with their gentle curves and asymmetrical proportions. In a sense, Bone chair acts as a prosthesis for the body it serves, a synthetic skeleton designed in the exact same manner as the biological one it supports.
For Laarman, the Bone chair project cemented a commitment to digital technologies as principal elements of his creative practice, tools that function not as replacements for, but as extensions of traditional craftsmanship and hand making. To Laarman, "[…] Rather than something nostalgic, craftsmanship ought to be seen as always evolving, and that, with the help of hightech tools, should be central to society." Producing the chair necessitated mastery of two distinctly different technologies still in their relative infancy at the time: computer‐aided modeling software to pare away excess matter from the design on screen, and 3D‐printing capabilities to build ceramic molds from the digital file—reductive technology driving additive technology.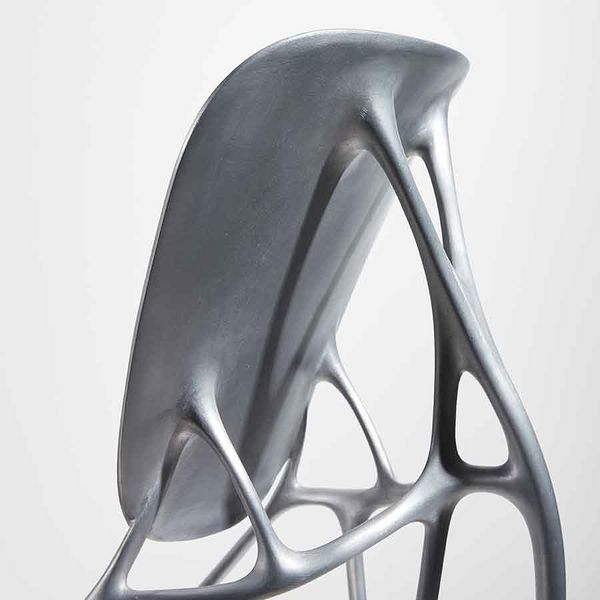 Joris Laarman, Bone chair (detail), 2006. Design New York.
Laarman chose to fabricate the edition in aluminum for its high strength‐to‐weight ratio akin to bone tissue. To cast the object as a single piece from the complex, multi‐part mold demanded the skill of a seasoned craftsperson experienced in working with these new 3D-printed forms. Once cast, months of meticulous hand polishing were required to take the hollow aluminum piece to its finished state. Bone chair's ultimate reliance on human artistry underscores that no machine — regardless of how sophisticated and precise — can best the embodied knowledge, tactile sensitivity, and aesthetic judgment of the person who sanded down the chair's surface, felt its texture beneath their fingertips, and adjusted the gesture of their hand tool to resolve any imperfections.
Bone chair lay the groundwork for Laarman's continued explorations into the role of digital technology in design, and he would go on to adopt these hybrid design techniques with other objects that would become the Bone Furniture series. "Modernist pioneers were all about assembly and standardized parts in a geometric form language dictated by the limitations of industrial machines," Laarman once observed. "In our digital era, however, we are no longer bound by these limitations. With digital design and fabrication tools we can create smarter, customized forms that are much more complex. Sculpted into its striking form through biomechanical data, Bone chair became a bellwether for the optimized objects of the future, engineered in, with collaboration with nature, made manifest through technology, and refined by human hands.