Harry Bertoia, Suspended gong, circa 1970s. Design New York.
Phillips' 7 June Design New York Sale features an exceptional group of acoustic sculptures by Harry Bertoia from the collection of composer David Moss. These Sonambients – a term which describes both the music and environment created by the works – provide a special link in the creative relationship between art and music, and, as Moss notes in his conversation with us, an evocative method of sonic experimentation.
Tracklist:
1. Excerpt from "Jack and the Golden Palominos," from the LP/CD Desire Develops an Edge by Kip Hanrahan (1983) - 3'45"
2. Excerpt from David Moss' duo LP with Baird Hersey, Coessential (1977) - 1'21"
3. Excerpt from David Moss' first solo LP, Terrain (1979) - 1'39"
Click on the forward/rewind buttons to move through the three tracks.
KIMBERLY SØRENSEN: You first encountered Harry Bertoia's sculptures fifty years ago, when you were engaged to perform as part of a music/dance troupe at a gallery in Philadelphia exhibiting his work. What was it like discovering Bertoia's sculptures?
DAVID MOSS: It was an amazing moment that changed my musical life. In 1972, I was twenty-three and just breaking out of "jazz drummer" mold – moving toward a personal musical style. I'd altered the standard drum set to extend the range of sounds, but was searching for concepts and mentors. My context was the avant-garde music/art/dance world: I was working around Bennington college (with musicians Bill Dixon, Milford Graves, and dancer Judith Dunn) and in NYC circles around the dancers Steve Paxton and Lisa Nelson; later with musician John Zorn, sound artist Christian Marclay. So when I walked into that gallery and saw four very tall Bertoia Sonambients lining one wall, I was riveted. I immediately understood the works as a new type of sounding object. I realized they had nothing to do with any music genre and offered unexplored layering/texturing possibilities. To be able to really hear them, I had to contact their creator. Somehow I got Harry's address, wrote him, and he invited me to visit. A few months later I drove to his country farmhouse and barn in Barto, Pennsylvania.
KS: What was it like to visit Harry, get to know him, and play music with him in his barn?
DM: The morning after my arrival, Harry walked me to the barn and opened the door. Can you imagine the sheer astonishment of walking into a huge space filled with umpteen rows of standing Sonambients and gongs and Swinging Bars? Harry took off his shoes, put on a pair of thick woolen socks and asked me to do likewise. He moved into the middle of the barn and began, knowing exactly which sculptures he wanted to sound, in what order/mix, and how intensely. The barn was at least thirty by forty feet – it took time to move from one sculpture to another – so that's why the socks: Harry ran down the rows of sculptures on the slippery wooden floor, sliding to a stop in front of the one he wanted to play next. I thought: "He's a sound-maker, composer, sculptor and a dancer all in one! That's a direction I need to explore." Harry gestured me to join him in the playing. Of course, I had no idea how each sculpture sounded, so I watched and listened as Harry set the rod Sonambients in motion and sounded the gongs' metal surfaces with mallets and other hand-made "activators." I realized that the entire barn was Harry's musical instrument, tuned through his choice of sculptures and their positions. We were inside an actual sound resonator. Today's art world might describe it as an immersive installation, and maybe a musical analogue is the organ in a cathedral. Harry later confirmed this, saying, "the barn is my personal instrument."
Then I saw a low shelf with five or six small Sonambients – some only four to eight inches tall. I leaned over and stroked their tops. Yes! Exactly the sound and physicality I needed to expand my musical expression. Especially one Sonambient with hundreds of rods ranging from five to eight inches high on an eight by eight-inch base, each with a frozen drop of metal at the top. Harry could see I was enchanted. He said, "it's yours now." It was the first Sonambient from Harry. And it now seems that this small Sonambient might be one of the rarest in Harry's oeuvre. I've never seen another one that has more than two significantly different rod heights/tones. To the best of my knowledge, this is the only Sonambient with a wide range of pitches in one sculpture. I drove home with the Sonambient vibrating on the seat next to me at each bump in the road. Even now, it still amazes me that it all happened as it did.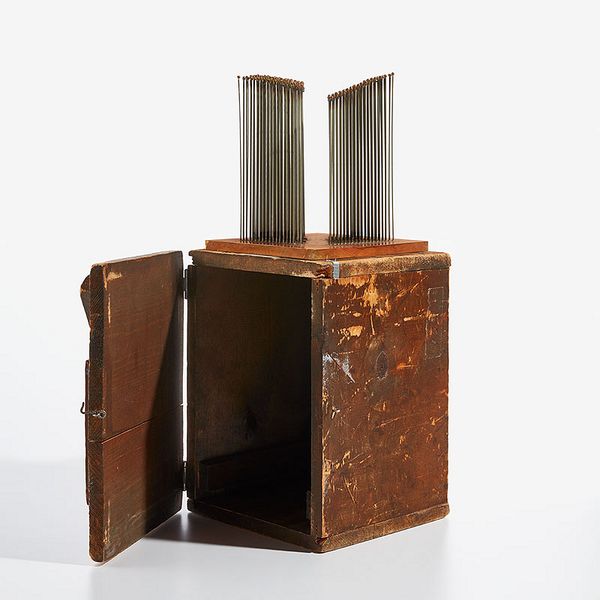 Harry Bertoia, Sonambient sounding sculpture, circa 1970s. Design New York.
KS: And how did all this blossom into a friendship with the artist?
DM: It may be a rosy retrospective glow, but we did seem to connect and to understand each other at once. Harry and Brigitta were warm and welcoming, inviting me to stay overnight in their house at each visit. Meeting Harry could not have happened at a better time for me, as many of my lifelong musical concepts were then being formed. Our relationship was musical and direct – we talked about air and vibration. Harry was interested in my performance world and voice/percussion ideas. I learned a huge amount about the melding of sounds and new ways to touch resonating objects by watching and listening to him. Each visit we played music in the barn, and visited the town studio to see the works in progress. Brigitta also wrote inscriptions for me in two books she wrote and illustrated. And each time Harry asked me which Sonambient I'd like to take with me.
On one visit, either in '74 or '75, something special happened: Harry wanted to play a duo concert with me in the barn and to invite an audience. He drew up an invitation and took it to his local friends. For the first and only time, I set up my drums in the barn. What a strange contrast: my normal industrial musical objects – drums, cymbals, Swiss gongs – in the midst of Harry's ethereal sonic inventions. That evening we played together for about fifteen people. It was an honor to make music with Harry, for his friends, in his barn.
KS: What was it about these particular Sonambients and gongs that attracted you to them?
DM: It was the sound, of course. As much as I loved them all, most of the Sonambients were simply too big and heavy to lift, so each time Harry gifted me with a piece, I chose one that I loved and could transport to my concerts. The second Sonambient Harry gave me is the largest rod-type one in the collection. Its sound was brighter, more intense than the first sculpture – one main tone but a huge range of harmonics. On my third trip, Harry offered me a choice of gongs. I went to my favorites to see which ones I could lift: only a few. First, the triangular golden gong with the curving cut up the middle. Second, the unique folded dark-metal gong. Harry showed me the "activators" he had created out of metal rods and leather to draw out tones from the metal. As we left the barn, he took down two small Swinging Bars and placed them in my hands.
Meanwhile, I had shown my father, Roy Moss, the Sonambients Harry had already given me. My father had sculpted in wood his whole life. He was so touched by Harry's generosity that he carved two pieces of sonorous rosewood into sinuous fourteen-inch rods – his version of the Swinging Bars – and sent them to Harry as a thank-you. A few weeks later, a box arrived at my parents' house. Inside was a rod-type Sonambient (with a light sparkling airy sound) – Harry's gift to my father. Of course, my father gave it to me. By 1976 I had been given three rod-type, two gong-type Sonambients and one pair of Swinging Bars. At my last meeting with Harry in '76 or '77, we were in his studio and I noticed an object on a shelf. It had thicker rod-rows in ascending heights. Harry told me that if I liked it, it was mine. Then, on my last visit to the barn with Harry, I found myself playing a dark metal elliptical gong that hung at a slant – Harry took it down and gave that one to me.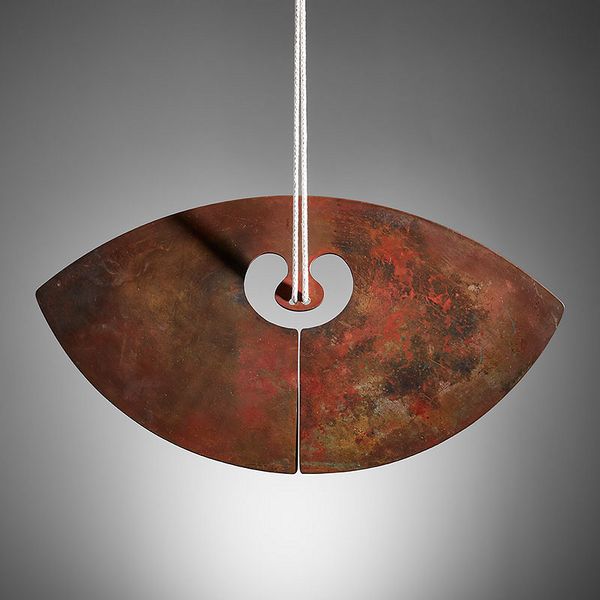 Harry Bertoia, Suspended gong, circa 1970s. Design New York.
KS: How did you incorporate these works into your music?
DM: The rod-type Sonambients produced continuous "drones" when played with one hand, allowing me to add more sounds with my other hand. The gongs were otherworldly. Two of them (the golden triangle and the folded one) could be made to rotate around their center while being played, radiating waves of sound outward. The eight pieces Harry gave me were in constant use during my concerts through the '80s. When Steve Paxton and I toured Great Britain in 1979 as part of Dance Umbrella, the smallest Bertoia was a centerpiece of those duets. Also, the choreographer Kei Takei commissioned me to make a composition for her "Light #20"; it features all of my Sonambients. Several composers became interested: Kip Hanrahan, Bill Laswell, Baird Hersey, and Tom Guralnick all offered me the chance to record the Sonambients with them.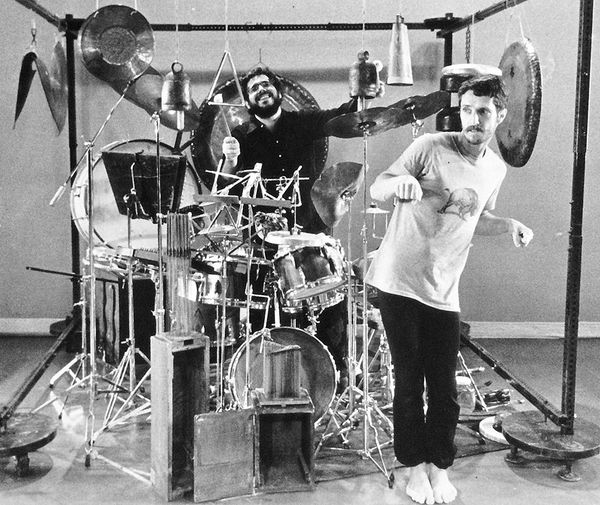 David Moss (center) and Steve Paxton (right). Moss' solo setup included rod-type (center) and gong (left on rack) Sonambient pieces.
I also incorporated the Sonambients in my own recordings and on the radio shows I created for NPR in the 1980s: "Soundspots," "Sound Sculptors," and "U.S. Ear: the new music review," and in two radio-art pieces for Helen Thorington's "New American Radio." Even the producer of a rare 1977 LP of Robert E. Howard's "Conan the Cimmerian" stories asked me to compose the score using the Sonambients. To the best of my knowledge, and from Harry's information, I am one of the very few musicians who has performed and toured with his Sonambients. It was an honor to be an "ambassador" to the music/dance world. One additional strand: Into the '80s, making a living doing contemporary music was basically impossible. Phillip Glass was still driving a taxi in the late 1970s; upcoming composers worked in record or book stores. So, while performing in NYC for almost nothing (at CBGBs, the Peppermint Lounge, Danceteria, The Kitchen, The Public Theater, La Mama, etc.), I developed a percussion program for public schools. At each school assembly, I played a rod-type Sonambient and invited kids to put their heads into the wooden resonator box it stood on – so they could really hear these new sounds. I hoped this might lead them to sonic experimentation in the future. A dream? Who knows...
KS: It's fascinating to learn how through your relationship with Harry and his incredible generosity his "sculptures" were able to transcend typical artistic boundaries. Any final thoughts?
DM: Harry Bertoia and his Sonambients affected me profoundly. Our relationship deepened my music, showed me the possibilities of crossing artistic borders, and inspired me in future collaborations – with visual artists Adel Abdessemed, Christian Marclay, Igor and Svetlana Kopistianski; with composers Olga Neuwirth, Heiner Goebbels, Luciano Berio; with theater directors Yuval Sharon, Diane Paulus, Hans Neuenfels; and toward the development of sound-oriented radio art (for which I received a Guggenheim Fellowship). By pure chance I'd met a rare human being and artist, one who created a new type of sounding artwork! I'm deeply grateful to him for his music, friendship and generosity. For fifty years I've tried to carry something of his spirit, sound, and ideas to the world, hopefully with some small success.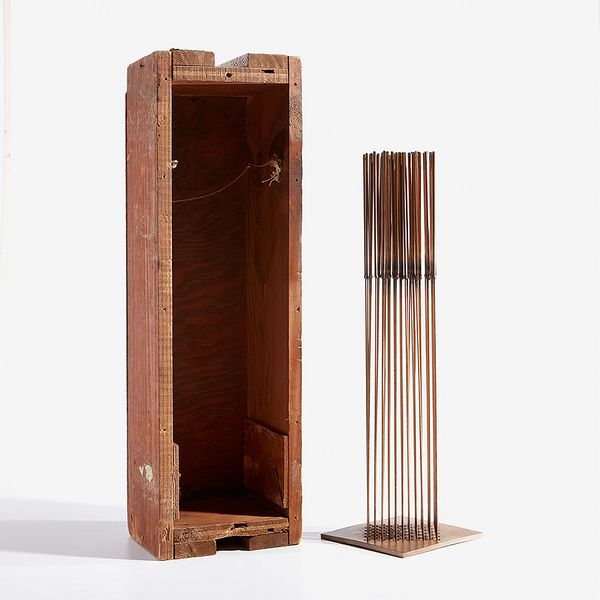 Harry Bertoia, Sonambient sounding sculpture, circa 1970s. Design New York.
---
Recommended Reading
Frits Schlegel: The Architecture of Design >
Magdalene Odundo: Vessels with Attitude >