Caroline Walker, Mirror Image 1, 2010. WIRED: Online Auction.
A theme of quiet reflection and contemplation within the safety of an interior safe space beautifully links the following selection of works by rising contemporary artists Caroline Walker, Cassi Namoda, and Celeb Hahne. Drawing from the canon of art history and the quotidian scenes which were a pivotal source of inspiration in the Dutch Golden Age, the wake of the pandemic has given both artists and viewers a new reading of these quiet interior scenes. This extended period spent indoors – alongside its historical analogues – gives rise to new fascinations with the everyday. Contemporary artists' re-evaluation and the subsequent new readership of these works and earlier examples, offer a refreshed perspective on the elevation of the mundane to the profound.
In the present selection of works from WIRED, these themes have been readdressed by artists devoted to everyday rituals and interiority. What now emerges is an updated form of this historical conversation, using a dreamlike logic that engages with earlier inspirations, but also with contemporary concerns of identity, temporality, representation, and place, which especially animates today's artists and highlights just how extraordinary the ordinary can be.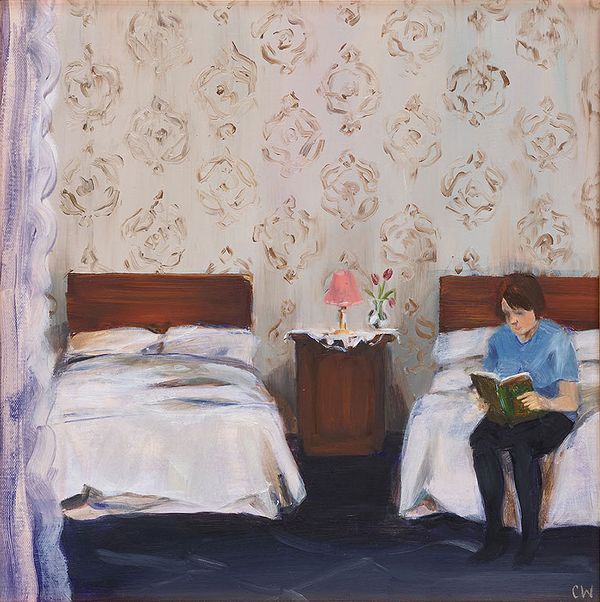 Caroline Walker
Caroline Walker creates paintings and works on paper that illuminate the lived experience of women from a cross-section of society. Whether a bedroom, shop, or place of work, Walker's works are a flash of perception into the "[…] experience which is specifically female." Representative of her work is Twin Room, a quietly expressive painting with a view into her subject's tranquil reading space. The language of privacy is also spoken in an intimate moment with reflection in her work, Mirror Image. In both works, we see Walker's blending of figure and scene: her subjects are physical elements of the static room, so to speak – they edge between blurred strokes of color and the essential objects of a space to give themselves presence. Parallels have been drawn between Caroline Walker's analysis of light, and ability to capture a certain calm, with the masterful paintings by Johannes Vermeer: Both artists distil intimate moments as a way of understanding the world through the familiar and mundane. Walker takes her cue from Impressionists such as Édouard Manet and Edgar Degas, citing their masterful observation of quotidian Parisian life. While borrowing visual tropes from the Impressionists, Walker has consciously reclaimed the voyeuristic male gaze from art history, painting from a female perspective while constructing meaningful and personal relationships with her subjects. The images Walker crafts are tributes to a slow interior with rituals both mundane and necessary. Walker is currently the subject of an intensely personal and sold-out exhibition Lisa at Stephen Friedman Gallery, London.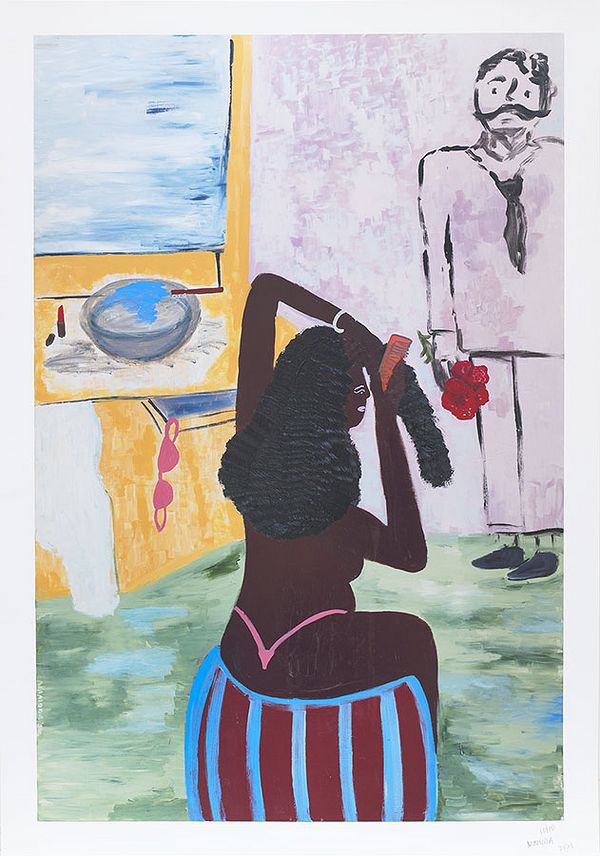 Cassi Namoda, Nude Maria Combing Her Hair, 2021. WIRED: Online Auction.
Cassi Namoda
A hypnagogic quality infused with the everyday pervades the canvases of Cassi Namoda. Private scenes become pivotal as they freeze a moment in time captured in her works. From a woman in her boudoir with a man looking on in a most intimate occasion in, Nude Maria Combing Her Hair to everyday people on a city street, or a mother hugging her child. Nude Maria Combing Her Hair exemplifies the artist's ability to render a tender moment with illusive feeling. Outside of the titular subject, the rest of the painting is hazy, not fully realized, or perhaps even imagined, as Maria goes through her beauty routine. Images like this elevate the everyday to a sort of hallucination of the ordinary. Her own upbringing — traveling the world with her Mozambican mother and American father — informs her practice with a cosmopolitan flair. Namoda's work has been featured on the cover of Vogue Italia and is in the collections of the Perez Art Museum, Miami, Studio Museum, Harlem, New York, and the Baltimore Museum of Art.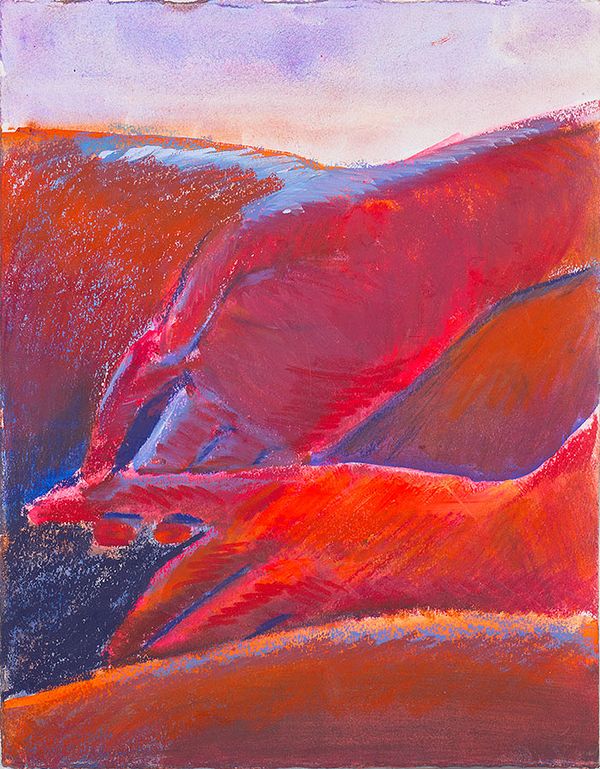 Caleb Hahne
The dreamlike ambiance of the mundane scene in which emotional resonance rises above the content is intrinsic to Caleb Hahne's artistic lexicon. The romanticism of vulnerability and boyhood are made permanent in his works. Everyday experience is heightened by Hahne's roots as a Jewish Latin-American male in rural Colorado, edifying his subjects with a sentimental charge. A boy on a horse, the back of a man, hands holding the branch of a tree, hands interlaced in a murky intimacy in Untitled — starkly captured and nebulous at the same time. Hahne's complementary use of color – shades of red, blue, and orange – combine an internalized, quiet moment of intimacy with the limitless expanse of a bucolic Colorado sunset. His subjects transform actual events into otherworldly realities. Hahne received his BFA in Fine Arts from Rocky Mountain College of Art and Design in 2014. He has shown throughout the United States and recently finished a residency at the acclaimed La Brea Studio in Los Angeles.
Discover More from WIRED: Online Auction >
---
Recommended Reading
Two Days at the Venice Biennale 2022 >