David Wojnarowicz, Fuck You Faggot Fucker, 1984. 20th Century & Contemporary Art New York, Evening Sale.
Phillips' 20th Century & Contemporary Art New York Evening Sale features an exceptional work by David Wojnarowicz which showcases several of the American multidisciplinary artist's signature themes in concert with striking visual and narrative overlays. The subject of a recent exhibition at P·P·O·W, New York, examining the artist's deeply influential time in Paris and his relationship with Jean Pierre Delage, Wojnarowicz's and work amassed critical gravity in the wake of the AIDS crisis which would tragically cut short the artist's life in 1992.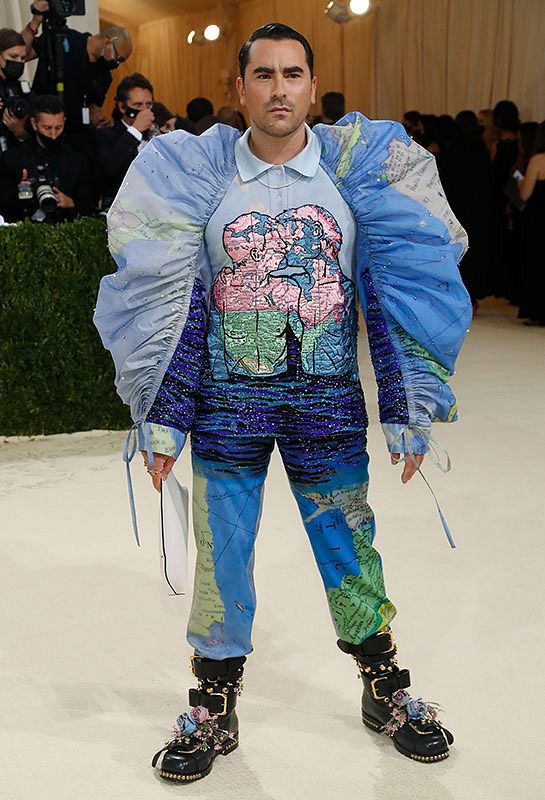 Dan Levy at the 2021 Met Gala. Photo: REUTERS / Alamy Stock Photo.
Testifying to the present work's enduring cultural significance nearly 40 years after its creation, actor Dan Levy of Schitt's Creek recently donned a custom outfit inspired by Fuck You Faggot Fucker at the 2021 Met Gala. Designed by Jonathan Anderson, Levy's ensemble featuring the work reflects an homage to Wojnarowicz, whose singularly bold artistic voice would shape the contemporary fabric of American culture, so to speak, by offering an image that celebrates universal love and acceptance. Levy expressed in an Instagram post, "We wanted to celebrate queer love and visibility — acknowledging how hard artists like Wojnarovicz [sic] had to fight, while also presenting the imagery in a way that offered a hopeful message. Tonight, we're celebrating the resilience, the love, and the joy of the community while honoring a crucial American voice that was taken from us too soon."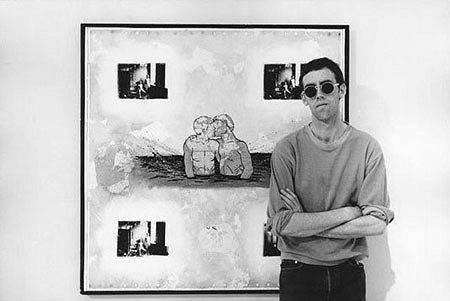 The artist with the present work at his 1990 retrospective in Normal, Illinois.
Carlo McCormick, a longtime New York cultural critic, curator, and friend of Wojnarowicz, explores the many ways in which the artist's practice developed alongside his increasingly widening scope and eye for combining incisive social commentary with dreamlike compositions and radically inventive arrangements.
Acquired directly from a solo exhibition Wojnarowicz mounted in 1984 at Civilian Warfare, the first gallery to offer the artist sustained representation, Fuck You Faggot Fucker (hereafter abbreviated to FYFF) remains a landmark in the artist's oeuvre. It was featured in his major posthumous 2018-2019 survey History Keeps Me Awake at Night (Whitney Museum, New York and Reina Sofia, Madrid). As disquieting and incendiary today as it was 38 years ago, in no small part for its confrontational title, this major painting counterpoises the utopian networks of community forged in the abiding abandonment that characterized New York City after the fiscal crisis a decade earlier against the prevailing forces of misunderstanding and violence that directly threatened the practical and idealistic dimensions of these alternate, ad hoc and temporal societies. Full of life, it presages a sense of doom, inherent if not immanent, an embrace and tenderness cast adrift from the body politic in a psychologically isolating miasma of inky waters.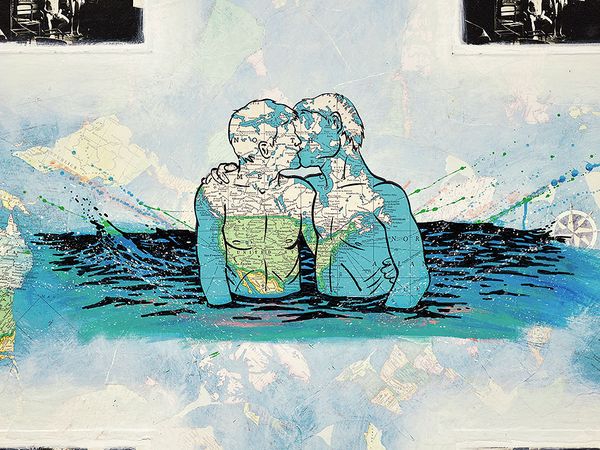 Considering the wide array of different elements Wojnarowicz includes in his imagistic maelstrom — with painted passages of dreamlike expanse and erasure, photographs and varying found elements including maps — there is much in the way he structures his storytelling that remarks on the then first rising tendencies of Postmodernism. […] He clearly understood history — philosophically as well as viscerally — to be a doubtful inheritance, a disorienting and ultimately afflictive cultural construct that undermined individuality and subjugated autonomy. Regarding the evolution of this David Wojnarowicz's work, what it meant to be an artist in 1984, and the ways art would go forward in the increasingly contested cultural landscape that would follow, Fuck You Faggot Fucker is of immeasurable historical significance. A portrait of love and desire in a socio-political paradigm of hate and fear, here Wojnarowicz articulates his abiding artistic concerns for the survival and struggle of the socially marginalized as a narrative of liberation sung against the shackles of oppression.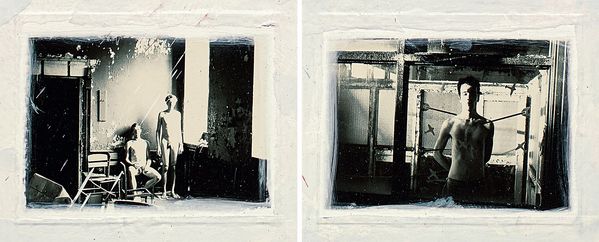 Carlo McCormick is a New-York based art critic and curator who has authored numerous catalogues and artist monographs. He was a friend and collaborator of David Wojnarowicz.
Discover More from 20th Century & Contemporary Art >
---
Recommended Reading
Two Studies in Intimacy: Henry Moore & Jean Dubuffet >