Justin Caguiat, Doll 3 Eros, 2020. 20th Century & Contemporary Art New York, Evening Sale.
Justin Caguiat
Auction Debut
Doll 3 Eros marks the artist's auction debut amid his meteoric rise on the international art scene after receiving widespread acclaim at Frieze, London in October 2021. Represented by Greene Naftali since, Caguiat will have his first solo show with the gallery this September on the heels of his major exhibition at The Warehouse, Dallas from January to April 2022. Spoken through his unique contemporary voice, Caguiat's painterly style layers pools of color across unstretched canvas, allowing certain colors to emerge and others recede, achieving luminosity throughout the composition and recalling a handling of medium and imagery that fuses European and Japanese influences and shares an affinity with both Symbolist painters and with Peter Doig's late work. Fusing literary references and the wells of his mind, the artist's prowess in translating abstract entities such as memories or feelings into visual representation stems from his practice as a poet. Caguiat's works have featured in exhibitions across the globe including in the United States, Switzerland, Italy, United Kingdom, and Canada, notably a 2021 show at Taka Ishii Gallery, Tokyo, entitled Doll.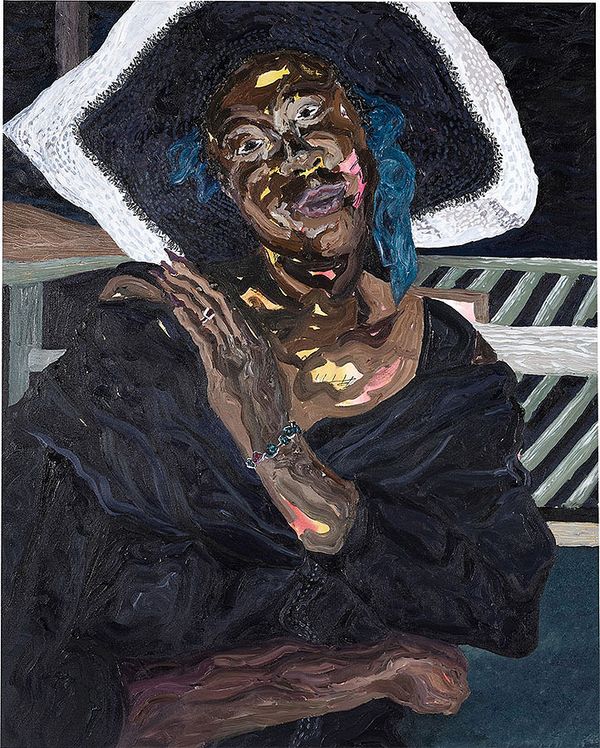 Ludovic Nkoth
Auction Debut
Combining the vivid colors of his native Cameroon with a layered impasto technique, Ludovic Nkoth creates a layered topography of memory, dislocation, and exchange. His figures contort with fragmented expressions through swirling brushstrokes, as if attempting to navigate a landscape that constantly shifts in spite of its subject. Mirroring Nkoth's own diasporic background – the artist moved to the US at the age of 13 – his paintings resonate with a sense of determination to connect, to forge a shared solidarity between the personal and the displaced. The Hunter College MFA graduate has had recent solo exhibitions at François Ghebaly in Los Angeles and Luce Gallery in Turin, Italy, as well as featuring in the 2020 group show Black Voices/Black Microcosms at CFHILL Art Space in Stockholm, Sweden. Concurrent to the auction, Nkoth is exhibiting TRANSFERRED MEMORIES (Work No Dey) at MASSIMODECARLO, London.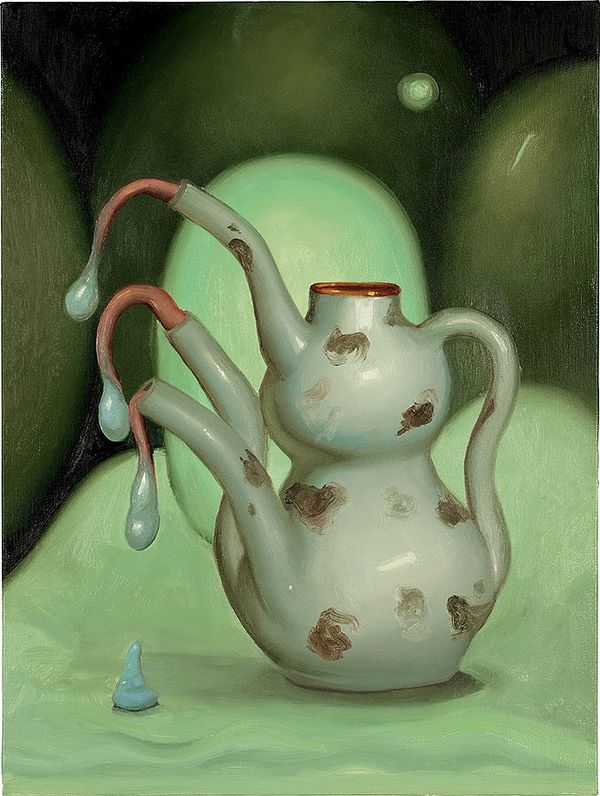 Dominique Fung
Auction Debut
Dominique Fung's intricate oil paintings render many of the Orientalized objects which Western culture has shorn of context with reconditioned vigor and meaning. Known for her large canvas works, the Chinese-Canadian artist engages with the notion of the self-as-ornament, particularly through the lens of femininity as an aesthetic component of the Asian experience. Her recurring subjects – porcelainware, animal sculptures – act as both relics and contemporary shorthand for the conversational quality of the artist's work; a veneer that masks the inherent contradictions of their beauty. Recent exhibitions include It's Not Polite To Stare at Jeffrey Deitch, New York, and shows at Nicodim Gallery, Los Angeles, in addition to an acquisition by The Los Angeles County Museum of Art in 2022.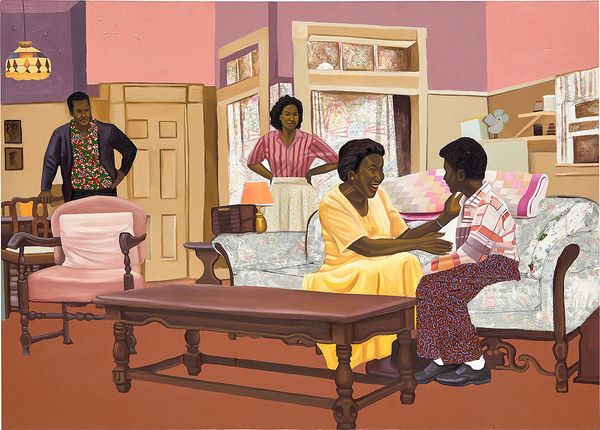 Cornelius Annor
Auction Debut
Cornelius Annor is a Ghanian figurative painter whose practice focuses on everyday scenes with an archival sense of memory. Through a variety of narrative elements, Annor encloses time and space around family gatherings as a domestic vessel for childhood recollections and positive emotion in service of identity. "For me archiving as a form has the potential to open up discussion on lost and forgotten histories and its politics," Annor notes, "and I intend to bring into presence these past histories […]." In addition to recent exhibitions throughout Africa, Annor is the focus of a 2022 solo show entitled The Memories We Share at Maruani Mercier Gallery, Knokke, Belgium, and is now represented by Venus Over Manhattan.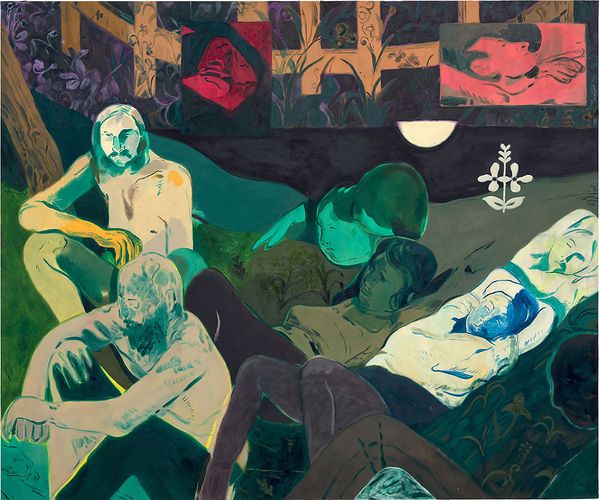 Anthony Cudahy
Along with artists such as Doron Langberg, Salman Toor, and Jenna Gribbon, Anthony Cudahy is part of an emerging group of queer figurative artists auditing the history of painting through contemporary subjectivity and reimagined agency. Often placing his subjects against nondescript or implacable backdrops, Cudahy draws focus to quiet, intimate moments which, combined with the depth of his narrative style, gives his work an exceptionally vibrant dimension. Cudahy incorporates saturated color and visual motifs that reference art history in a way that forms a collection of meanings for the artist, in turn revealing through symbolism and layered interpretation a unique framework of queer experience, historical recontextualization, and tender affection. An MFA graduate of Hunter College, Cudahy has held solo shows at 1969 Gallery, New York, and Hales Gallery, New York. The artist debuted at auction with Phillips in our March 2022 New Now sale.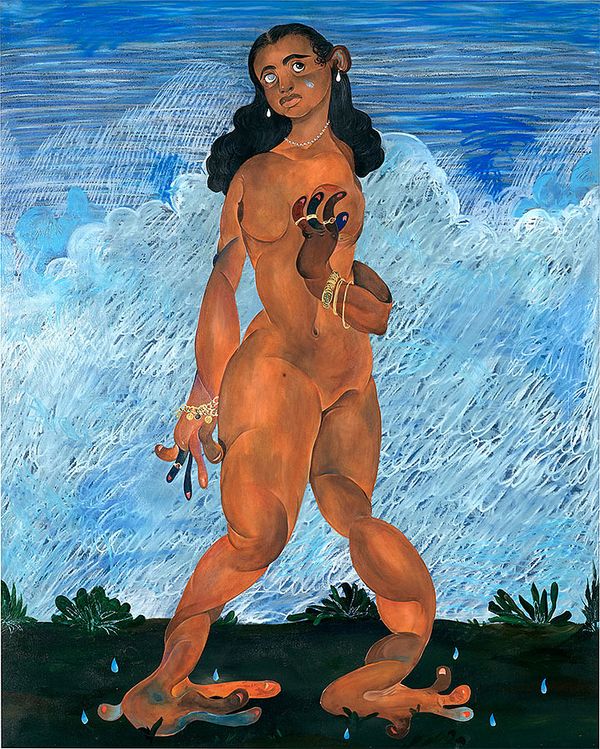 Bony Ramirez
Auction Debut
Dominican-born, New Jersey-based painter Bony Ramirez takes an outsized approach to his distinctive practice. Entirely self-taught, the artist paints large, multimodal works featuring towering, distorted figures with imaginative use of color, physicality, and presence in the style of Italian Mannerist paintings. His characters reflect the artist's heritage, and often repurpose traditional modes of representation for contemporary Caribbean life and the latent colonialist history that undergirds the psychology of the islands.Ramirez has exhibited with the group show Shattered Glass, curated by Melahn Frierson and AJ Girard, Jeffrey Deitch, as well as two recent solo shows, Noblesse Oblige at Bradley Ertaskiran, Montreal, Canada, and MUSA X PARADISIACA at Thierry Goldberg Gallery, New York.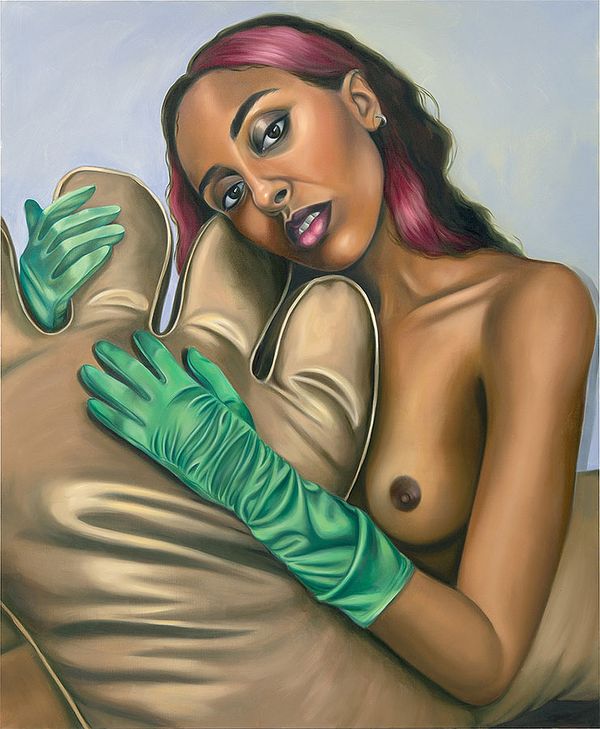 Chloe Wise
Chloe Wise engages with the subjects that define the contemporary era with a mix of acrimony and humor that can only emerge from our hyper-indulgent, terminally connected landscape. Beneath the social-friendly presentation, however, Wise examines questions around consumption, both physical – as her breakthrough Bread Bags series demonstrated – and as mediated through various gazes, from screens to intrapersonal experiences. This all adds up to an imagined, or constructed notion of the self for Wise, whose ability to weave narratives between art, fashion, culture, and food emphasizes the female body at the center of her focus. Born in Montreal and based in New York, the artist's recent solo shows include Thank You For The Nice Fire at Almine Rech Gallery, New York, and And Everything Was True at HEART, Herning Museum of Contemporary Art, Denmark.
Discover More from 20th Century & Contemporary Art >
---
Recommended Reading
Two Days at the Venice Biennale 2022 >