Our February New Now sale in New York features pioneering female artists at the height of their powers. Head of Sale Rebekah Bowling explores how each woman uses unique, boundary-breaking practices to challenge and subvert styles traditionally dominated by their male counterparts throughout art history.
Since the 1980s, New York painter Jacqueline Humphries has forged distinctive explorations in abstraction, using painting as a vehicle for examining contemporary visual issues. Beginning her practice at a time when there was a great deal of antagonism against Abstract Expressionism, Humphries didn't shy away from the unpopular genre; instead, she tackled the traditions set forth by the New York School's male figureheads and created a new, fresh gestural iconography.
The legacy of all painting [is] inherited by abstraction.

—Jacqueline Humphries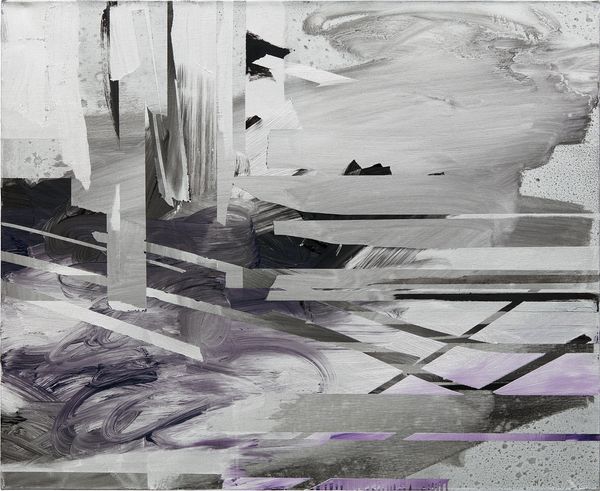 Jacqueline Humphries Untitled, 2006
Untitled, 2006, a compositional web of intersecting silver and purple vectors — the result of stripping and overlapping gestures — is a prime example of Humphries' belief in the power of both physical and optical experience. She succeeds in creating a dramatic encounter with the viewer via the shifting metallic silver ground, which changes with both the light and one's physical relationship to the work.
While rooted in formal explorations of aesthetic issues, the viewer's experience is still Humphries' ultimate concern. In a 2009 interview with fellow abstract artist Cecily Brown published in BOMB, she stated, "Abstraction had carried on with painting and produced a different experience with it and I wanted to continue that work, take up that challenge, the legacy of all painting as inherited by abstraction."
Another New York-based artist investigating and developing her own unique take on the tradition of abstraction is Keltie Ferris. Since graduating with her MFA from the Yale School of Art in 2006, Ferris has earned a distinguished reputation for her mostly large-scale canvases covered with layers of spray paint and hand-painted geometric fields that create perceptual depth through constructed light and shifting space.
[Ferris'] marks distinctly recall the pointillism of Seurat and Signac, as well as the synthetic vision of Impressionism.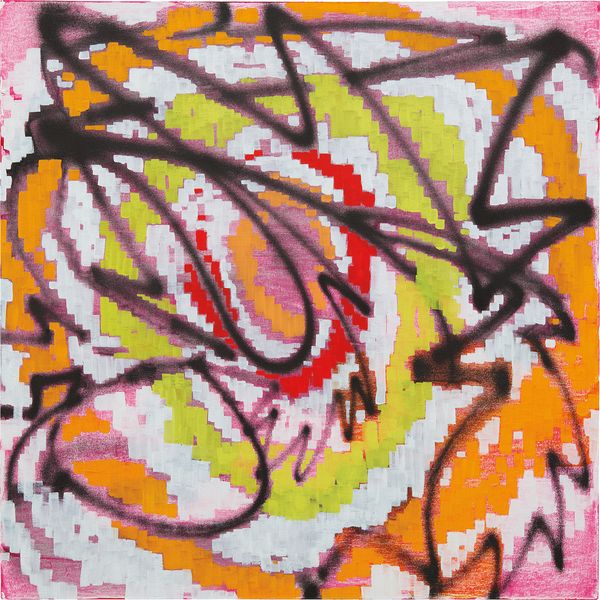 Keltie Ferris The Producer, 2014
Before her much-anticipated 2015 solo show had even opened at her Chelsea gallery, Mitchell-Innes and Nash, those who got a sneak peak were comparing her new works to Albert Oehlen and other predominately male artists who make references to digital marks in their canvases. Yet, as Martha Schwendener described in her review of the show for The New York Times, "Ms. Ferris remakes the digital in supremely analog form." She continues, "What might read from afar (or in photographs) as pixels are, close up, thick rectangles of paint applied with a flat-ended brush. These marks distinctly recall the pointillism of Seurat and Signac, as well as the synthetic vision of Impressionism: When you step back from the canvas, the image snaps into focus."
The Producer from 2014 is a quintessential example of the innovative way Ferris combines the hand-painted and the mechanical in her dynamic, oscillating compositions. Even while employing the use of a spray gun, a tool that could be used to destructive compositional ends, she deftly harnesses its energy to create extraordinarily complex canvases that are nothing short of harmonious.
Another pioneer of the digital gesture represented in the sale is Los Angeles-based artist, Petra Cortright. Associated with the "Post-Internet" movement, she initially garnered attention for her self-portrait videos made from her own PC webcam, which she posted to YouTube. More recently, her attention has been focused on digital paintings created in Photoshop using painting software and appropriated images, like Deep URL Submission, 2014, a stellar example from this series included in our New Now sale.
I like the idea of breaking down photos of dream kitchens, using software that was intended to retouch dream women.

—Petra Cortright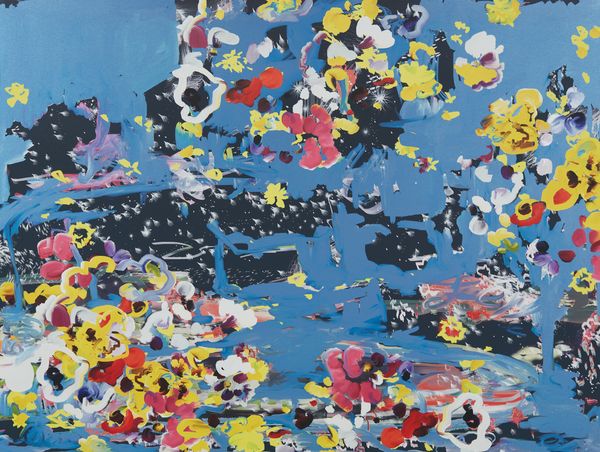 Petra Cortright Deep URL Submission, 2014
Cortright begins her process by sourcing imagery online, which she then manipulates and prints onto various surfaces like aluminum, which are layered again and again to create the final composition. Cortright considers the visibility of her digital "brushstrokes" to be a vital element. She explains in a 2016 piece by Charlotte Jansen for Artsy, "I want the viewer to see the same brush strokes in the different versions and on the different substrates…All the physical pieces are unique, but there are deep elements of a digital process that I would never want to hide or remove — instead they are celebrated."
Cortright's chosen medium and the working methods she employs often invite questions about her position in a traditionally male-dominated field. When describing her use of Photoshop, she says, "I like the idea of breaking down photos of dream kitchens, using software that was intended to retouch dream women…The end result is something that resembles nothing of either, a photo has been broken down so much that I've squished, smudged, smeared, copy and pasted, and broken it into a painting."
Despite the highly gendered realm in which she works, Cortright maintains that the ultimate goal of her practice is to create original compositions out of images we've seen millions of times before, offering an enlightening experience for the viewer who can see them in a new way for the first time.
These three subversive, boundary-breaking works come to auction on 28 February in New York.