­Jonathan Crockett phone bidding during our 20th Century & Contemporary Art & Design Evening Sale, November 2016
Phillips: This past season marks your personal return to the region after splitting your time between Hong Kong and London as specialist and art advisor. How has Chinese taste for art changed over the last decade and what are some of the most significant shifts you've witnessed?
Jonathan Crockett: Chinese taste has changed dramatically in the past ten years. In 2008, the Chinese contemporary art market reached a peak after a decade of unprecedented exponential growth. After the global financial crisis that year, prices fell significantly in 2009, and although the market quickly rebounded in 2010-11, things were different on a micro level: only major works by established artists of the highest quality were selling well, whereas earlier almost everything was guaranteed to sell well, including works by younger artists and lesser quality pieces.
This was a trend that continued over the next few years and to some extent still continues today. It was during this time that the Chinese started to experiment with collecting international contemporary art rather than focusing solely on Chinese art. They began buying big-name Western artists, initially attracted to the very best and to easily recognizable "brand name" artists, but very quickled developed individual taste which has led to more sophisticated collecting at the very highest levels of the market. The fact that these changes have happened so quickly is very exciting, and I can't wait to see what the next decade brings!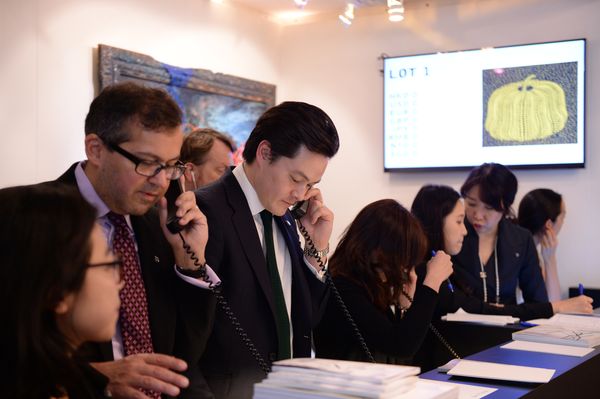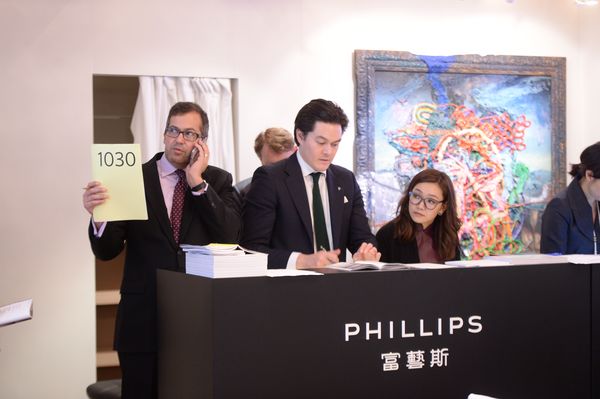 The Phillips 20th Century & Contemporary Art team seen during our inaugural Hong Kong Evening Sale
P: Having spent so much time in both London and Hong Kong, what are your observations on the 'art scene' in the two cities? In what ways are they similar or different?
JC: The Hong Kong art scene is hugely different to that of London. Uniquely in Hong Kong, there has always been a vibrant Chinese art scene mainly focused on traditional Chinese ceramics and works of art as well as ink painting. For the artistic community, the city is particularly challenging as property prices are 3 or 4 times greater than London prices, making it difficult to find a studio space. As a result, many artists are based on the very outskirts of Hong Kong, and there is little cross-pollination — as you see in London — in a city where priority is given to the large corporate financial institutions that dominate the city center.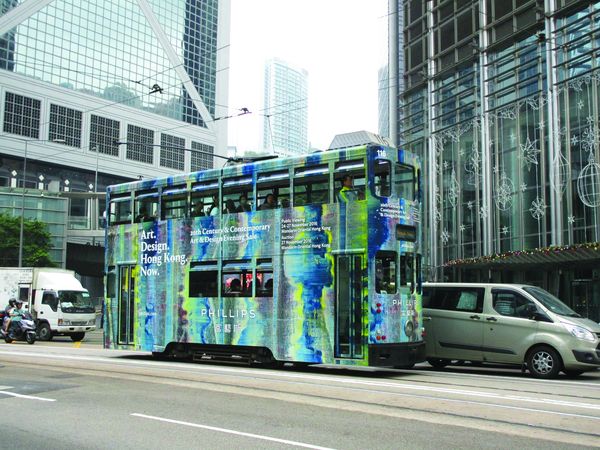 A view of the Hong Kong tramway from the city center this past November
This division contrasts with the taste of the local population who have a huge interest in art: auction previews, gallery exhibitions and art fairs are often completely swamped not only by collectors but also the general public who use these temporary exhibitions as their primary opportunities to be exposed to art.
Unfortunately, unlike in London, there is still no world class museum of contemporary art in Hong Kong; however this is set to change with the opening of M+ in 2019.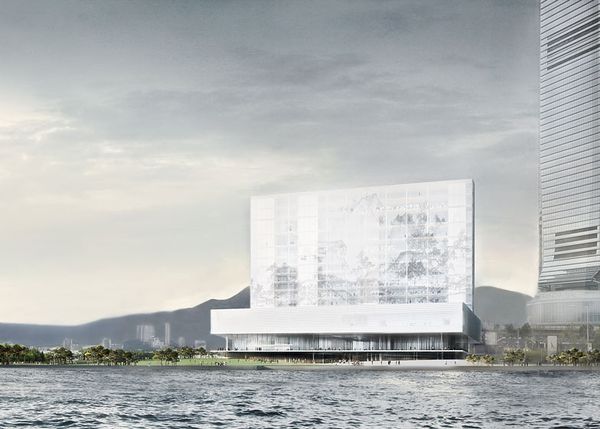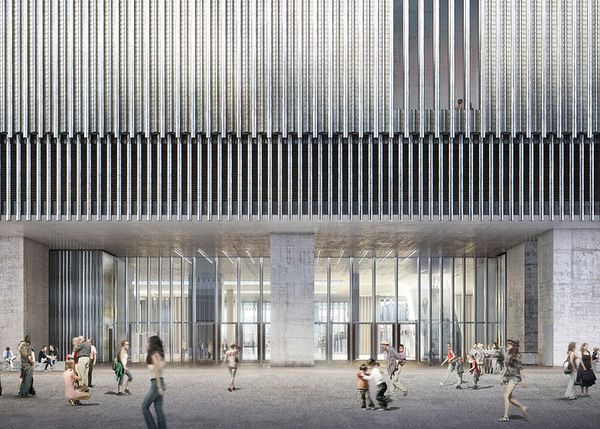 Plans for M+, a museum under construction in the West Kowloon Cultural District of Hong Kong, designed by firm Herzog & de Meuron. Images via Dezeen
P: Do you collect art, and if so who do you currently have in your collection? Which artists would feature most prominently in your dream collection?
JC: Yes I have a modest collection of contemporary art and have been collecting since I was a teenager, when I bought a sculpture from a boy a year above me at school for the then-princely sum of £5. These days I collect works that I feel a unique connection with, and can be of any medium or from any period or country. Recent acquisitions include a sculpture by a young Chinese artist Wang Sishun, a painting by Filipino artist Maria Tanaguchi, a mixed media work by French-Algerian artist Neil Beloufa and a painting by Chinese artist Han Bing.
My dream collection would be difficult to summarize as once you start collecting art it is difficult to stop! I would have to have a Mark Rothko color field painting, an early Yayoi Kusama white nets, a Frank Stella, a Rosemarie Trockel, an Ed Ruscha and an early Damien Hirst spot painting. Oh, and a Warhol and a Basquiat!
P: This past November's Evening Sale saw the success of Japanese artists, with every piece by Kusama, Yoshitomo Nara, Hiroshi Sugimoto, Takeo Yamaguchi and Shozo Shimamoto successfully selling — including a new world record for a work-on-paper by Nara. What do you think makes this selection of artists so appealing?
JC: Generally speaking, our selection for the November sale was based on a huge amount of market research and analysis. After deciding which artists we wanted for our sale we set out to find works of the highest quality and priced them at levels that proved irresistible to potential buyers. This resulted in an incredibly successful sale, including strong prices for works by Japanese artists.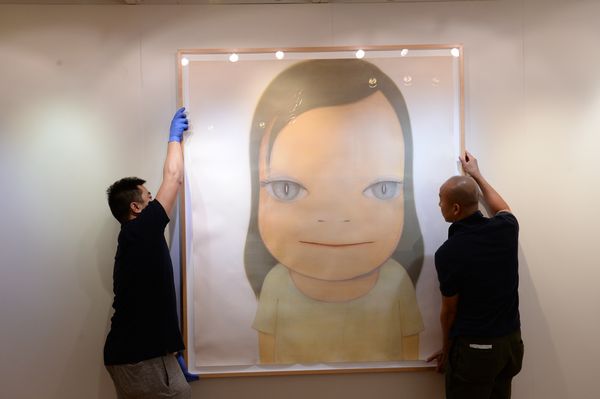 A view of Yoshitomo Nara Daydreamer, 2003, being installed at the Mandarin Oriental, Hong Kong
We were delighted to be the first auction house to bring a Ghenie to market in Asia.
P: Representative of a younger generation making waves at auction, Adrian Ghenie's Elvis, 2009 sparked a 10-minute bidding war before hammering for more than four times its estimate. Can you describe the energy in the room for this lot?
JC: Having deduced that it would be perfect for the Asian market, we were delighted to be the first auction house to bring a Ghenie to market in Asia. The bidding was particularly exciting for this lot: we had multiple bidders in the room and on the phone. As the initial frenzy died down, bidding seemed to settle on two telephone bidders who battled it out between them for several minutes. When it looked like one was bowing out and the other had triumphed, yet another phone bidder entered the fray, taking the work even higher and eventually winning it. Naturally the consignor was delighted with the result.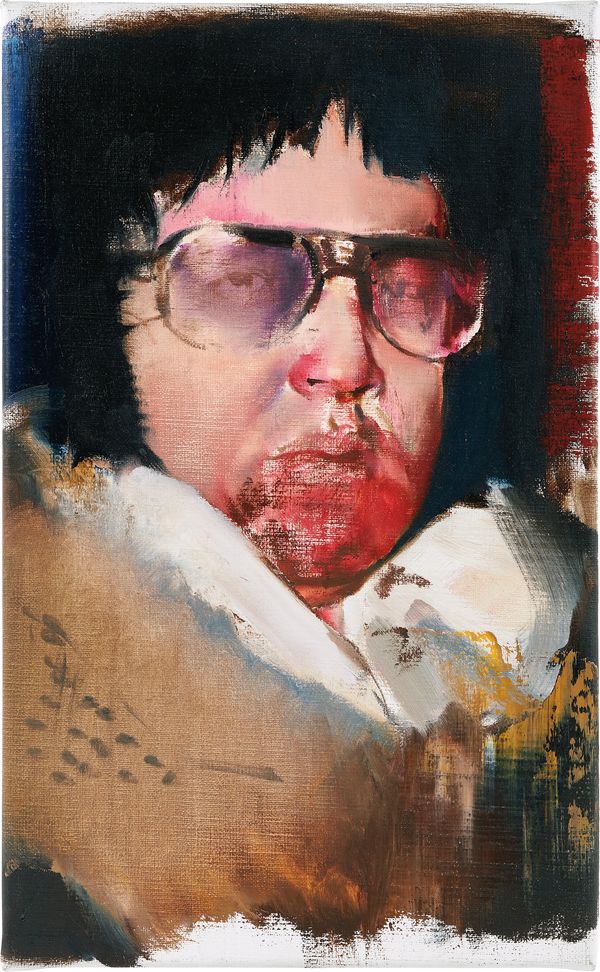 Adrian Ghenie Elvis, 2009
P: A 1992 photograph by Nick Knight for Jil Sander also ignited 10 minutes of bidding. Tell us about the impact of photography and how you see that genre continuing to develop in China.
JC: Our record-breaking result for Knight's work proves that the Asian market is both receptive to and serious about collecting photography. This is very much a recent phenomenon, as many Chinese collectors who previously overlooked the category are now starting to collect in this field.
It is still very much early days for this market but I believe photography has huge potential in China, as the collecting community benefits from increased exposure to it. Being a global leader in Photographs, we hope to continue to develop this market in Asia with unique and intriguing pieces offered in our future sales.
P: Design made its debut at Phillips Hong Kong, with particularly strong interest in mid-century Scandinavian design as well as contemporary pieces by the Campana Brothers. What is the discourse around important design in China and how has that changed alongside fine art over the past few years?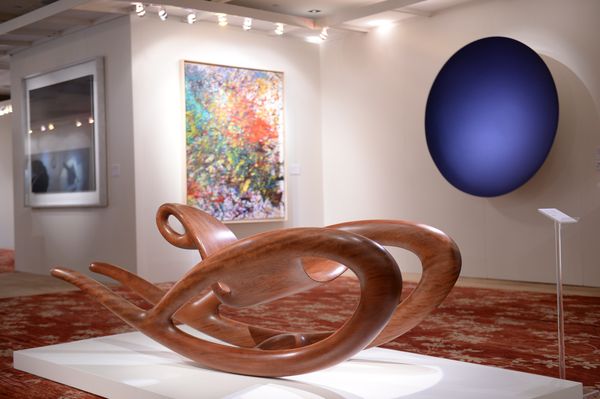 Installation view of Wendell Castle's Unique 'Ghost Rider' rocking chair, 2010, in front of works by artists Shozo Shimamoto and Anish Kapoor
JC: Design as a collecting category is, like photography, a relatively new field for Chinese collectors. Again, this market has huge potential in China — there is already an established market for design in Taiwan, Japan and Korea — and the market will grow as collectors in the region gain more exposure both commercially and via museums shows such as M+'s intriguing inaugural design exhibition currently on view in Hong Kong at the M+ Pavilion.
P: How do you see social media impacting China's art scene, and how has it altered how the public consumes and engages with art?
JC: Social media is hugely important to China's art scene, and provides collectors with instant access to art from around the world as it is being produced in artist studios and as it is hung in galleries, museums and auctions around the world. This is hugely beneficial to collectors who do not have the convenience of world-class museums and galleries on their doorstep as exists in London and New York. Chinese collectors actively use social media platforms for gathering market intelligence, and as a result many collectors in China these days are as informed, and in some cases even better informed, than collectors from the West.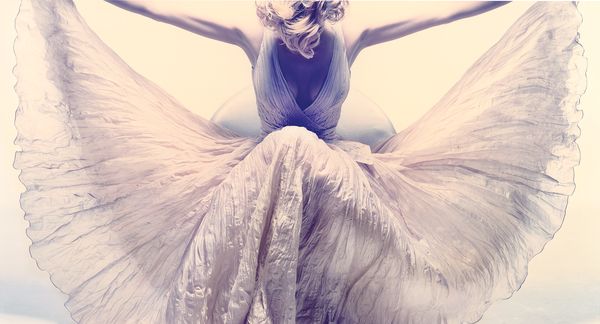 Nick Knight Tatjana Patitz for Jil Sander, 1992
P: Looking ahead to 2017, which artists are you most enthusiastic about offering in Hong Kong? Are there particular names and styles that we should keep our eye on?
JC: 2017 is set to be a very exciting year for Phillips in Hong Kong as we consolidate our position after laying the foundations in Asia with our inaugural sale last year. We will keep our offering tightly curated as before, with names that are relevant in today's market. You'll have to wait and see who we decide to include, but what I can say is that it will be a diverse and international offering across different categories of top quality work at attractive prices.
Jonathan Crockett is Head of 20th Century & Contemporary Art and Deputy Chairman, Asia, having joined Phillips in May 2016. In this role, he is instrumental in spearheading the company's 20th Century and Contemporary Art initiatives in the region, and lead the company's record-breaking inaugural auction of art and design in Hong Kong in November 2016.
Jonathan brings to Phillips 20 years of experience in the fields of Asian and Western modern and contemporary art, as well as classical Chinese art.